When you shop through retailer links on our site, we may earn affiliate commissions. 100% of the fees we collect are used to support our nonprofit mission.
Learn more.
Tesla delivered an over-the-air update to its Autopilot driver-assist system over the weekend that warns drivers quicker with visual and audible alerts to put their hands back on the steering wheel.
The update also delivers warnings that are speed-sensitive, the automaker says, with alerts coming quicker if the car is moving faster.
Tesla declined to give details about how much faster the warnings are delivered as a result of the update. "We continuously update our vehicles based on data to provide the best and safest experience for drivers," a Tesla spokeswoman said.
This Autopilot update follows several recent crashes—including a fatal one—that occurred while the driver-assist system was activated. Tesla, looking at its information drawn from computer logs from the cars involved, can tell whether the driver-assist system was activated and for how long drivers were interacting with the steering wheel before an incident.
Consumer Report's Model 3 received its over-the-air Autopilot update over the weekend, and CR testers found it to be an incremental improvement, says Jake Fisher, director of auto testing at Consumer Reports.
"Earlier warnings to keep hands on the wheel is a step in the right direction," Fisher says. "Tesla instructs drivers to keep hands on the wheel while driving every time the AutoPilot is activated, but allowing long intervals of hands-free driving is a mixed message that invites misuse."
Driver Attention Is Still the Issue
Autopilot is a collection of driver-assist features that includes adaptive cruise control and lane-centering. The automaker warns drivers in its owner's manual that Autopilot is not a self-driving system, and that drivers need to remain engaged and aware while using it. The system is available on all of the models it currently sells: the Tesla Model S and Model 3 cars, and the Model X SUV.
The updated Autopilot on CR's Model 3 gave our drivers with hands off the wheel a visible warning at 30 seconds (they were traveling at 65 mph on a nearby restricted-access highway), and an audible warning at 45 seconds. It turned off Autopilot at 60 seconds, locking our drivers out of using the system again until they turned off the car.
This new timing from the update puts Tesla more in line with other vehicles with advanced driver-assist systems that CR has tested, Fisher says.
But Fisher points out that Autopilot still doesn't address the problem of inattentive drivers fooling the system by simply tugging the steering wheel for a moment to turn alerts off and avoid a shutdown.
Cadillac's Super Cruise system, for example, which is another suite of driver-assist technologies, uses cameras to monitor where the driver is looking, and will issue warnings based on that information.
Drivers using Super Cruise can keep their hands off the wheel for extended periods, but they also must pay attention to the road. The system only works on pre-mapped, restricted-access highways.
In Teslas with Autopilot, drivers don't face those restrictions.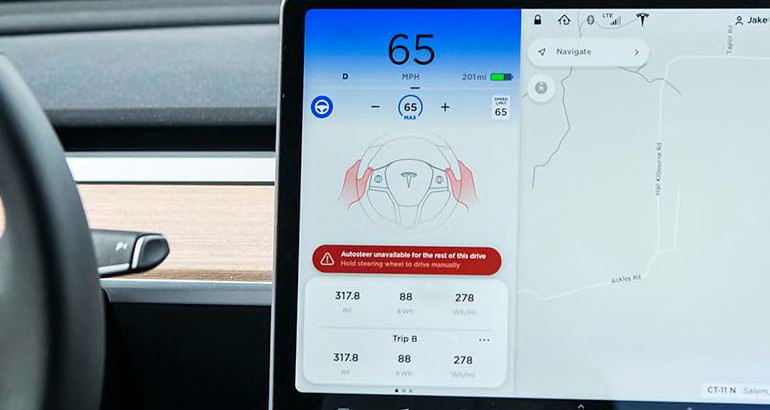 In the fatal March crash of a Model X SUV on a freeway in Mountain View, Calif., Walter Huang, 38, engaged Autopilot several times during his trip, and it was still engaged when the SUV crashed into a freeway median, according to a report by the National Transportation Safety Board (NTSB) released last week.
Autopilot was on for roughly the final 19 minutes before the crash, the report said. In that time, "the vehicle provided two visual alerts and one auditory alert for the driver to place his hands on the steering wheel. These alerts were made more than 15 minutes prior to the crash."
David Friedman, director of cars and product policy and analysis for Consumers Union, the advocacy division of Consumer Reports, says it's unclear whether the new Autopilot update would have prevented that Model X crash.
"It is not clear that this change would have altered the outcome of recent high-profile Tesla crashes," he says. That's because, at 60 mph, a car could travel a half-mile in the 30 seconds before the Tesla would flash a warning.
Huang's hands were off the wheel for the last 6 seconds before impact, the NTSB said. "Even if alerted, given what research has found, it can take drivers several seconds to retake control and safely deal with a situation," Friedman says. "Drivers have to not just see what's coming but also understand it, and react to it."
Tesla's update comes after repeated calls from Consumer Reports for the car company to improve the safety of the Autopilot system.
The automaker says that more changes are coming to Autopilot. Over the weekend, Elon Musk, the CEO, promised on Twitter that with an update scheduled in August, "we will begin to enable full self-driving features." After CR reached out to the automaker, a Tesla spokeswoman declined to specify what those features were or a timeline for when they would be rolled out.
That news concerns Friedman. "Given Tesla's track record so far, this news should raise more alarm bells than excitement," he says. "Tesla should provide detailed test data and get the safety of these new features evaluated by an independent third party before rushing it out across tens and perhaps hundreds of thousands of cars across the U.S. and the world."