When you shop through retailer links on our site, we may earn affiliate commissions. 100% of the fees we collect are used to support our nonprofit mission.
Learn more.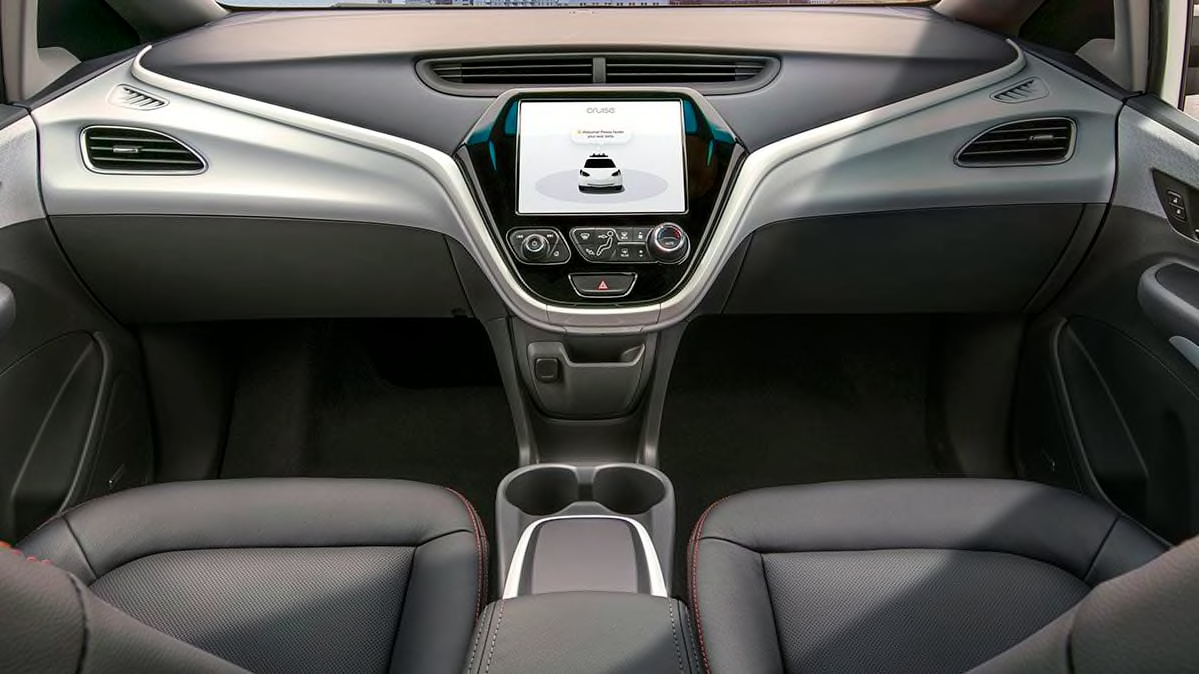 The Department of Transportation has proposed easing certain safety requirements for self-driving cars, a step toward modernizing some regulations so truly driverless cars can one day travel on the nation's highways.
Under the revised rules, cars that drive themselves would no longer be required to have steering wheels, the DOT said in a statement Tuesday. The proposal also includes other smaller changes, such as allowing for seating arrangements in autonomous vehicles so that passengers can face each other.
The auto industry has been pushing for changes to the rules to make it easier to test and one day offer self-driving cars to consumers. In 2018, GM petitioned the National Highway Traffic Safety Administration—the agency within the DOT that regulates auto safety—for exemptions to allow cars without steering wheels or other manual controls. Earlier this year, NHTSA granted certain temporary exemptions to Nuro, a company that makes low-speed delivery vehicles that don't carry human passengers.
NHTSA's chief, James Owens, said in a statement Tuesday that regulations put in place decades before self-driving car technology existed may be getting in the way of innovation and improved highway safety.
"With more than 90 percent of serious crashes caused by driver error, it's vital that we remove unnecessary barriers to technology that could help save lives," he said.
Regulators will be accepting and analyzing comments from the auto industry, safety groups, and the public before making the proposed rule changes final. Comments can be submitted over the next 60 days to regulations.gov or faxed to 202-493-2251. Submissions must include the name of the agency, NHTSA, and the docket number, NHTSA-2020-0014.
Hands-Off Approach
Consumer Reports believes that NHTSA's approach to regulating self-driving technology development has been too hands-off and doesn't put safety first.
"It's baffling that NHTSA is using its limited resources on changing the rules for the vehicles of the future when there's so much the agency can do—and hasn't done—to make cars safer today," said William Wallace, manager of safety policy at Consumer Reports.
Safety advocates think that before easing any rules, federal regulators should insist that a company's self-driving technology has proven safety benefits backed by extensive testing that's shared with the public.
Groups including CR, Advocates for Highway and Auto Safety, the Consumer Federation of America, and the Center for Auto Safety have called for new minimum federal safety standards for self-driving vehicles before they're allowed to be deployed broadly on public roads.
The National Transportation Safety Board, which investigates high-profile crashes in aviation and other modes of transportation, criticized NHTSA in November, saying the agency put the advancement of technology over human life.
The NTSB leveled the criticism following its investigation of a fatal crash in March 2018, when a self-driving Uber test car with a human backup driver killed a pedestrian in Tempe, Ariz.
The NTSB investigative report said that using a human test driver as a backup was problematic because of the natural tendency of people to tune out when technology is mostly, but not completely, capable of basic driving tasks.
In the report, the NTSB called for NHTSA to mandate detailed reports from any companies testing self-driving cars that outline their approach to safety and to recommend any needed changes.