When you shop through retailer links on our site, we may earn affiliate commissions. 100% of the fees we collect are used to support our nonprofit mission.
Learn more.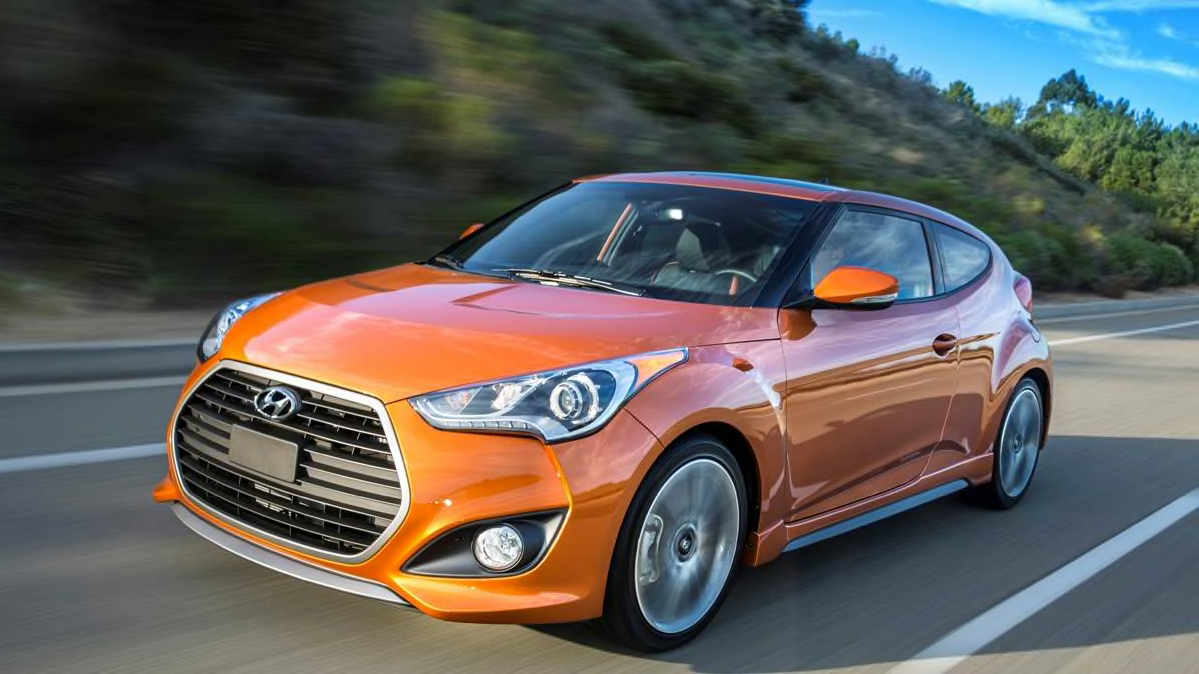 Hyundai announced a recall of almost 130,000 vehicles, including 2012 Santa Fe SUVs, 2011 through 2013 and 2016 Sonata Hybrids, and 2015 and 2016 Veloster hatchbacks, because of an engine defect that may cause a fire. Recalled cars may need a total engine replacement to fix the problem.
Today's announcement follows several other recalls of Hyundai and Kia vehicles due to fire risk (both manufacturers are owned by the same corporate parent and share parts and designs), and is part of a larger investigation that the National Highway Traffic Safety Administration opened into these fires in March 2019. The Center for Auto Safety (CAS), an independent watchdog group, petitioned NHTSA to investigate after multiple reports of fires not related to collisions.
According to a statement from the CAS, Hyundai and Kia have issued 33 recalls for vehicle fires that involve at least 20 models and more than 5 million vehicles from the model years 2006 through 2021. Prior recalls focused on vehicles with an engine design that the automakers called Theta II, although this recall includes vehicles with different engine designs.
MORE ON HYUNDAI and KIA FIRES
While other fire-related recalls involved fuel leaks and brake issues, the recall announced today is because a vital part inside the engine—called a connecting rod bearing—may wear prematurely. If this happens, drivers may notice an abnormal knocking noise from the engine and/or illumination of the oil pressure warning light, according to documents shared by NHTSA. Left unrepaired, the connecting rod itself may puncture the engine block, which would cause the vehicle to abruptly lose power while driving, and may cause an oil leak that could lead to a sudden fire.
Hyundai says that vehicles with worn connecting rod bearings will need a total engine replacement, which dealers will perform free of charge. In addition, the automaker will update engine software to prevent the issue from occurring again in the future.
CAS executive director Jason Levine said he expects to see more vehicles recalled for the same or similar issues. "Based on this history and the fact that the current recall only covers those vehicles which have experienced above average rates of hole-in-block engine fires, despite other Hyundai vehicles having the exact same engines, we think that this recall is not the end of this story," he said in a written statement.
Although NHTSA has detailed many instances of Hyundai and Kia vehicles catching fire as part of its investigation, Hyundai did not tell CR how many fires have resulted from this specific issue, but did say that there have been no crashes, no fatalities, no property damage and "two minor injuries" related to the recall. So far, Kia has not issued any similar recalls.
Last week, NHTSA announced civil penalties totaling $210 million for Kia and Hyundai after the agency determined that the automakers did not conduct earlier recalls in a timely manner. The penalties include up-front fines, mandatory safety improvements, and additional fines if certain safety requirements are not met in the future. Hyundai's share of the penalties totaled $140 million.
The Details
Vehicles Recalled
• 2015 to 2016 Hyundai Veloster hatchbacks equipped with 1.6-liter Gamma engines and manufactured from May 26, 2014, through July 13, 2016
• 2012 Hyundai Santa Fe SUVs equipped with 2.4-liter Theta II engines and manufactured from Jan. 10, 2012, through July 3, 2012
• 2011 to 2013 Hyundai Sonata Hybrid sedans equipped with 2.4-liter Theta II engines and manufactured from June 2, 2010, through Dec. 17, 2013
• 2016 Hyundai Sonata Hybrid sedans equipped with 2.0-liter Nu engines and manufactured from Feb. 25, 2015, through April 25, 2016
The problem: The connecting rod bearings inside the engine may wear prematurely, which over time can result in engine damage including holes in the engine block and oil leaks that can lead to fires.
The fix: Hyundai dealers will inspect the engines of affected vehicles for damage and will replace the engine, if necessary, free of charge.
How to contact the manufacturer: The recall is expected to begin Jan. 22, 2021. Owners may also schedule an appointment for a repair online at Hyundai's website for recalls, or they may contact Hyundai at 855-371-9460. (This number was busy each time CR attempted to call it on the day the recall was announced.)
NHTSA campaign number: 20V746. Hyundai's own number for this recall is 198.
Check to see whether your vehicle has an open recall: NHTSA's website will tell you whether your vehicle has any open recalls that need to be addressed.
If you plug your car's 17-digit vehicle identification number (VIN) into NHTSA's website and a recall doesn't appear, it means your vehicle doesn't currently have any open recalls. Because automakers issue recalls often, and for many older vehicles, we recommend checking back regularly to see whether your vehicle has had a recall issued.
Stay informed about recalls that might affect your vehicle by using our Car Recall Tracker. Create a free account now to become a CR member.