Automakers Now Required to Report Automation-Related Crashes
The new reporting rule from safety regulators comes after a spate of crashes involving automated driver assistance features, such as Tesla's Autopilot After a string of high-profile crashes involving advanced driver assistance systems (ADAS), such as Tesla's Autopilot, federal regulators are now ordering manufacturers to report any crash that happens while a vehicle is automating some driving tasks and an injury or property damage is reported.
The National Highway Traffic Safety Administration (NHTSA)'s order, released this morning, applies to all vehicles that can partially automate functions, such as steering, acceleration, or braking. Although no truly self-driving cars are currently commercially available, the order also will apply to them once they go on sale.
As more mainstream vehicles gain some form of partial automation, safety advocates say NHTSA has done little so far to determine whether they make roads safer, or might represent a danger. That's because there is little data on ADAS' effect on crashes, says Kelly Funkhouser, head of advanced vehicle technology testing at CR's auto test center. While independent data show that some systems, such as automatic emergency braking (AEB) and blind spot warning (BSW), can reduce crashes, Funkhouser says there is currently inadequate safety data for other features, such as adaptive cruise control (ACC) or lane keeping assistance (LKA). "With this new data from NHTSA, we will finally have some insight into the efficacy of these systems in the real world," she says.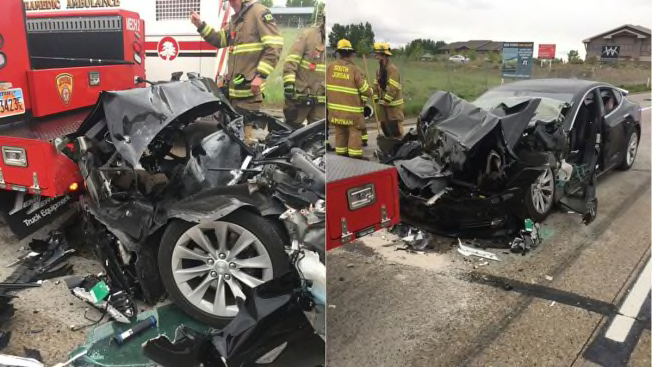 According to the agency, these reports may also lead to SCI investigations and/or recall campaigns. Wallace says the order may be the first step towards NHTSA's formulation of rules around ADAS systems or incorporating new elements into its well-known five-star safety ratings. "We ultimately want to see strong mandatory performance standards for these systems," he says.
In 2020, the National Transportation Safety Board—which investigates all aviation and many other significant transportation crashes and other incidents—called NHTSA's overall approach to autonomous vehicle oversight misguided, because it waits for problems to happen rather than proactively implementing policies to prevent them.
"With the new data on hand, NHTSA will be able to much more readily track safety trends, identify risks, and develop smart, strong performance standards," says Wallace.
In a statement, the Center for Auto Safety, an advocacy organization that has petitioned NHTSA for stricter ADAS data collection, predicted the order would lead to better enforcement of existing safety laws. "Collecting crash data, and hopefully data from crashes which were avoided, can help serve a variety of purposes from enforcing current laws, to ensuring the safety of consumers, to paving the way for reasonable regulations to encourage the deployment of safe advanced vehicle technology," a spokesperson for the agency wrote.
Although Tesla's Autopilot might be the best-known active driving assistance system, nearly all automakers offer systems that would be covered by the new order. CR has tested 17 similar systems including Audi Driver Assistance Plus, Ford Co-Pilot 360, GM Super Cruise, Hyundai Smart Sense, Subaru EyeSight, Toyota Safety Sense 2.0, and Volkswagen Driver Assistance. Check CR's ratings of these systems.