When you shop through retailer links on our site, we may earn affiliate commissions. 100% of the fees we collect are used to support our nonprofit mission.
Learn more.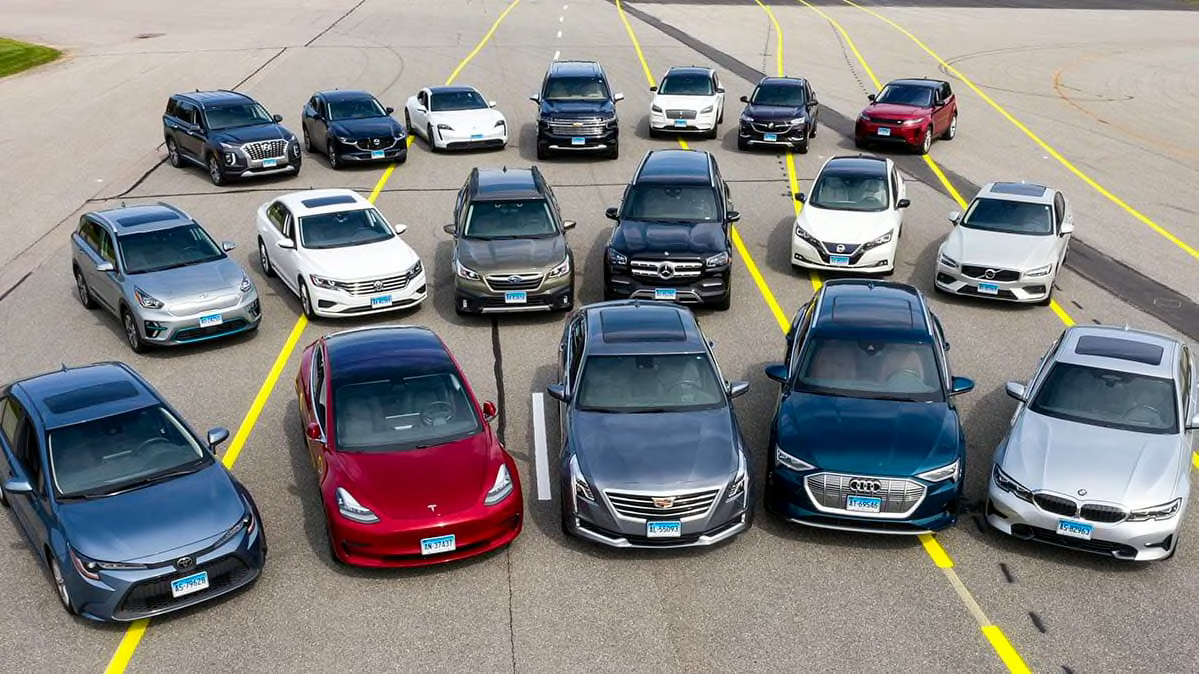 You might have heard of Tesla's active driving assistance suite, known as Autopilot, that can control the car's steering and speed to assist the driver. What you might not know, however, is that most mainstream automakers now offer similar systems on their cars, and it's quite likely that the next new vehicle you buy will be equipped with one.
To be clear, active driving assistance doesn't make a car "self-driving," but rather it's intended to support the driver—a well-designed system can help relieve driver fatigue and stress, such as on long highway road trips or in stop-and-go traffic.
Lane keeping systems each can perform slightly differently, depending on the car company and model. For instance, some lane keeping systems only steer as the car leaves the lane, and others work to center the car within lane lines. But with all of them, the driver is still expected to be responsible for the primary task of driving the car. That's why it's important that the driver pays attention and that these systems—which are sometimes incorrectly referred to as "semi-autonomous"—are designed to make sure the driver stays engaged.
In Consumer Reports' first-ever ranking of these systems, conducted in 2018, we evaluated systems from Cadillac, Nissan/Infiniti, Tesla, and Volvo. Over the last two years these advanced technologies have become more mainstream, and CR's testing this year now includes 17 systems, including the original four.
For its evaluations, CR's engineers looked at the comparative performance of these vehicles' active driving assistance, which refers to when adaptive cruise control (ACC) and lane keeping assistance (LKA) are engaged simultaneously to control steering to keep the car within the lane lines and to control speed through acceleration and braking so that the car remains a set distance in traffic from vehicles traveling ahead. If vehicles had both of these features, they were considered for inclusion in our evaluations, regardless of the level of automation the automaker claims.
Even after two years, Cadillac's Super Cruise remained our top-rated system because, when turned on, it uses direct driver monitoring to warn drivers that appear to have stopped paying attention to the road. General Motors told CR that Super Cruise will be on 22 GM vehicles by 2023. Of the other systems we tested, we saw minor improvements in lane keeping performance for the Tesla and Volvo. Systems that didn't give clear warnings to the driver to pay attention, such as Volvo's, or that failed to keep the vehicle within its lane, even on fairly straight roads, such as systems from Buick, Mazda, and Land Rover, didn't fare well in our overall scoring. When CR requested comment from these companies, several said their lane keeping assist systems were not designed to keep the vehicles centered. (See rankings below.)
"Even with new systems from many different automakers, Super Cruise still comes out on top due to the infrared camera ensuring the driver's eyes are looking toward the roadway," says Kelly Funkhouser, CR's head of connected and automated vehicle testing.
(See below for CR's 2020 ranking of active driving assistance systems.)
Monitoring whether the driver is paying attention is a big part of the reason that Super Cruise is still tops in our ranking. The system uses a small camera facing the driver's eyes to assess whether they are watching the road ahead. If the system determines that a driver isn't paying attention, it delivers multiple warnings—such as bright red lights on the upper rim of the steering wheel—to grab the driver's attention. If the driver still does not react, the system will start to slow the car down on its own, eventually bringing it to a stop. It also will call for help.
CR's evaluations of active driving assistance systems take into account the work of the National Transportation Safety Board, the federal agency known for investigating plane crashes and other high-profile transportation safety incidents.
In studying deadly highway crashes involving the use of these systems, NTSB investigators have highlighted the risk of "automation complacency"—when people rely too much on an automated system and tune out from the driving task—as well as the foreseeable misuse of the systems in locations or conditions where they haven't been designed to be used safely. The NTSB has issued recommendations urging the nation's primary road-safety regulator, the National Highway Traffic Safety Administration (NHTSA), to help develop and then enforce performance standards for safety technology that would help keep drivers engaged while using active driving assistance systems. NHTSA has not yet acted on the recommendations.
"The evidence is clear: If a car makes it easier for people to take their attention off the road, they're going to do so—with potentially deadly consequences," says William Wallace, manager of safety policy for Consumer Reports. "It's critical for active driving assistance systems to come with safety features that actually verify drivers are paying attention and are ready to take action at all times. Otherwise, these systems' safety risks could end up outweighing their benefits."
How We Rated the Systems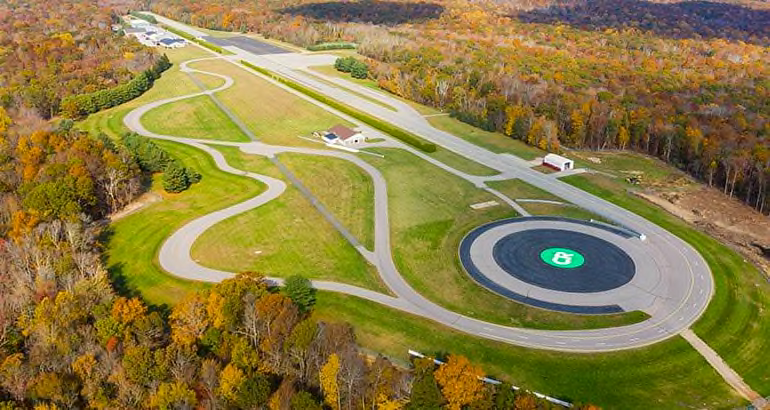 We put 17 of the newest active driving assistance systems through their paces around our 327-acre Auto Test Center track, as well as on nearby public roads, between June and September 2020. Each system was rated for its performance in 36 separate tests, such as steering the car, controlling the speed, and keeping the driver safe and engaged.
The specific vehicles we tested generally reflect the performance of other models within each automaker's lineup, but there can be differences among models, model years, and packages that could affect some parameters of how the system operates. So make sure you look out for those potential differences when consulting our rankings as you shop for a vehicle.
Also, some automakers can change their systems software on current and future vehicles with over-the-air updates. Electric carmaker Tesla, for example, does this frequently, which means that certain aspects of its cars change often.

CR's testers looked at the way each of the 17 systems performed in five specific categories: capability and performance, keeping the driver engaged, ease of use, clear when safe to use, and unresponsive driver.

Capability and Performance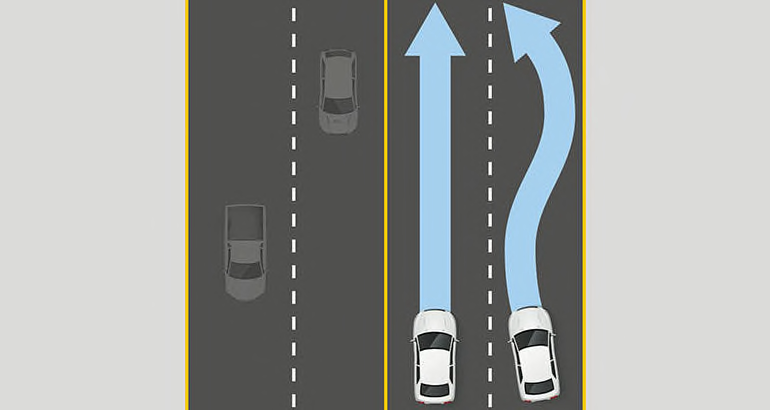 Unlike advanced safety systems, such as automatic emergency braking (AEB), that step in when quick action is needed to help prevent a collision, active driving assistance systems provide features intended to make driving easier—for instance when you're on a long, boring highway drive or when you get stuck in a barely moving traffic jam. For this category, we judged how well each system kept the vehicle in the center of the lane, as well as how smoothly and intuitively the ACC system could adjust its speed behind other cars.
When it comes to lane keeping assist, Tesla did the best in our tests. But systems from Audi, Cadillac, and Lincoln performed almost as well. A good system will assist the driver by maintaining placement in the center of the lane and keeping the vehicle well within the lane boundaries.
Systems that didn't perform well, such as those from Buick and Mazda, attempt to assist the driver only as a lane departure occurs, and they aren't capable of consistently keeping the vehicle between the lane lines, we found.
In response to requests for comment, GM said the system on its Buick Encore GX offers an "impressive amount" of standard active safety features that have been proved to reduce crashes. Mazda responded that its system was not designed or intended to center the vehicle in a lane and that the automaker doesn't believe its vehicles are equipped with technology that meets the criteria CR is using in its evaluation.
'Our experience, and the results from CR member surveys, indicate that drivers expect the systems to hold the vehicle in the center of the lane—and if it doesn't do so, they will likely simply stop using the system.'
Head of Connected and Automated Vehicle Testing for Consumer Reports
Volkswagen told us that the Passat we tested was the company's oldest platform and that VW is beginning to launch newer systems that will do a better job of holding the car more consistently in the center of the lane. We drove the system on the Atlas Cross Sport and it performed similarly.
Systems that scored the best at controlling the car's speed were those from Audi, Mercedes-Benz, and Porsche, which have options in the menu for drivers to select how quickly the ACC speeds up and slows down. These top-performing systems offer an ample range of following distance and do a good job mimicking natural driving behaviors.
Capabilities and Performance
Keeping the Driver Engaged
When a system is controlling the car's speed and steering, there's a risk that a driver might feel more free to pick up a cell phone or engage in some other reckless, distracting behavior. That's why we think it's essential that active driving assistance systems monitor the driver, and also encourage the driver to stay actively engaged. None of the systems we tested reacted well to unexpected situations, such as construction, a pothole, or other objects in the road.
A camera-based driver monitoring system that uses eye-tracking technology checks to see whether the driver is looking at the road, and that's why Cadillac's Super Cruise is the clear winner when it comes to keeping the driver engaged. Other systems require the driver to place their hands on the wheel every once in a while, but that does not necessarily mean the driver is actually looking at the road ahead.
A good system should also make it clear when the driver needs to take over the steering. Cadillac's system not only alerts the driver clearly that it is disengaging—changing its alerts from solid green to flashing blue—but also in some situations can alert the driver well in advance that they'll need to take over. Thanks to pre-mapped road data, the Super Cruise system knows whether the driver is approaching an upcoming tricky situation, such as a lane merge or off-ramp, giving the driver necessary time to take back control. When Tesla's Autopilot system no longer has sufficient road information to operate—perhaps the lane lines have disappeared—Autopilot delivers a loud alert to notify the driver that the system is immediately shutting off. Almost all of the other systems we evaluated don't make any noise to indicate that the system is stopping its steering. In some cases, the systems simply make a not-very-obvious change to an icon on the instrument cluster.
"The system should also encourage drivers to provide their own steering inputs by keeping the system active rather than going into a standby mode," says Funkhouser. Most of the systems we tested do allow drivers to steer when they want, perhaps to avoid a pothole or another car driving too close to the lane line. "If the system works well, it will gently nudge the car back to the center of the lane after the driver stops providing steering input," Funkhouser says.
If you try to steer around a pothole in a Tesla, however, the auto-steering system will resist, unless the driver applies a significant amount of torque to the steering wheel, after which the system will abruptly shut off, leaving the driver in control. We don't like that Cadillac's system goes into a standby mode as soon as the driver applies additional steering input, which also can dissuade the driver from taking over if needed. We also found that Cadillac's system is finicky about re-engaging, even when the driver is well within the lane lines.
Keeping the Driver Engaged
Ease of Use
For many people, the next new car they buy will be their first experience with an active driving assistance system. Because these systems are still so new, it's important for auto manufacturers to make them as easy to use as possible, with simple controls and clear displays, and clear feedback regarding the system's status so that a driver will know what the system is doing and why it is behaving in a certain way.
Our testers evaluated how easy it was for drivers to engage the systems and make adjustments to the settings. They also reviewed the types and amount of information displayed to drivers, and how easy it was for drivers to know and understand what the system was doing.
"One of the last things you want in a system that is supposed to assist the driver is to make things overly complicated," says Funkhouser. "These systems are new, and of course, they are going to have some unfamiliar controls and displays."
Most of the vehicles in our testing have two lane keeping systems that operate differently. Typically, one holds the car in the center of the lane, and the other one gives a little bit of steering assist only when the vehicle has crossed a lane line or reaches the edge of the road. The needlessly complex interaction of multiple systems on the same vehicle adds to the confusion. A single lane keeping assistance system that performs well at centering the car is what drivers expect and want to use.

BMW and Hyundai actually have three lane keeping systems, each one behaving slightly differently depending on vehicle speed and other complex parameters. In the case of BMW and Hyundai, one lane keeping system is activated through the lane departure warning (LDW) menu, another is via the steering-wheel controls, and the third can be activated in traffic jams (but only if the vehicle is on a highway, has traveled above a certain speed, and is following another vehicle that then slows or comes to a stop).
Some systems have a single control to activate the steering-assist and the ACC simultaneously, while others, such as Hyundai, allow drivers to activate them separately.
'The best systems allow drivers to activate the steering and speed control independently so that drivers can decide exactly how much assistance they want to use, and only have a single lane keeping system that performs consistently.'
Clear When Safe to Use
The latest active driving assistance systems are safest to use on long highway drives or when you're stuck in a traffic jam—they can help reduce the driver's fatigue and stress along the way. But using these systems on narrow, curvy roads or around pedestrians can be dangerous and can create driver stress.
We evaluated the systems in terms of how clearly they communicate in real time about when drivers should—and should not—be using the technology.
Most of the systems restrict their use in less-than-ideal situations, but several systems from Audi, BMW, Tesla, and Volvo all were capable of being operated during our test-drives through residential areas when the road had only a single, center lane line. "Active driving assistance systems should only be able to be activated in low-risk driving environments, void of pedestrians and tricky situations, such as intersections and complicated traffic patterns," Funkhouser says.
BMW told CR that its system "clearly communicates to the driver when it recognizes a lane and has engaged and when it no longer recognizes a lane and has disengaged," and that the driver is "always required to keep both hands on the wheel and to be attentive to the road ahead." Audi and Tesla did not respond to requests for comment.
Cadillac stood out in this category because Super Cruise can be used only on pre-mapped, divided highways. Plus, Super Cruise will even warn the driver in advance when there is an upcoming lane-merge or complex situation that requires extra attention.
Unresponsive Driver
Systems that are capable of controlling the steering and speed of the vehicle should also be designed to help the driver when they need it the most, such as in the case of a driver heart attack or other medical emergency, or if the driver falls asleep behind the wheel. In this category, we evaluated the systems for their escalation process for warnings, steering control, and speed control.
Some automakers have designed their systems to safely bring the car to a stop in the event of an unresponsive driver, and even make an emergency phone call. For instance, if the driver falls asleep or diverts their eyes from the road for too long, some systems will begin a series of warnings to get the driver's attention.
Although most vehicles in our testing do not have the capability of monitoring the drivers' eyes, most do have a system that will deliver an alert if the car judges the driver to be inattentive for a significant period and then bring the car to a stop with the hazard lights on, and even call for help via the in-car telematics system or the driver's paired smartphone.
"We'd like to see developers of these systems consider the additional step of steering the vehicle onto the shoulder of the road when a driver becomes unresponsive, and providing this feature even if the driver wasn't using the system," says Funkhouser.
We think systems that frequently go into a standby mode without alerting the driver by way of an audible warning—such as Volvo's Pilot Assist, Buick Driver Confidence, Mazda i-ACTIVSENSE, and Land Rover InControl—are not as helpful safety-wise for consumers as others that give the alerts. We found that even when these systems are active, it's easy for the car to drift off the road if the driver is inattentive.
In response to a request for comment about our evaluations, Mazda stressed that its "Lane Keep Assist system does not perform lane centering." Volvo underscored in its response that its "focus is to have the driver in the loop and engaged." Jaguar Land Rover told CR its systems meet "both regulatory safety requirements as well as our own stringent standards for function and usability." General Motors, which makes both the Super Cruise and Buick systems, says that the Encore GX offers "an impressive amount of standard active safety features."
Test-Drive Before You Buy
When shopping for a new car, be sure to have the salesperson walk you through the details of how these advanced technologies work and how to adjust any specific settings.
As these systems become available on more new cars, it's important that consumers understand the systems' limitations, meaning no matter what the automakers might imply in their marketing, none of the systems we tested here are capable of doing the driving for you.
"Automakers also need to realize that the more capable they develop a system in terms of driver assistance, the greater the chances are that the driver might tune out and try to leave the driving to the car," says Funkhouser. "That's why driver monitoring is so critical, and should be an essential tool of any good active driving assistance system going forward."
CR's 2020 Ranking of Active Driving Assistance Systems
Editor's Note: Consumer Reports also tested an aftermarket system called Comma Two, which is manufactured by Comma.ai. Installed on a Toyota Corolla test car, the system outperformed, in most respects, ones that already come on cars, and it set new standards for the industry. But because CR does not recommend these types of modifications for consumer vehicles, the system is not included in our rankings.