Automatic Emergency Braking Struggles to Stop for Pedestrians in the Dark, in Turns, or at High Speeds, Study Shows
New research from the IIHS finds where AEB technology needs improvement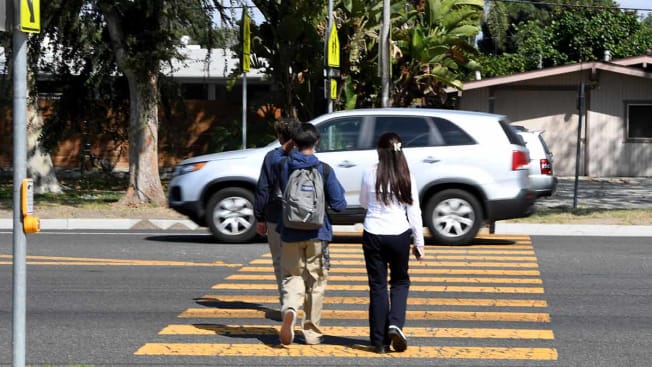 Safety technology that's supposed to automatically prevent cars from hitting pedestrians can prevent crashes—but does not show any benefits when it's dark out, and not if drivers are traveling too fast, according to new research from the Insurance Institute for Highway Safety (IIHS). Considering that most pedestrian crashes take place after sunset, these results show how these systems must evolve to reduce the growing epidemic of roadway fatalities.
Pedestrian crash deaths are up 51 percent since 2009, but those fatalities aren't distributed equally: 73 percent of crashes involving pedestrians take place between 6 p.m. and 6 a.m., according to the most recently available data from the U.S. Department of Transportation. And many crashes take place on roadways without adequate pedestrian infrastructure.
How to Improve Nighttime Pedestrian Safety
To ensure that AEB can detect pedestrians in more situations, the IIHS is developing a nighttime pedestrian AEB test, and plans to publish its first official nighttime pedestrian crash prevention ratings later this year. Currently, the IIHS tests AEB with pedestrian detection during the daytime, and requires an Advanced or Superior rating in order for a vehicle to get a Top Safety Pick or Top Safety Pick + award.
Nighttime tests will likely spur automakers to develop systems and utilize technologies that work better in all lighting conditions, says Jennifer Stockburger, director of operations at CR's auto test center. "These systems need to be optimized to be able to recognize pedestrians—especially moving pedestrians—more quickly," she says.
Some solutions may already be in the pipeline: In preliminary nighttime testing, IIHS researchers found that high-beam headlights may improve pedestrian AEB performance. The same may be true for AEB systems that use both radar- and camera-based sensors, because cameras may struggle to detect objects in darkness, even if they might outperform radar during the day. "High-beam headlights can help pedestrian detection systems 'see' better, the same way they help the driver," says Stockburger. "In addition, radar and newer technologies such as thermal cameras may help these systems work even better."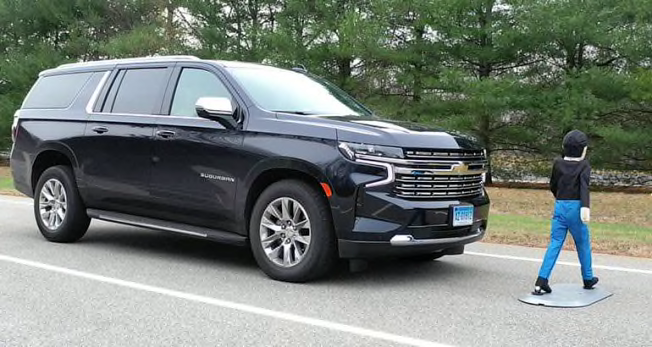 Additionally, a new federal road safety push aims to encourage slower speeds, in addition to requiring all new vehicles to include AEB with pedestrian detection as standard equipment. 
According to Stockburger, AEB doesn't have to prevent a crash entirely in order to reduce injuries. That's because the average risk of severe injury to a pedestrian increases from just 10 percent at an impact speed of 17 mph to 90 percent at 48 mph. In CR's own tests of pedestrian detection systems at night, 24 of 26 vehicles brought the vehicle to a full stop from 20 mph, and the other two reduced speed when approaching a stationary pedestrian dummy, even with low-beam headlights. Those results show that when the systems have a bit more time to detect the dummy, they are capable of stopping the vehicle.
"Similarly, even when the systems did not bring a vehicle to a complete stop in IIHS' testing, they were capable of reducing vehicle speeds—for some systems as much as 90 percent," she says. "That could be the difference between walking away from a crash and having a much more severe injury."