When you shop through retailer links on our site, we may earn affiliate commissions. 100% of the fees we collect are used to support our nonprofit mission.
Learn more.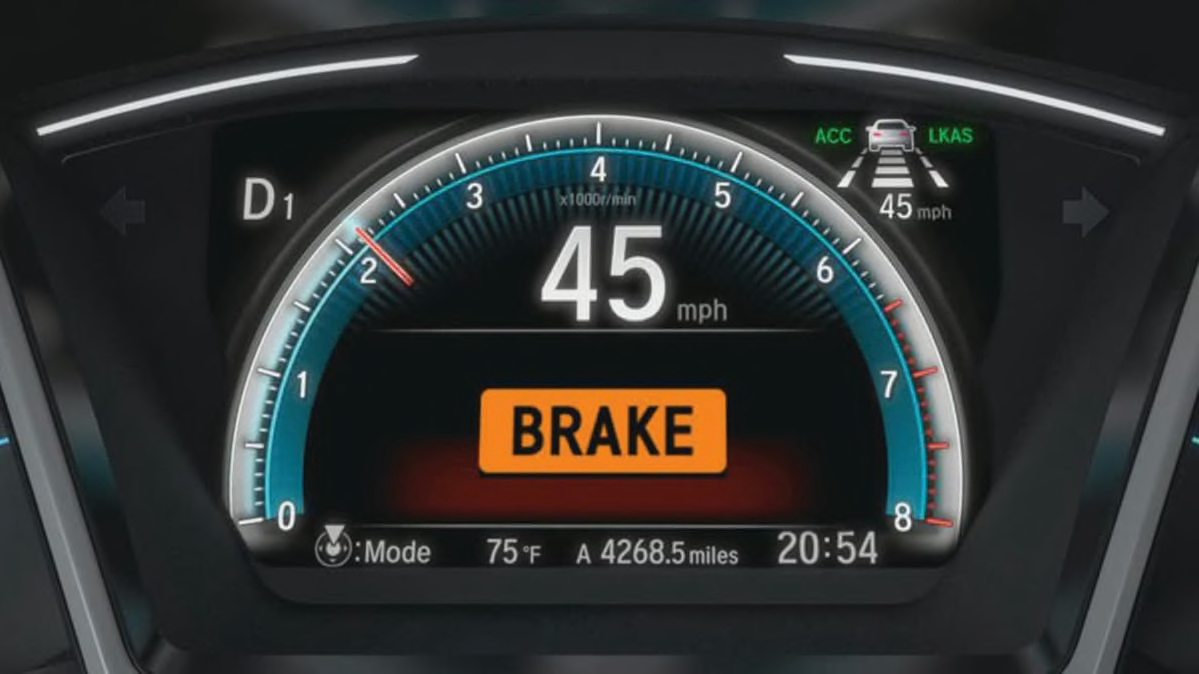 Among the 20 automakers who agreed to put automatic emergency braking (AEB) into almost every new vehicle by September 2022, 10 of them are already putting this key safety feature into more than half the vehicles they produce. That's according to a review by Consumer Reports, the Insurance Institute for Highway Safety, and the federal government.

The National Highway Traffic Safety Administration and IIHS negotiated the agreement under the theory that consumers would benefit from the technology faster if compliance were voluntary rather than mandated. Consumer Reports supported the deal and agreed to monitor automaker compliance while also urging NHTSA to set mandatory rules for AEB if automakers dragged their feet.
A car equipped with forward collision warning and AEB can sense a potential collision with a vehicle in front and, if the driver doesn't react in time, can brake for him or her. The automakers promised that AEB would be made standard—included automatically—on almost all models except heavy-duty pickup trucks.
"Technologies like automatic emergency braking can help make cars safer on the roads, which means Americans are safer when traveling," said NHTSA's deputy administrator, Heidi R. King. "This update on the status of the voluntary AEB commitment demonstrates how collaborative approaches to advance safety technology can be an effective way to advance our shared safety goals. Working together, we can reduce crashes and prevent injuries."
Some automakers are making clear progress toward the final goal. Five of them put AEB in more than 85 percent of the vehicles they produced from Sept. 1, 2017 through Aug. 31, 2018.
Tesla leads that list, with 100 percent of their vehicles getting AEB during that time period. Also near the top were Mercedes-Benz with 96 percent, Volvo with 93 percent, Toyota (and its luxury brand, Lexus) with 90 percent, and Audi with 87 percent.
"These results show that cars don't have to be expensive to get this valuable equipment," said Jake Fisher, senior director of auto testing for CR. "Even the Toyota Yaris, an affordable entry-level car, has it standard on all trims, even while far more expensive cars—and their drivers—go without."

Five automakers—Fiat Chrysler Automobiles (FCA), Ford, Jaguar Land Rover, Mitsubishi, and Porsche—put low-speed AEB in 10 percent or fewer of the vehicles they produced over that same time period.
A spokesman for Ford and Lincoln said, "We are ahead of the agreement to make AEB standard by 2022."
An FCA spokesman said that the automaker also would meet the agreement deadline.
Jaguar Land Rover and Mitsubishi both responded to a CR query but didn't answer our questions. Porsche didn't respond to repeated requests for comment.
The voluntary agreement is to have AEB standard on all models—and all versions of each model—by Sept. 1, 2022; there are no interim requirements for automakers to add the safety feature. CR will continue to monitor progress on an annual basis.
The vehicle models with AEB installed were reported by the car companies to IIHS and NHTSA. IIHS estimates that the voluntary agreement commitment will prevent 28,000 crashes and 12,000 injuries by 2025. Consumer Reports reviewed 2019 model data to calculate the percentage that get standard low-speed AEB across a model's trim lines.
As for making AEB standard in their cars, only two automakers—Tesla and Volvo—have done so on all versions of their models for 2019. Four car companies—FCA, GM, Maserati/Alfa Romeo, and Mitsubishi—don't have AEB standard across any model line for 2019.
Some automakers who didn't put AEB in most of the vehicles they produced in the 2017-2018 time frame do have it as standard equipment on more than half their 2019 models.
For example, 49 percent of the BMWs built last year had AEB, but 82 percent of 2019 models will get it as standard equipment. Hyundai (and its Genesis luxury brand) put AEB in 18 percent of vehicles last year, but 62 percent of their 2019 models will get it as standard equipment.
"When it comes to being on track for the 2022 targets, most manufacturers are ahead of the curve, but far too many still need to kick their efforts into gear," says David Friedman, vice president of advocacy for Consumer Reports. "It is also encouraging that more than half of models now come with AEB standard, and a third already have more advanced capabilities like pedestrian detection."
The agreement only calls for implementing forward collision warning and low-speed AEB systems by Sept. 1, 2022. As a result, even if manufacturers meet the terms, high-speed AEB may not be a standard feature on every model. Because motorists are more likely to be killed or seriously injured at higher speeds, Consumer Reports encourages automakers to offer high-speed AEB.
CR also urges them to include pedestrian detection in their AEB systems. As of February, CR scoring no longer gives credit to models with low-speed AEB unless they include pedestrian detection as standard equipment. That's because pedestrians are most often struck on roadways with speed limits below 40 mph.
The Past and Future of AEB
This chart shows the past and the future, with the percentage of models that each car company built from Sept. 1, 2017 through Aug. 31, 2018 with AEB installed, as well as the percentage of 2019 models that have at least low-speed AEB as standard equipment across all trims, or versions, of a model.