When you shop through retailer links on our site, we may earn affiliate commissions. 100% of the fees we collect are used to support our nonprofit mission.
Learn more.
Vehicles equipped with a package of rear-collision avoidance features were far less likely to be involved in rear collisions, according to new research from the Insurance Institute for Highway Safety (IIHS). But some of those safety technologies are more widely available and affordable than others.
In a study of vehicles equipped with rearview cameras, rear parking sensors, and rear automatic emergency braking, IIHS researchers found that vehicles with all three safety systems were 78 percent less likely to be involved in a backing collision reported to police. (The IIHS is financially supported by car insurers and insurance associations.)
more on Advanced Safety Systems
"This is the first time that we've had a technology that can intervene for a driver to prevent backing crashes," says IIHS spokesman Russ Rader. "We want to encourage consumers to buy this technology."
Rear automatic emergency braking is optional on just 5 percent of new cars and standard on fewer than 1 percent of new cars. Rear cross-traffic warning (RCTW) is optional on 43 percent and standard on 11 percent of new cars, according to the IIHS. "Technology that is shown to be effective will eventually be standard," Rader says.
Rearview cameras will be mandatory for all cars and most trucks built in May 2018 or later in an effort to prevent collisions, and also to prevent the tragedies of children dying or becoming injured from a vehicle backing out of a driveway.
Backing collisions usually don't involve serious physical injuries, but they can be expensive. After intentionally backing a 2017 Cadillac XT5 into a fixed pole at 4 mph, the IIHS estimated that repairs to the car's bumper cover, tailgate, trim, and other parts would cost $3,477. Backing a 2017 Subaru Outback into a 2016 Chevrolet Cruze resulted in a total of $1,899 worth of damage to the vehicles.
However, those repair costs can still be less than car manufacturers charge for option packages that include rear-collision avoidance technology.
For instance, the 2018 Subaru Outback starts at $25,895. But in order to get rear automatic emergency braking, buyers either have to buy the top-of-the-line Touring trim for $36,940, or they can add a $2,085 package on the Outback Limited—which already costs $6,800 more than the base vehicle. Both spec levels bundle rear automatic emergency braking with unrelated luxury items like heated seats and an upgraded sound system.
"If you didn't want some of the other features, you're basically being forced to get things you don't want to get this system," says David Friedman, director for cars and product policy and analysis for Consumers Union, the advocacy division of Consumer Reports. Friedman says that these technologies can be useful to consumers, but that they should be able to purchase them à la carte.
Even cars with more common rear-collision avoidance tech could still avoid accidents: Vehicles with rear parking sensors and a rearview camera—but not rear automatic emergency braking—were involved in 42 percent fewer backing crashes than vehicles not equipped with the technology. A rear cross-traffic warning system (RCTW) alone can reduce backing crashes by more than 20 percent.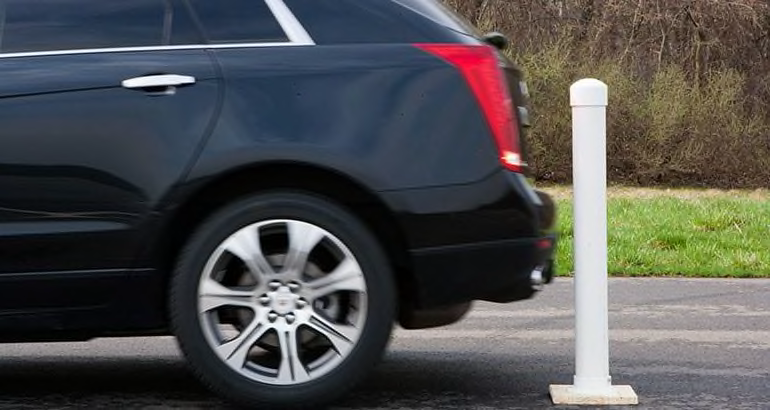 Car owners are also satisfied with the technology. About 83 percent of respondents in CR's Advanced Auto Safety Systems Survey reported being "very satisfied" with RCTW, and 80 percent felt the same way about their rearview cameras. CR's survey didn't break out owner satisfaction for rear automatic emergency braking.
"In combination with the backup camera's very wide field of view, the [RCTW] monitor alerts me of things that I would never be able to see on my own," says the driver of a 2016 Kia Optima in response to the CR survey.
Jennifer Stockburger, director of operations at CR's Auto Test Center, says the technologies are more important than ever because vehicle design is making it tougher to see clearly out of the rear.
"The styling of many new vehicles means a compromise for rearward visibility. Combine that with tight quarters, and these technologies allow the vehicle to see what you cannot," she says. "Even if most don't brake on their own yet, those with sensors or warnings allow you to react in time yourself."
The IIHS also released its first ratings for rear automatic emergency braking. The group tested six vehicles equipped with the technology in scenarios involving moving vehicles, stationary vehicles, and a fixed pole. When equipped with optional rear-collision avoidance technology, the Cadillac XT5 and Subaru Outback both received top Superior ratings for avoiding or substantially reducing the impact of backing crashes. The BMW 5 Series, Infiniti QX60, Jeep Cherokee, and Toyota Prius received Advanced ratings. Vehicles that have only RCTW or parking sensors receive a Basic rating.
From the 'Consumer 101' TV Show
There are many ways to prevent car accidents. 'Consumer 101' TV show host, Jack Rico, takes a look at the latest technology with CR's expert, Ryan Pszczolkowski. Plus, CR's expert, Jen Stockburger, shows where these important safety sensors are on a car and how to keep them clean.