Clear visibility should be a given with cars, as safety is so dependent on having an unobstructed view of the road and surrounding hazards. But many of today's vehicles have compromised visibility due to cool styling cues, aerodynamic consideration, and roof strength requirements—resulting in thick roof pillars, narrow side windows, and tall rear decks.
As part of our extensive road test evaluations, drivers of different sizes rate how they can see forward, to the rear, to the sides, and while using inside and outside mirrors. From the resulting visibility score, we present the cars with the best and worst visibility in rank order below.
Backup sensors, blind-spot monitors, and rear cross-traffic-alert systems have blossomed, offsetting the limitations for many designs—although often at an added cost. Many mainstream models now come with standard backup cameras, but they surprisingly often remain optional on expensive European brands. While all of these safety systems can be a welcome driver's aid, they are simply not a substitute for being able to easily see your surroundings and react accordingly.
Be sure to consider how easy it is to clearly see out and around when road testing your next car.
---
Subaru Forester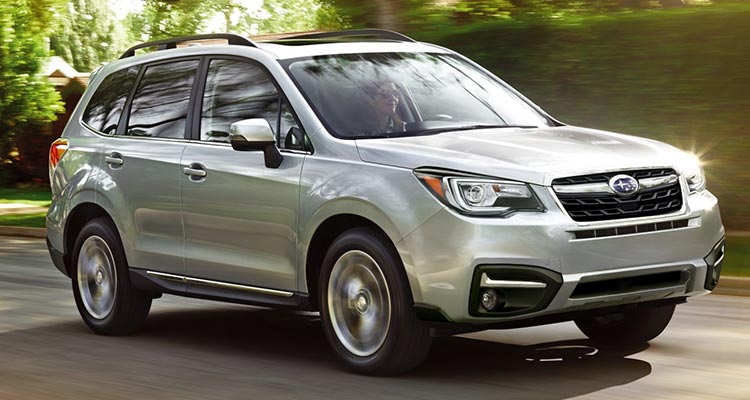 It's boxy, and good. So many small SUVs have sleek profiles that badly crimp the driver's view out—especially over your right shoulder. But the Forester embraces its earnest and boxy styling. Big windows, a square greenhouse, and thin roof pillars bring outstanding visibility, surrounding you with glass. There's a small blind spot at the rear corner, but it's not too bad, and the big side mirrors help. A backup camera is standard across the lineup. Blind-spot monitoring finally became available with the 2017 update. Hitting the sweet spot among small SUVs, the Forester delivers a spacious interior in a right-sized, affordable package. Crash test results are excellent and advanced EyeSight safety equipment, including forward collision warning and automatic emergency braking, is a readily available option. Fuel economy is excellent at 26 mpg overall, especially given its standard all-wheel drive.
See our complete Subaru Forester road test.
---
Subaru Outback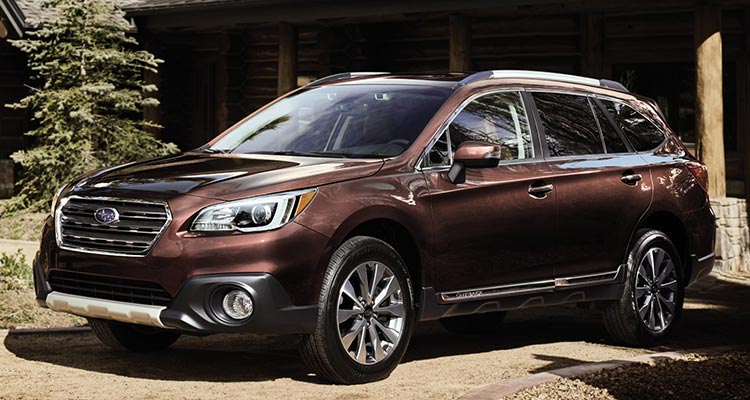 Like the Forester, the Outback's upright greenhouse, big windows, and thin pillars all combine to optimize visibility, making it easy to see out the back and minimizing blind spots. Another big plus: A backup camera comes standard on all Outbacks. Blind-spot monitoring and cross-traffic alert are optional on the Premium trim and standard on Limited versions. In addition, the Outback is a roomy and functional SUV alternative that appeals to the practical-minded buyer. It rides very comfortably. Standard all-wheel drive delivers reassuring traction in wintry conditions. Available on most trim lines, Subaru's optional EyeSight advanced safety equipment works well and includes forward collision warning with automatic emergency braking. The 2.5-liter four-cylinder returns 24 mpg overall, while the spunkier 3.6-liter six-cylinder loses 2 mpg.
See our complete Subaru Outback road test.
---
Subaru Legacy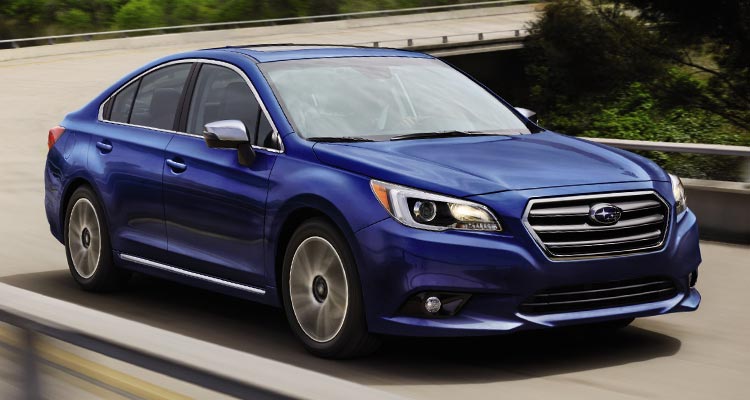 Maybe the Legacy lacks the sleek styling of a Chrysler 200 or Chevrolet Malibu. But its upright greenhouse, big windows, and thin pillars combine to provide the best visibility of any midsized sedan. Another big plus: A backup camera is standard across the line, and blind spot monitoring and EyeSight's forward collision warning and automatic emergency braking are readily available options. With very few compromises, the Subaru Legacy is a great all-around sedan, thanks to its standard all-wheel drive and reasonable price. It effectively blends a cushy ride, responsive handling, a roomy and quiet interior, and simple controls. This all adds up to a package that puts it among the top performers in our ratings of midsized family sedans.
See our complete Subaru Legacy road test.
---
Land Rover Range Rover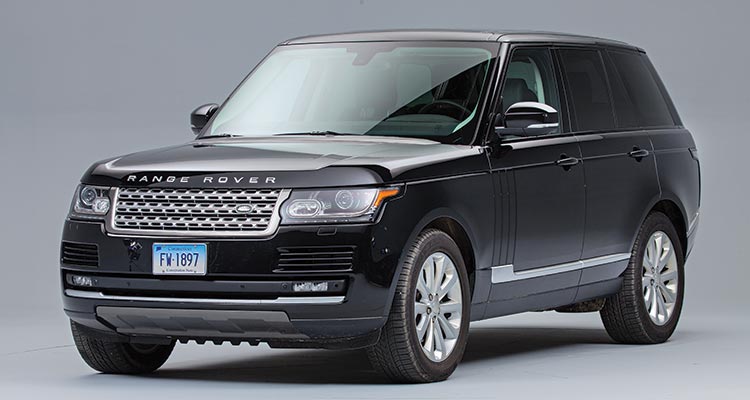 Sure, the costly Range Rover is the choice of landed gentry, or royal wannabes. But there are practical benefits to its imposing, regal profile. You sit up high, surrounded by huge vertical windows. Windshield pillars are thin, making for a panoramic view out the front and sides. We suggest getting the Vision Assist Package, with its blind-spot monitoring, surround-view camera, and cross-traffic alert. A wire grid is embedded in the glass to melt snow and nice. This is a great convenience in the winter, but can be distracting when your eye focuses on those thin lines. Even though the top Land Rover can clamber up a muddy and rocky trail, owners of any ultra-luxury sedan will feel right at home in the Range Rover. The supercharged V6 and excellent eight-speed automatic provide effortless motivation, and the air suspension swallows up bumps. Cabin furnishings and seats are first-rate. But reliability for Land Rover products has been below-average, which crimps its desirability.

See our complete Land Rover Range Rover road test.
---
Land Rover Range Rover Sport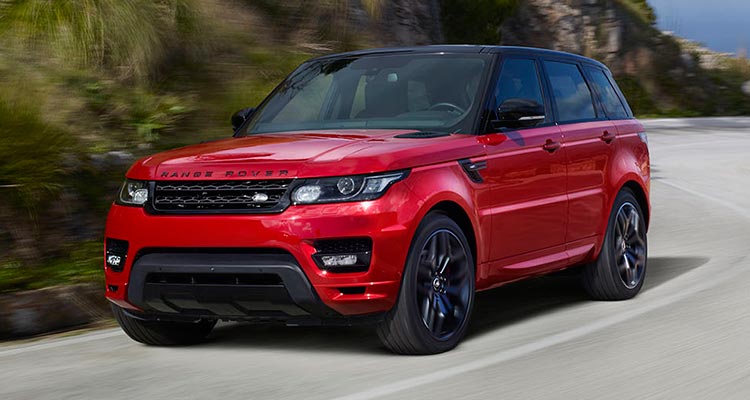 Think of the Range Rover Sport as the punk brother to the stately Range Rover, focusing more on maneuverability and handling prowess and less on ride comfort and off-road ability. But just like its sibling, the Sport's high seating position, thin pillars, and lots of glass all contribute to great visibility to the front and sides. Vision out of the sloping back window, though, is largely blocked by the large rear-seat head restraints. Gigantic side mirrors help with the rear view, along with a standard rear camera. We recommend the Vision and Convenience package for the added safety of blind-spot monitoring, cross-traffic alert, and a surround-view camera system. Most of the time you don't notice the heating wires embedded in the windshield, but they can make sun glare or other lights extra distracting when you do. Again, below-average reliability might be a concern.

See our complete Land Rover Range Rover Sport road test.
---
Honda Fit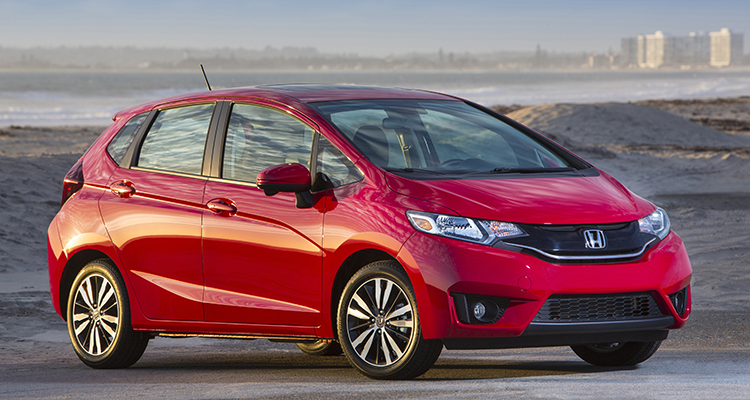 Not only does the Fit's upright hatchback design provide plenty of interior space, it also supplies great visibility. Windows all around are large for a subcompact car. Most roof pillars are fairly thin, and there's a sail window at the base of the windshield pillars to further aid visibility. The rear pillar is a bit thick. Rear seat head restraints fold down low when not in use, aiding the rearward view. Door mirrors are large. The Fit is one of the cheapest cars with a standard backup camera, something even expensive German luxury cars make optional. The screen image is large and easy to read. EX and EX-L trims have Honda LaneWatch standard. Trigger the right turn signal and the center screen shows what's alongside the passenger side of the car—but that's no substitute for a full blind spot monitoring system. The Honda Fit is an appealing urban runabout, with its tidy size, voluminous interior, amazing versatility, and good fuel economy.
See our complete Honda Fit road test.
---
Mercedes-Benz E-Class
Few cars are more welcome road trip companions than the cosseting E-Class. Aiding that cruising ease is visibility that ranks among the best of any sedan. Roof pillars, especially the windshield pillar, are thin, and the upright greenhouse provides plenty of glass area. Rear vision is surprisingly good through the large back window, despite the high rear package shelf and rear head restraints common in luxury sedans. That said, the optional backup camera does merit a major complaint: It doesn't appear when the radio is turned off. Despite the E-Class' price premium, some desirable features like backup camera, blind-spot monitor, and lane-keep assist are optional. Long a luxury sedan benchmark, the E-Class puts comfort, function, and good reflexes over glitzy flash. Passengers are pampered by a plush ride and extremely comfortable seats while ensconced within an impeccably finished interior. Note that the E-Class is redesigned for 2017; the more curvy-styled successor may sacrifice some visibility.
See our complete Mercedes-Benz E-Class road test.
---
Honda Accord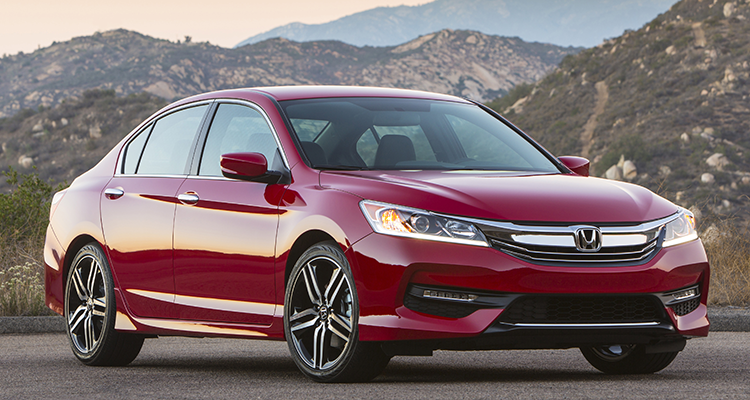 The recent aesthetic of swoopy, coupe-like styling and thick roof pillars have made driving some sedans akin to looking out of a gun turret. But not the Accord. Overall visibility is excellent, thanks to its upright styling, thin roof pillars, and a low beltline, giving it a wide expanse of glass all around. All trims come with a standard backup camera that works well, displaying the image in the large center screen. In the race to innovate blind-spot detection systems, Honda offers a system called Lanewatch. It uses a camera on the passenger-side mirror that displays the right-hand flank of the car in the center-dash screen when the right-side turn signal is activated—but it's no substitute for a full blind spot monitoring system. Across all trim lines, the Accord is well-equipped and priced competitively, making it one of our top-rated family sedans. It handles responsively, though the ride tends to be choppy. It has a roomy and well-finished interior, and the base four-cylinder engine gets 30 mpg overall.
See our complete Honda Accord road test.
---
Nissan Altima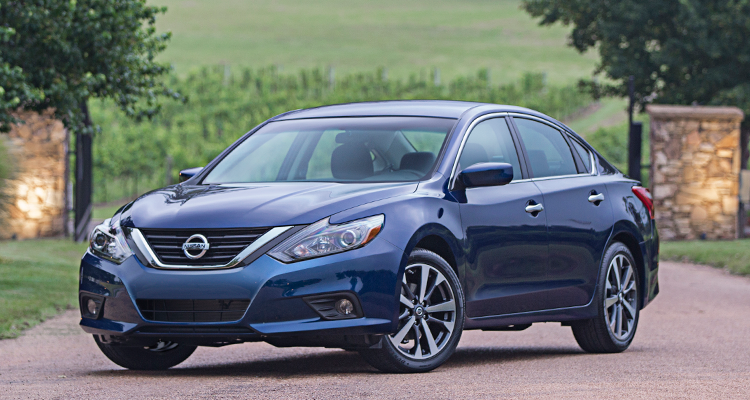 Facing a furiously competitive midsized sedan marketplace, the Altima comes up short, proving humdrum to drive and suffering from below-average reliability. But at least it provides plenty of space inside and easy driver visibility. Large windows and moderately sized front pillars make for a good view out. Typical for a sedan, the high rear deck limits visibility out the back and the rear roof pillars create a blind spot, although the small quarter window helps. A rear camera is standard on all but the most basic version, and blind-spot monitoring comes standard on mid-level SV and higher trims.
See our complete Nissan Altima road test.
---
Cars with Worst Visibility
Nissan Z: Visibility takes a back seat due to thick pillars.
Porsche Boxster: With the top up, it is hard to see rearward.
Honda CR-Z: Poor rear visibility is made worse by a horizontally split window.
Buick Encore: Thick pillars and pinched rear glass limit the view.
Infiniti QX70: Wide roof pillars, short windows, and a long, high, bulging hood interfere.
Toyota Tundra: Wide roof pillars and huge rear head restraints obstruct the view to the rear and sides.
Nissan Pathfinder: The small back window inhibits the view straight back.
Smart ForTwo: Thick roof pillars create some big blind spots to the rear.
Jeep Wrangler: A high dashboard and long hood interfere with visibility to the front, while thick pillars, the outside spare tire, and windshield wiper motor housing all interfere with the view to the rear.

Consumer Reports is an independent, non-profit organization dedicated to helping consumers. We make it easy to buy the right product from a variety of retailers. Clicking a retailer link will take you to that retailer's website to shop. When you shop through retailer links on our site, we may earn an affiliate commission – 100% of the fees we collect are used to support our mission.
Learn more.
Our service is unbiased: retailers can't influence placement. All prices are subject to change.