When you shop through retailer links on our site, we may earn affiliate commissions. 100% of the fees we collect are used to support our nonprofit mission.
Learn more.
The Toyota Prius has long been the 800-pound gorilla of the hybrid segment. Its combination of impressive fuel economy, versatility, reliability, and unique eco-car styling has helped it top the sales and ratings charts for years. But now a new challenger, the 2017 Kia Niro hatchback, has set its sights on cutting into the Prius' dominance.

Kia is taking a different tack, though. The Niro is being marketed as a crossover hybrid in an aim to appeal to the SUV crowd. The "Talking Cars" panel discusses Kia's chances for success, after having spent some time driving a Niro EX we recently purchased.

Next, the Cars team weighs in on the redesigned BMW 5 Series, discussing the 2017 BMW 530i xDrive we recently purchased. As with base models of competing luxury cars, like the Audi A6, Cadillac CTS, and Mercedes-Benz E-Class, the 530i uses a turbocharged four-cylinder engine—you need to step up to the 540i if you want BMW's supersmooth turbo inline-six. We discuss whether the turbo-four makes the 5 Series less of an ultimate driving machine, while delving into the car's dizzying array of available high-tech features.
The video podcast wraps up by addressing viewer questions and comments ranging from the sound quality of the BMW 330i's engine (mentioned in a previous episode) to offering guidance on how to convince an uncle that the Honda Ridgeline should be the midsized pickup for him.
Watch the video above for all this and more in the latest episode of "Talking Cars With Consumer Reports."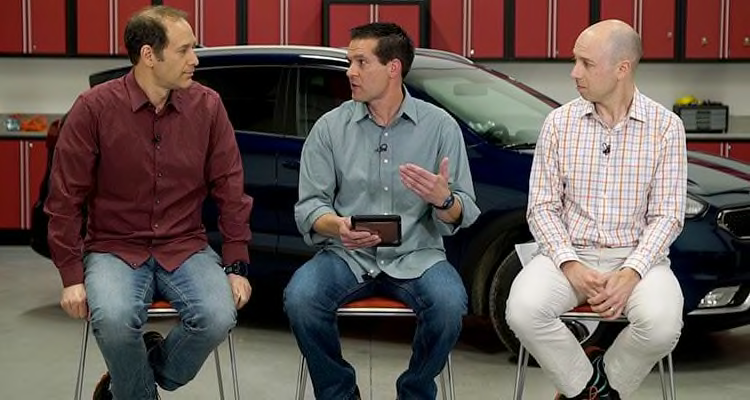 As with other "Talking Cars" episodes, this one on popular cars is also available free through Apple Podcasts. Subscribe to the video or audio. You'll also find the video on YouTube.
Share your comments on this show below, and let us know whether you need any advice about choosing a car.