When you shop through retailer links on our site, we may earn affiliate commissions. 100% of the fees we collect are used to support our nonprofit mission.
Learn more.
Few vehicles have elicited as much interest from our viewers and readers as the redesigned 2017 Mazda CX-5 small SUV.
This Mazda stands out in a category filled with competent but uninteresting machines. The first-generation model blended efficiency and sportiness, with a dose of practicality thrown in, to create an enjoyable small SUV. Now Mazda has redesigned the CX-5, adding flair and refinement without giving up the innate "Mazda-ness."
One major addition is the standard low-speed automatic emergency braking. This is an important safety feature, and it will earn the CX-5 bonus points when we complete testing.
Meanwhile, the Jeep brand faced a similar predicament: how to keep its core Jeep constituents but attract new shoppers who have ignored—or shunned—the brand.
With the redesigned 2017 Jeep Compass (don't confuse it with the 2017 Jeep Compass that is on the old platform), Fiat Chrysler Automotive's SUV/outdoor lifestyle brand did its best to atone for the sins of the original Compass.
Gone is the cheap interior that used plastics seemingly found in baby toys. In came soft-touch materials, substantial seats, and updated connectivity. All of that is wrapped in a package instantly recognizable as a Jeep. But a nice wrapper only goes so far: it's what is inside and under the hood that matters most. We discuss whether the Compass has the goods to take on the class leaders like the Honda CR-V, Subaru Forester, and Toyota RAV4.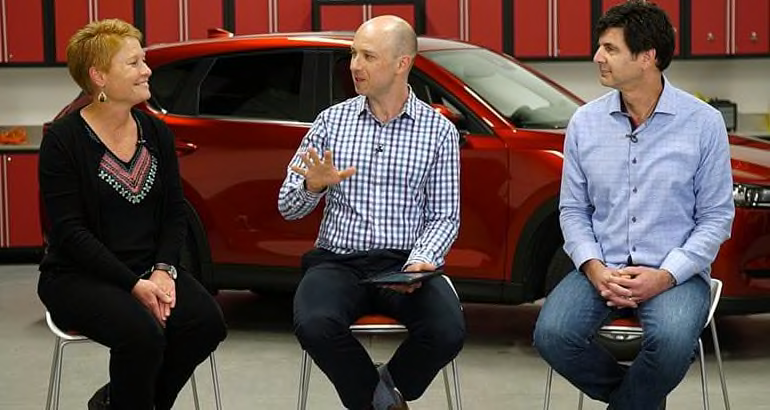 Sometimes there are cars that aren't sold everywhere, or sometimes initially go on sale in just one market. The Toyota Mirai fuel-cell car is one example of the former, and the Nissan Leaf is an example of the latter. In both cases, we bought a version in California and shipped it to Connecticut to conduct testing. Similarly, the redesigned Honda Clarity FCV fuel-cell car is only for sale in California. But with a plug-in hybrid coming to all 50 states this fall, we decided to rent an FCV from Honda in order to get some experience with it.
Finally, we answer viewer questions about what we mean when we rent a press vehicle; discuss the pros and cons of the Mazda3 and Subaru Impreza hatchbacks; and explain why winter tires are great, but all-wheel drive is an alternative in some cases.
As with other "Talking Cars" episodes, this one is also available free through Apple Podcasts. (Subscribe to the audio or video.) You'll also find the video on YouTube.
Share your comments on this show below, and let us know whether you need any advice about choosing a car.

2017 New York Auto Show, episode 113
BMW 5 Series and Kia Niro, episode 112
Toyota C-HR and Alfa Romeo Giulia, episode 111
Top Picks, episode 110
Honda CR-V and Volkswagen Golf Alltrack, episode 109