When you shop through retailer links on our site, we may earn affiliate commissions. 100% of the fees we collect are used to support our nonprofit mission.
Learn more.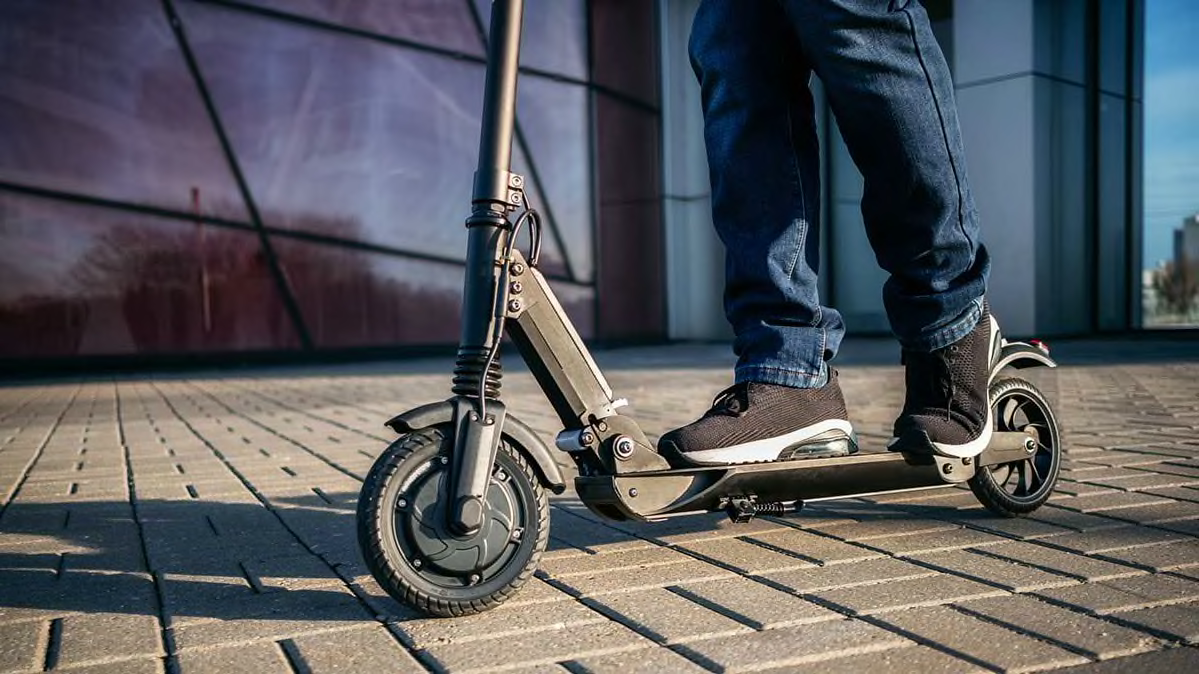 Accidents in the U.S. involving electric scooters nearly doubled between 2017 and 2018, a study released on Wednesday found, prompting its authors to call for more safety measures to protect riders.
The study, published in JAMA Surgery, analyzed data from the National Electronic Injury Surveillance System (NEISS) on estimates of injuries from crashes involving e-scooters that resulted in emergency room visits.
Because they offer a "fast and convenient form of transportation" that helps ease traffic congestion, e-scooter sharing programs started becoming popular in cities around the country in 2017, noted Benjamin Breyer, M.D., a study co-author and urologist at the University of California San Francisco Health Center.
"But we're very concerned about the significant increase in injuries and hospital admissions we documented, particularly during the last year," Breyer says.
The dockless scooters, which can be rented through a smartphone app at a low cost, have posed headaches for cities across the U.S., as companies like Bird and Lime launched operations. The two-wheeled vehicles caught on fast among consumers who find them to be an easy, fun way to travel short distances. But as cities scrambled to put e-scooter regulations in place, injuries piled up. Research so far has found that a majority of riders don't wear helmets, and many of those who are injured are seriously hurt.
Lime, one of the biggest e-scooter startups, said the study doesn't provide crucial context. E-scooter use across the U.S. has soared since the programs were introduced, the company said, so it's not surprising that there would be a concurrent rise in injuries.
"Lime's highest priority is the safety of our riders, and we advance this through rider education, community engagement, product innovation, and policy development," Nick Shapiro, Lime's vice president and head of trust and safety, said in a statement. "As a two-year-old industry providing incredibly valuable new transportation options for millions of people around the world, we appreciate UCSF's attention on this important topic and remain committed to ensuring safe rides for all users."
Bird, Lime's main competitor, didn't respond to requests for comment by the time we published this article.
'Dramatic' Increase in Injuries
The data the study examined is from a project of the U.S. Consumer Product Safety Commission and covers 2014 to 2018. The number of scooter-related injuries and hospital admissions surged in that time period, particularly in the more recent two years as e-scooter programs became more common in cities, the study found.
There were about 39,100 injuries between 2014 and 2018, with 22,667 of them in 2017 and 2018 alone. About one-third of injured patients suffered head trauma, the study found.
Scooter-related hospital admissions increased as well, from 715 in 2017 to 1,374 in 2018. There's no data available from NEISS on the specific circumstances of the accidents, the authors note, including whether alcohol was involved, if riders wore helmets, or if the rider collided with a motor vehicle. The earlier CDC study found 10 percent of riders in Austin had collided with a car, while 20 percent believed their scooter had malfunctioned.
The study authors say the actual incidence of e-scooter accidents may be higher than that shown in the data because hospitals don't have a standardized way to report e-scooter accidents separately from accidents involving scooters used by the elderly and people with mobility issues. (The study did not include in its analysis cases in which the scooter type was unclear.)
That was a problem identified by CR in its investigation last year. CR tabulated injuries from dozens of hospitals across the U.S. and found that more than half either weren't tracking e-scooter injuries or lacked the ability to do so.
Helmet Use Encouraged
Because the vast majority of riders don't wear helmets, the study's authors suggest more should be done to encourage their use. Experts have also called for increased educational messaging on how to safely use e-scooters.
"It's been shown that helmet use is associated with a lower risk of head injury," Nikan K. Namiri, a study co-author who is also a medical student at the UCSF School of Medicine, said in a statement. "We strongly believe that helmets should be worn, and e-scooter manufacturers should encourage helmet use by making them more easily accessible."
Over the past year, as cities have written regulations governing e-scooter use, some have gone so far as to ban them altogether. The study's authors say they're unable to account for how many people have actually ridden e-scooters in the NEISS data, but the increase of injuries between 2017 and 2018 suggests more needs to be done.
"Despite being unable to account for ridership," the study says, "the nearly doubling of incident e-scooter trauma calls for improved rider safety measures and regulation."