When you shop through retailer links on our site, we may earn affiliate commissions. 100% of the fees we collect are used to support our nonprofit mission.
Learn more.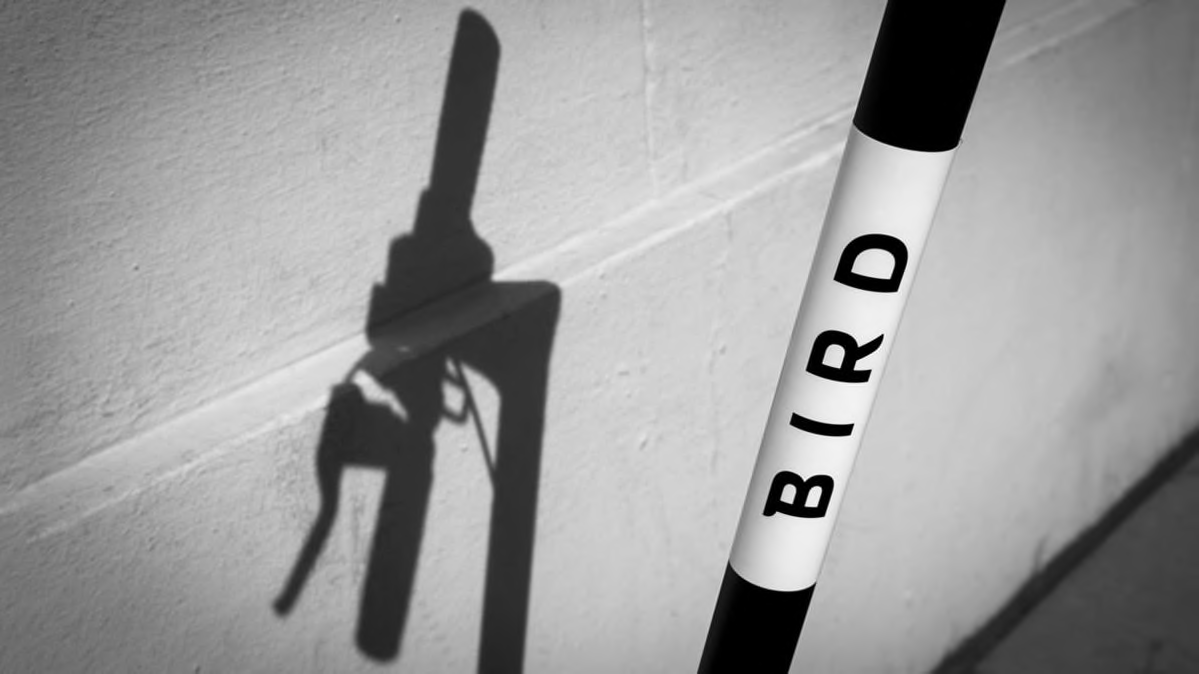 An apparent glitch can cause an electric scooter model available for rent from major companies like Bird and Lyft to experience a sudden burst of speed that exceeds limits set by cities, Consumer Reports has confirmed.
The issue affects an e-scooter model manufactured by Segway, called the Ninebot KickScooter, users on the forum ScooterTalk first said this week. The model is used by many shared e-scooter companies.
"A series of simple steps will cause the Segway Ninebot ES4 scooter to rapidly accelerate to 19 mph," posted an e-scooter rider in Atlanta named Edmund, who prefers to use only his first name for privacy concerns. Segway's website confirms that particular model can achieve speeds of 19 mph.
"It's easy to unintentionally activate and dangerous to an unsuspecting or inexperienced scooter rider," Edmund wrote in his post on ScooterTalk.
CR re-created the glitch on multiple scooters Thursday and Friday, achieving speeds of up to 21 mph while riding on a flat surface.
Most cities have established regulations that cap speeds for e-scooters at 10 to 15 mph. Scooter companies install a governor—or speed limiter—that's meant to keep the vehicle's speed below the caps set by local regulations.
While the steps taken to trigger the glitch represent an atypical use of an e-scooter, and ends as soon as the rider chooses to slow down, the speed it achieves appears to violate local regulations. CR even activated the glitch one time by accident, suggesting an unwitting rider could do so, as well.
It also increases the risk of serious injuries, says Christopher Ziebell, M.D., emergency department medical director for the Dell Seton Medical Center at the University of Texas in Austin, who has studied e-scooter accidents. "Obviously the faster one is moving, the stronger the injuring forces during a crash," he said.
Peter Anzalone, CR's senior test project leader who tests bike helmets, says bike helmets are not designed to be used at higher speeds. "The protection offered by a bike helmet is limited to the conditions you might encounter when riding a bike. As you start to approach speeds of 20 mph, the protection offered by a bike helmet is no longer adequate in the event of a crash," he says.

Edmund tells CR he tried Ninebot KickScooter ES4s in Atlanta from Bird, the largest e-scooter company, and Lyft, and achieved speeds approaching 20 mph. Atlanta's local e-scooter ordinance says the motor of vehicles "must not alone be capable of propelling the device in excess . . . of 15 miles per hour." (A spokesperson for the City of Atlanta directed CR to the local ordinance and didn't respond to requests to elaborate.)
CR was able to replicate the problem—which involves taking a few steps with the rear brake and the throttle—late Thursday on several, though not all, Ninebot KickScooters available for rent in Washington, D.C. from Bird, Lyft, and Skip.
We attempted the same steps on Ninebot KickScooters from Spin (owned by Ford) and Jump (owned by Uber), but the glitch didn't occur on either company's e-scooters.
A spokesperson for Spin didn't provide an immediate comment. Jump tells CR it implemented software to ensure scooters were capped at a max speed of 10 mph, prior to launching its scooters in D.C. on April 9. Internal tests conducted by the company in late May and early June found a small subset were not adhering to the limit. To address this, Jump says it updated its software settings, and is taking steps to verify compliance with the limit, including weekly checks to ensure software settings remain in place.
Still, when CR tried a Jump scooter Thursday, it topped out at 15 mph, according to its speedometer, which exceeds the 10 mph limit set under D.C. local regulations. Jump says it's working to address the problem and is committed to ensuring compliance with local regulations.
On the Skip ES4 that CR tried in D.C. without the glitch activated, the top speed reached was roughly 10 mph, according to its speedometer. But once the glitch was activated, the scooter's speed increased and its speedometer reached 21 mph. We tried recreating the glitch on five Skip scooters, and were able to do so on four of them.
A Skip spokesperson says the company is investigating the issue. "Our best in class hardware and Trust and Safety teams have processes in place to maintain the highest safety standards for our community of riders," the spokesperson says. "At this time, we are not seeing a fleet-wide issue as it pertains to acceleration. We encourage riders experiencing acceleration issues to contact our support team at support@skipscooters.com so we can immediately address and remove these scooters from the road."
The Lyft ES4 that CR tried in D.C. lacked a speedometer, but when the glitch was activated the e-scooter accelerated quickly, and traveled at speeds that appeared to substantially exceed 10 mph.
One of the three Bird scooters that CR tried behaved similarly. In two others, the vehicles appeared to be entirely ungoverned and accelerated rapidly from the outset. Based on the design, they may have been a Ninebot KickScooter ES2, an earlier model of the ES4, suggesting the glitch could be present in other models.
Lime, Bird's biggest competitor, doesn't use ES4s in its fleet, a spokesperson confirmed. The company says it has nearly phased out ES2s, if not entirely.
D.C.'s terms and conditions for dockless vehicles say a speed governor is required on e-scooters.
"The permit for Dockless vehicle operators in the District of Columbia requires personal mobility devices not be operated above the maximum speed limit of 10 miles per hour," Terry Owens, public information officer for D.C.'s transportation department, tells CR. "Operators that fail to comply with the maximum speed limit could face a range of penalties from not being allowed to expand their fleet size to the loss of their permit."
It's unclear how widespread the problem is, or how many ES4s each scooter startup has deployed. When CR alerted the companies to reports of the apparent glitch on ScooterTalk earlier this week, Lyft—which went public earlier this year and aims for e-scooters to play a significant role in growing its business—told us that "safety is fundamental to the company" and that it is investigating the matter. Bird didn't provide comment at press time. Segway didn't respond to multiple requests for comment.
"Shared electric scooters can be a fun and useful way to get around, but glitches like this don't inspire confidence," says William Wallace, a safety policy advocate for CR. "Every rental company needs to be vigilant to make sure their available scooters are safe and reliable for riders, and right now they're not living up to that responsibility."
The glitch may present another headache for e-scooter companies, which have faced intense scrutiny by cities and safety advocates over the last year, as the two-wheeled rides have been introduced in cities across the U.S. The dockless stand-up vehicles are easy to rent through a smartphone app, at a relatively low cost, and have caught on among consumers as an easy, fun way to travel short distances.
But the rapid introduction of e-scooters in dozens of cities since the fall of 2017 caught cities and regulators flat-footed, with relatively few policies in place to oversee them. Many riders have ended up in severe crashes, stoking concerns of medical experts across the country.
At least eight people have died while using rentable e-scooters in that time, CR reported Monday. An earlier investigation we conducted found an estimated 1,500 people have been injured since late 2017 as a result of an e-scooter accident.
Bird said in response to CR's questions about the recent fatalities that cities need to modernize road infrastructure to protect scooter riders from cars. The company announced Tuesday that it would be introducing a two-wheeled electric moped to its fleets.
Lime has acknowledged safety concerns related to e-scooters, and both have faced lawsuits about alleged defects in the vehicles.
Riders also remain confused about what traffic laws they should follow, according to a recent CR nationally representative survey of more than 3,000 adults.
Among people who have ridden e-scooters, 51 percent ride on the sidewalk, 26 percent in a bike lane, and 18 percent in the street but not in a bike lane. Additionally, more than one-quarter of users say that pedestrians got in the way during their ride, two in 10 say they felt unsafe around car traffic, and 8 percent reported a part of their scooter malfunctioned or didn't work properly.
Scooter Safety 101
Scooters are an affordable—and fun—means of transportation, but there are some important things you need to know. On the "Consumer 101" TV show, Consumer Reports expert Ryan Felton offers tips for keeping safe while using a scooter.