When you shop through retailer links on our site, we may earn affiliate commissions. 100% of the fees we collect are used to support our nonprofit mission.
Learn more.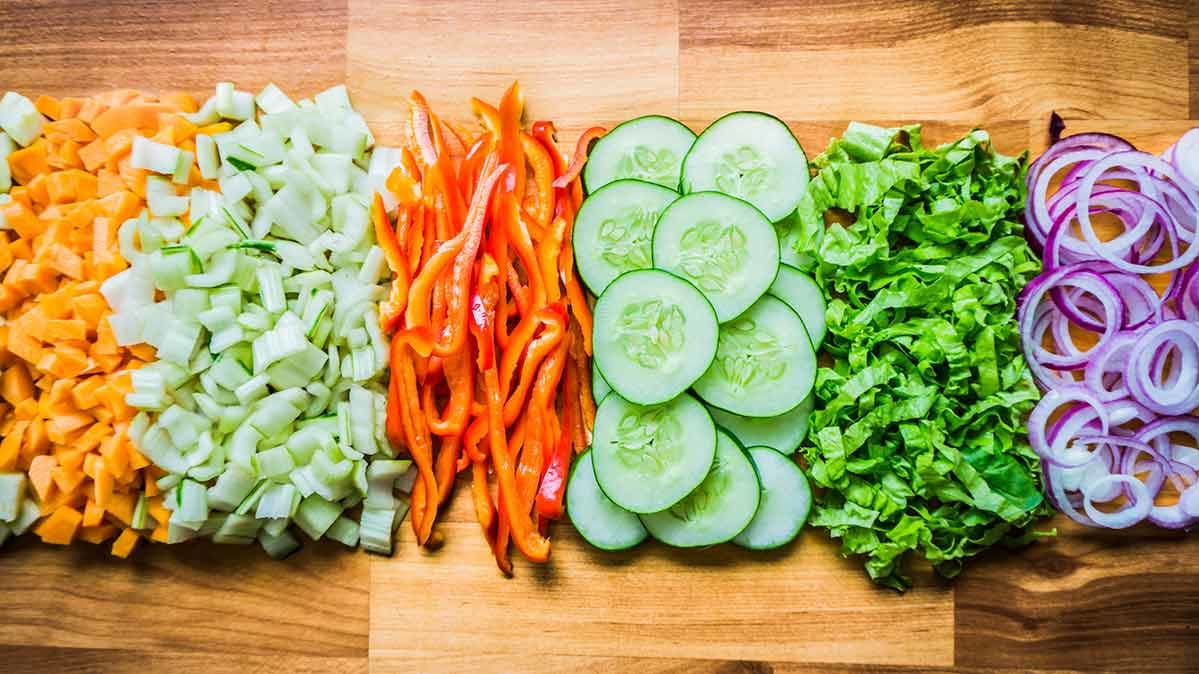 P eople who dine at home eat healthier—and spend less money—according to research published in the American Journal of Preventive Medicine. But even with those dual incen­tives, planning and cooking meals can feel like too much trouble.
"It can be harder to get motivated when you're cooking for just one or two," says Melanie Betz, R.D., a dietitian at UChicago Medicine and chair-elect of the Healthy Aging Dietetic Practice Group of the Academy of Nutrition and Dietetics.
Luckily, enjoying a healthy home-cooked meal doesn't mean you have to slave over a hot stove for hours or that you're stuck with a bowl of cereal or canned soup. Choose the right ingredients and you can pull together a nutritious dish with little effort—and keep the salt, sugar, saturated fat, and preservatives you're eating to a minimum. "Whole foods that are fresh or even frozen can be quickly assembled and heated," says Cary Kreutzer, R.D., M.P.H., associate professor at the USC Leonard Davis School of Gerontology in Los Angeles.
We've developed this guide to help you easily create satisfying meals for one or two.
Smart Strategies
Here are a few tips to help you get the most out of your no-cook meals:
1. Divide your plate. It's simple: Fill half of your plate with produce, one-fourth with whole grains, and one-fourth with protein. "If you have a 10-inch plate, your portions should generally fall into place," Betz says.
2. Focus on whole foods. Processed foods, such as frozen dinners and canned soups, are tempting. But those foods are often higher in sodium (2,300 mg per day should be your maximum). Choose fresh when you can; when you can't, look for a no-salt or reduced-sodium option.
3. Aim for a range of foods. "It's easy to fall into the habit of eating the same meal day after day," Kreutzer says. "But when we eat a variety of foods, we receive a variety of nutrients."
4. Don't be afraid of the microwave. It's safe, fast, and easy to use. Just make sure you take precautions, such as ­using dishware that's microwave-safe, and stir­ring microwave-­cooked foods and allowing them to rest so that heat can be distributed throughout the food.
5. Season without salt. As we get older, salt and sugar recep­tors don't work as well as they once did; that makes some people crave more seasoning in foods. "Herbs and spices are a great way to add flavor that doesn't have sodium at all," Betz says. Other good options: lemon juice, lime juice, and vinegar.
6. Always include protein. Older people need more protein than younger ones do. It's important, however, to spread that protein throughout the day to help your body use it most effectively. "If you're eating all of your protein at dinner, which is common, you're not getting the maximum benefit," Betz says. You don't need to count grams, but make sure each meal has some source of protein—enough to fill around one-fourth of your plate.
Healthy No-Cook Fixings
Choose a few foods from each of the following categories when you shop. That will help you stock your shelves with the building blocks for no-cook meals. And check out our nine ideas for healthy no-cook meals to make in minutes.
Grains
Government recommendations suggest that at least half the grains in your diet be in whole form, and the more whole grains you eat, the better. "Fiber is critical for every­one, but especially for older adults," Betz says. The fiber found naturally in whole-grain foods can combat constipation, which ­affects about a third of people 60 and older. Diets rich in whole grains are also linked with lower rates of type 2 diabetes, heart disease, and colon cancer.
Frozen brown rice or quinoa: Find it alongside frozen vegetables in the supermarket. Microwave according to package instructions, and use as the base for a veggie bowl or to bulk up a salad.
Bulgur: This quick-cooking form of whole wheat can be found in the organic or bulk foods section of your super­market. (Look for fine or medium grind.) Prepare by placing 1 cup of the grain in a medium bowl and pouring 1½ cups of boiling water over it, then let it sit, covered, for 10 minutes. (This will make 2½ cups; you can refrigerate what you don't use right away for later meals.) Break up the pieces with a fork, and use it instead of oatmeal at breakfast or in place of rice.
Soft corn tortillas: Found in the refrigerator section of the supermarket, these are healthier than their fried crunchy counterparts. You can use them for easy microwave quesadillas or roll-up sandwiches. Whole-wheat tortillas are an option, too, but they have more ­sodium than the corn variety.
Whole-wheat pita pocket bread: More versatile than sliced bread, you can stuff pita, toast it into chips, or top it with sauce and cheese for an easy toaster oven or microwave pizza.
Protein
You don't have to cook a steak or roast a chicken to get protein. You can fill your protein needs by choosing these no-cook options for your daily meals.
Precooked hard-boiled eggs: Cooked, peeled, and ready to eat. Slice to add protein to any sandwich, salad, or grain bowl.
Canned fish: Just as nutritious as fresh fish, with minimal effort. Use canned salmon in sushi-style wraps, sardines to top toast, and tuna mixed with lemon juice, capers, and greens to stuff a pita pocket.
No-salt-added beans: Mash kidney beans and top a corn tortilla, along with lettuce and tomato, for a tostada. Use black beans in a burrito-style rice bowl.
Precooked chicken strips: These ready-to-eat strips are usually near the deli meat. They're higher in sodium than fresh chicken, so be mindful to choose lower-salt foods for the rest of your meal when you use them. Opt for grilled strips over the breaded variety, which could have more fat and sodium.
Plain yogurt: Not just for breakfast, it's more versatile than flavored. Use it to make a quick veggie dip or to top a baked potato.
Nuts, seeds, and nut butters: Sprinkle chopped nuts on top of oatmeal, bulgur, or other grains, or use nut butter in place of butter on toast. For a quick meal, try nut butter with sliced fruit (such as strawberries or bananas) on whole-wheat bread.
Produce
"The great variety of fruits and vegetables provide year-round choices, delivering vitamins, minerals, fiber, and phytonutrients that help prevent disease and keep our gut microbiome in top shape," Kreutzer says. What's more, specific types of produce, such as leafy greens and berries, may help to slow cognitive ­decline. Aim to fill half of your plate with vegetables and fruits in a range of colors at each meal.
Easy-to-slice produce, such as tomato, cucumber, and banana: Add them to wraps or as salad or bowl toppings.
Avocado: The buttery flavor of this healthy-fat fruit will make any meal feel more sophisticated and satisfying. A ready-to-eat avocado will feel firm but yield if you give it a gentle squeeze.
Salsa: This widely used condiment can provide a serving of vegetables. But store-bought salsas (fresh or shelf-stable) can have a hefty amount of sodium. Compare brands to find a lower-sodium option, and enjoy on burrito bowls, omelets, and more.
Frozen produce: The advantage with frozen is that the washing and chopping has all been done for you, and it cooks quickly in a microwave. Nutrition pros consider frozen produce comparable with fresh; in some cases, nutrients are better maintained in frozen produce.
Fresh herbs: Parsley, basil, mint, and other herbs can take a simple meal and make it feel fancy; they also provide disease-fighting antioxidants.
Grain Bowls That Are Good for You
Intrigued by the meal-in-a-bowl options in the supermarket freezer? Consider these top-rated ones from CR's tests.
Healthy Dinner Hacks
Looking for healthier versions of your favorite comfort foods? These hacks will make dinner both delicious and nutritious.