When you shop through retailer links on our site, we may earn affiliate commissions. 100% of the fees we collect are used to support our nonprofit mission.
Learn more.
For a growing number of Americans, home is where the office is. A 2016 survey by the Society for Human Resource Manage­ment found that 60 percent of employers provide tele­commuting as a benefit, a threefold increase since 1996, and a recent PwC study revealed that almost 70 percent of U.S. workers think that in the future work will be done remotely and not in a traditional office. Contrary to the suspicions of skeptical bosses, studies find that employees who work at home at least part of the time tend to be more engaged, more productive, and less stressed out.
And though some people are content to toil on a laptop squeezed onto the kitchen table among the remains of breakfast, we think that a dedicated workspace with the digital tools you need to communicate with the boss and collaborate with your colleagues is a better way to go.
This guide will help you find a computer with the power and features to get any job done and a printer that will not only meet your immediate needs but also provide the best value in the long run.
The Computer: Consider a Desktop, Again
The personal computing revolution started with desktops, but they've been largely ignored in recent years as consumers opted for the portability of laptops, smartphones, and tablets. Now the tried-and-true desktop is poised for a comeback as companies including Apple, HP, and Microsoft race to design models that can answer a growing appetite for processors fast enough for demanding tasks such as video editing and gaming, and big, beautiful screens that display 4K video in all its Ultra High Definition glory.
At the pricey end of the spectrum, Microsoft's powerful and versatile new Surface Studio features a sleek 28-inch touch-screen display that swivels up and down like a tabletop drafting board. You can raise it upright to use it as a conventional monitor or angle it down to sketch ideas with the Surface Pen (included), adjusting the color and thickness of each brushstroke by turning the $100 hockey-puck-shaped Surface Dial tool. The Surface Studio starts at $3,000 and goes up to $4,200. For Apple fans, the new iMac Pro (due out in December) offers pro-level graphics, awesome computing power, and a whopping 128 gigabytes of memory for $5,000.
But you don't have to take out a small-business loan to afford a desktop with a very good screen and enough processing power for web browsing, spreadsheet management, and even some serious video editing. The all-in-one HP Pavilion 24-b217c has a 24-inch screen, earned an Excellent performance rating from our testers, and comes at a price of only $800. And if you don't need high-level gaming performance, the Lenovo 510-22ISH, $500, has a 21.5-inch touch screen and made our recommended list.
For those who just can't resist the portability of a laptop, a list of top models can be found in our ratings. You can always buy a monitor and a full-sized keyboard to use it more like a desktop at home.
The Printer: Factor in Long-Term Ink Costs
When given a choice between a printer that costs $200 and one that costs half that, many people opt to save money. But that's often a bad move: In the long run the cost of replacement ink can significantly dwarf the purchase price.
To illustrate this, we chose a few ­printers from our ratings and estimated the long-term costs for each, using the price of replacement ink and data on printing frequency from our reader ­surveys and on ink consumption from our testing. (See "How Printer Costs Can Soar Over Time," below.)
Based solely on its $130 price, the HP Envy 7640 looks like a good deal. But our estimates show the total cost is closer to $471 after three years of use. The $225 Brother MFC-J6520DW, on the other hand, will set you back a total of $336 during that span. Stretch the timeline to five years—the length of time most people in our reliability survey expect to own a printer—and that bargain HP ends up costing you $735. Similarly, if you buy the $500 Epson Workforce Pro WF-6530, you'd shell out about an additional $288 for replacement ink over five years. The Brother's five-year total cost? Only $444.
Epson and Canon make printers with refillable ink tanks, which can save significantly on replacement ink costs. The $280 Epson Expression ET-2550 is replenished with $12 bottles of ink and will cost a total of $315 over five years. The drawback? The text quality is only fair. To get a tank model with Very Good text quality, you'll need to spend closer to $400 at the start.
If you print only text (as opposed to photos and color graphics), a black-and-white laser printer is a fast and efficient way to go. The Samsung Xpress M2835DW sells for $140, and, given the price of toner, we estimate the five-year total cost to be about $192.
Before you buy any printer, research ink prices and do the math. We provide the ink cost per month in our ratings, as well as the two- through five-year cost of ownership on the model page for each printer.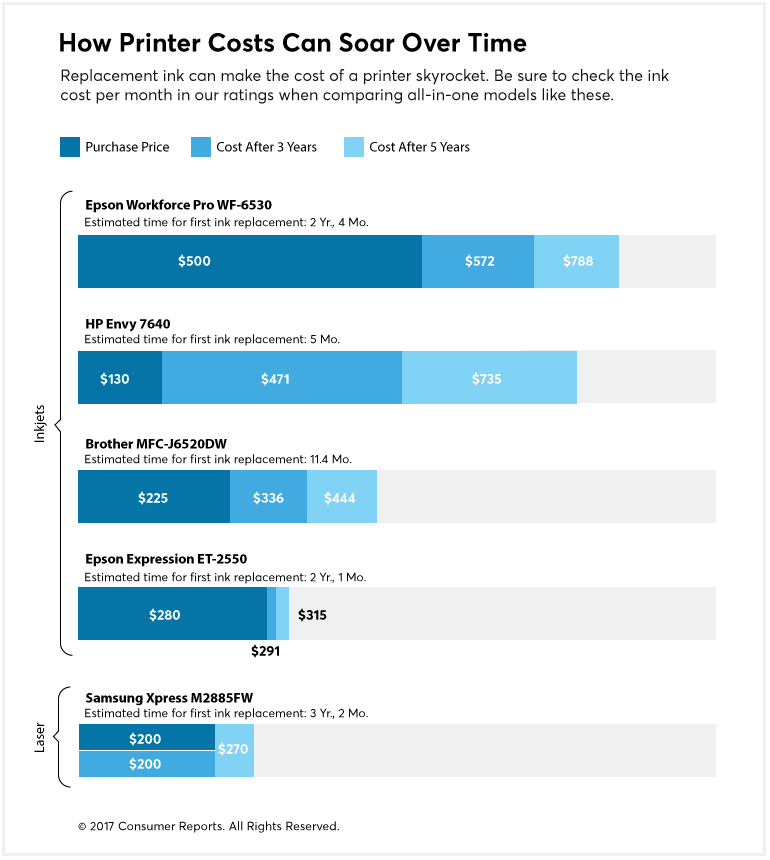 The Router: Make Sure You're Fully Covered
One of the appealing things about working from home is not being holed up in a cubicle. You can migrate to the living room to kick back on the couch during your coffee break or head out to the patio to return phone calls in the fresh air.
If you work on a laptop or a tablet and want the freedom to roam, you'll need reliable WiFi coverage in every room, which is no simple feat—especially if your home is multistory or more than about 1,500 square feet. For maximum WiFi coverage consider routers from companies such as Eero and Google that come in packs of three and link together wirelessly to create "mesh networks," blanketing your home in WiFi signals without sacrificing internet speed.
These products aren't cheap, but they have come down in price in the past year. The Eero three-pack originally cost $500. It now sells for $300 and delivers roughly 3,000 square feet of WiFi coverage. The Google WiFi three-pack—also $300—is advertised as covering 4,500 square feet.
Before you spend that kind of money, though, consider simply buying a new router, especially if you live in a home of more modest proportions. Today's models can accommodate 20 or more devices—from computers to game consoles to smart TVs. Thanks to the 802.11ac WiFi standard adopted in 2013, they're able to detect where each device is located and push a stronger "smart signal" to the spots in need. They can cost half the price of a mesh network.
Editor's Note: This article also appeared in the September 2017 issue of Consumer Reports magazine.
Home WiFi Mesh Networks
Can't get a decent wireless internet connection in your home? On the 'Consumer 101' TV show, Consumer Reports' expert Nicholas De Leon explains to show host Jack Rico how mesh networks provide faster speeds and better coverage.