When you shop through retailer links on our site, we may earn affiliate commissions. 100% of the fees we collect are used to support our nonprofit mission.
Learn more.
Audi has unveiled its first-ever full-electric production car, the E-Tron, allowing the brand to join a growing group of European automakers that are readying electric offerings to take a swipe at Tesla.
Adding to the ranks of electric vehicles from Tesla competitors including BMW, Jaguar, Mercedes-Benz, Polestar, and Porsche, this midsized luxury SUV will come standard with a tech-rich cabin, a robust roster of advanced safety features and driver aids, all-wheel drive, and adaptive suspension.
Sizewise, the E-Tron slots in between Audi's Q5 and Q7 SUVs, measuring 193 inches long and riding on a 115-inch wheelbase. Driving range is estimated by the EPA to be 204 miles when fully charged.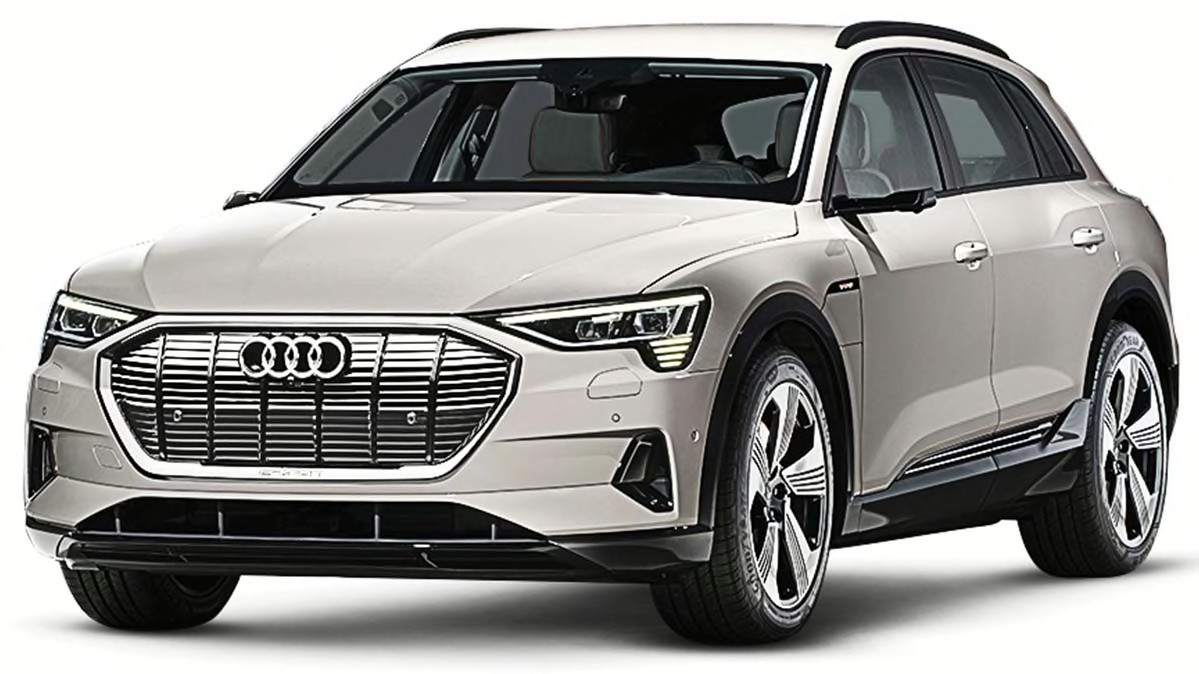 2019 Audi E-Tron
Starting price: $74,800
What it competes with: BMW iX3, Jaguar I-Pace, Mercedes-Benz EQC, Tesla Model X
What it looks like: The E-Tron resembles Audi's Q5 and Q7 SUVs, meaning an upright yet sporty shape, and thick rear roof pillars. The E-Tron retains Audi's signature grille instead of using a smooth, uncluttered nose like many electric vehicles.
On-sale date: May 2019.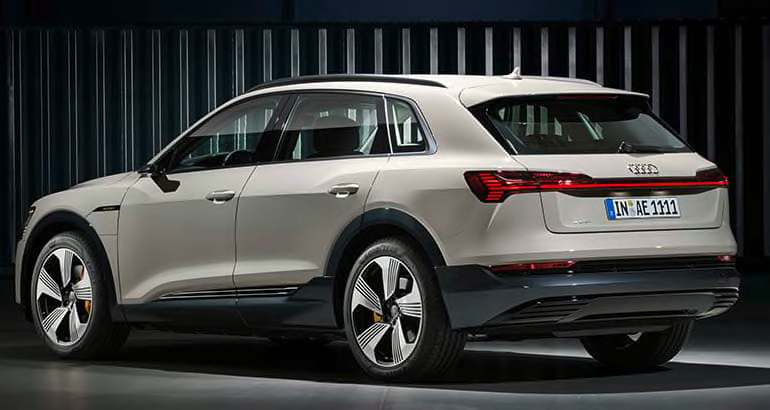 Outside
The E-Tron's shape will be instantly familiar to fans of Audi's SUVs, right down to the traditional four-ring logo on the grille. The rear is distinguished by a horizontal strip of LED lights that connects the taillights together.

But the ultraslim side mirrors seen in photos of the European model stand out. They actually aren't mirrors, but cameras that display images to a screen on the inside corner of each door panel.
The driver can adjust a camera's view by scrolling a finger across the screen. As cool as they might seem, Audi says this low-profile mirror is actually about improving the SUV's aerodynamics. These virtual mirrors will be optional in Europe and other select markets where they are permitted; they haven't been approved by U.S. regulators yet.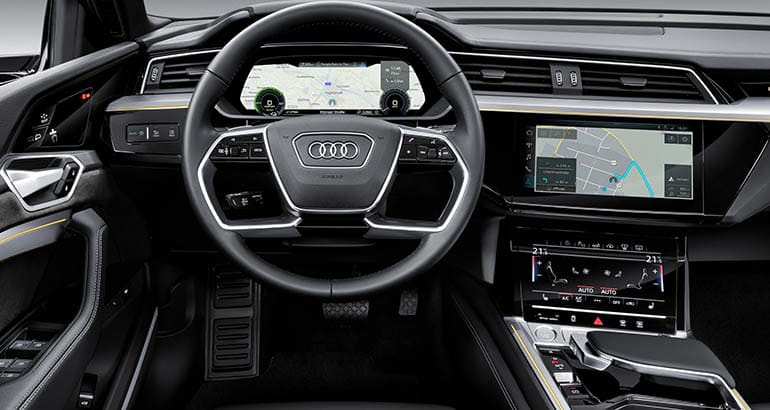 Inside
The E-Tron's cabin is dominated by two large touch-screen displays in the center of the car. Audi calls this MMI Touch Response, and these two screens take the place of almost all the usual knobs, buttons, and switches. The larger, 10.1-inch upper display controls the infotainment, phone, and navigation functions, and allows drivers to change the SUV's EV settings. The lower 8.6-inch screen displays climate and seat controls.

Audi's configurable instrument panel—called Virtual Cockpit—comes standard on the E-Tron. The driver can switch between a traditional view with two large dials (in this case, a speedometer and power meter) and what Audi calls the infotainment view, where the navigation map takes center stage as the gauges shrink. A head-up display, which projects key information onto the windshield in front of the driver, is also available.

The base Premium Plus mode, $74,800, comes with a nice level of luxury and tech equipment. Standard features include leather upholstery, 12-way power front seats with heating and cooling, a panoramic sunroof, illuminated door sills, a 16-speaker Bang & Olufsen audio system, a 360-degree top-view camera system, and 20-inch wheels.
The Prestige package, $81,800, adds massaging seats, power doors, further sound deadening, and even more driver-assist features. The Edition One trim, $86,700, offers special design details, including unique paint and exterior trim, and 21-inch wheels.
What Drives It
The E-Tron is powered by two electric motors, one at each axle, giving it all-wheel drive. A 95-kilowatt-hour lithium-ion battery pack resides beneath the passenger compartment. (By comparison, Tesla offers two battery options, a 75-kWh and a 100-kWh, for the Model X; Jaguar offers an 85-kWh battery in the upcoming I-Pace.) Audi says the 224-hp rear motor does most of the work at moderate speeds. The front motor, which can produce up to 184 hp, will join in if the driver requests full power or if more traction is needed. Audi claims the E-Tron can hit 60 mph in just 5.5 seconds—that's pretty quick for an SUV.

The Environmental Protection Agency estimates the E-Tron has a 204-mile range.

The E-Tron can recharge in about 9 hours using a 240-volt charging system (such as what a homeowner might use for a washing machine or other large appliance), and it will also have a plug for using an ordinary 120-volt household outlet. The E-Tron will have DC fast-charging capability at select high-speed public charging stations. Audi says this can give the E-Tron "up to an 80 percent charge in approximately 30 minutes."
Audi is teaming up with Amazon so that customers can have a 240-volt charging system installed in their house through Amazon Home Services. Amazon will connect buyers with a nearby electrician, and the system should cost "$1,000 under normal circumstances," an Audi spokeswoman told CR.
An adaptive air suspension comes standard on the E-Tron. This suspension will adjust the E-Tron's ride height by up to 3 inches, depending on the SUV's speed. Audi says the lower ride height improves airflow around the car to increase how far it can go on one charge, while the taller height allows for some off-road travel. Audi's Drive Select system lets the driver adjust the SUV's steering, ride comfort, and other aspects using seven modes that range from comfortable to efficient to sporty.

According to the E-Tron's tow rating, it can haul as much as 4,000 pounds when equipped with the optional tow package.
Safety & Driver-Assist Systems
Standard advanced safety systems include forward-collision warning, automatic emergency braking, blind-spot warning, rear cross-traffic warning, and lane-departure warning. Other available systems include adaptive cruise with lane-keeping assist, and an exit-warning system that alerts occupants about vehicles approaching from behind as they open their door.

The E-Tron's Park Steering Assist system handles the steering while the driver controls the throttle and brake during both parallel and perpendicular parking situations.
CR's Take
Established manufacturers such as Audi have allowed Tesla to rule the luxury electric vehicle roost up until now. While Audi is known for producing top-shelf SUVs that deliver a true luxury promise—a captivating driving experience and a swanky interior—the E-Tron is new territory for Audi. It will be interesting to see how well the automaker does with its first all-electric effort.

We'll have to wait to find out the E-Tron's real-world driving range on one charge. That's key because a luxury EV needs to travel more than 200 miles on one charge to be a credible threat to the Tesla Model X.

And what about charging on the road? Tesla has the jump on the established automakers with its own nationwide network of Superchargers. Audi is promising that the E-Tron will be supported by a nationwide charging network, provided by Electrify America, that will include 300 highway locations and 650 city locations by the end of 2019. But that means the infrastructure won't be in place when the car goes on sale. Without this infrastructure, and without a legitimately long range, the E-Tron would be little more than a fancy commuter car.

We'll try to provide as many answers as we can when we buy an E-Tron of our own, as soon as one is available. Then we'll put it through its paces to see whether it's a viable alternative to the Tesla Model X or even a viable alternative to traditional gas-powered SUVs.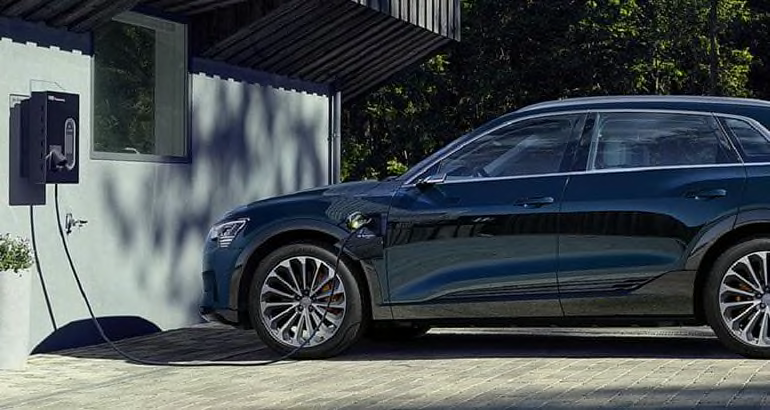 Electric Cars 101
Electric cars are bringing some of the biggest changes the auto industry has seen in years. On the "Consumer 101" TV show, Consumer Reports expert Jake Fisher explains to host Jack Rico why these vehicles might not be as newfangled as you think.