All-New 2023 Mercedes-Benz EQE Sedan Has Style and an Ambitious EV Cruising Range
This high-tech four-door is designed to compete head-on with Tesla and other high-performance EVs The 2023 Mercedes-Benz EQE electric sedan is positioned as yet another player in the growing electric vehicle (EV) market. Like many manufacturers, Mercedes is promising a future filled with EVs. It has plans to introduce 10 new electric models by 2022 and phase out all internal combustion engines by 2030.
The EQE complements the company's E-Class line, just as the EQS is the electric cousin to the S-Class sedan. Evidenced by its 196-inch length, the EQE is smaller than the EQS. The company says the new model's exterior size is comparable to the CLS four-door coupe.
The new EV, equipped with a 90-kWh battery, will deliver about 410 miles of range based on European testing. A full charge should take just over 8 hours using a 240-volt Level 2 charger. The company also says a fast-charging station should deliver approximately 155 miles in just 15 minutes.
A collaboration with Electrify America and ChargePoint includes nearly 60,000 public places to charge in the U.S. The "Mercedes me Charge" network promises to expedite public charging with a simple "plug and charge" process. Owners can set up the Mercedes app payment ahead of time and get billed based on usage to avoid fumbling with apps or payment at the charge point.
According to Mercedes-Benz, the EQE will accept over-the-air updates, so owners might not have to bring their car to a dealer for software-related changes.
The first model, the EQE 350, comes with 288 hp and rear-wheel drive. Other versions, including those equipped with all-wheel drive, will be introduced later.
The EQE will be joining the coming all-electric EQS sedan and EQB SUV. These will be followed by even more EVs, including all-electric Maybach and G-Class ultra-luxury SUVs and electric AMG sports cars. Further, the company claims that by 2025, "all new vehicle architectures will be exclusively electric, and customers will be able to choose a fully electric alternative to each model."
Below are some key details we know so far:

What it competes with: Audi E-Tron GT, BMW i4, Lucid Air, Polestar 2, Porsche Taycan, Tesla Model S.
What it looks like: A slightly rounder, less-edgy E-Class.
Powertrain: 288 hp electric motor; 90-kWh battery; one-speed direct drive; rear-wheel drive.
Price: $85,000-$100,000 (estimated)
On sale: Mid-2022
When a manufacturer touts an EV with a projected range of about 400 miles, we sit up and notice. The specs for the new EQE will probably not go unnoticed by Tesla, because its Model S is the reigning champion of EV cruising range. But Tesla models and the coming sedans from Lucid Air have far more horsepower than this Mercedes-Benz. If performance isn't the EQE's defining characteristic, then it might be efficiency, interior design, and clever computing. Mercedes' biggest challenge might be in making its controls more user-friendly. The road-test scores of recently tested models have been hurt by many unintuitive controls that can force the driver to look away from the road. We'll know more after we buy and test one.
According to Mercedes, the new EQE's exterior design focuses on "cab forward" styling, a term Chrysler popularized in describing its distinctive LH sedans from the early 1990s. This approach keeps the front and rear overhangs short, with minimal edges top to bottom, and it helps maximize interior volume. Plus, it highlights that the EQE doesn't have an engine up front. Coupled with the available 19- to 21-inch wheels, the styling goal looks thoroughly modern, with an "athletic character" (Mercedes' words). The body looks slickly aerodynamic, with a completely closed-off grille area and a tightly sealed hood that can only be opened by professional Mercedes technicians. But in the process, owners lose the convenient front trunk (aka "frunk") storage found in many other EVs.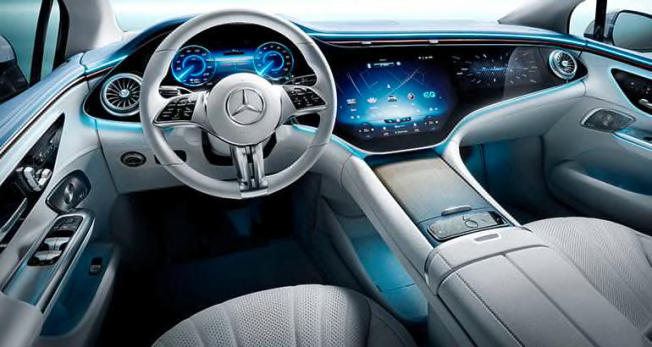 Owners can equip their EQE with the optional "Hyperscreen," which merges multiple screens under a single pane and generates a curved display that's over 56 inches wide, encompassing the entire instrument panel. This creates a dramatic, starshiplike presence, quite the contrast to Tesla's simple approach, which looks like an Apple iPad stuck onto a plain dash.
The rest of the infotainment system, according to the company, "adapts to its user and makes personalized suggestions for numerous infotainment, comfort, and vehicle functions." We'll see if this usability approach improves upon our recent experiences with Mercedes' controls, which require a steep learning curve and can be frustrating and distracting to use. The overly sensitive touchpad controller is gone from the center console, leaving the touch screen and steering wheel controls as the primary modes of interaction with the system.
The built-in navigation system can plan the fastest and most convenient route, including charging stops, and inform the driver of traffic jams. The system helps the driver know if the battery capacity is enough to reach the programmed destination without charging. We're pleased to see that the EQE comes with the same turbinelike dash vents that we've enjoyed using in recent Mercedes models.
A high-end Burmester surround sound system is optional. It comes with two soundscapes, Silver Waves and Vivid Flux. We think this is designed to make what is essentially a silent-running EV sound more like, well, a car. Mercedes says Silver Waves produces a "rich and clean sound . . . aimed at EV enthusiasts." Vivid Flux is described as delivering a "crystalline, synthetic yet warm" sound. Finally, a Roaring Pulse soundscape can be activated as an over-the-air update, sounding more like an "experience reminiscent of powerful machines, and is sonorous and extroverted."
The actual Burmester sound system includes 15 speakers, 15 separate amplifier channels, and a total output of 710 watts.
The first EQE models come with a 288-hp electric motor, rear-wheel drive, and a 90-kWh battery. Like all EVs (and some hybrids), drivers can customize the car's braking mode by manually selecting the degree of deceleration (D+, D, and D- in Mercedes-speak). Parents of school-age children should rest easy that it's not the car's report card. The most aggressive deceleration mode, in theory, allows the driver to almost never press the brake pedal.
The suspension system consists of a four-link front setup and multilink rear. An air suspension and two different four-wheel-steering systems are optional.
Safety and Driver Assistance Systems
The EQE comes standard with forward collision warning, automatic emergency braking with pedestrian detection, blind spot warning, and rear cross traffic warning.
The available Driving Assistance Package Plus offers active steering and braking functions.
The EQE comes with a face recognition system using cameras in the driver display. The system can, for example, detect when the driver appears to be drowsy and suggest taking a break.