When you shop through retailer links on our site, we may earn affiliate commissions. 100% of the fees we collect are used to support our nonprofit mission.
Learn more.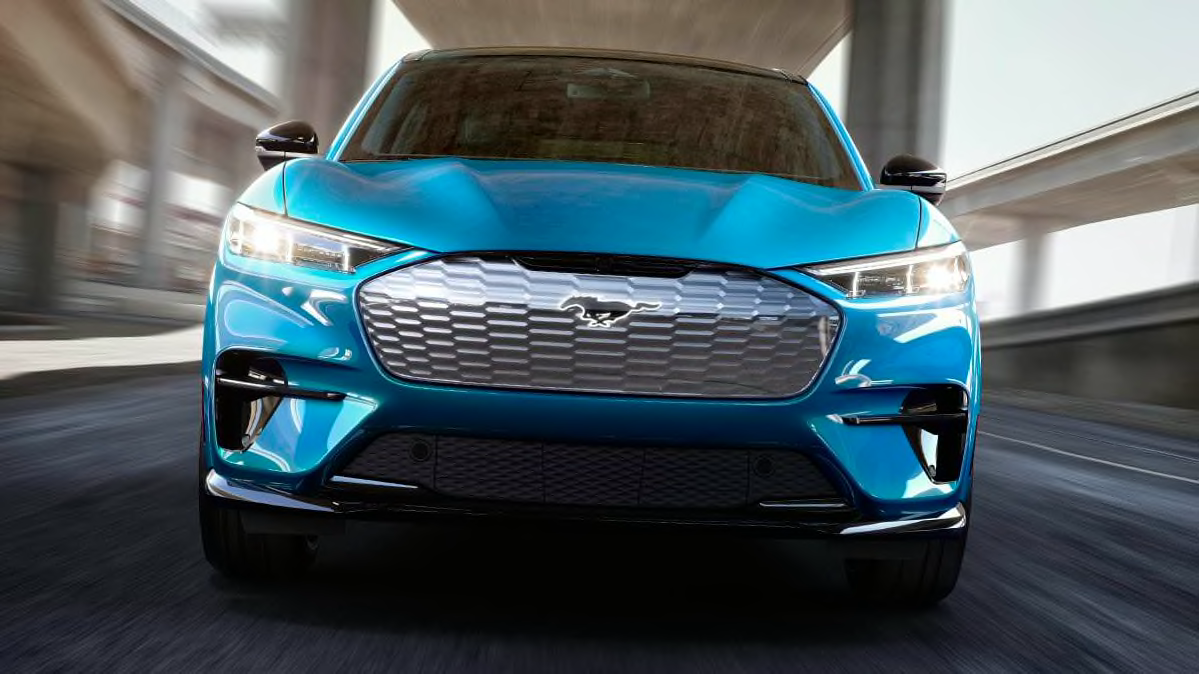 The just-revealed all-electric Ford Mustang Mach-E SUV is turning heads at the LA Auto Show this week. But this next-generation crossover is more than just a shiny new design.
As a brand-new, all-electric offering with an iconic badge, the Mach-E could dramatically expand demand in the tiny electric-vehicle (EV) market.
Buyers will get the full $7,500 federal tax credit on the first 200,000 plug-in or battery electric models sold by a company, unlike for new Tesla and General Motors EV purchases.
The Mach-E also has an affordable starting price in the mid-$40,000 ballpark and a competitive driving range from 210 miles to 300 miles on a full charge, depending on the trim level.
And for some consumers, Ford is recognizable and comfortable, key for some when deciding to buy into a new technology.
People who may have never considered buying an electric car will look at this vehicle, says Stephanie Brinley, an analyst with IHS Markit. And if EVs are going to grow beyond the tiny sliver of the overall market they occupy today, that has to happen, she says.
"At some point you need more than 1 percent of the car market buying electric vehicles, and this car has the potential to draw from across the country," Brinley says.
Despite its Mustang moniker, the Mach-E is not an electric muscle car. It is a crossover SUV, with four doors, more passenger and cargo space, and available all-wheel drive. And it has attitude, but it won't growl like a V8. It's decidedly futuristic instead.
Ford has sold electric vehicles before, but the Mach-E is different. It's not a repurposed economy vehicle, like the electric Focus, or a cheaper, dumpier version of the Toyota Prius, like the C-Max. Instead, Ford has taken the company's most hallowed Mustang heritage and conveyed its classic design cues into a modern crossover SUV.
Below are three ways the new Ford could shake up the growing electric-vehicle market:
It Could Broaden the Market for EVs
For Ford, the Mach-E is about more than selling EVs to boost its regulatory fuel-economy averages or to meet California's zero-emissions vehicle mandate. As proof, the company is using its most storied brand, Mustang, to show how much it believes in an electric-powered future.
Today, Tesla dominates the market for electric vehicles, accounting for more than half of all battery-electric and plug-in hybrid vehicle sales. Mach-E buyers could be very different from Tesla buyers, according to Tom Moloughney, a market analyst with Inside EVs, a website that tracks electric-vehicle introductions and sales.
People will shop a Ford who won't consider a Tesla. There are large parts of the U.S. where people have relationships with their dealers, and they want the comfort of being able to go somewhere local for sales and service, Moloughney says. It's a different market than the early adopters who are comfortable with dealing with a tech company like Tesla—which has no dealers and often supplies service with roaming mobile service trucks.
"Ford is everywhere," Moloughney says. "People can be concerned about new technologies. It's good to be able to rely on a brand that's trusted."
Real Competition Is Tesla's Model Y
The Mach-E may have some design chic, but it doesn't necessarily have the curb appeal of Tesla's sleeker Model 3 or the car company's other models.
On the other hand, the Mach-E is designed to be more attractive than the Chevrolet Bolt or Nissan Leaf. And it's much cheaper than Tesla competitors from Audi or Jaguar.
If you consider the Mach-E SUV's size, range, and performance specifications, it lines up most with the Model Y, a small crossover SUV that Tesla is promising for next year, says Moloughney.
Like Tesla, Ford recognizes that people are looking for something different and unique, he says. With the Mach-E, Ford is offering an attractive mix of style, technology, performance, and range at a very competitive price, Moloughney says.
"This doesn't look like anything else Ford is doing," he says. "It's probably going to do better than any electric vehicle that's come to market yet that isn't a Tesla."
Mach-E Buyers Get Full Tax Credit—for Now
Tesla and GM have long relied on the federal $7,500 tax credit to make their vehicles more attractive and to boost sales. Both companies hit a 200,000 cumulative sales limit last year.
Tesla owners are eligible for a partial $1,875 credit only through the end of the year. GM customers will get $1,875 only through March 31. Nissan and Ford will probably be the next manufacturers to hit the 200,000 limit, but there will be some time for consumers to get the full tax credit. When the Mach-E launches, there will probably be about a year of sales before Ford shoppers will see the tax savings begin to taper down.
But during the initial run, the tax credit will give Ford an advantage over cross-shoppers with the Tesla Model Y, says Moloughney at Inside EVs.
"They're very similar products," he says. "And incentives do matter."
Correction: This version has been updated to correct the value of the federal tax credit Tesla and GM customers currently receive when they purchase an electric vehicle from either company. The credit is $1,875, not $1,975.
Electric Cars 101
Electric cars are bringing some of the biggest changes the auto industry has seen in years. On the "Consumer 101" TV show, Consumer Reports expert Jake Fisher explains to host Jack Rico why these vehicles might not be as newfangled as you think.