When you shop through retailer links on our site, we may earn affiliate commissions. 100% of the fees we collect are used to support our nonprofit mission.
Learn more.
Unlike most movie sequels, updates to cars usually represent an improvement over the original. Technology, research and development, and a designer's artful eye continually march vehicles forward, with the result enticing buyers into dealerships. This holds true for the Chevrolet Volt and Toyota Prius, both of which are markedly improved over their predecessors.
First, let's address the elephant in the room: Why should you care about being green, when gas is so cheap right now? Well, saving money is always a good thing. The new Prius boasts even better fuel mileage, while the Volt can drive significantly further on a single electric charge. There's the feel-good standpoint: efficient transportation simply makes sense for our planet. Plus, you are covered in case gas prices reverse course and start getting higher.
Similar, Yet Different
Both cars have been heavily restyled. The Volt now has a sleek, almost sporty shape that defies its Earth-first underpinnings. Meanwhile the Prius, with its menacing headlights and sharp angles, has a downright aggressive look for a car that once should have had smiley faces plastered on the hood.
But it's what's under the skin that separates these two eco superstars. Chevy call the Volt an "electric car with a backup plan." It's powered by an electric motor, making 149 hp, with a 1.5-liter four-cylinder that acts as a generator.
The increased battery-electric range, not the engine, is the Volt's main selling point—it's now a claimed 53 miles, up from the previous car's mid-30s. This comes courtesy of a battery-capacity increase. With the average one-way commute just under 19 miles—according to a 2013 U.S. Census Bureau report—this means owners won't have to mess with a gas pump if they recharge daily.
The gas engine is EPA-rated at 42 mpg combined. We haven't finished testing ours yet, but so far the trip computer has been showing mileage in the mid-30s mpg. With the Volt's small, 8.9-gallon fuel tank, Chevy claims a potential EV/gas range of 420 miles.
With our 240-volt connector, we observed a charging time of 4.5 hours. A portable home kit allows for 120-volt charging, but that will take at least twice as long. Still, an overnight charge is feasible that way.
The redesign of the Prius, however, is more incremental, focusing on ride and handling, plus updates to the interior and connectivity, along with a slight bump in fuel efficiency.
The Prius' 95-hp, 1.8-liter gas engine is augmented by an electric drive that Toyota says is lighter and more compact, while the continuously variable transmission reacts quicker in passing situations. When combined with the 71-hp electric motor, total system output is 121-hp. Eagle-eyed readers will note that is down from the old car's 134 hp, but Toyota says it's due to a different calculation method. So far, on the road, we have no complaints.
The EPA estimates the Prius at 52 mpg combined, up from the previous car's 50. We've been seeing around 50 mpg on the trip computer. We'll report on both vehicles' consumption after we complete our instrumented tests.
On the Road
The Volt is first and foremost an electric car—until the battery runs out of juice. That means even if you floor the Volt's throttle pedal, the car stays in electric mode, keeping the gas engine out of the equation until the battery is nearly depleted. We've been averaging 48 miles per charge without trying hard.
Its electric power delivery is smooth and instant—there's 294 lb.-ft. of torque at your disposal. That's more than enough to spin the front tires when exiting slow turns, with a high-pitched whine at full throttle. That forcefulness is fleeting, though, as the initial thrust starts to taper at around 50 mph. Once the Volt runs out of electric juice and mostly runs on its gas engine, it's no longer electric-silent, although engine noise is more refined than the first Volt.
While the Prius isn't slow, it lacks the Volt's zip. Its gas/electric combination is incapable of generating much low-end torque. Clearly, Toyota's emphasis is on fuel economy.
Twisty bits aren't either car's forte, but neither disappoints. The Volt turns in quickly, but that agility seems to wane if you keep up the pace. The Prius has less roll and a more settled feel than the floppy, numb version it replaces.
The Volt's ride is firm, yet supple, and the cabin is nicely isolated from road and tire noise. The Prius rides markedly better than its predecessor, with a more pliant suspension but still, some road noise penetrates as its tires clomp over road imperfections and rumble on coarse pavement. Despite those gripes, the Prius is notably quieter inside than the loud din of the previous version.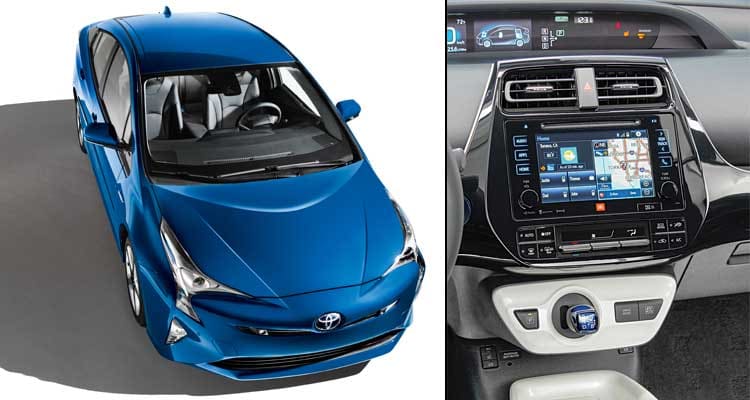 Interior Makeovers
Inside, both cars were given thorough revamps. The Prius has shed its abundant hard and hollow plastic, replaced with some soft-touch bits and higher-grade fabrics. Not all of us are fond of the white plastic trim, with some likening the center storage tray to a Stormtrooper's bedpan. The vivid and colorful center-dash-mounted gauge display is an improvement.
The Prius' wide, firm front seats should suit varied body types versus the Volt's somewhat short, cushioned ones. Neither the Volt LT nor the Prius Three come with adjustable lumbar support, which is, surprising at these price points. The Prius' door and center armrests could use more padding, while the Volt's left footrest is positioned too close for comfort for most drivers.
The Volt's black-on-black cabin isn't flashy, but we appreciate the center stack's layout of conventional knobs and buttons, and the prominent, intuitive touch screen display. The Volt's heater took forever to get going, making it necessary to buy the optional seat and steering wheel heaters. Neither car is easy to see out of, especially through the Toyota's split rear window, although both have a standard rear camera. Each offers blind-spot monitoring, but only on the expensive trims.
Both are pretty easy to get into, up front, though the lower stance of the Prius somewhat compromises access. But accessing the Volt's claustrophobic rear seat requires yogi-like flexibility. And don't put much stock in Chevy's claims about three-across rear seating. The tall battery tunnel limits the center position to, at most, a child seat.
The Prius clearly has the roomier back seat. It's open and airy by comparison, with wide seats, better foot space, a livable amount of head room, and a relatively hospitable middle seat.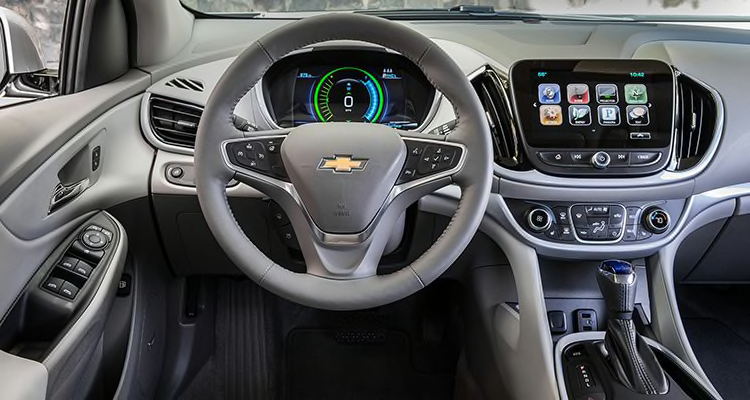 Which Works for You?
There's a rewarding feeling when driving the Volt in full-electric mode, with its whirring flow of power. While the Prius has an EV mode, it's only if you feather the throttle at low speeds.
But the Prius comes across as more normal—assuming you aren't turned off by its styling. The interior is roomier and easier to see out of, cargo space is significantly bigger, and you never have to feel guilty because you forgot to plug it in. It's impressively stingy with fuel and has long been extremely reliable.
Pricing for the Prius Two begins at $24,200 and goes up to $30,000 for the Four Touring. Volt pricing starts at $33,220 for the LT and $37,570 for the Premier. The Volt benefits from the $7,500 federal tax incentive available to electric car buyers, in addition to incentives in some states. Check your state's website for available credits.
Stay tuned for our final road tests for both cars at ConsumerReports.org.
How Accurate Are Fuel Economy Estimates?
How accurate are the gas mileage estimates that come with new cars? On the 'Consumer 101' TV show, Consumer Reports' expert Ryan Pszczolkowski explains how CR confirms the amount of fuel an engine is using—and offers tips for maximizing your mpgs.