5 Things I Learned From My Peel-and-Stick Kitchen Makeover
Budget-friendly materials helped me stick it to my rental's outdated kitchen surfaces without breaking the bank Nine years in the same apartment is almost unheard of among my millennial friends. But when I moved to the New York City area after landing my first magazine job, I had no plans to uproot myself every few years to transition into a new space. For years, a little bit of paint and a few carefully curated furnishings helped to make my very basic abode feel like an inviting home.
And then the pandemic hit.
My kitchen, when I moved in, was functional enough for making simple meals for one. But being confined to my apartment and cooking up three meals a day made all the little things that had always annoyed me about my kitchen too large to ignore any longer.
For renters like myself, remodeling a kitchen with new countertops, backsplash, and flooring isn't really an option; even if the landlord allows it, it's an expensive proposition when you won't benefit personally from the added value. Thankfully, peel-and-stick options for various kitchen surfaces are affordable alternatives for budget-friendly and lease-friendly DIY upgrades.
I spent $300 renovating my own little cooking corner by turning my backsplash from painted to textured, giving my countertops a marble treatment with contact paper, and—my favorite part—placing faux hardwood floors over my dated vinyl tiles. (See my before and after photos above and below.) On Amazon, these items can cost as little as $11 for one roll of contact paper and $20 for a 10-pack of vinyl planks.
A kitchen backsplash with faux tiles tends to cost a bit more, but sites like Amazon and Wayfair, as well as stores like Home Depot and Lowe's, have options as low as $3 per square foot. If you're on a really tight budget, the Dollar Tree has affordable wall tile offerings available on its website. And if a wallpaper backsplash is more your speed, Porter recommends sites like Chasing Paper, Mitchell Black, and Spoonflower.
Here, I'll share the lessons I learned while completing my peel-and-stick renovation. If you're looking to update your own kitchen, and have more to spend, check out CR's ratings of countertops and flooring. We also have recommendations on the "Best Countertops for Busy Kitchens."
1. Samples Will Save You Time
If you're a visual person like me, ordering samples to try out allows you to better conceptualize the change before you commit.
"I'd suggest making selections that reflect your unique style and point of view," Porter says. "If you love the ocean, find a motif that features soft blues and seafoams. Love Scandinavian design? Go for options with clean lines and a minimalist look."
Wayfair offers $5 "quick-ship samples" for purchase, so you can try it out before getting a full order. Home Depot and Lowe's allow you to buy a single tile or plank. Select brands and manufacturers on Amazon offer sample swatches for a small fee. To find them, search "peel and stick sample" in Amazon's search bar.
2. Order More Than You Need
"If it's your first time using peel-and-stick, it's possible to miscalculate the amount of materials you need, or make a few mistakes along the way," Porter says. That's why it's important to purchase excess materials for your project. The general rule of thumb for design jobs is get 10 percent more, and it's a good estimate for peel-and-stick materials as well.
Thankfully, peel-and-stick is less expensive than traditional materials, so it won't be too much of a splurge. Keep in mind that ordering the right amount goes hand in hand with measuring appropriately. It took me three separate Amazon orders to finish covering my counters because I didn't have my measurements right the first (or second) time. So a project that should have taken maybe a day to complete took me a week.
Use a tape measure to get the accurate widths and lengths of your surfaces, and make sure to account for counter overhangs. For flooring, have enough materials for that little extra space under and/or behind larger appliances like a stove or fridge, so you can extend the new flooring enough to hide the old flooring.
3. An X-Acto Knife Is Your Best Friend
Having the right tools is essential for any job, and a DIY peel-and-stick project is no different. The greatest assist in my kitchen makeover came from an X-Acto knife, which I used for precision cutting the faux subway tile on my backsplash and making trims to the marble contact paper that went around my kitchen sink. When I got to the vinyl floor planks, the X-Acto was just what I needed to cut around cabinetry and my larger appliances.
Other helpful utensils include a squeegee (you can use a credit card, too) for smoothing out any air bubbles that may arise when laying contact paper on your countertop. And of course, a tape measure is ideal to have on hand to use before making any major cuts. Amazon sells a peel-and-stick toolkit for less than $10, and it includes all three tools and more.
Don't forget that you need to thoroughly clean the surfaces you are covering. Use a household cleaner or rubbing alcohol to get rid of dirt, grime, and oil, and dry completely before starting.
One other item you'll need: a safety pin. If you run into air bubbles when laying wallpaper or contact paper, puncturing the bubble with the safety pin, then using a squeegee helps to smooth those bubbles out. Worked for me every time!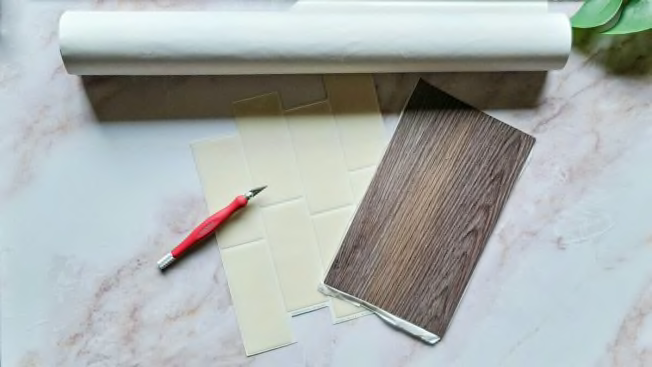 Sure, you could do it on your own, but there's nothing wrong with calling in some help. If you have high ceilings or heavy appliances, or you could just use a second look to double-check your measurements, having a DIY partner can be beneficial.
When friends and family aren't available, there are always services like Handy, TaskRabbit, and Thumbtack that allow you to hire professionals to help you complete the job. I needed an extra hand to help lay peel-and-stick flooring behind my refrigerator. Just remember, if you're inviting someone into your home, be sure to follow current Centers for Disease Control and Prevention guidelines. That includes keeping a safe distance, wearing a mask, and making sure the space is well-ventilated. TaskRabbit has its own health and safety standard that my tasker and I agreed to when I hired them for the job.
5. Embrace the Imperfection
It's important to remember that peel-and-stick alternatives are not stand-ins for new countertops, tiles, and floors. And they may very well not be perfect. You may get an air bubble that just won't come out on your counter or a slight gap between two floor planks. However, if I learned anything during my experience, it's that it's completely okay to embrace that small crease near the kitchen sink, and that one air bubble that only I know is there.
Being able to stand back and admire my kitchen remodel gives me a feeling of calm during these crazy days. I'm spending much more time in there than I used to, shaking up cocktails, trying new recipes, and taking virtual cooking classes.
And if you're wondering how well all the peel-and-stick is, well, sticking, I'm happy to report that everything's holding up well.