When you shop through retailer links on our site, we may earn affiliate commissions. 100% of the fees we collect are used to support our nonprofit mission.
Learn more.
When you shop through retailer links on our site, we may earn affiliate commissions. 100% of the fees we collect are used to support our nonprofit mission. Learn more.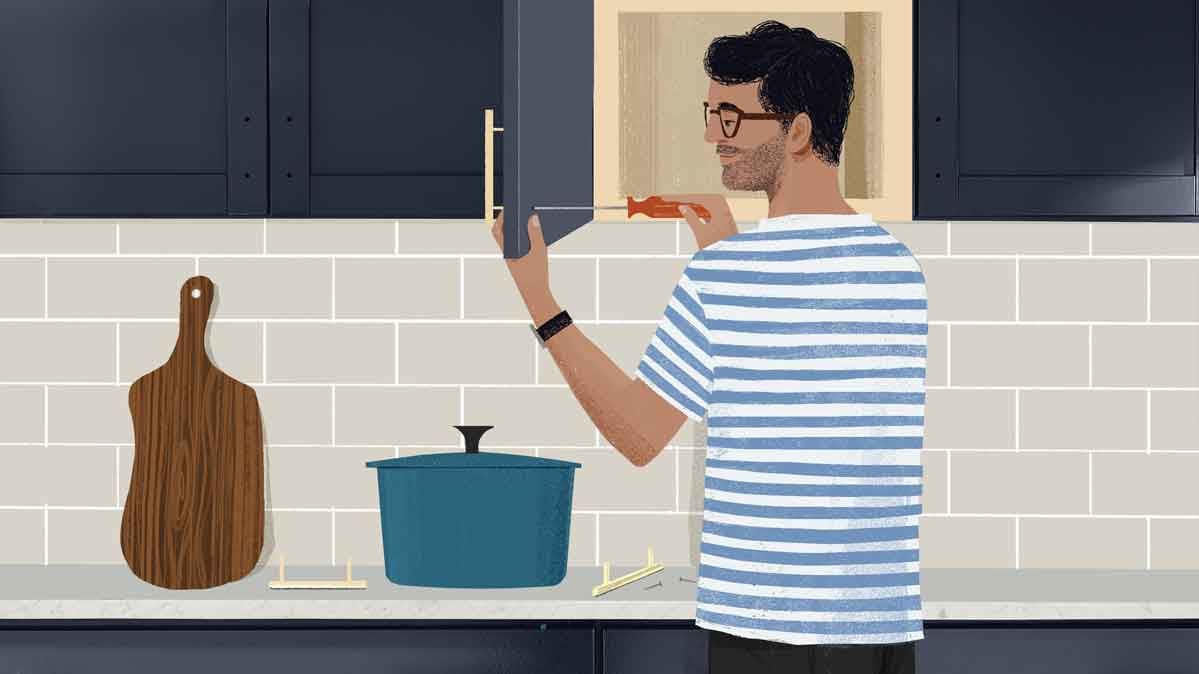 Illustration: Sam Kalda, Photo: Courtesy of Sherwin-Williams
During the year-plus of pandemic living, you've probably spent more time in your kitchen than ever, and perhaps you're itching to make a change. Maybe it's the tired color scheme. Or the cluttered countertops and drawers. Or the way the oven temperature always seems to be a few degrees off.
But how do you decide what really needs to be replaced and what just needs a good refresh? And with costs for everything from lumber to appliances in flux, what's the best way to upgrade at a price you can afford?
More on Kitchen Remodeling
According to Remodeling's 2021 Cost vs Value report, a full-scale gut renovation for a 200-square-foot kitchen (with middle-of-the-road materials) costs around $75,000, up almost 10 percent from 2020, probably due to COVID-induced labor shortages and (potentially temporary) price hikes for many building materials.
But you don't have to spend anywhere near that much to get a kitchen you love, say the remodeling pros and interior designers we spoke with, as well as CR's own home experts. The trick is to focus your remodeling dollars where they're needed most.
Here's how to figure out whether you should go for an update or a replacement for these key items: Cabinets • Appliances • Countertops • Flooring • Lighting.
We also share smart strategies for achieving the changes you want on your budget.
You'll see price estimates throughout, but numbers will vary based on the materials you use, the size of your space, and the cost of labor if you hire a pro.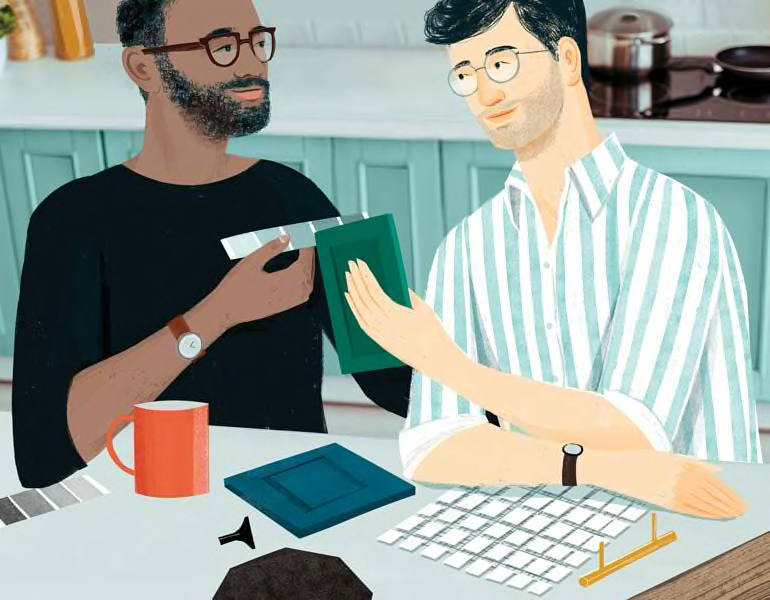 Illustration: Sam Kalda, Photo: Adobe Stock
Cabinets
Any changes you make to your cabinets can have a big impact on the style and function of your kitchen because they take up so much real estate. If your cabinets are in good shape—the boxes are solid, the doors are intact, and the drawers glide smoothly—refinishing the exterior will transform their look. If your cabinets have been falling apart or you want a totally new door style or layout, consider replacing them. This is by far the more expensive option, but there are some smart ways to save.
Fixing Up What You Have?
What's involved: Changing the color of your cabinets with paint is DIY-friendly but time-consuming because you'll need to remove the doors and drawers, sand the surfaces, and apply two coats of paint. "Go for a semi-gloss finish paint," says Rico de Paz, who runs the CR paint test lab. "The high shine makes the cabinets look new and gives them a stain-resistant, wipeable finish."
You can also have existing cabinets "refaced" by a pro, who'll replace old doors and drawers with new ones and cover the front and sides of the cabinet boxes with a matching finish, such as wood veneer or laminate.
New door and drawer hardware are super-easy style upgrades. Just be sure new handles are the same size as the originals so that you won't have to drill new screw holes (and fill in old ones).
Costs: According to HomeAdvisor, an online home services company, $100 to $300 for materials to paint a 150-square-foot space; $4 to $10 per square foot to hire a pro to refinish cabinets; around $91 to $454 per linear foot to reface cabinets; and $2 to $50 per piece for new hardware.
Want Something New?
What's involved: Buying stock or semi-custom cabinets is far less expensive than having custom units built. A contractor or cabinet installer will measure your space, order the cabinets from a kitchen showroom or home center, then handle the installation; home centers and Ikea also offer design and installation services.
Or try a budget-savvy designer trick: Buy just the cabinet boxes from Ikea and add semi-custom doors, drawers, trim, or hardware. One company that provides this service is Semihandmade.
Other ways to save: Removing the old cabinets yourself could save you around $500 on demolition. If they're in decent shape, you could also donate them to an organization such as Habitat for Humanity's ReStore, or give them away on a site like Freecycle. When choosing new cabinets, stick with a streamlined design instead of an ornate one; these typically cost less. They're also easier to clean. "We've been specifying more Shaker-style cabinets for this reason," says Ariana Lovato, a kitchen designer with the National Kitchen & Bath Association who is based on the central coast of California.
Also consider buying secondhand cabinets from a local salvage shop, Habitat for Humanity's ReStore, or Renovation Angel, which salvages entire luxury kitchens, then sells and ships them around the country. Purchased this way, custom cabinets that originally cost $50,000 might be available for under $5,000. Even with the cost of shipping and installation, you could save up to 90 percent, depending on the style and condition of the cabinets.
Costs: According to HomeAdvisor, $150 to $200 per linear foot for stock cabinets or $75 to $400 for semi-custom. Installation cost one to three times the price of materials; Semihandmade estimates $2,450 to $4,475 above the cost of Ikea boxes.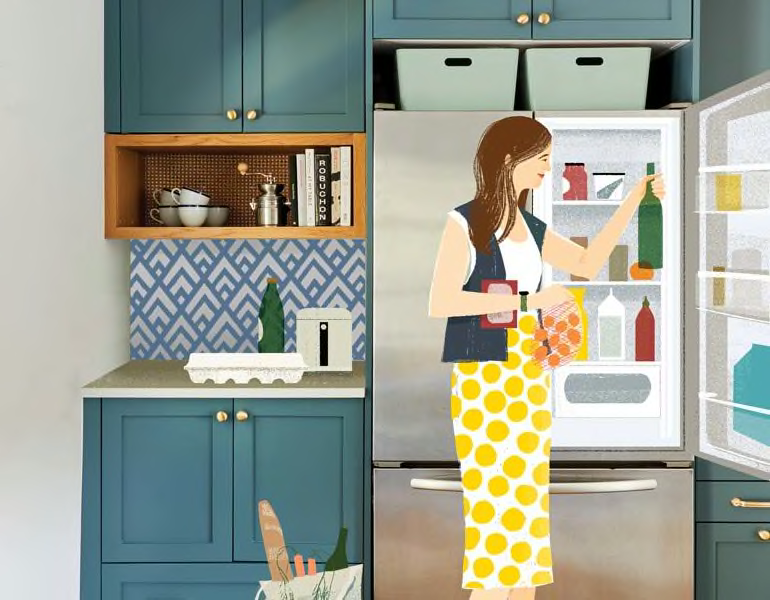 Illustration: Sam Kalda, Photo: Sara Ligorria-Tramp/Velinda Hellen Design
Appliances
Repairs can make more sense than replacements, especially if you like the appliance, it's less than about 8 years old, and the repair will cost much less than a comparable new model. But also think of potential energy savings. A new Energy Star certified refrigerator could save you about $150 in five years.
Fixing Up What You Have?
What's involved: You might be able to camouflage a flaw in the finish with a touch-up kit (for white or black finishes) or by rubbing very gently with a product such as Bar Keepers Friend (for stainless steel). For other repairs, try diagnosing the problem with an online search, then turn to a site like Repair Clinic for tutorials (or call in a pro).
Costs: Parts to fix an ice and water dispenser might set you back $20 (for a switch) to $300 (a new dispenser); replacing the dishwasher drain pump, $50 to $120; and putting in a new oven bake element, $40 to $120, according to Repair Clinic. Add $80 to $200 if you need a pro. First, check the product's warranty to see if the repair is covered.
Want Something New?
What's involved: Once you decide to get rid of old appliances (some utilities offer cash for recycling old fridges), the trick is snagging a good deal on new ones. This has been more difficult lately because of supply-chain disruption. Experts suggest investigating independent retailers, whose salespeople can often match the prices at big-box stores and may waive a delivery or removal fee. Need to replace everything? Buying a suite from one brand could save you up to 10 percent.
Also consider buying a used appliance. "With a little legwork you can find a top-of-line appliance for a fraction of what it would cost new," says Jim Nanni, director of appliance testing at CR. You'll pay 50 to 90 percent off the regular price for a pre-owned appliance at Renovation Angel, and 35 to 90 percent off showroom models and new-in-box discontinued models based on the brand, condition, and age. "Demand is booming due to our luxury bargain prices in a market with supply challenges," says Steve Feldman, founder and CEO of the nonprofit organization.
Costs: New top-freezer fridges (31 inches and wider) in our complete ratings start at $775, dishwashers (24 inches) at $280, electric smoothtop ranges (single oven) at $465, and gas ranges (single oven) at $400. Add $100 to $500 for installation, according to HomeAdvisor.
Shopping for an appliance? Check out these high-performing options from our tests that are also budget-friendly:
Top-freezer refrigerators: Maytag MRT311FFFM ($899 at Best Buy and Home Depot); GE GTS22KSNRSS ($983-$990 at Appliances Connection, Home Depot, and Wayfair)
Dishwashers: Bosch Ascenta SHX3AR75UC ($699 at AJ Madison, AppliancesConnection, Best Buy, and Home Depot); Bosch 300 DLX Series SHS863WD5N ($899 at Appliances Connection)
Electric ranges: LG LREL6321S
($795-$800 at AppliancesConnection, Home Depot, and Best Buy); LG LREL6323S ($895-$900 at AJ Madison, AppliancesConnection, Home Depot, and Best Buy)

Gas ranges: Samsung NX60A6511SS
($940 at AppliancesConnection); LG LRGL5823S ($995-$1,000 at AJ Madison, AppliancesConnection, Home Depot, Best Buy, and Sears)
Fixing Up What You Have?
What's involved: Got laminate? Try using a touch-up kit to fill in minor scratches or dings. If the entire surface looks less than picture-perfect, you could refinish it with a product formulated for countertops, such as Rust-Oleum's Countertop Coating. Stone countertops will need professional refinishing: buffing scratches, sanding away stains, and polishing the surface.
To update the backsplash, you could try peel-and-stick tiles or, if the surface is flat, removable wallpaper. "If you're a renter or undecided, there are really great peel-and-stick wall coverings," says Cindy Aplanalp, an interior designer based in Houston.
Costs: For a DIY touch-up kit for laminate countertops, $50 at Amazon or Home Depot. Rust-Oleum Countertop Coating costs $22 per 29 fluid ounces at Home Depot and Lowe's. Peel-and-stick tile costs $3 to $14 per square foot at Home Depot and Lowe's. It costs $100 and up for a pro to repair stone countertops, according to HomeAdvisor.
Want Something New?
What's involved: Your contractor or countertop installer will start by removing the existing counters and taking measurements for the new ones. You'll save big if you go with laminate, a durable synthetic material that comes in a variety of designs, including surprisingly realistic faux stone.
If there's more room in your budget, consider using CR's top-performing material, quartz, which is engineered from stone chips, resins, and pigments. If you have a small space or need a piece for one area, such as an island, you might be able to save on a pricey material like quartz or granite by purchasing a remnant from a stone yard.
Costs: Prices can vary widely. If you want granite, for example, a basic beige pattern will cost less than something more exotic, such as golden Solaris. Laminate costs $5 to $25 per square foot; quartz, $20 to $60; granite, $20 to $60. Prices don't include installation.
Flooring
You can temporarily hide some damage in most types of flooring, but wood is the only kind you can fully refinish without replacing.
Fixing Up What You Have?
What's involved: A tile-repair kit can help fill in small chips (try Amazon or Walmart). Fuse nicks and scratches in vinyl floors with liquid seam sealer. If you have a stain in a stone floor, try polishing it away with superfine steel wool. For scratched wood floors, look for a kit that has touch-up pens and wax sticks, to add a protective top finish. For larger blemishes, lightly sand, then apply a matching stain.
If your solid- or engineered-wood floor needs a rescue, you can hire a pro to refinish it. A cheaper DIY option: Brush on an enamel-based floor or porch paint, or use something like these floor repair markers, available at Home Depot and Walmart. "Porch paints are designed to be weather-resistant, so they should handle spills well," says de Paz at CR.
Costs: Around $20 for spot-repair kits, available at home centers. For professional refinishing, $3 to $8 per square foot, according to HomeAdvisor.
Want Something New?
What's involved: A "floating" floor system is a great way to save. These consist of tiles or planks that snap together over your existing floor, saving you hundreds of dollars on installation. Tiles come in various materials, including waterproof luxury vinyl tile and porcelain, in patterns that mimic the expensive look of stone and wood, for about a third of the price. Installation is DIY-friendly (but you may want a pro to cut porcelain tile).
Costs: For luxury vinyl tile, $2 to $8 per square foot; porcelain, $5 to $8 per square foot. Add $3 to $22 per square foot if you want a pro to install it, according to HomeAdvisor.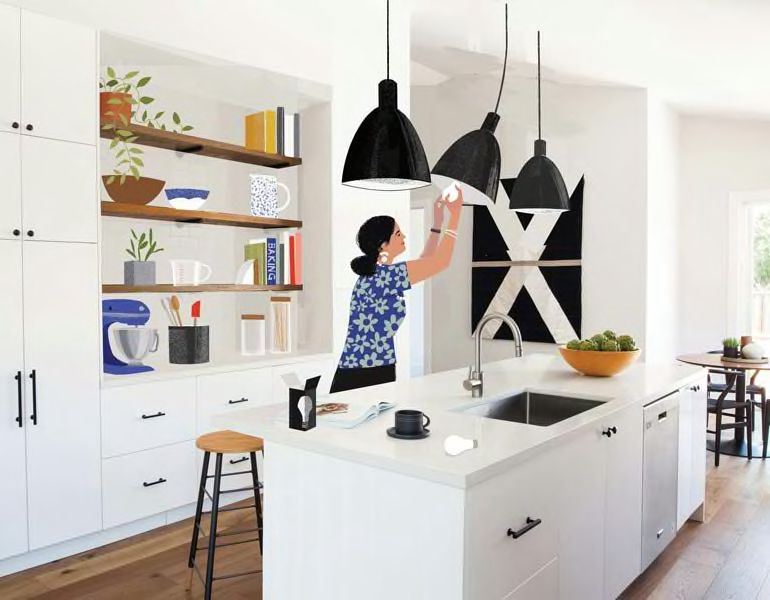 Illustration: Sam Kalda, Photo: Helynn Ospina
Lighting
Changing the bulbs and adding a dimmer can make a surprising difference. If you want to replace or add a fixture, you may need an electrician's help.
Fixing Up What You Have?
What's involved: For starters, make the switch to Energy Star certified LEDs. Even though an LED bulb may cost more up front, you could save $55 dollars on electricity over its life compared with a standard incandescent. And consider adding a dimmer switch, which "lets you adjust the intensity of light based on your needs," says Joe Rey-Barreau, a lighting designer in Lexington, Ky.
Costs: $1 to $3 per LED bulb and $10 and up for dimmer switches at Home Depot or Lowe's (plus about $100 to $200 for installation, according to HomeAdvisor).
Want Something New?
What's involved: Plug-in undercabinet light fixtures are an easy way to cast task lighting on your counters (try Home Depot or Lowe's). Good choices are linear and strip lights, which brighten the surface evenly.
Adding a decorative fixture can make a bold visual impact. If you choose a style with glass shades, go for opaque or patterned glass, says Laurie Gross, president of Gross Electric, a lighting showroom and electrical distributor in Ohio and Michigan. "They prevent glare and hide grime better," she says.
Costs: About $50 to $100 for undercabinet lighting; $50 and up for pendants (at Home Depot or Lowe's, but they can cost less at salvage or vintage stores). Installation costs $95 to $250, per HomeAdvisor.
When You Need a Little Help
With a Kitchen Remodel
Keeping your kitchen in tip-top shape requires know-how. CR's new home management app, Upkept, can help you keep track of all your home maintenance tasks, including in the kitchen—and teach you how to do them yourself. The app is available at the Apple App Store and Google Play Store; service is free for 90 days, then $4.99 per month.
If you need a pro, ask for recommendations from friends or on social media. Check with trade groups, such as the National Association of the Remodeling Industry, or try home-services directories, such as Angi or Checkbook. Before you hire anyone, ask to see their license, proof of insurance, and a few references (and call all of them). Always insist on a written contract. Labor costs are high right now, so if you can, plan your project for the off-season, when contractors might be willing to bargain. And if you're planning a future project, mention it. Contractors love repeat customers.
Editor's Note: This article also appeared in the September 2021 issue of Consumer Reports magazine.