When you shop through retailer links on our site, we may earn affiliate commissions. 100% of the fees we collect are used to support our nonprofit mission.
Learn more.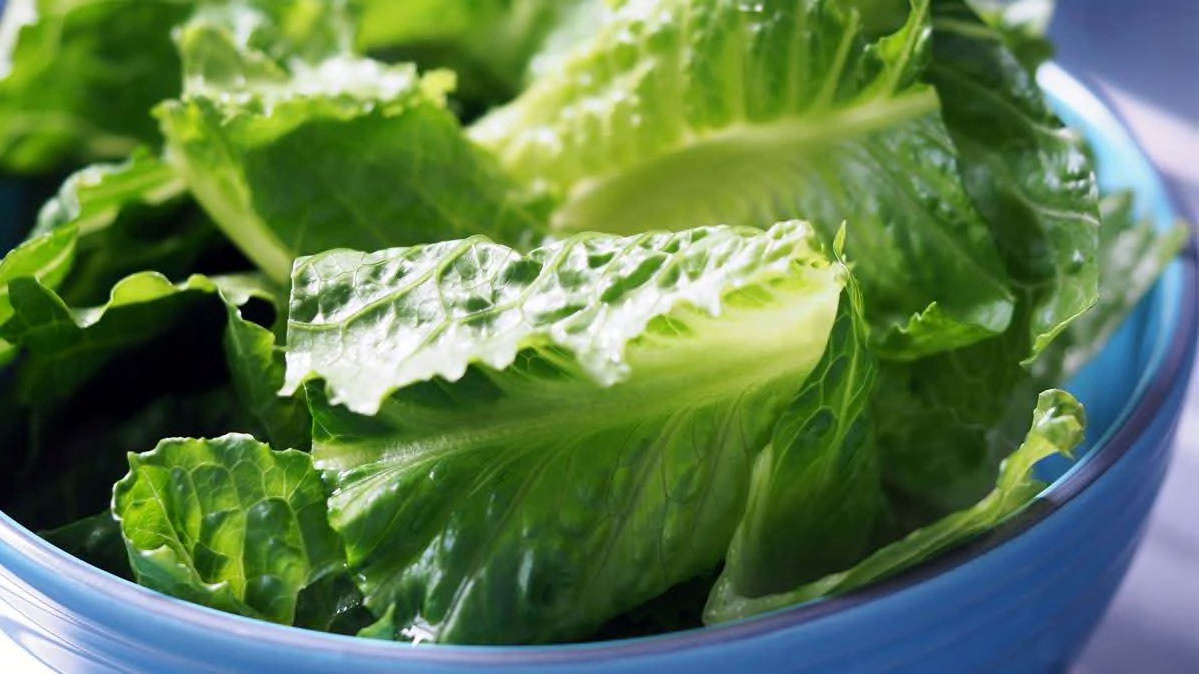 Final update: On Feb. 13, 2019, the FDA announced the results of its months-long investigation into this E. coli outbreak. E. coli-tainted water used to irrigate the crops was confirmed to be the source of contamination at one California farm, Adams Bros. Family Farms. The agency said, "one farm cannot explain the entire outbreak," but it was not able to track down other contamination sources.
"It's good that the FDA has clearly laid out what it does and does not know about this outbreak," says Jean Halloran, director of food policy initiatives at Consumer Reports. "But the agency should also be taking steps to keep E. coli out of lettuce in the future, including issuing its long-delayed water quality rules."
Update: On Jan. 9, the Centers for Disease Control and Prevention declared this E. coli outbreak officially over. In total, 91 people were sickened in the United States and Canada, including 35 hospitalizations. The Food and Drug Administration will continue to investigate what caused the outbreak.
Consumer Reports' experts urge federal agencies to investigate to determine all California farms involved in the outbreak, figure out how the lettuce became contaminated, and mandate changes so this problem doesn't recur.
When a third E. coli outbreak in a year was linked to romaine lettuce this month, federal authorities told consumers to stop eating the leafy green regardless of where it was grown. The result was a purge of romaine across the country.
More on E. coli and Leafy Greens
Now the lettuce industry and the Food and Drug Administration think they have a solution to avoid massive product purges in the future and steer consumers toward safe romaine—putting labels on the lettuce to identify where it was grown.
Food safety experts say the plan has some merits. Authorities could say "avoid romaine lettuce grown in central California" and retailers could more quickly remove contaminated products from store shelves, says Jean Halloran, director of food policy initiatives at Consumer Reports.

But it may still leave consumers vulnerable.
Tough to Trace
It can be tough to trace outbreaks to their origin, something federal investigators acknowledge. The FDA and the Centers for Disease Control and Prevention only this week identified the area of the latest E. coli outbreak, central and northern California. And on Wednesday, the FDA announced that the tainted lettuce was harvested in Monterey, San Benito, San Luis Obispo, Santa Barbara, Santa Cruz, and Ventura counties but noted that other counties may be announced pending its investigation. (The agencies also said earlier this week that it's okay to eat romaine if you're certain it was grown elsewhere.)
This came nearly a week after the agencies told consumers to avoid all romaine lettuce because of an outbreak of E. coli O157:H7 that sickened at least 43 people in the U.S. and an additional 22 in Canada.
The E. coli strain implicated in this recent outbreak is a genetic match to another E. coli O157:H7 outbreak from last November, which sickened dozens in the U.S. and Canada. Investigators never figured out what caused that outbreak, making it difficult to prevent it from happening again.
"All we know is that this outbreak is from the same growing region as the one from last fall," says Laura Gieraltowski, Ph.D., M.P.H., team lead of the CDC's foodborne illness response team. "We don't know the cause or specific locations where it was grown."
A Burden for Consumers
Another issue is that the labeling initiative is voluntary. Though large distributors such as Dole and Taylor Farms have agreed to put this information on their products, there is no enforcement mechanism to ensure that all companies will follow through. And for loose heads of the lettuce, which often don't have labels, it will be up to the retailer to post origin information.
"Adding labels is still going to be an individual company's—or even one employee's—decision," says Sarah Taber, Ph.D., owner of Boto Waterworks, a firm that conducts independent safety audits on produce companies.
In the event of an outbreak, Taber also says, there's no guarantee that retailers will pull the lettuce from a tainted growing region from their shelves.
In addition, consumers have to be aware of an outbreak in the first place and then know about the growing areas that are implicated, Halloran says.
"It puts the onus on consumers to protect themselves," she says. "But leafy greens need to be safer in the first place. We think origin labeling is only the first step in a long line of protections that need to be implemented."
Mary Coppola, spokeswoman for the produce industry group United Fresh Produce Association, says romaine growers are deeply invested in preventing future outbreaks.
"Most of our members have already agreed to add the labels to their products," she told Consumer Reports. "They'll do whatever it takes to keep this from happening again."
Consumer Reports' advocates in a statement Tuesday encouraged the FDA to make the labeling mandatory and permanent, and to broaden it to other leafy greens. (CR advocates also said the agency should implement stronger testing protocols for irrigation and other agricultural water, which were put on hold by the FDA a year ago.)
Rep. Rosa DeLauro, D-Conn., on Tuesday criticized the labeling initiative as inadequate.
"This agreement misses the crux of the issue: What should our federal agencies be doing to keep Americans' food safe?" DeLauro said in a statement. "While such labeling may help to reduce the size and scope of future outbreaks, these labels will have no impact on ensuring contaminated food does not make it to grocery store shelves in the first place. As such, the announcement is nothing more than a distraction that changes the discussion away from what the FDA should be doing as a regulatory agency."
Necessary Changes
Indeed, the labeling plan does not solve the bigger issue, some experts say.
Leafy greens are the most frequent cause of foodborne illness in the U.S., and more research needs to go into figuring out why they keep getting contaminated, says Claudia Narvaez, Ph.D., assistant professor of food microbiology at the University of Manitoba.
"Clearly something is wrong," she adds. "If we want to prevent people from getting sick, we need to fix things back at the source, which means improved sanitization practices by farmworkers, testing water and soil frequently, figuring out the patterns that keep causing these outbreaks."
One of those patterns may be proximity to cattle and feedlots, which can harbor dangerous E. coli, according to Consumer Reports' food safety experts.
This spring's E. coli outbreak, the deadliest in years, was linked to cattle operations near the romaine growing fields. It's believed that contaminated waste polluted nearby waterways, which then came into contact with romaine.
"The top priority for federal regulators should be to prevent these outbreaks at the source," Halloran says.