When you shop through retailer links on our site, we may earn affiliate commissions. 100% of the fees we collect are used to support our nonprofit mission.
Learn more.
There was a time, not long ago, that all a lightbulb had to do was provide light—nothing else was expected. But LED bulbs are electronic devices and capable of much more. One such high-tech bulb is the Sengled Snap LED, which houses a wireless security camera and two-way audio intercom. Consumer Reports put the Snap through initial tests.
Sengled promotes Snap as a home security camera featuring a powerful LED floodlight. This wide-angled LED floodlight ($150) is supposed to deliver what Sengled calls "high-quality video that can be viewed instantly or stored in the cloud." A motion sensor starts the recording of the event, which you can see live. To see a recorded version you'll need access to Sengled storage. The company's website says cloud storage is free for the time being, and a customer-service rep told us Sengled is going to to launch a paid subscription.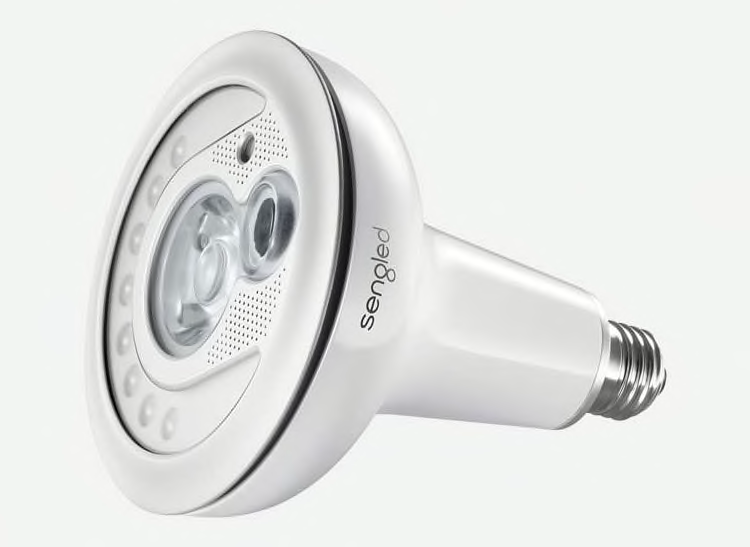 What We Discovered
The engineers in our lighting lab found that as a light source, Sengled Snap meets its claims. It's as bright as claimed (about 810 lumens), but not as bright as the other outdoor floodlights we've tested. Snap casts a white light, using about 15 watts. It's claimed to last 25,000 hours.
To find out how well the Snap functions as a security camera, an expert in testing mobile devices and apps tried the primary features of the security camera—HD streaming and recording, and the two-way audio communication. The tester found the Snap is an appealing concept, but execution isn't great.
For starters, you first have to create an account with Sengled, then connect the LED with your home Wi-Fi and Sengled. Once done, our tester found that the Sengled Snap app user interface was confusing, with little feedback on how to enable features.
When our tester tried the HD video streaming and recording, nothing seemed to happen after he pressed the record icon. He tapped other buttons, and found what looked to be a playback screen. A video started playing, showing our tester from when he first registered the LED with Sengled. It had been recording without any explicit notification. Our tester thought the video quality seemed fair after an initial viewing. Downloading the video isn't an option. The app does have a playback button, but the playback action is so crude our tester couldn't review what he wanted to see.
The two-way intercom had a delay, with the sound and video appearing on the tester's mobile device about three seconds later. That's because an Internet connection is needed to run Snap and upload video to Sengled's cloud service. Then your smartphone or tablet has to connect to that cloud for you to replay and watch the video. Three seconds isn't a big delay if you're observing a visitor, but it is if you're trying to talk with the UPS man. (Sengled responded to user reviews on Amazon that "with a recent firmware update, we have reduced the amount of bandwidth required and allow variable bandwidth so the camera isn't always using a large amount of bandwidth. This product is still a work in progress.")
We agree it's a work in progress, and that Sengled needs to make the advertised features work better.