When you shop through retailer links on our site, we may earn affiliate commissions. 100% of the fees we collect are used to support our nonprofit mission.
Learn more.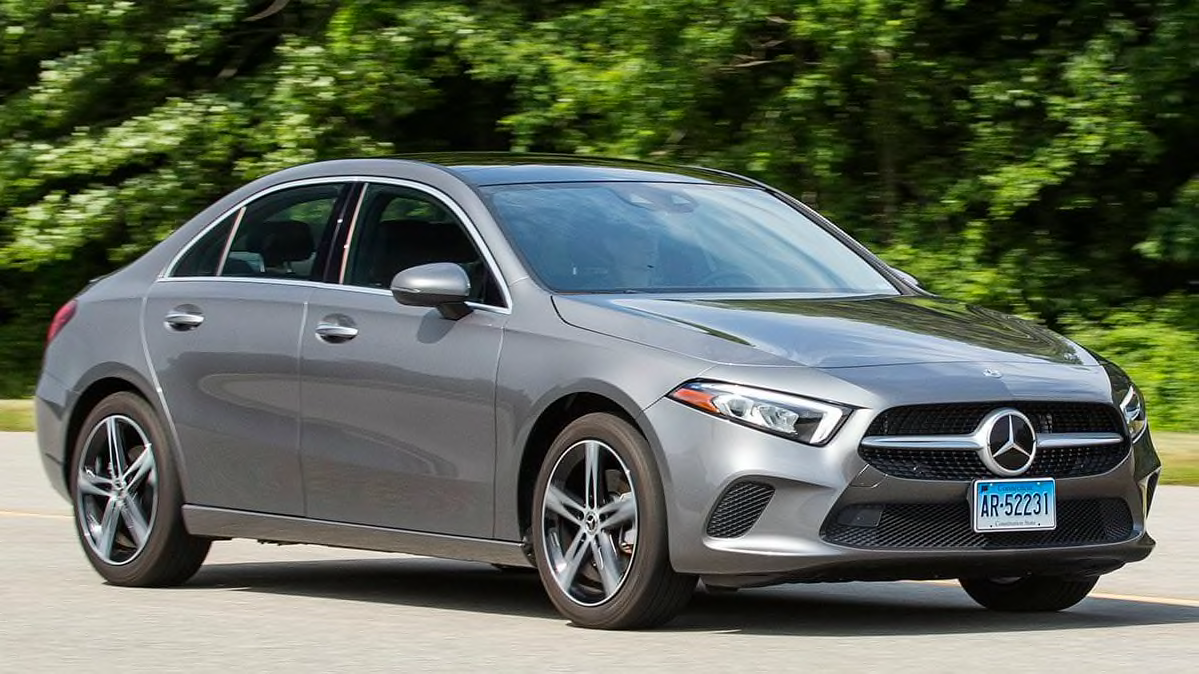 The all-new Mercedes-Benz A-Class gives luxury-car shoppers a more affordable entry point into the German manufacturer's lineup. It offers a cutting-edge infotainment system, and some important advanced safety features come standard, but the car's price is pretty steep given its small dimensions.
The A-Class competes in a small pool of entry-level luxury cars. Competitors include the Acura ILX, Audi A3, and Mini Clubman.
It slots underneath the current Mercedes-Benz CLA in size and price. Front- and all-wheel-drive versions are available. Both use a 188-horsepower turbocharged four-cylinder engine mated to a seven-speed transmission. In the U.S. the A-Class comes as a sedan, but a hatchback version of the car is sold in Canada.
We recently bought an A220 4Matic (which indicates it has all-wheel drive) for our test fleet. What follows are the first impressions we've garnered while putting on our typical 2,000 break-in miles before sending the car into our full test program.
What we bought: 2019 Mercedes-Benz A220 4Matic sedan
Powertrain: 188-hp, 2.0-liter turbocharged four-cylinder engine; seven-speed dual-clutch automatic transmission; all-wheel drive
MSRP: $34,500
Options: $7,890 Driver Assistance package (which adds adaptive cruise control, lane centering, lane change assist, speed limit info), Premium package (which adds blind spot warning, 10.25-inch digital instrument cluster, 10.25-inch infotainment screen), Multimedia package (on-board navigation with augmented reality support, traffic sign recognition), heated front seats and steering wheel, 18-inch 5-spoke wheels.
Destination fee: $995
Total cost: $43,385
What We Like … So Far
The A-Class has an attractive, well-made interior, especially for a car that starts under $35,000. The cabin is dominated by the optional display screen that runs horizontally across most of the dashboard. But there's much more going on here than just a fancy screen—there are high-grade materials and stitching, and a plethora of chrome and glossy black trim. Even the dashboard vents are artfully designed, resembling the shape of a turbine, and have a delightfully fluid feel to them when adjusted to redirect the air.
There are some areas where Mercedes cut some corners; for instance, the lower half of the doors are hard, slightly cheap plastic, but at the same time both the glove box and the center armrest bin are partially lined with felt, instead of just bare plastic.
Most of our drivers have found the front seats comfortable and supportive, and longer-legged drivers can extend the bottom cushion for increased thigh support. We also like that the button for the four-way power lumbar support adjustment on both front seats is located on the side of the seat in our test car, rather than forcing the driver to wade through the infotainment screen, as they must in some other Mercedes models.
The A-Class powertrain has a few low-speed foibles (more on that later), but once the car is fully underway it moves with a satisfying amount of gusto. The cabin is quiet and the engine is smooth—it doesn't feel or sound like a cheap little four-cylinder. The transmission is responsive and shifts smoothly once the car is up to speed.
We also enjoy the A220's planted handling. Its small size helps to make it feel tossable through corners, while the weighty steering is in character with the car's solid feeling overall.
We're happy to see that Mercedes has made important advanced safety features such as forward collision warning and automatic emergency braking with pedestrian detection standard on the new A-Class. Unfortunately, it doesn't get standard blind spot warning or rear cross traffic warning—these are available as options, along with lane departure warning and lane keeping assist.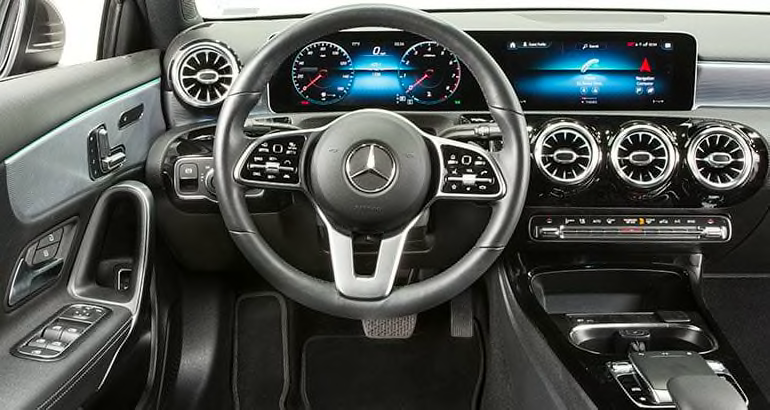 What We Don't Like
We opted for the Premium package on our test car, which brings both a 10.25-inch digital instrument cluster in front of the driver and a 10.25-inch infotainment display screen. This makes for a huge, horizontal display screen running across most of the dashboard. It's possible to give system inputs through steering wheel buttons, the touch screen, or the touchpad on the center console.
But we're not sold on the advantages of this new system. Most drivers have found it infuriating to use, because it's easy to brush the two touch-sensitive steering wheel buttons while driving, accidentally changing a radio station or the display. The center-mounted touch screen can be a long reach for the driver, and the touchpad located between the two front seats is distracting to use while driving. Drivers have to keep their eyes on the center screen while swiping or pressing on the pad. At least Android Auto and Apple CarPlay compatibility come standard.
There are other shortcomings we noted, such as the drivetrain's low-speed problems: The combination of some turbo lag and the dual-clutch transmission's attempts to sort out the automation of the clutches can make for some delays and hesitations, especially when hitting the gas pedal from a rolling stop. It can leave the car feeling flat-footed.
We knocked the CLA for its punishingly stiff ride when we tested it, and we weren't sure what to expect with the smaller A-Class. Luckily, Mercedes has done a better job with the A220's suspension tuning. The ride remains on the firm side. Rough pavement and bumps can send some jolts into the cabin, but we think it's more comfortable and less prone to crashing into every pothole than the CLA is.
The A-Class' small size and low-slung shape make it hard to get into and out of. The cockpit feels a bit cramped, mostly because the center console infringes on the driver's right knee space. It doesn't help that the console has a gap where its glossy black plastic meets the regular plastic trim below; drivers wearing shorts said the rough edges bothered their knee.
The rear seat is an even tighter squeeze for adults. There's adequate headroom, but Mercedes situated the rear seat very low and flat (perhaps in order to create that headroom) to the point there's almost no leg support. Some passengers found that their knees were positioned uncomfortably high relative to their hips. There's also very little toe room underneath the front seats.
What We'll Keep an Eye On
Several drivers have commented that the A220's optional lane keeping assist system is annoying—and even alarming at times. If the car deviates onto a lane line, the system applies the brakes and steers the car back into the lane, but the abruptness of the actions can catch drivers off guard. It's especially frustrating to use on narrow back roads where there is less room to work with in the lane. We can see how this system could be very helpful if a driver were falling asleep on the highway, though.
Our test car's air conditioning system seems overwhelmed by the current heat wave engulfing the East Coast. It struggles to produce enough cold air to keep occupants comfortably cool on stifling hot days with sunny, humid 90-degree conditions. We'll keep an eye on this as we continue to log more break-in miles.
We'll be conducting our own fuel economy testing soon, as per our usual test program. If it tops the CLA250's 28 mpg overall, it would have best-in-class fuel economy.
CR's Take
Entry-level luxury cars can be a tough sell. The A-Class is about the size of a Toyota Corolla, but with a few convenience and tech options, our test car's price tag topped $40,000. That said, a car like the A-Class can make sense if you want luxury trappings and a high level of interior fit and finish wrapped into a small, easy-to-maneuver package.
Then again, a car like the Mazda3—which bridges the gap between compact and entry-level luxury, thanks to its nicely appointed interior and pleasant driving characteristics—seems to make more sense than the Mercedes, since it costs considerably less. It just doesn't have the brand cachet.
Stay tuned for our final results and analysis of the A-Class once we complete our full road test.