CR Review: Samsung Family Hub 3.0 Refrigerator
Our hands-on evaluation of Samsung's latest smart fridge
When you shop through retailer links on our site, we may earn affiliate commissions. 100% of the fees we collect are used to support our nonprofit mission. Learn more. About two years ago, Samsung surprised the appliance world with a $5,800 refrigerator featuring a mammoth 21.5-inch touch screen. The company called it the Family Hub, and it was supposed to revolutionize the kitchen. Amid all the buzz, CR's test engineers put the fridge through its paces, and they were not impressed.
The second iteration came and went, and now Samsung is back with a third-gen model—aptly named the Family Hub 3.0. It's available in 14 different French-door models, consisting of three-door, four-door, and four-door flex (for flexible freezer compartment) configurations that range in price from $3,300 to $5,200. We bought one from the lower end of the spectrum, brought it into our labs, and gave it an extensive hands-on for two weeks.
Using the Family Hub Touch Screen
This is the feature that distinguishes the Family Hub. The touch screen is essentially a giant tablet stuck onto a refrigerator. It has 36 apps, including Spotify, FreshDirect, Uber, and things like Morning Brief (for an audio rundown of your day) and Fridge Manager, which controls the temperature of the refrigerator, among other things.
The apps don't run as smoothly and quickly as what you're probably used to from your phone or tablet. It can sometimes take multiple taps to successfully press a button. And having to use an app for something as basic as making your fridge a little colder can be a bother, and it's certainly not a convenience.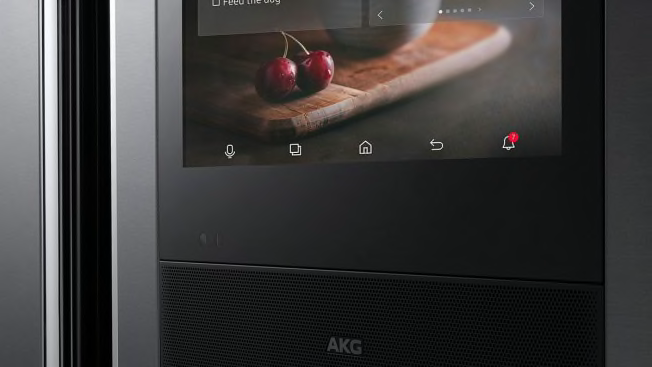 The touch screen connects to three cameras mounted inside the fridge, which provide a panoramic view of the top three shelves, so if you're at the grocery store wondering whether you're out of milk, you can check the video feed from the Family Hub app on your phone. That's assuming you don't keep the milk on one of the door shelves: The cameras' field of view doesn't include those or the contents of the crisper drawers.
Many of the apps are like this—not quite as functional as you want them to be. And, therefore, not necessarily something you might use.
Bixby, the Samsung Digital Assistant
Digital assistants from Amazon, Apple, and Google have made us used to a certain level of functionality that Bixby—at least on the Family Hub—can't seem to match. She's no Siri and certainly no Alexa.
For starters, you can't trigger Bixby and say a command at the same time, like you can with Alexa or Siri. For example, you can say, "Hey Siri, what's the weather?" without pausing. But with Bixby you have to say, "Hi Bixby," wait for a tone to sound, and then say, "What's the weather?" If you don't do that, Bixby won't catch what you've said.
Bixby also requires more rigid commands. Say you want to cue up a video feed from your Ring video doorbell on the Family Hub touch screen. With Bixby you have to say, "Turn on Ring camera 1." But other digital assistants let you use natural language; with Alexa, all you need to say is, "Show me the front porch."
Most digital assistants receive continuous software updates that improve their understanding and functionality. Samsung has promised such updates, so it's possible that Bixby on the Family Hub will improve over time.
As a refrigerator, the Samsung RF28N9780SR does very well in our tests. It offers great thermostat control and temperature uniformity, it's very quiet and energy efficient, and it's easy to use. You'll find ice and water dispensers, spillproof and uniquely adjustable shelves (you can raise and lower them without removing the food), power freeze and power cool functions (perfect for quickly freezing meats or chilling warm beer), and a flexible freezer compartment that can be converted into additional storage space for fresh foods when needed.
But if you're considering shelling out the cost of the Family Hub, it should be because of the touch screen and added smarts. Otherwise, you can save yourself $700 and get the Samsung RF28K9070SR, $2,600—virtually the same refrigerator, without a touch screen.
Is the Family Hub Really Worth It?
Probably not.
The Family Hub doesn't execute any of its smart functions particularly well. It gives you the ability to leave digital sticky notes, draw on a whiteboard, view family calendars, and create shopping lists, but with its clunky, slow interface, it doesn't really make it any easier or faster than handling these tasks the old-fashioned way—with your phone or on paper.
You'll also have to ask yourself whether you want a giant screen in your kitchen. "If you have children, I'm sure they'd be enthralled with it," says Joseph Pacella, CR's refrigerator test engineer. But the Family Hub could prove to be more distracting than beneficial.
And then there's the question of obsolescence. Our surveys of CR members show that consumers expect a French-door refrigerator to last an average of 12 years, and consumers expect a new tablet to last an average of 5 years.
Because the Family Hub costs more than $3,000, you would probably expect it to receive updates over its lifetime that give you the latest features, catching you up to the newest iteration of the fridge. But those who bought the original for $5,800 in 2016 do not have all the features of the $3,300 Family Hub 3.0.
When asked about our obsolescence concerns, a Samsung spokesperson said, "Our goal is to keep building on the platform so it continues to evolve with consumer needs."
Owners of the original model are still waiting to benefit from this evolution; let's hope those who buy the Family Hub 3.0 see consistent updates as new versions come to market.