When you shop through retailer links on our site, we may earn affiliate commissions. 100% of the fees we collect are used to support our nonprofit mission.
Learn more.
The good news about the new GM Marketplace is that the dashboard interface is not as distracting for drivers as it might sound.
The bad news is that in its current state, there's not much reward for drivers to actually use it—though the automaker promises that will change soon as it adds more options and retail partners.
The Latest on Car Infotainment Systems
GM Marketplace lets you order coffee or food from Dunkin' Donuts and Starbucks, and get fuel offers from gas stations. Ultimately, instead of opening up an e-commerce gateway, GM Marketplace acts more like a middleman with limited options, at least in its current state.
It's one of the earliest attempts at having drivers complete transactions from the comfort of the driver's seat.
GM Marketplace is now available in select Buick, Cadillac, Chevrolet, and GMC models, but the automaker plans to roll it out in future compatible vehicles as well. GM says that Marketplace will work even if owners don't opt for a wireless data plan.
We checked out the GM Marketplace interface in CR's own Buick Enclave. Here are a few examples of how it currently works:
For Dunkin' Donuts, we had to create an online account. We then discovered that the system only allows you to reorder something you've already ordered through your smartphone Dunkin' Donuts app. The real plus, though, is that you can pay through your dash by tapping into your preloaded DD card. (Among the initial brands, only Dunkin' allows the dash-based payment right now.) If you don't have enough funds in your account to pay for what you ordered, the order will not go through. Once you've ordered and paid, you can pick up the coffee at the location you've specified. Starbucks service is not yet available.
For Shell gas, we were sent an email with a link to another app to get a discount on gas.
Based on our experience, very little can be accomplished by using the Marketplace that couldn't have been done faster, and with more options, using our smartphone. Of course, we wouldn't do those things while we were driving.
If you're a creature of habit, a one-click "order me a regular" may make sense. But this seems like a lot of work to go through to click that one button. And so far, the lack of flexibility in choosing a different item, or adding a choice for a passenger, is a real limitation.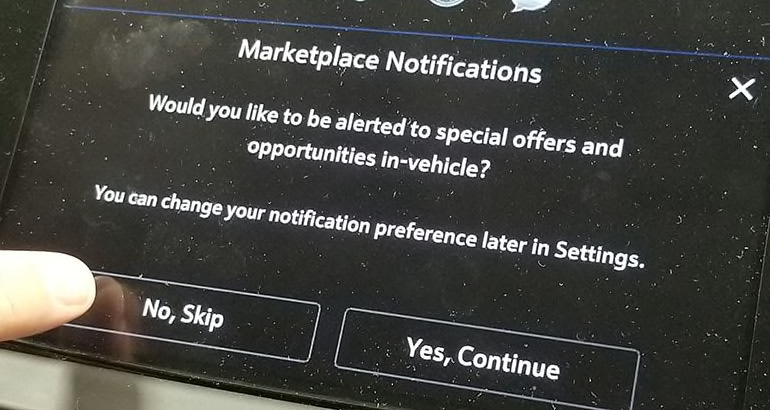 GM says the limited interactions were designed to minimize driver distraction.
Vijay Iyer, who works with GM's global connected customer experience team, summarized the feedback it has received from customers: "I want to be productive in the car, but I know I can't do it on my phone." He explained that if there's an interface that lets them do something in an intuitive manner and keeps them safe, then they're interested.
This is the same approach that Android Auto and Apple CarPlay take. But where those platforms offer you the ability to perform critical driving-oriented tasks, Marketplace as it's currently built feels almost pointless.
Deborah Hersman, president of the National Safety Council, sees this approach as another technology that drivers don't need.
"With motor vehicle deaths rising, the last thing we want to do is offer drivers another way to be distracted," she says. "Hands-free systems are not safer—the research is clear on this. We need to find ways to protect drivers—not expose them to more unnecessary risk."
Iyer says that future iterations of the system will have more to offer. Take, for example, the case of a motorist running low on gas. Iyer explained that GM Marketplace could indicate a nearby participating gas station. "It will tell you pump No. 2 is activated. You fuel, get back in the vehicle, and pay through the dashboard," he says. "And [you] automatically get points through their reward system."
GM says it is not collecting data about what drivers order, Iyer says, nor is any credit card information stored in the vehicle. Instead, he says, partner companies retain that information.
Owners of current models with GM Marketplace won't be stuck with limited options, Iyer says. Because it uses the in-car WiFi system to operate, updates to the system will show up automatically in cars that are properly equipped.
This was the case with our Enclave when we fired it up to evaluate this new feature; we just got in, and the new Marketplace icon was right there on our screen.