11 Products on Deep Discount in August
You'll find great deals on computers, vacuums, appliances, and more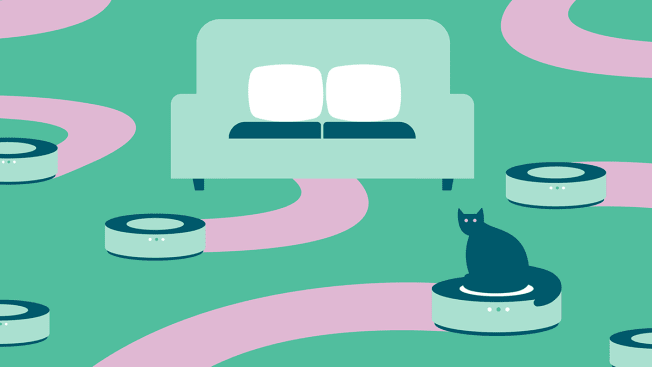 August is typically a great month to save on computers, tablets, printers, and other tech devices, thanks to discounts related to the back-to-school shopping season. And early promotions ahead of Labor Day mean it's also a good time to shop for appliances such as freezers, vacuum cleaners, and dehumidifiers.
Consumer Reports' market analysts monitor prices each month for all the products we test to determine when they typically become available for less. To find out which ones are bargains during other months of the year, see our calendar of deals.
Vacuums and Robotic Vacuums
Vacuums, including robotic vacuum cleaners, tend to fall in price in August in part because of early Labor Day sales as well as back-to-school sales that target the dorm crowd. This is an ideal time to finally replace your old one with an upgrade to something better.
There are so many different kinds of vacuums to choose from that it can be daunting to decide on the best option for your home.
Laptops and computers always tend to go on sale in August for the back-to-school season. But this year, don't expect quite as many offers. With chip shortages leading to lower inventory and higher demand, discounts will be harder to come by. And if you're buying a device for the school season, pay close attention to shipping times. The shortages are also creating shipping delays, so try not to wait until the last minute to shop.
Start your search with CR's buying guide and recommended models.
Check out the following computer and laptop deals.
Acer Chromebook Spin
The deal: $240 at Amazon
CR's test results: Acer 11 CP311-1HN-C2DV computer
This is a 2-in-1 convertible Chromebook, which means the 11.6-inch display can be bent behind the keyboard via a 360-degree hinge and used like a tablet. Why buy a dedicated tablet if a 2-in-1 has what you need? You'll find entry-level specs here, including an Intel Celeron processor, 4 gigabytes of memory, and 32GB of storage.
Apple Mac Mini Computer
The deal: $649 at Amazon
CR's test results: Apple Mac Mini M1 Chip computer
The Mini, usually $699, is the least expensive way to buy a Mac, but don't expect to find a mouse, keyboard, or display in the box. You'll have to buy them separately. This sale price applies to the 256-gigabyte model featuring Apple's M1 processor.
Apple MacBook Air
The deal: $900 at Amazon and Best Buy
CR's test results: Apple MacBook Air 13-inch laptop
The latest MacBook Air offers strong performance in a highly portable package. This is the base model, which has 8 gigabytes of memory and 256GB of solid-state storage. It uses Apple's new M1 processor, delivering not only fast performance but also up to 12.5 hours of battery life on a charge. The laptop weighs less than 3 pounds.
LG Gram 14 Laptop
The deal: $944 at Amazon
CR's test results: LG Gram 14 (2020)
The LG Gram practically defines thin-and-light design. The 14-inch version weighs a feathery 2.2 pounds—you almost want to hold it down if the wind kicks up. Better yet, it logged 19.5 hours' worth of battery life in our web-browsing tests. (For video watching, the figure is closer to 9 hours.) Inventory appears to be low at both retailers, so don't wait if this laptop fits your needs and budget.
Samsung Galaxy Book S Laptop
The deal: $750 at Best Buy
CR's test results: Samsung Galaxy Book S 13-inch laptop
This laptop is one of the lightest models we've tested, at 2.1 pounds, and has a touch screen that boasts bright, accurate colors, high contrast, and wide viewing angles. The battery lasts an impressive 14 hours in CR's web-browsing tests. The performance is just so-so but more than adequate for basic tasks such as handling email and browsing the web.
Samsung Galaxy Chromebook
The deal: $700 at Amazon and Walmart
CR's test results: Samsung Galaxy Chromebook
This is a Chromebook with specs you'd expect to find on a more traditional laptop: an Intel Core i5 processor, 8 gigabytes of memory, and a spacious 256GB solid-state drive. That makes it fast and versatile, especially when you factor in the touch-screen display. The battery life is a modest 7 hours, though, so the model may be best suited for someone who is fine with being tethered to a charging cable for at least part of the day.
As with laptops and computers, tablet sales are also prominent this month. In fact, some of the laptops listed above can convert to tablets for added functionality.
When choosing the best tablet for you, consider how you plan to use it. If you want to watch Netflix or edit photos, look for something with a larger, higher-quality screen. If you just want to do simple tasks, such as playing games and browsing the web, you don't need to spend a ton. Other factors to consider are battery life, storage size (and expansion options), size, weight, and processor power.
To learn more about what will work for you, check out CR's buying guide and recommended tablets.
Check out the following tablet deals.
Apple iPad Air (64GB)
The deal: $539 at Amazon and Walmart
CR's test results: Apple iPad Air (4G, 64GB) 2020 tablet
If you simply want to watch Netflix and read e-books, this high-powered tablet might be overkill, but it's a good choice if you play demanding games and regularly edit video. The display is big and bright, and the color is accurate. The device weighs 1 pound on the dot. The battery lasted just 7.7 hours in our web-browsing test, though. That's not impressive for a tablet, but it's just about the only knock here. The model we tested features WiFi and 4G connectivity; the one we list here is WiFi only. The sale price may vary by color.
Samsung Galaxy Tab S7
The deal: $672 at Amazon
CR's test results: Samsung Galaxy Tab S7 tablet
This high-end 11-inch Android tablet that originally cost $730 has a generous 256 gigabytes of built-in storage (and an SD card slot for adding up to 1 terabyte more) for those with large photo, video, and game libraries. Our testers say the model has a vibrant display, is plenty powerful, and has a battery that lasts up to 13 hours.
A good wireless router can help boost your WiFi signal, eliminate any dead spots in your home, and ensure that everyone in the family can stream, play, and otherwise spend time online uninterrupted. August is a great month to find a new router for less.
There's a lot to consider when choosing a new router, including the size of your home and cybersecurity protections. Start with CR's buying guide, which walks you through all the factors to consider.
Check out the following router deals.
Netgear Orbi Mesh Router System
The deal: $132 at Amazon
CR's test results: Netgear Orbi AC1200 (3-pack) mesh touter system
This three-unit system has been on sale for a few weeks, but it just dropped an additional $30. It performs well in our tests, earning a spot on our best wireless router list despite relying on the slightly older WiFi 5 standard. It doesn't rate quite as highly as other models when it comes to speed at midrange and far distances.
But there's a lot to like here, including the best price we've seen in months. The model also features an easy app-based setup, a single built-in Ethernet port, and automatic firmware updates, which protect you from hackers, malware, and other security threats.
TP-Link Deco Mesh Router System
The deal: $150 at Amazon
CR's test results: TP-Link Deco Whole Home (three-pack)
This three-unit system is a CR Best Buy, which means it scores well in our tests and is quite affordable compared with other options in this category. The sale price makes it an even better deal. The model offers six Ethernet ports to provide a wired internet connection for gadgets such as a printer, game console, or smart home hub or bridge.
You can find a budget microwave oven for $50 or you can spend upward of $1,000 on a high-end model that can be built in to your kitchen cabinetry. But what's important is the microwave's ability to reheat and defrost food, and not all models are created equal in that regard. So it's a good idea to check out CR's test results and ratings before you buy a new model.
The type of microwave is important to consider as well. Countertop models are the most versatile, and there are over-the-range options as well. This may be something to consider if and when you remodel your kitchen.
There are features to look for, too. Do you want the more common turntable or a sliding tray that may be better for reheating larger dishes? Do you need a rack? What wattage is best? Our buying guide can help you determine the best options for your budget.
Check out the following microwave oven deals.
LG NeoChef Microwave Oven
The deal: $185 at Appliances Connection; $189 at Best Buy
CR's test results: LG NeoChef LMC1575ST microwave oven
This microwave touts a feature called a "Smart Inverter" that aims to provide more even cooking, and CR's test results found it does, in fact, do a solid job at cooking things evenly. It also performed well in our defrosting tests as well as in cooking speed.
As summer weather peaks, dehumidifiers tend to drop in price. They're great for drying out the air in your home on muggy days, which can help things feel less sticky. Dehumidifiers can also take that damp feeling out of a basement or laundry room, and prevent a few other sticky situations. Humidity levels above 50 percent can breed dust mites, mildew, and mold, triggering allergies or other health problems.
When choosing a dehumidifier, you'll want to determine what capacity you need for your space. Large-capacity machines can work in smaller spaces, but small- or medium-capacity dehumidifiers may be more efficient. Read CR's dehumidifier buying guide to learn more about what to look for.
Check out the following dehumidifier deal.
Frigidaire Small-Capacity Dehumidifier
The deal: $160 at Amazon and Walmart
CR's test results: Frigidaire FFAD2233W1 dehumidifier
The Frigidaire FFAD2233W1 can remove 22 pints of water from the air per day, and the tank holds 12 pints, almost twice the amount of most we've tested in this category. It gets the job done, but the humidistat is the least accurate of the small-capacity models we've tested. This is a basic model and doesn't have an auto-restart feature or a clean-filter alert.
August may be the unofficial end of summer, but that doesn't mean it's time to stop barbecuing. As we approach Labor Day, you'll find prices dropping on grills. So whether you want a new charcoal, gas, pellet, or kamado grill, keep an eye out for sales this month.
Prices can range from as little as $100 to more than $3,000, depending on what you want. CR tests grills to fit every cooking style and budget, from portable models you can take camping to larger grills designed to feed an extended family. We produce ratings of more than 150 grills to suit first-time buyers and seasoned grill masters searching for a replacement or an upgrade.
There are three main types of grills to choose from, and each has pros and cons when it comes to cost, ease of use, cleanup, and, most important, how it cooks food. So you'll want to review our grill buying guide if you're not sure whether you'd be happiest with a charcoal grill, gas grill, or pellet grill.
Check out the following grill deals.
Char-Broil Kamander Kamado Grill
The deal: $409 at Walmart
CR's test results: Char-Broil Kamander 17302051 kamado grill
The Char-Broil Kamander is one of four nonceramic kamado grills in our ratings, all of which score very similarly. The Kamander hits the sweet spot between price and performance. It's made from double-walled stainless steel, with a powder-coated finish. On high heat, the Kamander can get to 1,000° F, helping it to char pizza crust perfectly in our tests—and earn high scores for cooking performance. As with ceramic models, it has upper and lower dampers for controlling airflow, but because of its metal construction, it's far lighter than most kamado grills, weighing in at 115 pounds.
Monument Grills Pellet Grill
The deal: $329 at Amazon
CR's test results: Monument Grills 87578 pellet grill
In the market for a budget pellet grill? This model from Monument may be the ticket, especially with the sale price in addition to an on-page coupon, putting its price at just $10 more than the lowest we've seen so far this year. It's certainly one of the most affordable options CR has tested, but its lower price does come at a cost. The grill is great for indirect cooking but gets middling scores for evenness, convenience, and cleaning. It does have WiFi control, though, which the company says lets you manage the temperature, switch the grill to smoke-only, and even monitor meat temperatures from your phone.
If a printer is on your back-to-school shopping list, you may be able to find a deal on a top model this month, whether you need one that can scan and fax or just want something basic to print occasionally. But demand is high right now, as schools and offices reopen, so discounts may be fewer and farther between than in years past. If you do spot a sale, you'll want to act fast before it's sold out.
There are two main types of printers: laser and inkjet. Some may be able to make copies or offer wireless printing over WiFi. CR's buying guide can give you a more in-depth look at the different options and the best models so that you'll be ready to jump on it when the printer you want goes on sale.
Check out the following printer deal.
Canon ImageClass Black-and-White Laser Printer
The deal: $142 at Amazon
CR's test results: Canon ImageClass MF232w printer
Prepping for back-to-school season? This all-in-one laser printer gets high scores for text quality, speed, and scan quality. And that makes it a workhorse for tasks like printing forms, homework assignments, and athletic schedules. Better yet, it's relatively inexpensive to operate. Our testers estimate that typical users will spend only about $14 per year on toner. The Canon brand has impressive predicted brand reliability and owner satisfaction ratings. Just note that this printer can connect to only one device at a time.
The average price of a stand-alone freezer tends to fall in August. But this year you may not see as many chances to save if you're in the market for a new one. Because of the pandemic, a lot of people bought secondary freezers in the spring to stock up on supplies, creating an increased demand. We've seen very few—if any—deals on freezers this year, but at least they're in stock again and might possibly see some price drops this month.
Check out our buying guide and ratings to find the right freezer for your needs.
High blood pressure, also called hypertension, doesn't have any obvious symptoms, but it can increase the risk of a heart attack, a stroke, kidney disease, and a number of other serious health problems. And though your doctor checks your blood pressure at every checkup, a single reading might not be giving you the full picture.
If you want to keep a closer eye on your blood pressure, you can get an at-home blood pressure monitor. Consumer Reports has tested 28 models, comparing their readouts with those of a mercury sphygmomanometer (the device that's considered the gold standard in blood pressure testing) as well as testing ease of use, comfort, and convenience.
Most models usually cost between $40 and $100, and they often fall in price this time of year. You can choose between upper-arm and wrist monitors, both of which can have a number of different features, though keep in mind that our tests have found that upper-arm monitors tend to be more accurate than wrist models. Our in-depth blood pressure monitor buying guide is a great place to start your research.
Even if you don't have a ton of clothes that need pressing after they come out of the dryer, it's good to have an iron at the ready. Steam irons tend to drop in price this month, so if you need a new one, this is the perfect time to look.
Steam irons can cost $15 to $150. Though cheaper models we've tested in the past haven't performed all that well, you can find decent options for closer to $50 that can compete with more expensive models.
We don't currently test steam irons, but we have a buying guide you can read to learn more about your options and what to look for when you shop.
When you shop through retailer links on our site, we may earn affiliate commissions. 100% of the fees we collect are used to support our nonprofit mission. Learn more.