When you shop through retailer links on our site, we may earn affiliate commissions. 100% of the fees we collect are used to support our nonprofit mission.
Learn more.
When you shop through retailer links on our site, we may earn affiliate commissions. 100% of the fees we collect are used to support our nonprofit mission. Learn more.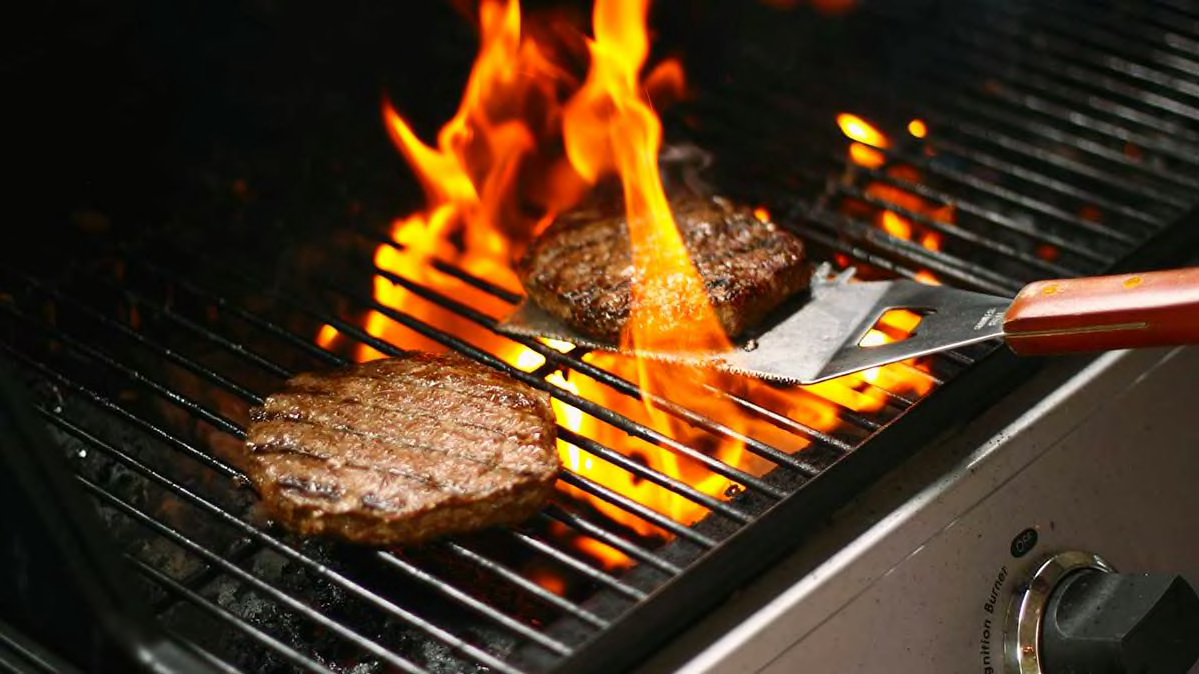 As the warmer weather returns this spring, you'll surely find yourself spending more time outdoors. Right now, that is pretty limited to your own backyard, but it's also a great opportunity to spend more time grilling burgers or mowing the lawn.
While you're practicing social distancing, why not use this time to make sure your home looks its best inside and out? This month, retailers typically offer deals on pressure washers and vacuum cleaners to help you do just that.
Consumer Reports tracks the prices of many products all year long, so we know when they go on deep discount. The products listed below should be available at their lowest annual price in April. Check our buying guides to find out whether sale products are worth it, and use our ratings to make sure you get a great-performing product.
Want to know what's on deep discount during the rest of the year? See our calendar of deals.
Grills
April is typically the perfect time to start getting ready for everyone's favorite summer activity: backyard barbecues. Especially now, when we're all looking for more reasons to spend time outside, you'll be glad to know this month typically brings discounts on gas and charcoal grills alike.
Prices can range from as little as $100 to more than $3,000, but proactive shoppers can take advantage of discounts on last year's inventory as retailers make room for newer models. And there are often sitewide spring sales meant to get shoppers thinking about all the things they want and need for summer.
More on Shopping and Saving
There are three main types of grills to choose from, so you'll want to review our grill buying guides if you're not sure whether you'd be happiest with a charcoal grill, gas grill, or pellet grill. Pellet grills, for instance, combine the qualities of gas and charcoal in one cooking device that uses compressed pellets of sawdust for fuel and can also function as a smoker.
Each type has pros and cons when it comes to cost, ease of use, cleanup, and, most importantly, how it cooks your food. CR tests grills to fit every cooking style and budget, from portable models you can take camping to larger grills designed to feed an extended family. We produce ratings of more than 150 grills to suit everyone from the first-time buyer to the seasoned grill master searching for a replacement or upgrade.
Lawn Mowers
Having the right tools makes it easier to get any job done, and that's especially true when it comes to yardwork. A good mower can make quick, easy work of a task you may dread, and you may be able to find a good deal on a new one this season.
Prices for lawn mowers range from a hundred bucks to several thousand. Though it's not necessary to spring for the priciest model on the market, spending just a bit more than the lower end of the price spectrum will get you a higher-quality machine.
You'll want to research the options to find the best model for your property, whether gas- or battery-powered, push or ride-on mowers. And beyond that, consider factors like size, power, and upkeep. Check out CR's lawn mower and tractor buying guide to learn more about your options and find a suitable mower for your home.
Vacuum Cleaners
Vacuum cleaner sales stay strong from March through April as people start to think more about spring cleaning and allergy season. Vacuums, including robotic vacuum cleaners, are among the handful of products that tend to go on sale all year long. But in early spring, especially, you can expect to see even deeper discounts than usual, making this an ideal time to finally replace your old one with an upgrade to something better.
There are so many different kinds of vacuums to choose from that it can be daunting to decide on the best option for your home. To make the choice easier, review our vacuum cleaner buying guide as well as our ratings to select the best brand and model for your budget.
String Trimmers
Though we usually see seasonal items go on sale toward the end of their respective season, there are often preseason sales if you start shopping early. If you're a lawn-care enthusiast, you'll be happy to know that you can find big discounts on string trimmers in March and April.
The ideal string trimmer will be able to trim, edge, and cut tall grass with ease, and you can find many top-rated gas, electric, and battery-powered models that handle these tasks. Gas-powered trimmers can handle bigger jobs; electric models tend to be better for smaller properties, and they're quieter. Corded trimmers are the most affordable of the bunch but may require an extension cord. Battery-powered models tend to give you about 30 minutes on a single charge, which should be good if you have a small property. Otherwise, you may need additional batteries.
Not sure what's right for you? Read our string trimmer buying guide to get a better idea of what's available.
Leaf Blowers
Fall is not the only time a leaf blower will come in handy, and as you clean up your yard after winter, you may want to invest in one while you can score a good deal. A leaf blower will make quick work of corralling grass clippings and pulled weeds and other debris that can get strewn across your property.
Consumer Reports has put more than 50 different models, ranging from gas-powered to battery-powered to corded electric, through rigorous tests to help you find the model that suits your needs. Check out CR's buying guide and ratings to learn more so that you can shop with confidence.
Carpet Cleaners
When it comes to carpets and rugs, vacuuming goes a long way, but you'll still want to do a deep clean every now and then to help them look and feel better and last longer. And if you're considering investing in a carpet cleaner, April is a great time to find one at deep discount.
Homeowners who only occasionally clean their carpets may choose to hire a reputable professional or rent a carpet cleaner. But if you have a lot of carpeting and a house full of kids and pets, you might want to consider buying a machine. Though nothing beats the ease and performance of a pro, some of the machines we tested came pretty close for less money.
Renting a carpet cleaner is an option too, especially if you don't plan to deep clean more than a few times a year. Rental fees typically run about $20 to $30 a day, but these models tend to be heavy, harder to use, and not always in the best condition.
Read CR's buying guide to get a better idea of what's out there and what will be best for your needs.
Chainsaws
Another seasonal product you'll often find on deep discount in April? Chainsaws. They're perfect for tackling big projects to get your yard in tip-top shape, whether you're looking to clear out brush too thick for electric loppers, fell a tree that's threatening a roof, slice off dangerous broken tree limbs, or bucking a tree into logs for firewood.
Chainsaws come in a range of sizes, from small electric models (some with cords, some without) to hefty gas-powered models intended for heavier work. Prices often correlate with engine size for gas saws and voltage for electric saws, along with the length of the cutting bar—the arm of flat metal that guides the chain.
Finding the right model depends on how—and how often—you plan to use your chainsaw. Check out CR's chainsaw buying guide and ratings to learn more about the various models.
Pressure Washers
With all the extra time people are spending at home right now, it may be the perfect time to really deep clean the outside of your home as well as the inside. Invest in a good pressure washer now, while they're on sale, and you can make your mildewy deck and oil-stained driveway look and feel like new with minimal effort.
If you have a larger property with more surface area to clean, a gas-powered pressure washer may be ideal. But if you're cleaning small decks and patio furniture, you probably only need an electric model, which is typically lighter, quieter, and easier to maintain than a gas-powered version.
This is not necessarily something everyone needs to own, so if you have limited storage space or don't think you'll use it often enough to be worth the upkeep, you may be better off looking into rental options or even taking on the task of cleaning things with soap, water, and elbow grease.
Take some time to read our buying guide and learn more about the recommended pressure washers to determine if it's a smart purchase for you.
Windows
New windows not only enhance your home from the outside but also can improve the quality of life inside your home, creating a quieter and less drafty environment. Today's double-hung windows are also easier to clean and maintain than most older windows, as well as more energy efficient.
If your existing window frames are still in good condition, you can save on both materials and labor by purchasing replacement units that fit inside the existing frames. And you may be able to save even more if you start shopping in April, because this is when they tend to drop in price.
Most window manufacturers train and certify contractors to install their brand of window, so plan to have the contractor you purchase windows from do the installation as well. Look for someone who has received certification from the American Window and Door Institute or Installation Masters, and get bids from multiple contractors.