When you shop through retailer links on our site, we may earn affiliate commissions. 100% of the fees we collect are used to support our nonprofit mission.
Learn more.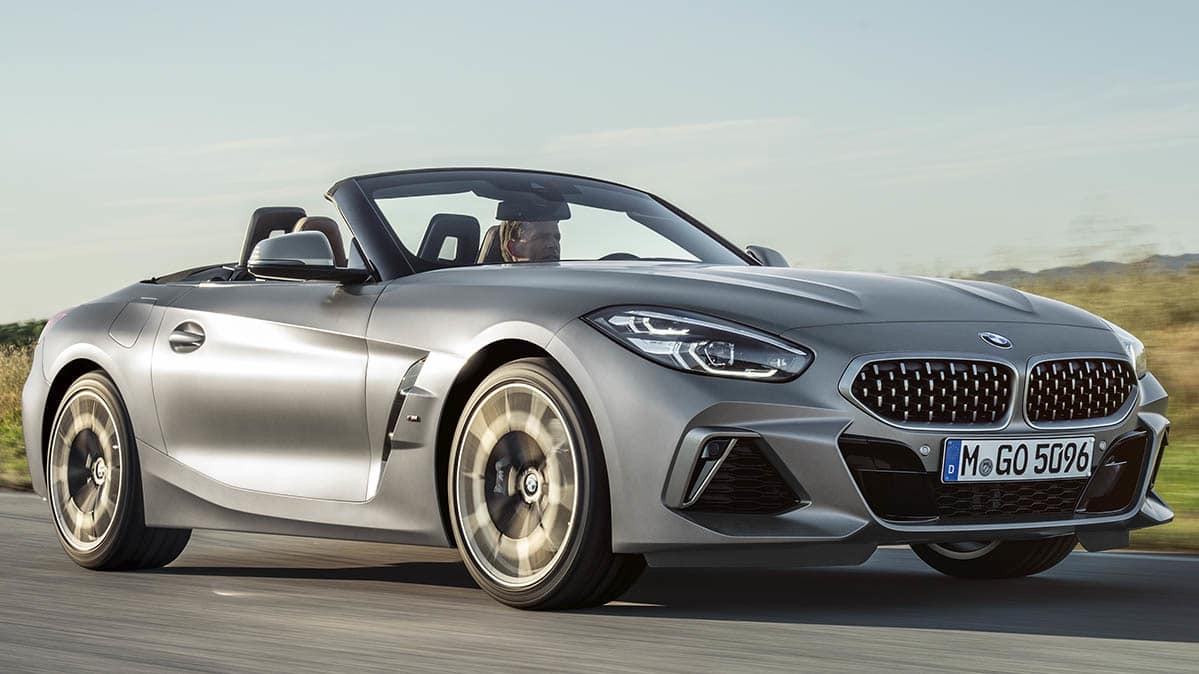 BMW unveiled a larger, more powerful Z4 roadster that will arrive just in time to enjoy top-down motoring next spring. The Z4 returns to market after a three-year hiatus with more dramatic side styling, a soft top, reduced weight, a stouter body structure, and quicker acceleration.
The Z4 will launch with the sDrive30i trim, and it will later add a high-performance M40i trim. Don't be alarmed by those obscure-sounding names: Both configurations have more power on tap than before and more sophisticated, high-tech tricks to elevate performance.
A slight overall increase in size promises passengers more elbow room and luggage space than before, making the Z4 more suitable for weekend getaways.
2019 BMW Z4
Starting price: $55,000 (estimated)
What it competes with: Audi TT, Jaguar F-Type, Mercedes-Benz SLC, Porsche 718 Boxster
What it looks like: Evolutionary styling adapts some character lines from current BMWs, as well as some influence from other sports cars.
On-sale date: March 2019
Convertible Profiles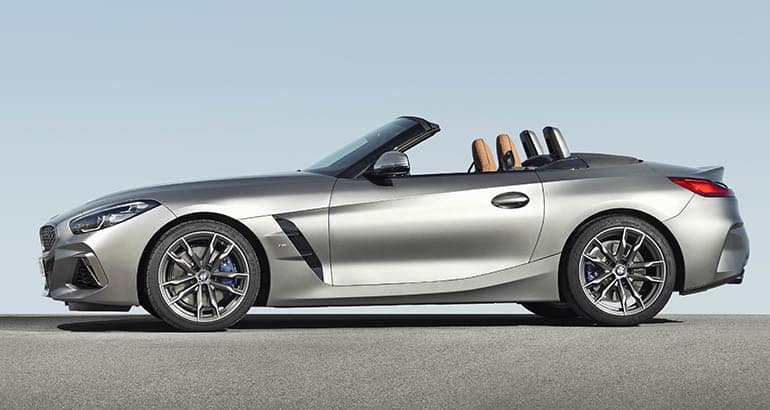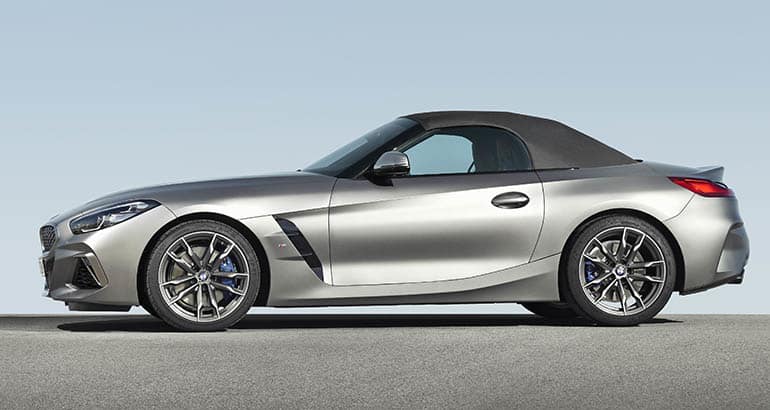 Outside
The next-generation BMW Z4 roadster has grown 3 inches in both length and width, although its wheelbase has been shortened slightly. BMW claims the Z4 retains a 50:50 front-to-rear weight distribution, a ratio that's hallowed among sports cars and allows for balanced handling that can make a car especially enjoyable and entertaining to drive.
The styling has evolved as the new car gets a bolder front appearance and sharp body creases that are evocative of a Chevrolet Corvette, with a hint of Porsche 718 Boxster at the rear corners.
Last generation's hardtop is gone, replaced by a lighter soft-top roof that can be opened or closed while the car is moving, even while traveling at speeds of up to 31 mph. Shifting to a soft roof saves weight, which is a key consideration for a performance-focused car. But soft tops generally don't provide the same coupelike cabin quiet that a retractable hardtop can.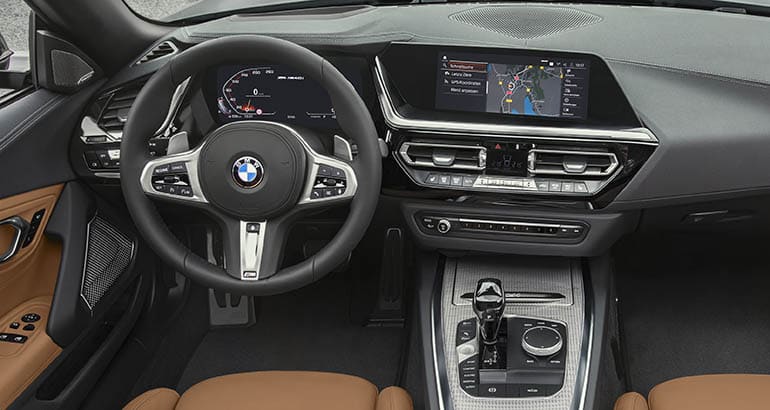 Inside
The power seats can move farther forward and back in the 2019 BMW Z4 compared with previous models, giving taller drivers more comfortable options. The steering wheel has paddle shifters to let drivers override the transmission when they choose, providing a simulated manual-transmission experience without needing a clutch pedal.
The latest-generation iDrive infotainment system uses a 12.3-inch display for the instrument panel and a 10.25-inch screen in the center dash. To interact with them, drivers can use a touch controller, touch screen, or voice controls. The Z4 is Apple CarPlay compatible. (Like other BMWs, the Z4 isn't Android Auto compatible.)
Connectivity is central to this infotainment system. BMW says that the car can connect to a wide range of personal devices, including the Apple iPhone and Apple Watch, Alexa-compatible devices, and the Google Home system. Through those connections, the car can access digital entertainment, sync calendars for travel reminders, or get navigation routing.
Another neat trick: Owners can use their smartphone as a digital key, like they might with a Tesla Model 3, using near field communication (NFC) technology.
BMW says trunk capacity has been increased by 50 percent, plus there's more storage behind the seats than in the previous Z4.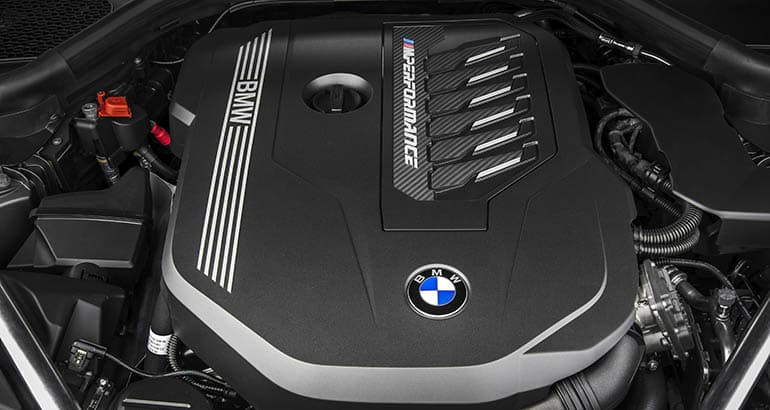 What Drives It
The rear-drive Z4 sDrive30i features a 255-hp, 2.0-liter turbocharged four-cylinder engine with an eight-speed automatic transmission. This new turbo engine has 15 more horsepower and 35 more lb.-ft. of torque. The power gains, combined with weight savings and revised gear ratios, enable the Z4 to run from 0-60 mph in 5.2 seconds, according to BMW. That's almost a second quicker than the last Z4 we tested.
The high-performance M40i will be fitted with a 382-hp, 3.0-liter turbocharged six-cylinder. This engine has 47 more horsepower than its predecessor. This engine is also paired with an eight-speed automatic transmission that has been geared and programmed to enhance performance. BMW says the M40i will race 0-60 mph in a scant 4.4 seconds—the same time as the last Porsche 718 Boxster we tested.
Safety & Driver-Assist Systems
All 2019 BMW Z4s will be equipped with forward-collision warning with pedestrian detection, automatic emergency braking, and lane-departure warning. An optional Driving Assistance Package brings adaptive cruise control capable of operating in stop-and-go traffic, blind-spot warning, and rear cross-traffic alerts, which can alert a driver when perpendicular traffic is approaching, such as when backing out of a parking space.
An interesting trick can be performed with Back-Up Assistant. This feature can recall the steering inputs when last traveling forward and use them to automatically trace the path in reverse up to 150 feet. This sounds like a way to more easily back out of a garage or even down a long driveway.
CR's Take
The redesigned BMW Z4 roadster promises to be more of a good thing, quite literally. Its larger size should make it easier to live with as a daily driver and make road trips more appealing.
The iDrive experience in past BMWs has been well-executed and significantly improved over time. The Z4 will use an even newer version of iDrive, and we hope that it follows BMW's trend of constant improvement.
The last Z4 had impressive acceleration, braking, and fuel economy. But it came up short in terms of being truly engaging to drive while suffering from the noise and choppy ride complaints that are common for roadsters. Ultimately, we said it wasn't as entertaining as we thought a sports car should be.
We won't know whether the new model adequately addresses those shortcomings until we buy one to test. And we're looking forward to that.