When you shop through retailer links on our site, we may earn affiliate commissions. 100% of the fees we collect are used to support our nonprofit mission.
Learn more.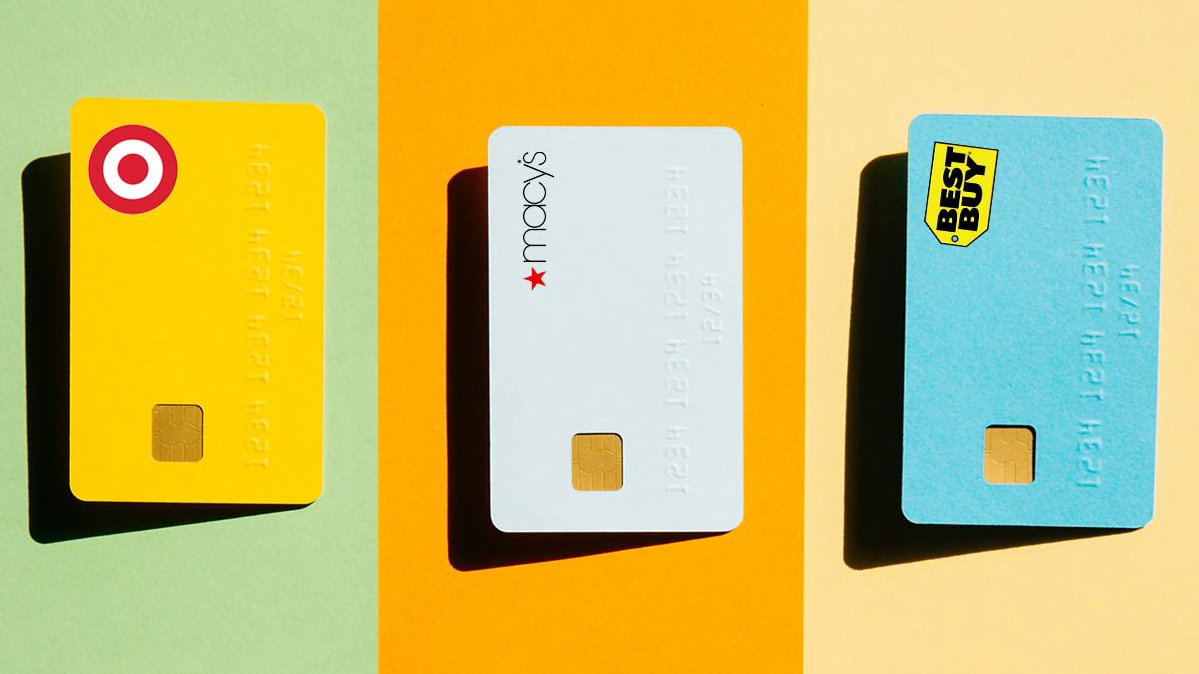 When shopping during the holidays, a checkout person might offer a discount on your purchase if you sign up for a store-branded credit card.
Should you do it?
Generally no, advises Ted Rossman, an industry analyst at CreditCards.com. While the initial discount may be enticing, he says that if you don't pay your bill in full, the interest rate you'll be charged will be higher on average than those of ordinary credit cards.
CreditCards.com looked at 81 store credit cards at 58 retailers in September and October as part of an annual survey. It found that consumers who take out store-only cards face an average annual percentage rate of 27.23 percent. That's well above the national average of 20.82 percent for all credit cards.

According to the website's report, one reason store credit cards have higher rates is that they tend to have higher-risk applicants than other credit card issuers do.
Kevin Morrison, a retail banking senior analyst at the Aite Group, says store cards often have a lower credit limit, so a higher rate helps them make money from those smaller balances.
While 70 of the cards surveyed by CreditCards.com had APRs higher than 25 percent, the worst rates were found at six stores, including Big Lots, Zales Jewelers, and Staples. All had APR's as high as 29.99 percent.
At Dillard's, APRs were as low as 11.99 percent but could run as high as 26.99 percent depending on a consumer's credit score. At Kroger, rates ranged from 13.99 percent to 25.99 percent.

The best rate offered by a card regardless of credit score was from Military Star, a credit card that isn't designed for one particular store or chain but for a variety of retailers that provide services to the military.
Those retailers include resort hotels, online websites such as myNavyExchange.com, and food courts run by the Army and Air Force. You must be a member of the armed services to qualify. The interest rate on its card is 12.24 percent.

Another card that offers a flat rate regardless of your credit profile is Costco's Visa card, which charges 17.24 percent on balances.
Morrison says that when card issuers determine your rate, they consider how much they'll charge based not just on your credit score but on other factors, such as your debt-to-income ratio.
The key is not to be pressured into making a bad choice, Rossman says.
"You don't want to make a decision that could cost you 30 percent in interest while you are checking out of a store during the hustle and bustle of holiday shopping," he says.

Rossman says a better strategy is to go home and think about it.
"Consider whether you'd be better off applying for a general purpose credit card that offers cash back or other kinds of rewards," he says.
When to Consider a Store Card
There are situations when you may want to get a store credit card. If you're new to credit or you're rebuilding your credit score, store credit cards can serve as a stepping stone to achieving those goals, Rossman says.
One reason is that you can be more easily approved for a store card than a regular credit card. But you need to make sure that you keep your balance low and pay your bills on time. Otherwise, high rates may undermine those efforts.
If you shop frequently at one store, it might be worth considering a card from that retailer. First, consider the rate and how likely it is that you'll pay off your debt each month. Next, consider the perks and how often you need to shop at the retailer to benefit.
If you're a loyal Costco shopper, for instance, you may want to consider its Visa card. The card charges a flat APR of 17.24 percent and provides between 1 percent and 4 percent cash back on purchases made at Costco.

But if those circumstances don't apply to you and you have a store credit card with a high interest rate, pay down any balance quickly or shift the debt to a balance transfer card with a 0 percent rate.
Rossman recommends that you then put the store-issued card away somewhere safe and not use it anymore. Because most store cards don't have an annual fee, there's no cost to keeping it once the balance is fully paid. If you cancel the card, though, that can temporarily ding your credit score.
Store Credit Cards With High Interest Rates
| | |
| --- | --- |
| Retailer | Credit Card Interest Rate (%) |
| BrandSource | 30.49 |
| Big Lots | 29.99 |
| Staples | 29.99 |
| Zales | 29.99 |
| Dick's Sporting Goods | 28.99 |
| Dressbarn | 28.74 |
| Lane Bryant | 28.74 |
| William Sonoma | 28.74 |
| Ann Taylor | 26.74 |
| Henri Bendel | 26.74 |
| Victoria's Secret | 26.74 |
From the 'Consumer 101' TV Show
Credit cards can be useful tools for most people—if used responsibly. Consumer Reports' money expert, Octavio Blanco, explains on 'Consumer 101' what smart consumers need to know about using plastic instead of cash.