When you shop through retailer links on our site, we may earn affiliate commissions. 100% of the fees we collect are used to support our nonprofit mission.
Learn more.
The all-new Ford Expedition makes a leap forward with this redesign, shedding weight while adding comfort, convenience, and safety features.
Ford cut pounds with the new Expedition by using aluminum and lightweight components, a strategy likewise employed with the redesigned F-150, rolled out for the 2015 model year. The Expedition efforts resulted in a 230-pound weight reduction, according to CR's scales, compared with our previously tested, similarly equipped Expedition.
The official EPA fuel economy rating for the Expedition shows an improvement to 18 mpg overall from 16 mpg. Though CR hasn't yet tested fuel economy, we can attest that acceleration is lively with this massive vehicle.
To assess this next-generation large SUV, we purchased an Expedition MAX Limited with four-wheel drive. This is the extended-length version that measures a foot longer than the regular Expedition and its mechanical twin, the Lincoln Navigator, which we are also testing.
The Limited is the midlevel trim, and it adds such niceties as Sync Connect telematics with WiFi hot-spot capability, motorized running boards, heated second-row seats, and an upgraded audio system.
We added on a few options, including a rear-seat entertainment system, LED headlamps, a package that bundles a panoramic roof with navigation, and the Driver Assist package with advanced safety features. All told, this Expedition MAX cost about $75,000—about $11,000 less than our shorter Navigator.
What we bought: 2018 Ford Expedition MAX Limited 4WD
Drivetrain: 3.5-liter turbocharged V6 engine, 10-speed automatic transmission
MSRP: $68,400
Destination fee: $1,195
Options: $5,835
Total cost: $74,840
How It Drives
The universal feedback from the CR Cars team is that this is a giant vehicle. Many testers said that it feels bigger than the last-generation Expedition, despite just incremental gains in most dimensions—except height. That size perception is overwhelming: Our drivers found that the vehicle is in its element on the highway but that the Expedition seems outsized for driving through suburbia.
The 375-hp, 3.5-liter turbocharged V6 engine pairs well with its 10-speed automatic transmission. Combined, the powertrain catapults this beast effortlessly. Acceleration is brisk, with strong, effortless, midrange punch that suggests the Expedition is ready and eager to pull a sizable trailer.
The transmission toils quietly in the background, making seamless shifts. The programming seems to be very well-sorted.
The ride is mostly composed, though it skews to the firm side. The truck-based Expedition does not ride as well as contemporary three-row SUVs, such as the Buick Enclave and Chevrolet Traverse. (By contrast, the Navigator's ride feels more cushioned and luxurious.)
On the road, the vast interior is quiet, with wind and road noise nicely suppressed. A slight, though unobjectionable, engine noise creeps in.
Handling is not the forte for this long vehicle. It needs significant steering input to tackle corners, making it feel reluctant and ponderous. Ultimately, the Expedition reveals its truck roots in those situations.
That said, these same traits work very well on the highway. The Expedition is gifted for road tripping, especially if there is a need to tow. Around town, the size becomes a burden. Parking is downright treacherous, from being able to pull into a space to ensuring there is enough clearance to open the doors.
Inside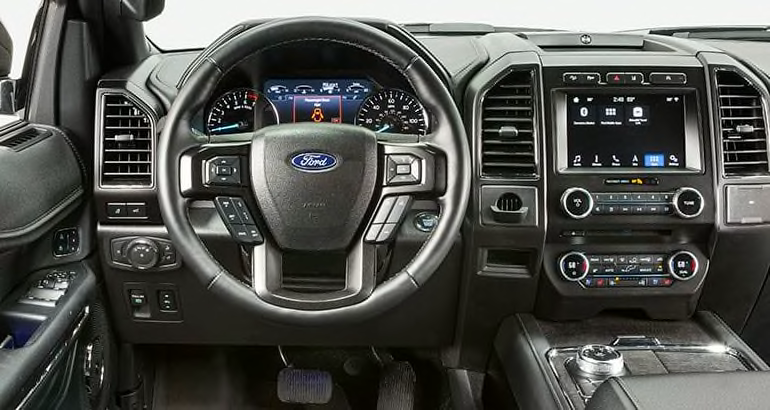 Getting in the Expedition is made easy with its motorized running boards that quickly move into place. Even their height is convenient.
The fit and finish here is much better than it was with the last Expedition, with much more soft surfaces, stitching accents, and well-placed padding.
The large driver's seat reminds us of a living room chair, with good support and contouring. Lumbar adjustment is only two-way, though. Notably, the front seats are more comfortable than the standard 10-way seat in the Lincoln Navigator.
The Expedition uses a rotary dial for selecting gears, as Ford has used in other recent models. This is much preferred over the hard-to-reach buttons in the Navigator.
The controls for common functions are fairly basic and easy to operate. Between the steering wheel, hard push buttons, and the touch screen, there are often several ways to make adjustments. The color screen between the gauges is a helpful tool, with numerous menus to adjust settings and choose what information the driver wants displayed. Some of our testers criticized the low position of the climate controls, although they also can be adjusted on the screen.
We particularly appreciated the heated front and rear seats and heated steering wheel during recent cold snaps. A wireless charge mat sits beneath the climate controls, adjacent to the USB ports, making it convenient to recharge a compatible smartphone while driving.
The Sync 3 infotainment system works well, with a responsive screen that is conveniently placed.
The second row is easy to access, thanks to the running boards and the large doors. The seats are comfortable, leg- and headroom are generous, and there are plenty of amenities, including climate controls and storage.
Our tested model features a rear entertainment system ($1,995) that puts a screen in the back of each front-seat headrest. Second-row passengers can use each system independently. And unlike many recent cars with a factory-installed rear-entertainment system, each screen has its own DVD player, giving passengers control over their own programming—while sparing the parents up front from having to play the role of projectionist.
The last row can accommodate adults—something not all three-row vehicles can honestly claim. In fact, the Expedition MAX is more comfortable in the back than the Chevrolet Suburban. With the extended-length MAX, there is decent cargo space behind the third row.
Should you need to configure the seats differently, switches in the cargo section can motor the seat backs up and down. We found this to be very handy when out shopping or loading long items, such as skis. But it would also be helpful if the driver had access to such controls without having to get out of the vehicle.
One common annoyance with our tested SUV is that the doors require a hearty slam to properly shut. Treat them like any other vehicle, and the doors will remain ajar. Some of us found that more often than not, the doors were not closed tightly on our first try.
Overall, the cabin is spacious, comfortable, and well-suited to taking a road trip with family or adapting to big-box-store shopping demands.
Safety
The Expedition does not come with advanced safety systems, such as forward-collision warning and automatic braking, as standard equipment, despite its premium price. Instead, buyers need to invest in the Driver Assist package to gain those features—as we did—or choose the top Platinum trim. That package also includes pedestrian detection, lane-keeping assist, and adaptive cruise control.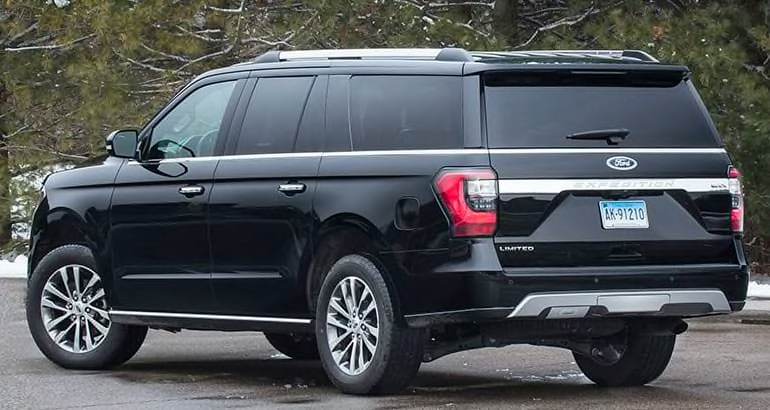 Bottom Line
The redesigned Expedition excels as a long-distance family hauler. Its appeal is focused on those who need to transport several adult-scale passengers, want all-weather and all-terrain grip, and occasionally need to pull a large trailer.
For shoppers who don't require all those attributes in a single vehicle, look elsewhere. There are better vehicles for each of those attributes, such as a minivan, a midsized SUV, and a full-sized pickup truck.
Living with the Expedition requires some compromises, especially in regards to parking. Its gargantuan size may not be a deterrent for all shoppers, but for those living in a bustling metropolis or busy suburbia, the Expedition's prodigious scale may be a deal breaker.
Since this first drive was published, we have completed testing. Read the complete Ford Expedition road test.