When you shop through retailer links on our site, we may earn affiliate commissions. 100% of the fees we collect are used to support our nonprofit mission.
Learn more.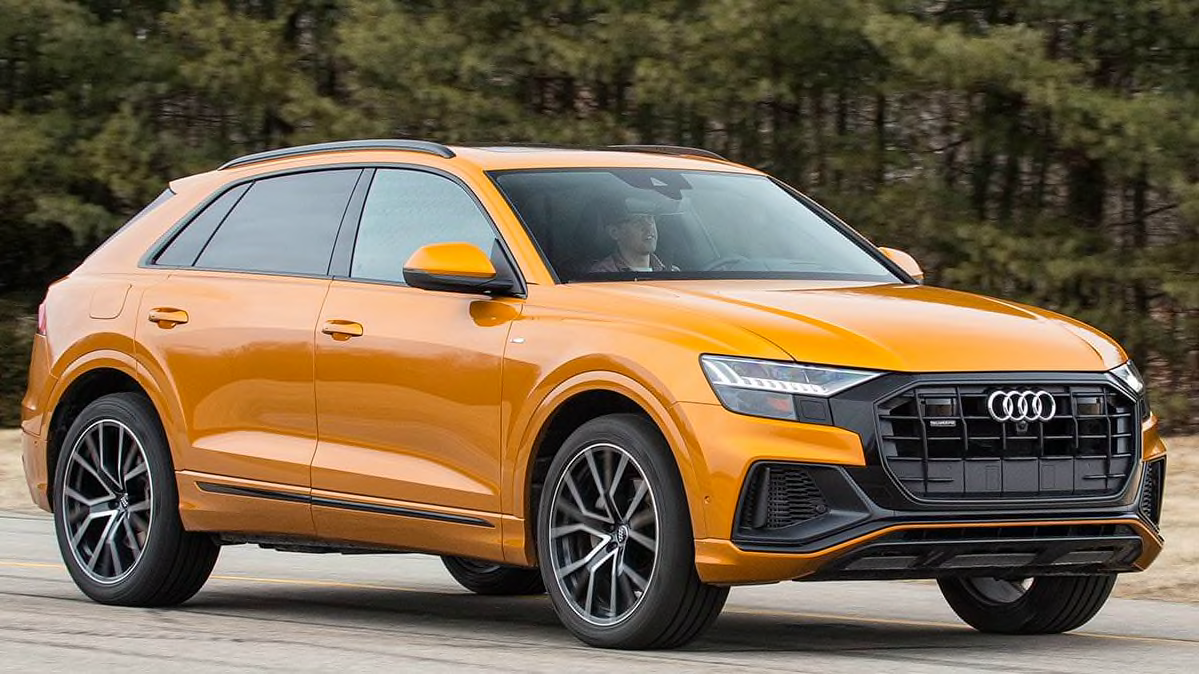 The 2019 Q8 is Audi's newest SUV, a two-row model based on the large three-row Q7. This big, stylish SUV competes against smoothly styled rivals such as the BMW X6 and Mercedes-Benz GLE Coupe, along with the Land Rover Range Rover Sport and Porsche Cayenne.
The current-generation Q7 was introduced in 2017, and it thoroughly impressed us. It performed extremely well in our road tests, and its Overall Score is just a single point behind the BMW X5, the highest-scoring SUV we've tested to date. The 2019 Audi Q8 we drove is a sportier, more tech-laden SUV, but Audi didn't mess with the fundamentals it brought over from the Q7.
The Q8 can play a number of roles: practical SUV for those who don't need three rows, luxurious coach for up to five adults, or fun-to-drive, grin-inducing SUV. Its powerful, turbocharged V6 engine delivers near-immediate power, and the interior is roomy, luxurious, and comfortable for five adults. Finally, the car's advanced infotainment technology, which debuted in Audi's 2019 A8 sedan, is relatively easy to use.
We recently rented one from Audi to see what the Q8 is like to live with and drive, and how different it is from the Q7. These are our impressions of the model, which we won't be buying to put it through CR's testing regimen because it is so similar to the Q7 and is likely to be a low-volume vehicle in the market.

What we drove: 2019 Audi Q8 Prestige
Powertrain: 335-hp, 3.0-liter turbocharged six-cylinder engine; eight-speed automatic transmission; all-wheel drive
MSRP: $67,400
Options: $22,045 (Dragon orange metallic paint, prestige package, luxury package, adaptive chassis package, Year One package, towing package, cold weather package, CD/DVD player)
Destination fee: $995
Total cost: $89,940
What We Like . . . so Far
One of the biggest differences between the Q7 and the 2019 Audi Q8 is the engine. The Q7 still uses Audi's older 3.0-liter supercharged V6 engine, and the Q8 has a 3.0-liter turbocharged V6 under its hood. We tested this new engine in our A8; it's very strong and ready to deliver power at a moment's notice. We also like how the eight-speed automatic transmission delivers smooth, quick shifts.
The Q8 comes standard with 20-inch wheels, but the Prestige trim we drove had optional 22-inch wheels with all-season tires and air suspension. Given how larger wheels sometimes make for a less comfortable ride, we were surprised and impressed at how well the 2019 Audi Q8 rode with this setup. The ride is taut—neither stiff nor bouncy—but the Audi remained composed, soaking up road imperfections with aplomb. Everyone at Consumer Reports who drove the Q8 remarked how the steering has satisfying weight and feedback.

Most vehicles that we rent from automakers are top-trim versions, and the Q8 was no exception. As such, the interior is impeccably fitted with rich leather seats, natural wood trim on the doors and dashboard, high-gloss black panels, and even suede along the roof pillars and the material overhead. It is also incredibly quiet inside.
The controls, although advanced, were easy for our testers to work with after some familiarization. There are many settings, modes, and options on each of the two center screens as well as the multifunction screen in the instrument cluster.
This is the third Audi that we've driven with the automaker's new infotainment system, and we continue to be pleased with the two-screen interface. We particularly like the dedicated screen for the climate system. Plus, the haptic feedback—where drivers pressing a button on the screen get a soft pulse on their fingertip to mimic the tactile feel of a physical button—gives drivers more certainty when they make a selection.
The seats have excellent support and a variety of adjustments, making them perfect for short trips or all-day drives. The square-shaped, nicely finished trunk has plenty of room. Folding down the second-row seats expands the cargo area for longer items.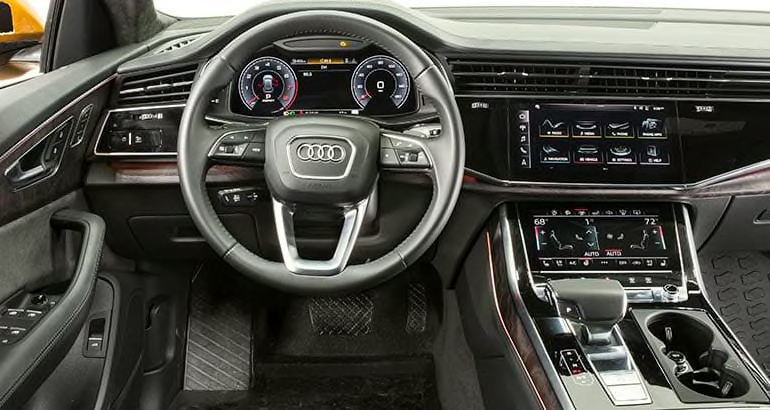 What We Don't Like
We've noticed that newer Audi models have limited cabin storage, and the Q8 is no different. There's just a shallow bin underneath the center armrest, which houses a wireless charging pad and two USB ports. That leaves little room for anything else once a mobile phone is plugged in and stored there. There is also a midsized glove box and pockets in the doors, along with two cup holders that reside between the seats.
The stalk for the adaptive cruise control is on the lower left, where it felt hidden behind the steering wheel for some drivers. This makes it a challenge to see it at a glance and activate it.
We all find it odd that the rear hatch can be opened using a button on the key fob, but it can't be closed by pressing that same button. This seems behind the times, particularly for a luxury vehicle.
Finally, it's great that the standard safety equipment includes forward collision warning and city-speed automatic emergency braking, but more safety features should be standard, given the SUV's $67,400 base price.

For example, our Prestige trim had standard blind spot warning, but this feature costs extra on the lowest-priced trim, ironically called Premium. Lane departure warning isn't available on the Premium, and it's part of a costly option package on the midlevel Premium Plus trim.
Beware: It can be challenging to determine exactly which features are in each package, so buyers should do their homework.
What We'll Keep Our Eyes On
We expect that this engine and transmission combination will make it into the Q7 when Audi freshens its big SUV in the next year or two.
For more insights on the powertrain and controls, check back on CR.org for the test results for our Audi A8.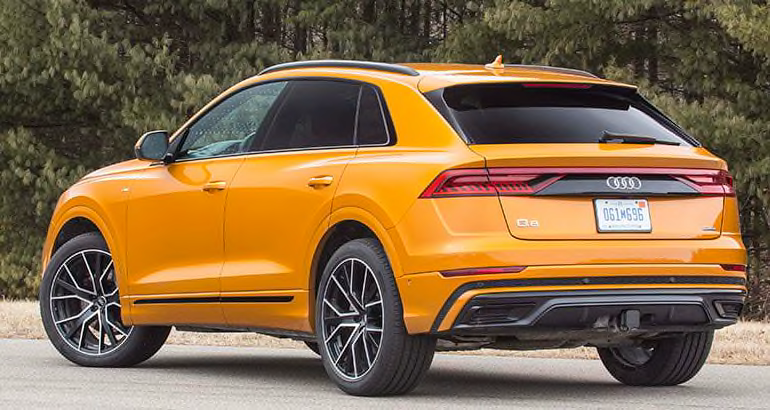 About the cars we rent: Consumer Reports tests only the cars that we purchase. We pay automakers on occasion to drive early or different versions of cars we ultimately buy (we do not borrow press cars free of charge, as many other publications do), but those impressions are never part of the 50-plus-evaluation regimen that we put our purchased cars through.