When you shop through retailer links on our site, we may earn affiliate commissions. 100% of the fees we collect are used to support our nonprofit mission.
Learn more.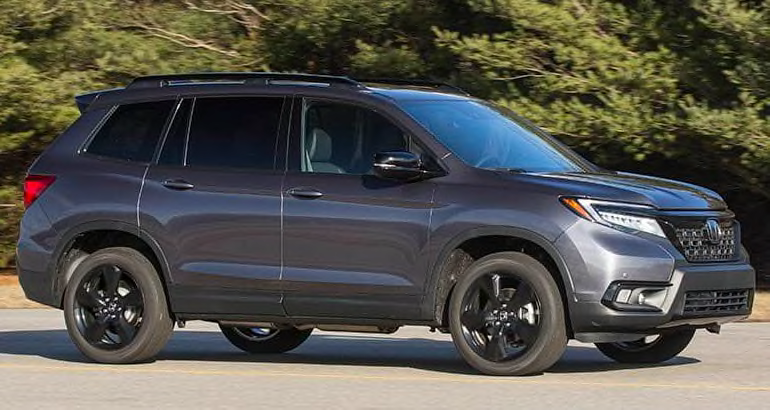 The 2019 Honda Passport expands the automaker's SUV lineup, fitting between the small CR-V and the three-row Pilot. This new five-passenger model will compete against the Chevrolet Blazer, Ford Edge, and Nissan Murano.

It's essentially a Pilot that has been shorted by 6 inches and given a bit sportier visual flair, highlighted by more black trim elements, such as the pieces surrounding the fog lamps. There are some minor hardware changes, such as a firmer suspension, that aim to make handling more responsive than what you'd find on the Pilot.
We recently rented one from Honda to get seat time in this intriguing new model. The Passport is a competent entry, with a smooth engine and roomy cabin, but it does come up short on ride quality, and the claims about ruggedness and adventure put forth by the automaker ring hollow based on our first impressions.
We'll know more once we buy our own Honda Passport and put it through CR's testing regimen.
What we drove: 2019 Honda Passport Elite
Powertrain: 280-hp, 3.5-liter V6 engine; nine-speed automatic transmission; all-wheel drive
MSRP: $43,680
Destination fee: $1,045
Total cost: $44,725
Overview
As SUV sales continue to dominate in the U.S., automakers are expanding their portfolios and filling any open product niches, hence the return of the Passport moniker. The name may be familiar to some, having adorned two generations of rebadged Isuzu SUVs from 1993 to 2002, but this time it's all Honda.
The Passport is well-equipped. Honda says that with the Passport, it's dropping the typical LX base trim, saying that buyers in this market segment shy away from base versions. The trims are Sport, EX-L, Touring, and Elite, and starting prices range from $31,990 to $43,680. All the trims except the Elite come with front-wheel drive standard (all-wheel drive is an option). Only the Elite trim has standard all-wheel drive.
The Passport undercuts the price on comparably equipped competitors (such as the Blazer, Edge, and Murano), particularly when factoring in how much it costs to get key safety equipment.
Honda says it expects the EX-L to be the most widely sold version, at $36,410, and it's what we plan to buy for testing once it goes on sale in February. It includes leather upholstery, driver's seat memory, blind spot warning, Android Auto and Apple CarPlay compatibility, a HomeLink programmable garage door opener, second-row sunshades, and a sunroof. Unlike with its competitors, a panoramic sunroof is not available.
The Touring version has navigation, telematics, a hands-free tailgate, parking sensors, and heated rear seats.
To bolster the Passport's modest off-road ability, there are four driver-selected modes: Normal, Mud, Sand, and Snow. This is a helpful convenience seen on several other SUV models. Each mode can change traction control and how power is managed between front and rear tires. These changes can make it easier for drivers to get out of mud and slushy snow.
We drove an Elite version of the Passport. It's the top trim level and adds all-wheel drive, ventilated front seats, a heated steering wheel, a wireless phone charger, and more.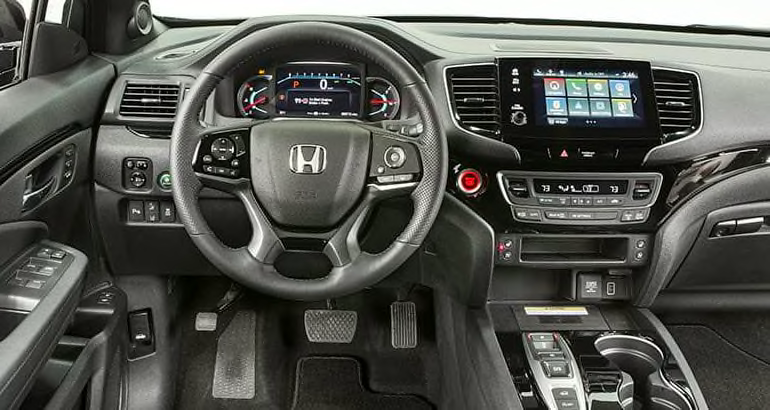 What We Like . . . So Far
The standout facet of the Passport is its smooth, refined engine. The 3.5-liter V6 creates a competitive 280 hp. The engine isn't strained under acceleration, and there's plenty of power. (Honda claims that the AWD Passport with a tow package can tow up to 5,000 pounds.)
Visibility is quite good, and it's helped by thin windshield pillars, upright glass, and triangular panels on the front doors. A standard multiview rearview camera also is useful when drivers must look around the Passport while parking or backing into or out of a parking spot.
The tall, wide cabin feels spacious, with generous room all around the front- and even second-row passengers.
Interior storage is minivanlike, with many places to tuck drinks and travel sundries in the doors and center console.
All Passports come standard with the Honda Sensing suite of advanced safety systems that includes automatic emergency braking, forward collision warning, lane keeping assist, lane departure warning, and a multi-angle rearview camera. The EX-L and higher trims add blind spot warning.
What We Don't Like
We raved about this vehicle's engine in the Pilot, where it was matched with a smart-shifting six-speed automatic transmission, but the V6 here is paired with a nine-speed automatic. This combination results in hesitation, particularly when drivers accelerate from a rolling start. There's a pronounced delay when drivers try to jump into a gap in traffic.
The gear selector is controlled with a series of buttons that you push or pull depending on your choice. As seen on other Honda and Acura models, this setup requires drivers to take their eyes off the road when making a selection. Compared with what you might experience using a conventional gear selector, it's not easy to manipulate quickly by feel alone.
The infotainment controls are likewise confounding. There is a single volume dial. Other controls are operated via the steering wheel and touch screen. We were frustrated by the slow screen startup and response, clumsy menus, and awkward Apple CarPlay integration.
The seats have a flat shape that lacks the side bolsters that are common on other SUVs in this price range. The seatbacks are notably firm, and the heaters are slower than most. The seats are simply adequate. The second-row seating is fine, but it isn't much roomier than in Honda's smaller and less expensive CR-V.
You'll have to take a hearty step up to get into the Passport, especially with AWD versions, which sit almost an inch higher off the ground than the Pilot does.
The ride is a bit stiff compared with the Pilot, and the steering is rather slow to respond. Despite the firmness, there's hardly any added agility compared with the Pilot.
What We'll Keep Our Eyes On
We are particularly interested in how well the engine and transmission will work together in our tested model. The powertrain is often an area where some last-minute tuning is possible between a preproduction sample and when the final product is purchased. However, the Passport we drove arrived just a couple of weeks before others are scheduled to arrive at dealerships, so we don't expect significant differences.
Our initial takeaway is that the Alabama-built Passport is more mundane than its marketing messages would suggest. We'll soon see how it measures up against the upcoming Blazer and the freshened Edge.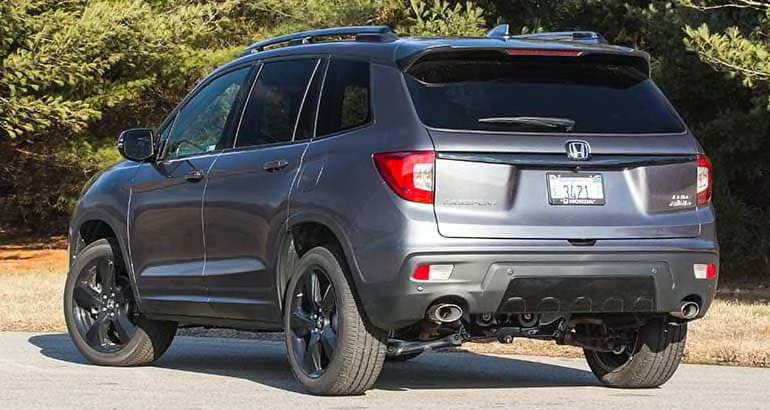 About the cars we rent: Consumer Reports tests only the cars that we purchase. We pay automakers on occasion to drive early or different versions of cars we ultimately buy (we don't borrow press cars free, as many other publications do), but those impressions are never part of the 50-plus evaluation regimen that we put our purchased cars through.
Learn more about how Consumer Reports tests cars.