When you shop through retailer links on our site, we may earn affiliate commissions. 100% of the fees we collect are used to support our nonprofit mission.
Learn more.
1. Get Some Glow When You Go
The Japanese manufacturer Toto leads the "smart toilet" trend with its Toto Washlet, a remote-controlled bidet with a wand that provides a warm flow of cleansing water. That luxury doesn't come cheap: Washlet-equipped models start at $1,188. (Our top-rated standard toilets cost $100 to $350.) Toto's Neorest 750h adds a bacteria-zapping ultraviolet light that's activated when the lid is closed. It costs an eye-popping $10,200.
The Kohler Veil, $4,275, part of its Intelligent line, has a built-in bidet and ultraviolet light, plus a lid that closes automatically. Kohler also offers several "touchless toilets" that you flush by holding your hand over a sensor.
Not ready to spend top dollar on a high-tech toilet? The Night Glow Seat is a glow-in-the-dark seat that sells for just $50.
2. Water Misers Mean Well
You may remember the euphemism "dropping the kids off at the pool." That was before a 1995 federal standard limited toilets to 1.6 gallons per flush (gpf), down from the 4 and 5 gallons that made for more pool-like conditions. Many 1.6 gpf and even some 1.28 gpf toilets got the job done in one flush in our toilet tests.
Dual-flush toilets have two modes: partial and full flush. New models use as little as 1 gallon in partial mode (for liquids). The Glacier Bay Dual Flush N2316 (Home Depot), $100, did best in our tests. But other dual-flush models lacked power, so you could end up having to flush twice.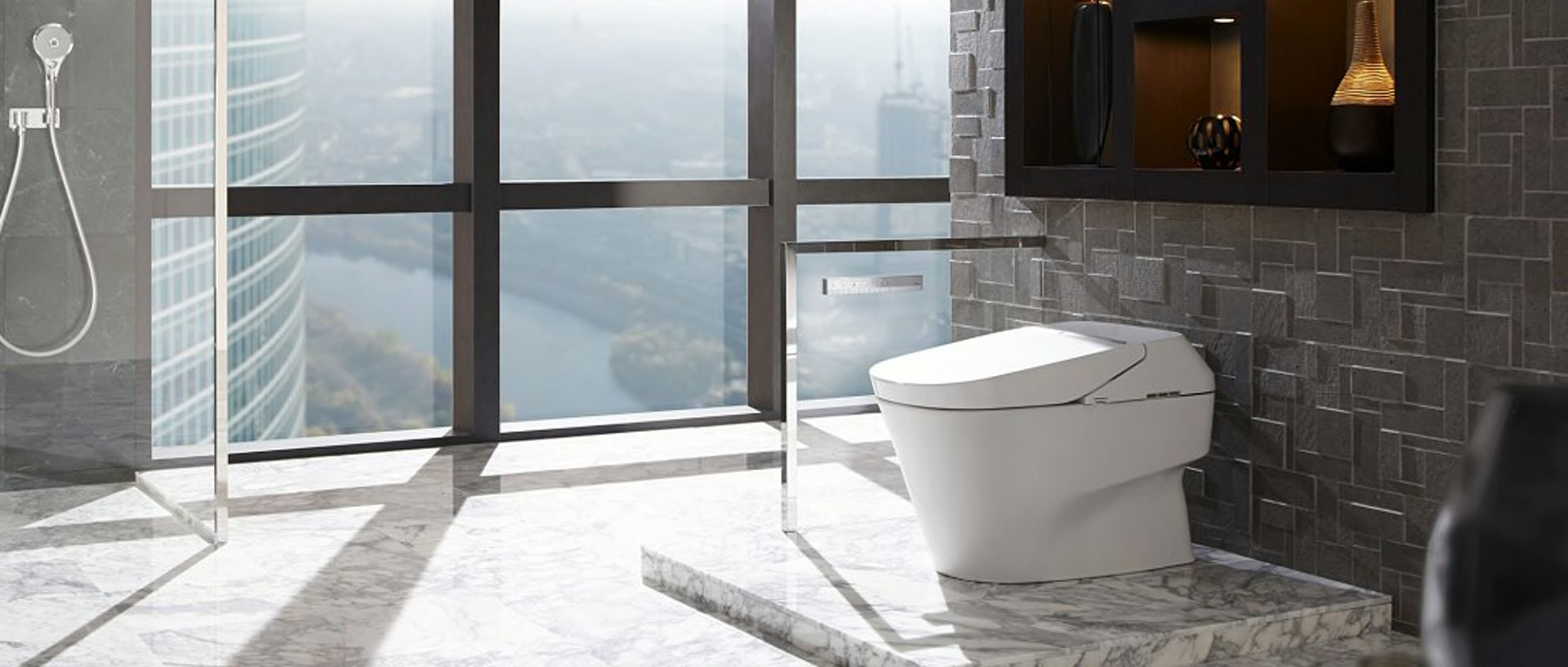 3. The 'Porcelain God' Becomes Sculptural
Bathtubs led the bathroom design revolution, taking on sculptural forms and unexpected materials, including wood and copper. Toilets are now getting their turn. Consider the Kohler Numi, $6,388, with its clean lines and illuminated panels. Or a one-piece toilet, a more reasonably priced option that combines tank and bowl in a single molded piece. It was chosen by almost half of all designers last year. Kohler's Santa Rosa K-3810, $300, aced our tests, though it was a bit noisy.
4. New Meaning for 'Sitting on the Throne'
Chair-height or comfort-height commodes sit about 17 to 19 inches high, 2 or 3 inches higher than traditional toilets. More than 80 percent of toilets selected by professional designers in 2015 were chair height, according to the National Kitchen & Bath Association. Most winners in our tests were, too, including our top pick, the St. Thomas Creations Richmond ECO, $350.
5. Off-the-Wall Designs
Wall-hung toilets are popular in Europe, where their compact design is suited to smaller bathrooms. The tank sits behind the wall, saving 9 to 12 inches of floor space and making the floor beneath easy to clean. Now they're catching on in the U.S. One caveat: You have to buy a separate carrier system that mounts to the wall and holds the tank, bowl, and flush activator. So expect to spend at least $1,000 on a wall-hung toilet, not including installation. We haven't tested any in our labs yet.
Editor's Note: This article also appeared in the June 2016 issue of Consumer Reports magazine.