Should You Buy an Amazon Omni or 4-Series TV?
Amazon is now selling its own sets using its Fire TV smart platform For the past several years we've been testing Amazon Fire TVs sold under the Insignia and Toshiba brands. In general, the TVs have been decent—if unexceptional—performers, usually priced below similarly sized sets from better-known brands.
But this fall Amazon started selling the first Fire TVs under its own brand name. So far, there are two different series: an entry-level 4-series, available in 43-, 50-, and 55-inch screen sizes, and a step-up Omni series with a few more features and screen sizes that go up to 75 inches.
All of the sets so far are 4K models that support high dynamic range (HDR) content. When done well, HDR video can present brighter, more vivid images with greater contrast and a wider array of colors, much closer to what we see in real life.
Are these new Amazon Fire TVs worth buying? To find out, we purchased models in both series and gave them a full evaluation in our TV labs. Three of these sets—a 55-inch 4-series model, and 65- and 75-inch Omni TVs—are now in our TV ratings, which are available to digital members.
The most obvious feature these set share is the Amazon Fire TV smart TV platform, the same one used in Amazon's Fire TV streaming players.
The new TVs have this smart platform baked into the set itself, so you can access lots of streaming services without plugging in a second device, while using a single remote control. All the Fire TV sets come with an Alexa voice remote, which has a built-in microphone for voice commands.
Also, all the models in both series have four HDMI inputs, including one with eARC, an enhanced version of the Audio Return Channel. It lets you send audio back and forth from a TV to a sound bar, for example, so you don't need a separate connection. The main benefit of eARC is that it offers a big boost in bandwidth and speed, so it can support higher-quality audio, such as Dolby Atmos or DTS:X.
But there are a few differences between the two series of TVs. The Omni models have slightly slimmer designs, and the two bigger models get silver trim accents rather than just a plain black finish.
More important, while all the sets support the HDR10 and HLG HDR formats, the 65- and 75-inch Omni models also support Dolby Vision. Unlike those other formats, Dolby Vision supports "dynamic" metadata, so the TV can adjust its brightness on a scene-by-scene basis rather than having one brightness level for the whole show or movie.
While sets in both series can respond to voice commands using the mic button on the remote control, only the Omni TVs have built-in far-field microphones for hands-free operation. That means you can talk to the TV just like you would an Amazon smart speaker—even when the TV is off.
Price will likely be a consideration for those thinking about buying an Amazon Fire TV set. The 4-series models cost $370 to $520, while Omni sets start at $410 for the 43-inch model and run up to $1,100 for the 75-inch set.
These are relatively low prices for sets this size, and we saw Amazon drop the prices further on several of these sets during Black Friday and Cyber Monday last week. For example, the 75-inch set was $130 cheaper during the sale, though it's now back to its original price.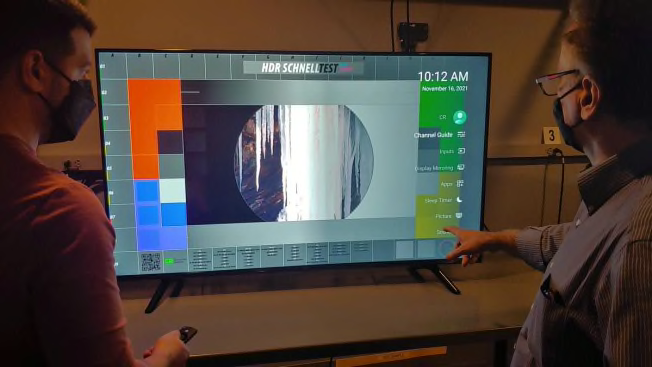 Once we got all three sets into our labs, we put them through our complete battery of tests, which use a mix of test patterns and real-world videos.
We found that the TVs were decent performers in terms of overall picture quality, but like many inexpensive 4K sets, they weren't able to deliver a satisfying HDR experience. In general, all three models performed similarly, with a few exceptions. The Omni sets did a bit better overall, with a slightly brighter picture, and better—though not great—sound.
On a positive note, the sets did a nice job with both HD and 4K picture quality, with excellent image detail. We also found that colors were reasonably accurate, though not as accurate as the best sets in our ratings, and contrast—the difference between the darkest blacks and brightest whites—was very good, giving images convincing depth and dimension.
Despite the TVs lacking a local dimming feature, black levels were decent, though below the level we see on OLED TVs or better-performing LCD-based sets that have full-array LED backlights with local dimming. The TVs also did a nice job upconverting lower-resolution content, such as high-def shows and movies, to the TV's 4K screen.
There were some noticeable shortcomings, though. The problems we saw with HDR came about mainly because the sets couldn't get bright enough to show the benefits of our HDR 4K content, even those sets with Dolby Vision. Also, we noticed slight display nonuniformity in all the models we tested, an artifact that appears as brighter, cloudy areas that are most noticeable on dark scenes.
If you have any experience with a Fire TV streaming player, the TV's interface will be familiar. I'm not a very big fan of the Amazon Fire TV menu system or the fact that it pushes Amazon content above offerings from other sources. But people generally get used to whatever interface their TV offers, so that's probably not a big deal. And Amazon does offer access to all the major streaming services, including Apple TV, Disney+, HBO Max, Hulu, Netflix, and YouTube.
One benefit of Fire TV being built into the set is that you can use your voice to control the TV and switch inputs, as well as search for shows and movies or launch your favorite streaming apps. With the Omni sets' always-listening microphones turned on, you can ask Alexa questions, get weather updates, play music, or control other Alexa-enabled devices, even when the TV is off.
If you don't want the TV to always be listening, a hard switch at the bottom of it will disable the mics, with a small red light indicating they've been turned off.
One other thing about Amazon Fire TVs, which we discovered when we started offering advice on how to turn off a TV's snooping features: You have to agree to Amazon's privacy policies, terms, and conditions when you first set up the TV; there's no option for opting out. That's a growing trend. We see similar requirements in sets that use the Android/Google TV or Roku TV platforms.
So should you buy an Amazon Fire TV? That really depends on how they're priced and whether you value convenience over picture quality.
There are advantages to having the Fire TV platform built into the set. And like the Amazon Fire TVs we've tested from other brands, these sets performed decently. The Omni sets did minimally better than the 4-series model we tested, for just a bit more money.
But if you're a finicky viewer looking for better overall picture quality and the ability to really experience HDR, we'd suggest you look elsewhere.
For example, the 65-inch Amazon Omni Fire TV is selling for $830, a good price for a set that size. But for about $1,000, both the Hisense 65U8G and TCL 65R635 sets have a much higher Overall Score from CR, thanks largely to better picture quality, including a first-rate HDR experience. They also have more features, including a full-array LED backlight with local dimming. (The TCL uses Mini LEDs in its backlight, a new technology.) And a look in our ratings will show that there are also less-expensive models that perform similarly to the Amazon Omni sets.
That said, these are Amazon's first branded Fire TVs to hit the market, and performance could improve in years to come. We're looking forward to testing more models in the future.