How Much Automation Does Your Car Really Have?
Half of new cars can automate steering and speed controls, but there remains too much confusion in how these systems work The road to self-driving cars is a bumpy one, with automakers themselves creating potholes and taking consumers along for the ride.
Tesla may be grabbing headlines, but many new cars from other brands also have the ability to partially automate driving now. Features under the umbrella label of active driver assist systems (ADAS) have been making incremental progress toward self-driving over the past few years. In fact, 92 percent of currently available new cars have the ability to automate speed through adaptive cruise control, and 50 percent can control both steering and speed. 
While these advancements are exciting, says Jake Fisher, senior director of auto testing at Consumer Reports, they also bring confusion and risk. 
Fisher; Kelly Funkhouser, head of connected and automated vehicles testing at CR; and their team break down the realities of today's ADAS systems, what general improvements can be made by automakers, and how consumers should choose such systems for their next car. 
Automakers use different names to refer to these increasingly common features, making it difficult for shoppers to determine how models are equipped. 

There is too little conformity among the symbols used in the cars to activate the systems and how warnings are displayed. 

Few cars have effective driver monitoring to ensure the driver is engaged when these assistance features are active.

Because industry has not embraced standard names and definitions, it's harder to track the overall safety impact of ADAS systems.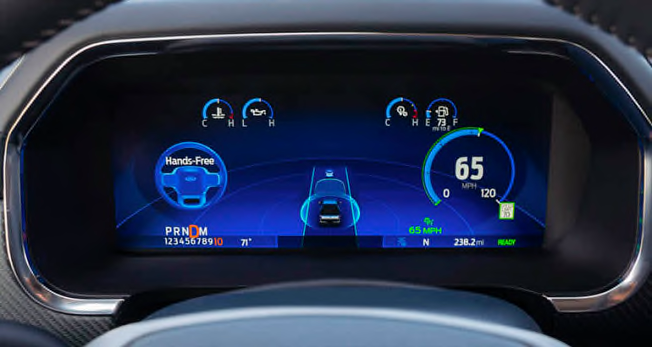 Putting These Systems in Their Lane
It's often challenging to determine which models have automated speed and lane keeping systems, even though about half of the cars today offer these features working in tandem. That's why CR extensively researched which models have the features. We provide the list below of models with these features, which are also called Level 2 automation. 
Automated speed controls are generally referred to as adaptive cruise control (ACC). They bring added intelligence to the basic cruise control that most drivers are already familiar with. ACC can accelerate and/or brake a vehicle so that it maintains a prescribed distance away from the car in front in traffic. Some systems can make a vehicle come to a stop, and then accelerate again to get back up to speed.
Symbols are sprinkled throughout modern cars, indicating what each control does, such as a push-button start, headlights, wipers, or the fuel filler door release. Symbols are proliferating as new ADAS features are introduced. Few ADAS systems share the same symbols from brand to brand, so it can be confusing for consumers.
CR engineers have catalogued the symbols in current use, and they are as varied as if a school art class had been asked to draw a representation of an L2 system, sized to fit on a button. Each student would have a different illustration, with some choosing to show solid lanes, broken lanes, steering wheels, straight-on perspectives, and bird's eye views. 
For shoppers, this is another case where it is difficult to know at a glance how a vehicle is equipped. And for owners, it means taking time to learn the symbols and how the features operate by studying the owner's manual. This is especially important when most systems have settings that can be customized, such as sensitivity, type of alert, and following distance. 
Why Driver Monitoring Is Critical
Some systems have gotten so good that many drivers are being lulled into a false confidence when using ACC with a sustained lane keeping system. It is human nature to tune out when input seemingly isn't needed, mile after mile, and it is very difficult to rapidly transition from being inattentive to making a crucial driving action, such as swerving or rapidly decelerating. Driver attention monitoring can help by reminding the driver to keep their eyes on the road when they wander. 
Models with a sustained lane keeping system don't require the driver to continually steer to keep the car within the lane, but most require the driver to have their hands on the wheel. However, this does not ensure that the driver is actually looking at the road. Only a direct driver monitoring system (DDMS) can detect eye and/or head movement, looking for the driver to be alert and facing ahead. 
Of 227 models in Consumer Reports' new car ratings, only two have adequate direct driver monitoring systems coupled with ACC and sustained LKA: the Cadillac Escalade and Chevrolet Bolt EUV. Other automakers, such as Ford and Nissan, will soon be adding this safeguard to their models.
The best systems use cameras to track a driver's eye movements. When the system determines that the driver is not watching the road, it can activate a series of visual, audible, and/or vibration warnings. The best systems can automatically come to a safe stop and call for emergency aid, if the driver fails to respond to the warnings. 
The National Highway Traffic Safety Administration (NHTSA) has regulations in place requiring automakers to report crashes with Level 2 cars—those that combine automated steering, braking, and acceleration. (Level 2 also dictates that the driver must be constantly engaged.) This name and meaning were established by the Society of Automotive Engineers (SAE), an organization that defines engineering standards for automakers to follow. Automation is defined on levels, from a car that can provide warnings (Level 0) to Level 5 (fully self-driving). However, automakers in their marketing of ADAS features have resisted using the L2 label when describing systems at that level, making it harder for NHTSA to monitor real-world performance and separate those systems that increase risks from those that save lives. 
Should You Get a Car With These Features?
Your best investment in ADAS equipment is a car with forward collision warning, automatic emergency braking with pedestrian detection, and blind spot warning. If you are interested in systems that can automate aspects of driving, consider that the added convenience can create risk—it's easier to become distracted if you aren't needed to steer and modulate speed. While they aren't common yet, consider vehicles that have a driver monitoring camera.
The progress that cars have made in the last few years is astonishing, laying the groundwork for reducing road fatalities and eventually enabling cars to truly drive themselves. However, we're still in the early stages, and there are some important changes that could smooth the road ahead:
Common naming: Just as Consumer Reports has worked with numerous safety organizations to establish a common nomenclature for the core ADAS features, we need shared names for the latest features. CR is currently working on this with AAA, National Safety Council, Partners for Automated Vehicle Education (PAVE), and SAE.
Clear disclosure: Automakers need to clearly communicate the capabilities of their features, in order to enable NHTSA and other organizations to monitor how cars are performing in the real world. This would help standards to be crafted, and enforced, and to allow appropriate safeguards to be developed.
Driver monitoring: Indirect monitoring can be helpful on all cars, but we believe full-featured camera-based systems are essential on cars with Level 2 automation features. 
The following list shows CR-tested vehicles that offer Level 2 automation as defined by the SAE. They have ACC and sustained lane keeping assist standard or as optional equipment. Click on the brand name to quickly access the road tests and ratings.
Acura: ILX, MDX (2022), RDX, TLX
Alfa Romeo: Giulia, Stelvio
Audi: A4, A6, A8, Q3, Q5, Q7,  E-Tron
BMW: 3 Series, 5 Series, 7 Series,  X3, X5, X7
Cadillac: CT4, CT5, Escalade
Ford: Bronco Sport, Edge, Escape, Explorer, F-150, Mustang Mach-E, Ranger
Genesis: G80, G90, GV80
Honda: Accord, CR-V, Civic, Clarity, HR-V, Insight, Odyssey, Passport, Pilot, Ridgeline 
Hyundai: Elantra, Ioniq, Palisade, Santa Fe, Sonata
Infiniti: QX50
Kia: Carnival (2022), K5, Niro, Niro Electric, Seltos, Sorento, Telluride
Land Rover: Range Rover, Range Rover Sport 
Lexus: ES, IS, LS, NX, RX, RX L, UX
Lincoln: Aviator, Corsair, Nautilus
Maserati: Ghibli
Mazda: 3, CX-30
Mercedes-Benz: A-Class, C-Class, CLA, E-Class, GLA, GLB, GLC, GLE, GLS 
Nissan: Altima, Leaf, Pathfinder (2022), Rogue
Polestar: 2
Porsche: Cayenne, Taycan
Subaru: Ascent, Crosstrek, Forester, Legacy, Outback
Tesla: Model 3, Model S, Model X, Model Y
Toyota: C-HR Camry, Corolla, Corolla Hatchback, Highlander, Prius, Prius Prime, RAV4, RAV4 Prime, Sienna, Venza
Volkswagen: Arteon, Atlas, Atlas Cross Sport
Volvo: S60, S90, XC40, XC60, XC90