Best and Worst Used-Car Satisfaction
A CR survey reveals the used-car models that will keep you satisfied over the long haul, and those that won't Standing in the showroom, you fall in love with your new car. But how can you confidently know the vehicle will suit your needs as the years and miles pile up? In other words, how can you tell whether your love will last?
Consumer Reports doesn't have a crystal ball, but we have the next best thing: In our 2016 Auto Satisfaction Survey, 225,935 subscribers reported on how satisfied they've been with their vehicle and whether they'd buy it again. They also report how satisfied they are with the driving experience and comfort. In a separate Reliability survey, we asked how much they paid for maintenance and repairs.
This is great information if you're looking to buy a used vehicle or deciding whether it makes sense to trade for something newer. (See the latest car reliability and owner satisfaction findings.)

Should You Stay or Should You Go?
For many car shoppers and owners, the two key moments in the life of a vehicle are at three years and 10 years.
Savvy buyers know that a smart used-car purchase can deliver the best return on their investment, and a 3-year-old car sits in the sweet spot. These models are new enough to have the latest safety and comfort features yet they've depreciated almost 50 percent on average since rolling off the lot. Lessees must decide whether to buy out the lease and keep the car, or move on.
What's at the Heart of Satisfaction?
Consumer Reports found that no matter the age, vehicles that inspired loyalty were reliable and fun to drive, delivered great fuel economy, and had high-tech features or luxurious cabins. They also scored well as new cars in CR testing. Those that performed poorly in some or all of these areas were cars that owners said they regretted buying.
According to the survey, the Toyota Prius was among the most satisfying for owners of 3- and 10-year-old models for its combination of fuel efficiency and reliability. One owner praised "the excellent gas mileage, the comfort, the reliability . . . and the spacious cargo carrying capacity." Others lauded their Prius for having no maintenance issues. The Prius' maintenance and repair costs placed it among the least expensive 10-year-old vehicles to own.
Among small SUVs, the Subaru Forester, Honda CR-V, and Toyota RAV4 consistently satisfied their owners no matter how old the model. One Forester owner said, "Excellent all-around vehicle ... useful in most situations." Another said, "Great visibility, comfortable . . . Very functional, it just works."
Competitors, including the Jeep Compass and Hyundai Tucson, finished near the bottom of the results.
Honda and Toyota vehicles also performed well in the midsized SUV and luxury car categories, and for minivans: More than 70 percent of Honda Odyssey and Toyota Sienna owners said they'd buy them again, even after 10 years of ownership.
The survey also showed that some models defy CR vehicle ratings. For example, the Toyota 4Runner hasn't fared well in CR tests, yet the survey results showed 75 percent of 2014 owners and 77 percent of 2007 owners would buy their model again. One owner told us that it was an "excellent choice for me and my husband. Comfortable and stylish for me and has truck essentials (towing and hauling) for him." But the equally nichey Jeep Wrangler had mixed results, with 73 percent of owners of 2014 models saying they'd buy one again compared with just 59 percent for the 2007 model. One owner blamed the "really bad handling on the road and outdated automatic transmission." And subscribers said the Wrangler just isn't reliable. "Only 2 years old and had drive shaft replaced after I heard loud knocking noise while turning the vehicle," one owner said. "[The] dealer stated that the drive shaft failed due to improper installation at the factory."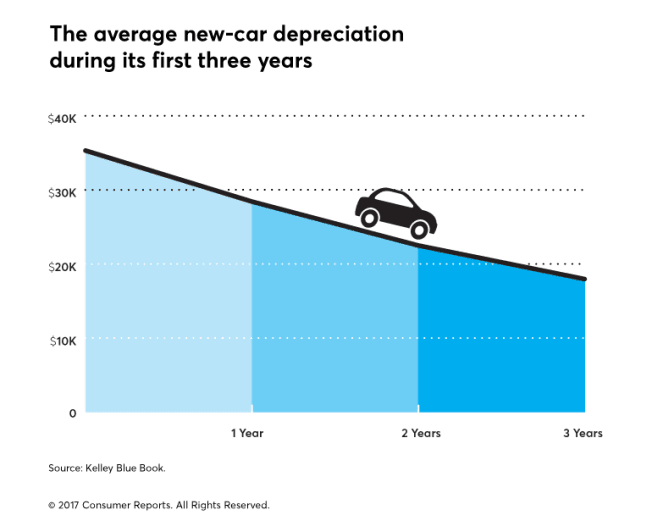 Is Certified Pre-Owned Meaningful?
Certified pre-owned (CPO) vehicles are billed as the cream of the used-car crop, inspected and reconditioned according to stringent automaker guidelines. In reality, they're not always the best choice.
Much of the increased cost for a CPO vehicle comes from its extended warranty. Consumer Reports generally advises against paying extra for this protection because it amounts to a bet that your car will break down.
To be sure, a CPO vehicle can provide peace of mind, especially if you're choosing a model with less-than-average reliability. But in the end, you'll probably spend more for the added protection than you will need.
For the best deal, we suggest buying a non-CPO used car and having a pre-purchase inspection by your mechanic. (Even if you decide to go with a CPO model, you still should have that extra inspection.) Use the additional money you would have spent on the CPO warranty protection for a rainy-day car repair fund. If it goes unused, apply it to the down payment for your next car.
Before going the CPO route, read the warranty fine print to determine who has certified the vehicle. Warranties from manufacturers tend to be the most reliable, followed by dealers, then third-party providers.
Sellers of used cars are not required to fix outstanding recalls—even on certified pre-owned models. You can check for open recalls on any car by entering the vehicle identification number (VIN) at safercar.gov. You can check at CR.org/carrecalls for guidance on the recall process. The recall should be done promptly at a new-car dealership for that brand. Some recalls affect parts that can't immediately be replaced; make sure you're comfortable with the repair timeline before you agree to buy. Concerned about Takata airbags? Get the latest updates on the Takata airbag recall.
Editor's Note: This article also appeared in the September 2017 issue of Consumer Reports magazine.