When you shop through retailer links on our site, we may earn affiliate commissions. 100% of the fees we collect are used to support our nonprofit mission.
Learn more.
Many new-car buyers over the past few years have probably been surprised to find a dial or a row of buttons where they expected to find the automatic transmission lever. Some cars have shifters that look—at first glance—like familiar gear selectors in the center console or on the steering column, but which function in complicated or counterintuitive ways.
The result is that one of the most fundamental systems in a car can end up being confusing to drivers, and, if used improperly, dangerous. Since it's not always immediately obvious whether these unfamiliar transmissions are in gear, Neutral, or Park, it's possible for rollaways to happen after a driver exits the car.
BMW began to deploy unusual shifter designs in the early 2000s. Since then, many other manufacturers have introduced new takes on the conventional PRNDL shifter in more mainstream cars.
Some cars have built-in safeguards to prevent rollaways. But other vehicles have needed fixes to their transmissions after problems surfaced in the field. In April 2016, Fiat Chrysler Automobiles (FCA) had to recall 1.1 million vehicles after 41 people were reported injured. In June of that year, actor Anton Yelchin was killed when his Jeep Grand Cherokee rolled into him.
Consumer Reports believes so strongly that these types of shifters have the potential for harm that we are now deducting points from the Overall Score of any vehicle we determine has a shifter that is difficult to operate or that can be confused for other controls. We are also now deducting additional points from the Overall Score if a tested vehicle does not automatically return to Park or engage the parking brake when the engine is shut off, or when the driver's door is opened with the engine running. Some vehicles, from manufacturers such as Ford and Honda, already employ both of these fail-safes.
While more than 50 vehicles are affected, Consumer Reports is no longer recommending the following cars because their specific deductions from among our criteria drop their Overall Score below our threshold: the Chrysler 300, Lexus CT 200h, and the Mercedes-Benz E-Class and GLE.
We reached out to those automakers for a response. Chrysler told us it plans changes in the design of the shifter function in the Chrysler 300 that will address the issues we raised. Neither Mercedes-Benz nor Lexus indicated any plans to change its vehicles. Both companies point to safeguards they do employ, such as audible and visual alerts.
"If done right, new shifter designs can actually result in safer cars," says CR's director of auto testing, Jake Fisher. "CR encourages innovations in design and engineering, but safety needs to be a priority."
(Top photo: The rotary shifter on the 2017 Ford Fusion represents an innovation that actually improves safety. Ford's system is easy to use and will automatically return to Park if the engine is shut off or the door is opened while the engine is running.)
More From the 2017 Autos Spotlight
A Daunting Dozen
A sampling of shifters that may leave you dazed and confused.

What's problematic: These shifters can be confusing to use.

What's problematic: Lack automatic rollaway preventions when the driver exits or tries to shut down the vehicle.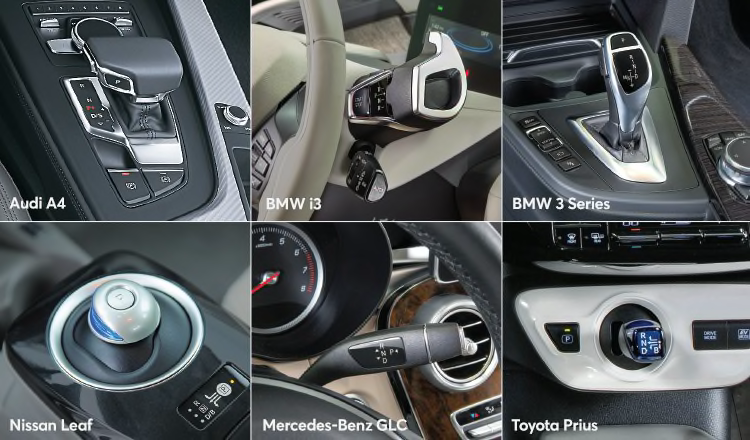 What's problematic: Lack automatic rollaway preventions when the driver exits or tries to shut down the vehicle, and can be confusing to use.
Test Vehicles That Lost Points in Overall Score Due to Poor Shifter Design
Acura: MDX, TLX (SH-AWD)
Audi: A4, A8, Q7
BMW: 328d xDrive, 330i xDrive, 750i xDrive, i3 Giga, X3 xDrive28i (2.0T), X5 xDrive35i,
Buick: LaCrosse Essence
Cadillac: XT5 Luxury
Chrysler: 300 C (V8), 300 Limited (V6), Pacifica Touring L
Dodge: Durango GT (V6)
Infiniti: QX30
Jaguar: F-Pace Prestige, XF Prestige (V6), XJL Portfolio
Land Rover: Discovery Sport HSE, Range Rover HSE (3.0L), Range Rover Sport HSE (3.0L)
Lexus: CT 200h Premium
Lincoln: MKC Reserve, MKX (2.7 EcoBoost), MKZ (2.0 EcoBoost), MKZ Hybrid
Maserati: Ghibli S Q4
Mercedes-Benz: C300 4MATIC, CLA250, E300 4MATIC, GLA250, GLC 300, GLE350, GLS 350d, S550
Nissan: Leaf
Ram: 1500 Big Horn (5.7L V8), 1500 Big Horn (V6 diesel)
Tesla: Model S P85D, Model X90D
Toyota: Prius Three, Prius V Three


Editor's Note: This article also appeared in the April 2017 issue of Consumer Reports magazine.