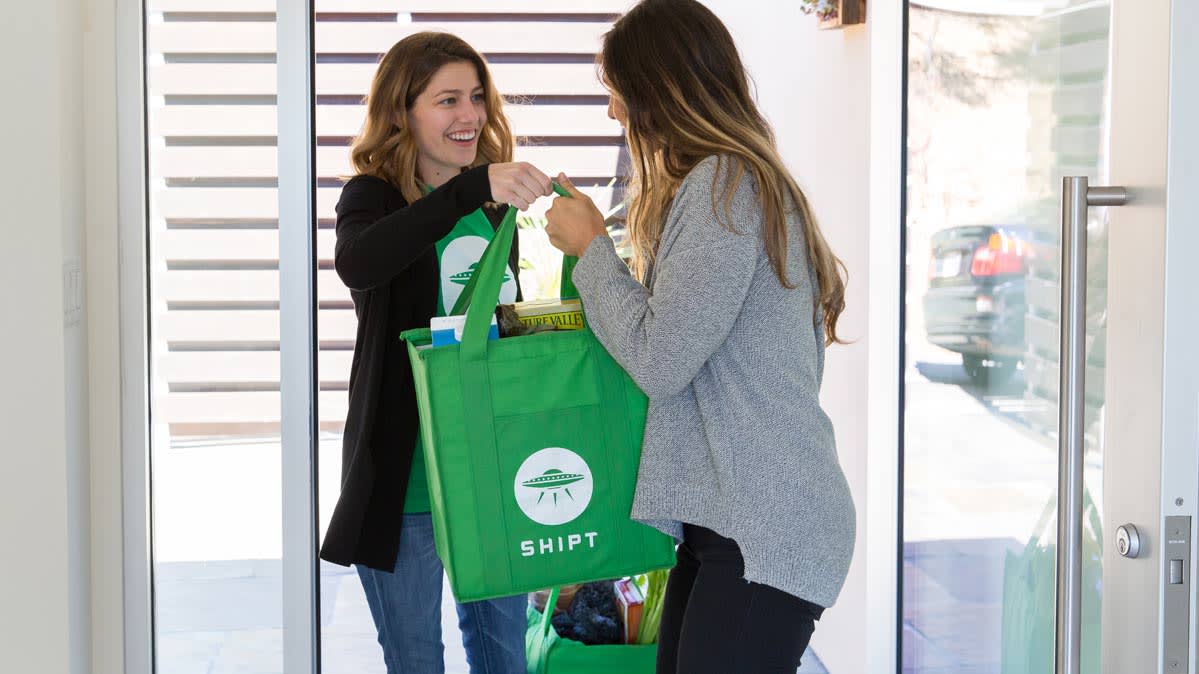 Shipt, the online grocery delivery service owned by retailing giant Target, sits at the top of Consumer Reports' new ratings of online grocery-delivery services. Amazon Prime Now—the same-day service that delivers groceries from Whole Foods and other markets in dozens of cities—is another favorite.
Both services were rated highly overall by the Consumer Reports members we surveyed. Members gave Shipt top marks for hours of delivery, timeliness, communications about delivery status, packaging, and text-based customer service. Amazon Prime Now got commendable marks for delivery hours, timeliness, and communication about delivery status.
Both services got better-than-average scores for the quality and freshness of their delivered groceries.
Our ratings were informed by recent survey responses from 3,043 CR members who answered our 2018 Supermarkets Survey and told us they used online grocery delivery services. Those consumers represent 7 percent of the 75,065 members surveyed by Consumer Reports Survey Research Department for our grocery stores ratings.
Grocery Delivery a Growing Business
A growing number of Americans are relying on grocery delivery services to bring food to their doors without the hassles of driving, finding parking, navigating aisles, waiting in checkout lines, loading bags into their vehicles, and unloading bags once home.
More on Shopping and Saving
According to research by Bain & Company and Google, a quarter of Americans have used grocery delivery services at least once. But interest is growing. Offers.com, a website that identifies ways shoppers can save, reports that Google searches for "grocery delivery" nearly doubled between February 2018 and 2019.
Consumers in metropolitan areas in the Northeast, Pacific Northwest, and on the West coast are more likely to use grocery delivery than Americans in other parts of the country, according to the Offers.com study.
But Consumer Reports found members throughout the U.S. who use and depend on these services.
Michelle Smith of Trussville, Ala., for instance, says she orders through Birmingham, Ala.-based Shipt for herself, her mother-in-law, and her daughter at college. Her orders typically include produce, lunch meat, toilet paper, cleaning items, drinks, cereal, almond milk, creamer, eggs, and cheese.
Shipt provides items from Target, and from other participating grocers, depending on the delivery area.
"I've never had a bad delivery," Smith says of the Shipt service. "I've found they go the extra mile."
That literally includes navigating a steep road to Smith's home. "Anyone who will go out of their way to drive up my mountain is great," she says.
(Walmart's online grocery delivery service was not included in the ratings because it was not widely available at the time Consumer Reports fielded its survey.)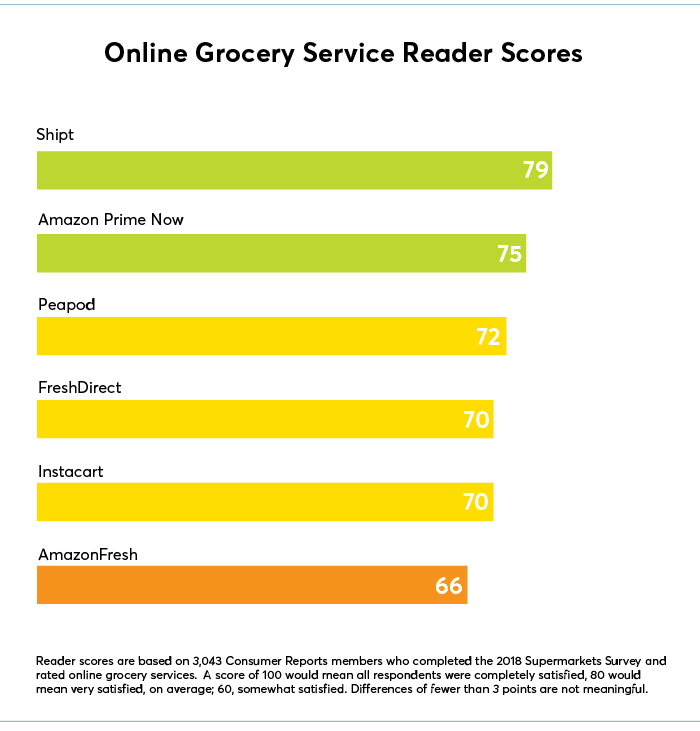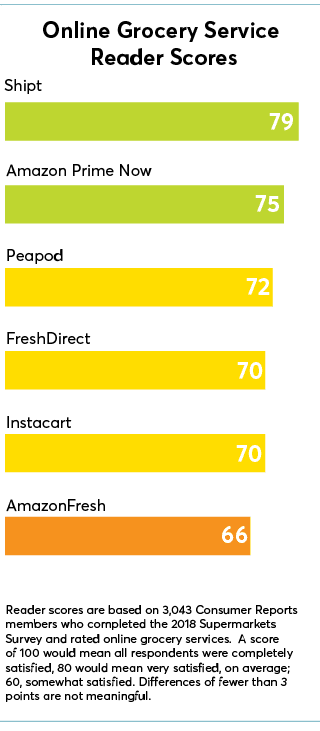 Costs Trip Up AmazonFresh
Consumer Reports members generally were pleased with the quality of the food from the delivery services they used. Shipt, Amazon Prime Now, and Instacart received favorable marks for quality and freshness of food. Peapod, FreshDirect, and AmazonFresh received mediocre scores.
In our ratings, a major differentiator was price. Results from our members earned FreshDirect, Instacart, and AmazonFresh our second-to-lowest score—an orange chevron—for prices of delivered groceries. In comparison, Shipt, Amazon Prime Now, and Peapod were middling in this category.
Along with Instacart, AmazonFresh was among the worst for cost of the subscription service and delivery.*
AmazonFresh, which focuses on delivering groceries from Amazon fulfillment centers, costs $14.99 per month—or $179.88 per year—on top of the Amazon Prime annual membership fee of $119 a year. It's currently available in 15 major cities. Customers ordering in the morning can opt for same-day delivery.
In contrast, Amazon Prime Now can deliver groceries and other goods from Amazon fulfillment centers, Whole Foods Market, and other purveyors to Prime members in dozens of cities for no additional cost beyond the $119 annual fee. Customers in some locations can get deliveries in as little as 1 hour.
An Amazon spokesperson declined to comment on the ratings results.
*Editors' Note: In late 2018, after our survey was conducted, Instacart reduced its annual Express subscription fee to $99 from $149; eliminated service fees for Express members; and lowered delivery fees for non-Express members.
Consumer Reports is an independent, non-profit organization dedicated to helping consumers. We make it easy to buy the right product from a variety of retailers. Clicking a retailer link will take you to that retailer's website to shop. When you shop through retailer links on our site, we may earn an affiliate commission – 100% of the fees we collect are used to support our mission.
Learn more.
Our service is unbiased: retailers can't influence placement. All prices are subject to change.