When you shop through retailer links on our site, we may earn affiliate commissions. 100% of the fees we collect are used to support our nonprofit mission.
Learn more.
You can't help but notice high-intensity discharge (HID/xenon) and light-emitting diode (LED) headlights—the light they produce is noticeably brighter and whiter than halogen headlights.
These high-tech headlights have become a signature look of aftermarket upgrades, and they distinguish the styling on many new vehicles, in particular cars with LED headlights, which can be grouped in signature looks. Many models from Audi, BMW, Cadillac, Lexus, Mercedes-Benz, and others are equipped with these stylish headlights.
But as appealing as these headlights can be to people whose car is equipped with them, they can be a discomfort to other drivers, who might flash their lights, mistakenly thinking that the other driver's high beams are on even when they're not.
In its ongoing headlight tests, Consumer Reports has seen an increase in cars equipped with these technologies. But do these brighter, whiter HID/xenon and LED headlights help you see any better when you're driving? The answer: Not necessarily.
More on Car Technology & Safety
There is no clear-cut, standout technology winner among among HID, LED, and xenon headlights. While there are poor and very good performers in each variety, none produces greater forward-seeing distances than the others. Based on our testing, the differences depend on the car, not the headlight technology.
The Insurance Institute for Highway Safety agrees. "In IIHS testing, LEDs and HIDs typically perform better than halogens, and projector lenses do better than reflector designs," says Matt Brumbelow, a senior research engineer at IIHS. "Unfortunately, there are many exceptions, so consumers can't [choose] a specific headlight system and be guaranteed that they'll get good performance on the road."
Shining a Light on CR Test Results
The main criteria in Consumer Reports' headlight ratings is safety, meaning how well they allow a driver to see what's ahead. Testing takes place on dark, moonless nights at our track, where experienced staff assess how well they can see a series of flat, black signs arranged in specific locations on our track with both low and high beams.
Low-beam visibility counts the most in our ratings, since people drive with low beams on most often. Aspects such as headlight brightness and a uniform pattern of light that make the headlight more pleasing also factor in to our ratings, but to a lesser extent. While HIDs and LEDs are typically brighter and often illuminate better to the sides of the road, the straight-ahead visibility differences vary in our tests.
For example, the 2016 Buick Envision equipped with halogen lights earned a Good overall score for its headlight performance, driven mainly by the low-beam seeing distance. Conversely, the 2018 Audi Q5 with LED lights rated only a Fair overall, as its low-beam seeing distances are short.
Our ratings of two Limited trim 2016 Jeep Grand Cherokees—one diesel, one gas—showed nearly identical overall headlight performance, even though one was equipped with high-intensity discharge xenon lights and the other with halogens.
Best Headlight Performance
Our ratings for headlight performance on recent vehicle models also illustrate how performance cannot be predicted by the technology alone. Your best bet is to check our new-car ratings—and to be wary of paying extra for a headlight upgrade.
Each of the vehicles below scored an Excellent or a Very Good overall for its headlight performance; they rank in order as the top 10 among those we've tested over the last five years.
As our years of test results show, there are good and bad performers across all types.
The key takeaway is not to assume one technology is superior to another. This is especially important when considering a model whose headlights are part of a pricey package. Before being drawn to the bright, white light that HID, LED, and xenon lamps produce, check our ratings, available on the models pages for all tested vehicles.
See CR's new car ratings.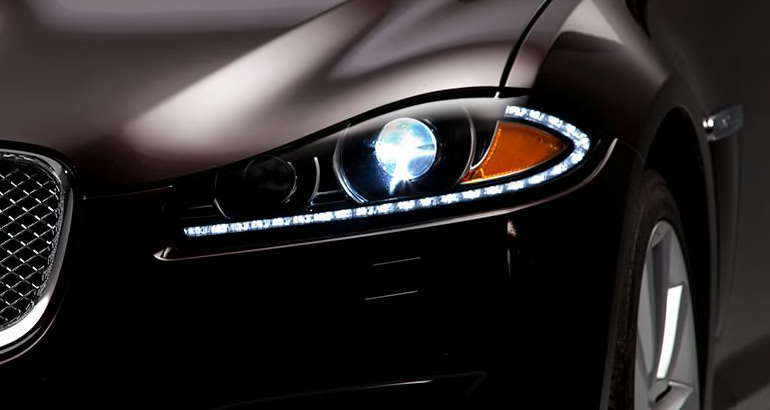 Headlight Testing
Properly functioning headlights are a vital part of car safety. On the "Consumer 101" TV show, Consumer Reports' expert Jen Stockberger explains how CR puts them to the test.