When you shop through retailer links on our site, we may earn affiliate commissions. 100% of the fees we collect are used to support our nonprofit mission.
Learn more.
Update: Since this first drive was published in September 2018, we have purchased and evaluated our own UX.
Read the complete Lexus UX road test.
Lexus is using the all-new UX to jump into the popular luxury entry-level SUV fray, where it will square off against the Audi Q3, BMW X1, Infiniti QX30, and Jaguar E-Pace, among others.
Many of these models are just raised hatchbacks marketed as SUVs for city-dwelling young adults, and the UX is no different. In effect, it replaces the Lexus CT 200h, a hybrid hatchback that didn't quite deliver on its promise of blending efficiency with luxury.
We found the UX—which could be thought of as the Lexus Prius—to be thrifty on fuel and loaded with safety equipment, which are pluses.
But the driving experience that's good around town suffers when drivers demand a power surge. Its ride is okay, but it falls short of what we expect from Lexus. Of course, we'll have more details once we've put it through all of our tests.
The UX sits below the luxury compact Lexus NX SUV in price and size. Its optional hybrid powertrain is unique in this segment. In fact, the only way to get all-wheel drive on the UX is to buy the UX 250h. The base, front-wheel-drive UX 200 will start in the low-$30,000 range and has a 169-hp, 2.0-liter four-cylinder engine that is paired with a continuously variable transmission (CVT) that's similar to the one in the Toyota Corolla Hatchback.
We rented a UX from Lexus to try it out before we buy our own. It has the 175-hp, 2.0-liter hybrid engine and a CVT that is specifically designed for hybrids. Both versions of the UX go on sale in December.
What we rented: 2019 Lexus UX 250h
Powertrain: 175-hp, 2.0-liter four-cylinder hybrid engine; continuously variable transmission (CVT); all-wheel drive
Total cost: $38,000 (estimated)
How It Drives
The UX pulls away smoothly from a stop, with the immediacy that drivers have to come to expect from an electrified powertrain. The engine and transmission combination is fine for everyday driving, but under hard acceleration the UX becomes boisterous—in a bad way. The CVT lets the engine rev high and get loud when drivers accelerate to merge with highway traffic or to climb a hill.
Lexus is targeting an EPA rating of 38 mpg combined for the Hybrid and 33 mpg for the UX 200. In CR's tests, none of the UX's competitors got better than 29 mpg overall.
The UX's ride and handling are nothing special. It doesn't have the handling capability that would make it enjoyable in taking sharp turns. The ride is pleasant; on most roads the suspension capably filters out bumps from potholes. But every once in a while we felt a big, hard impact, which may not be what Lexus buyers expect.
We think the UX does a good job of suppressing wind and road noises, but it isn't quite up to the library-like quietness of other Lexus vehicles.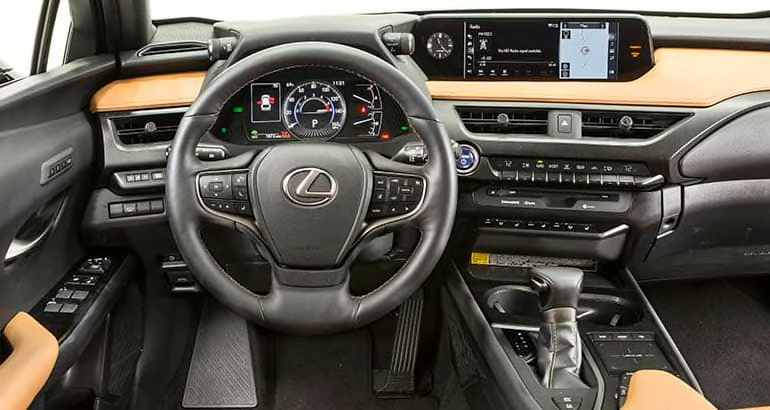 Inside
The UX's space up front is on a par with the competition. Most of our drivers found the seats to be comfortable, and typical for the class. The preproduction UX we rented had a steering wheel with power tilt and telescoping adjustments, which help drivers easily create a comfortable seating position. We all liked the modern-looking interior and its high-quality materials, particularly the attractive brown leather.
But that front-seat space comes at the expense of rear-passenger room. Knee and toe room are both limited there, a common problem for this segment.
The infotainment system includes the annoying touchpad found in many Lexus models. It's a challenge to use because drivers have to move the cursor by hand while they glance at the screen to confirm their choice. In addition, some features can't be accessed at speeds above 20 mph.
Fortunately, the touchpad is not needed for many audio functions. Instead, the UX has a small pod on the console between the seats with a tuning thumbwheel and buttons for easy access to changing the audio volume, source, and tuning without using the touchpad. Apple CarPlay (but not Android Auto) connectivity is standard.
The climate controls are at the base of the center dash and feature lots of hard buttons, including ones for the heated seats and steering wheel. We liked the illuminated knobs used to adjust the directions of the air vents. However, Lexus still forces owners to use the touchpad and infotainment screen to make some adjustments, such as syncing the temperature or turning the air conditioning on and off.
The rear seats fold down to expand the cargo area, but long items such as a bicycle require the front seats to be moved forward in order for those objects to fit. In addition, the high load floor means people will have to really lift their cargo to get it inside.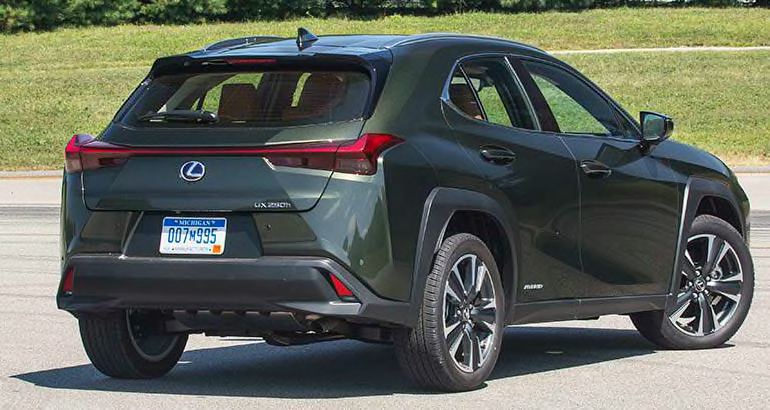 Safety and Driver-Assist Systems
The UX comes standard with the Lexus Lexus Safety System+, which includes forward-collision warning and automatic emergency braking. The system will also be able to recognize pedestrians at night and detect cyclists during the day. However, blind-spot warning is only optional.
CR's Take
What is the UX? It could be seen as the luxurious, all-wheel-drive Toyota Prius that some buyers have been waiting for. Or it could be a way for Lexus to stand out in the luxury subcompact SUV class—despite arriving late to that party. Clearly, the UX's advantage is its fuel economy and standard advanced safety equipment, which for some may be the perfect user experience.
Read the complete Lexus UX road test.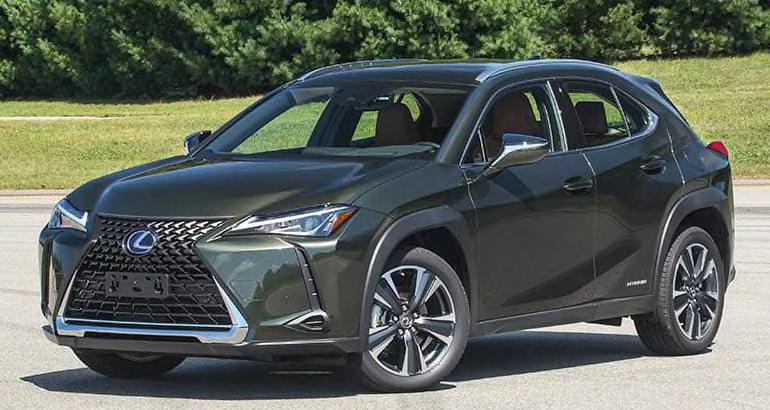 Is an Electric or Hybrid Car Right for You?
With longer range batteries and more places to charge, electric cars are becoming a popular choice for drivers who want to reduce their consumption of fossil fuels. On the "Consumer 101" TV show, Consumer Reports' expert Mike Monticello explains to host Jack Rico what you need to know about this technology.