Preview: Hyundai Ioniq 5 EV Accelerates New Sub-Brand Into the High-Tech Future
Some clever features will help this model stand out among the coming wave of electric SUVs The electric SUV segment is rapidly expanding, with new models being introduced and racing to market in the next year or two. The latest to break cover is the Hyundai Ioniq 5, a pure electric vehicle that is sized between the automaker's Tucson and Santa Fe SUVs. It is based on a flat-floored Electric Global Modular Platform (E-GMP)—Hyundai's first EV-only platform—allowing great flexibility in designing interior space. This EV-specific architecture will be used for future models under the Hyundai, Kia, and Genesis brands.
Hyundai is expanding its electric offerings with the Ioniq 5, launching this sub-brand with a small SUV. This EV looks rather conventional, but there are several notable elements that can help distinguish it among the coming wave of competitors. The 400- and 800-volt electric architecture enables quick charging in DC fast charging venues.
The ability to use the car to charge e-bikes and other things is a nice convenience. And shoppers drawn by the clean interior aesthetics common in Teslas may see appeal in the simple, two-screen interior configuration, and welcome the addition of a few physical buttons for common functions.
We consider the smaller Kona Electric to be among the best electric vehicles we have tested under $50,000. It is enjoyable to drive, and completely transforms the gasoline-powered Kona. The Ioniq 5 promises to offer greater range and performance, and offers all-wheel drive. We are intrigued, and plan to buy our own to test as soon as it goes on sale in the fall.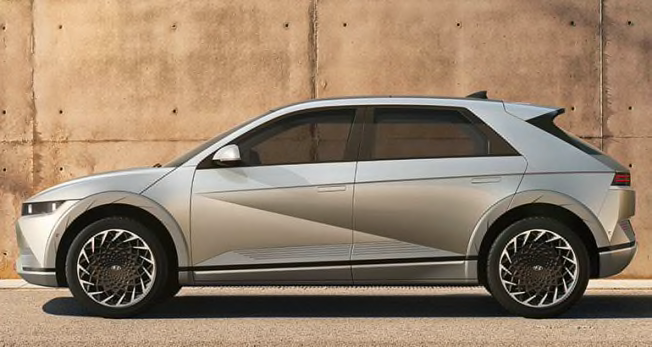 If the new Hyundai Ioniq 5 electric SUV is any indication, electric powertrains must zap straight lines into the minds of some designers. It is designed with crisp lines and flat, planar surfaces, making it look like it was folded from paper or rendered for a low-res video game. Similar styling cues are seen on the redesigned Hyundai Elantra and upcoming Tucson. The 20-inch wheels are the largest fitted to a Hyundai EV.
Unconventional door handles are a trend among EVs, and the Ioniq 5 is no exception. Its flush-mounted handles are said to enhance aerodynamics, but similar designs have proved to be finicky in other models we have tested.
Rectangular LED headlight and taillights, and sharp edges define the look of this latest entry into the EV market. Hyundai says inspiration for the styling came from the Hyundai Pony, the angular four-door hatchback the company rolled out as its initial offering in the mid-1970s in other markets. This includes the raked rear C-pillar that gives it a sporty look at the expense of some cargo space. In the U.S., the retro-styling doesn't foster fond memories the way the Ford Mustang Mach-E was able to draw upon, but it looks clean and modern in its own right.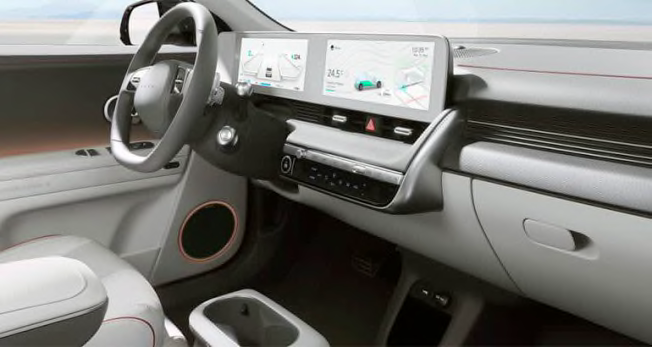 Hyundai says the Ioniq 5's long wheelbase—at 118 inches, it's 4 inches longer than the Hyundai Palisade's wheelbase—combines with the flat floor and thin front seats to maximize interior space.
The cabin has a minimalist design dominated by two large, 12-inch flat screens for the instrument panel and infotainment system. More can be displayed via an augmented reality head-up display that essentially uses the windshield to overlay information.
Push-button controls are rather limited, making for a rather clean center stack design compared with the busy control cluster in the Santa Fe.
A movable center console can slide 5.5 inches and extends cup holders and phone charging ports to both front and rear-seat passengers. Hyundai explains that this can open up a space to allow the driver or front passenger to slide across and exit on the opposite side when parked in a narrow spot.
Carrying the sustainability theme to the cabin, many elements within the car—such as seats, headliner, door trim, and flooring—are made from recycled plastic bottles and plant-based and natural wool yarn. The roof is equipped with solar panels that can offset battery discharge when not being used and provide additional driving range.
Cargo space behind the rear seats is 18.8 cubic feet. It expands to 56.5 cubic feet with the rear seats folded. Because there's no engine up front, there will also be a 2-cubic-foot "frunk" for small items. That frunk can offset some rear cargo space compromise brought on by the angle rear design.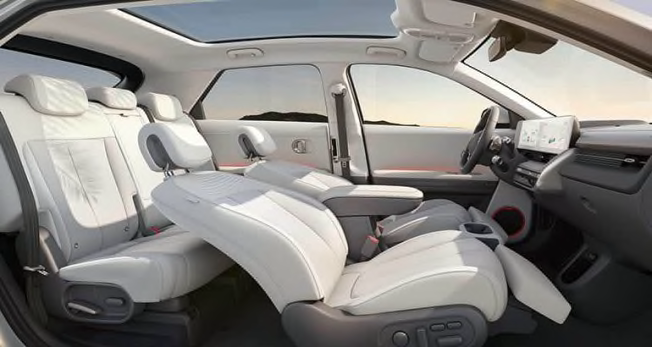 The Ioniq 5 can be equipped with a single motor and rear-wheel drive or two motors for all-wheel drive. Standard range models come with a 58-kWh battery, while long-range versions come with a 77.4-kWh battery. Rear-wheel-drive models with the larger battery have an estimated range of about 300 miles, using an international standard. (EPA ratings are typically lower.) The claimed 0 to 60 mph times span from 5.2 to 8.5 seconds, depending on the configuration.
There is a clever V2L (aka vehicle to load) port under the back seat and one near the exterior charge location. These can be used to recharge an electric bicycle or other electric equipment.
Safety and Driver Assistance Systems
Available features include forward collision warning, automatic emergency braking, blind spot warning, driver attention monitoring, and rear cross traffic alert. Hyundai will also offer remote parking, highway driving assistance, and smart exit, which looks for oncoming vehicles as passengers open the doors to leave.