When you shop through retailer links on our site, we may earn affiliate commissions. 100% of the fees we collect are used to support our nonprofit mission.
Learn more.
If you've been on the fence about buying an electric or plug-in hybrid car, this might be the incentive you've been looking for.
The Republican tax plan unveiled Thursday would end the $7,500 federal tax credit for buyers of electric and plug-in hybrid vehicles after this year. Although it's unclear whether the provision will survive the tough negotiations in Congress, losing the tax credit would raise the effective price of these cars, which typically cost more than gasoline-powered vehicles.
Automakers and consumer advocates oppose the move, saying the tax credit is a valuable way to get consumers to embrace the newer, cleaner technology.
"Tax credits are an important customer benefit that can help accelerate the acceptance of electric vehicles," says Laura Toole, a GM spokeswoman. "Because General Motors believes in an all-electric future, we will work with Congress to explore ways to maintain this incentive." GM makes the all-electric Chevrolet Bolt EV and Volt plug-in hybrid.
The GOP proposal would end the tax credit at the end of 2017, so cars purchased before then would presumably still be eligible for the full tax credit available. It's important to realize that this is not a tax rebate; buyers could claim the full $7,500 only if their tax liability was at least that high for 2017.
"Anyone that was sitting on the fence about getting an EV should really make a decision soon before it is too late," says Dave Sullivan, product analysis manager for industry research firm AutoPacific. "Time is ticking and inventories of some EVs are high. It might be time to get the deal of a lifetime."
There's some history to suggest what might happen if the tax credit goes away, Sullivan says. "Georgia is a good example of what the worst-case scenario is when incentives dry up," he notes. In 2015, that state's legislature ended a $5,000 tax credit for electric cars. Sales of EVs dropped from roughly 1,400 a month there to fewer than 100 the month after the tax credit ended.
"Electric vehicles cost only about $1 per gallon to 'refuel,' making them a great choice for many drivers," says David Friedman, director of cars and product policy and analysis for Consumers Union, the policy and mobilization division of Consumer Reports. "Removing this vital credit now will not only make electric vehicles more expensive but will slow the pace of innovation just as this emerging technology is starting to take off. Instead of cutting this incentive, Congress should make it more accessible to low- and middle-income Americans."
Nissan, which makes the Leaf EV, said in a statement that it supports continuing measures that help encourage greater adoption of EVs given the benefits they can provide, such as lowering vehicle emissions and reducing America's dependency on foreign energy sources.
In Consumer Reports testing, and through its surveys of owners, electric vehicles have been shown to be reliable models that are getting longer range distances as technology improves. "EVs are quick and quiet," says Gabe Shenhar, associate director for auto testing at CR, "and if one fits your driving pattern, in most places you benefit from low running costs."
Electric Vehicles to Consider
Below are lists of EV and plug-in hybrid models tested by CR that are currently eligible for the federal tax credit (and how much of a tax credit they could claim).
CR recommended models are indicated with a (R). Click through the model names for the complete road tests, reliability, pricing, and more.
| | | | | | |
| --- | --- | --- | --- | --- | --- |
| Make Model | MPG or Equivalent | Tested Range (in miles) | Price Range | Type | Maximum Available Federal Tax Credit |
| Chevrolet Bolt (R) | 119 mpge | 250 | $36,620 – $40,905 | Electric | $7,500 |
| Ford Focus Electric | 107 mpge | 75 | $29,120 - $30,120 | Electric | $7,500 |
| Tesla Model S (R) | 87 mpge | 235 | $74,500- $135,000 | Electric | $7,500 |
| Tesla Model X | 92 mpge | 230 | $79,500 – $140,000 | Electric | $7,500 |
| BMW i3 (94ah) | 139 mpge | 130 | $44,450 – $48,300 | EV Extended Range | $7,500 |
| | 105 mpge | 390 | $33,220 – $37,570 | EV Extended Range | $7,500 |
| Chrysler Pacifica Hybrid (R) | 27 mpg | 555 | $41,995 – $44,995 | Plug-In Hybrid | $7,500 |
| Ford C-Max Energi (R) | 47 mpg | 665 | $24,175 – $30,120 | Plug-In Hybrid | $4,007 |
| Toyota Prius Prime (R) | 69 mpg | 590 | $27,100 – $33,100 | Plug-In Hybrid | $4,502 |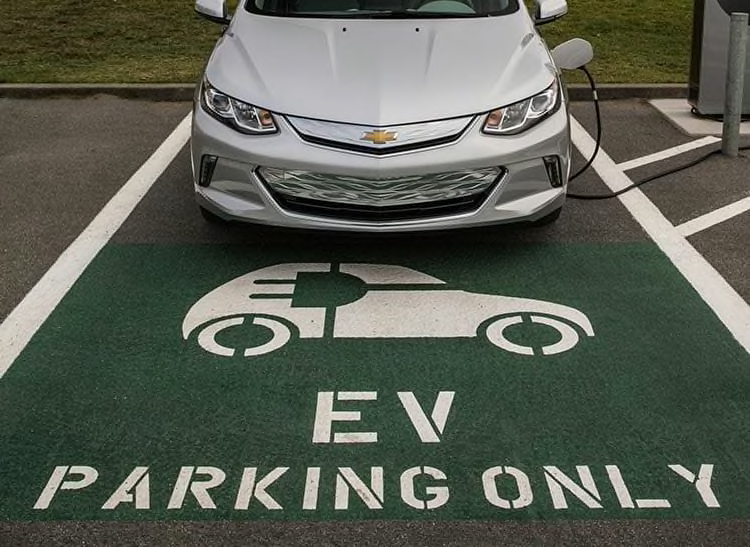 Electric Cars 101
Electric cars are bringing some of the biggest changes the auto industry has seen in years. On the "Consumer 101" TV show, Consumer Reports expert Jake Fisher explains to host Jack Rico why these vehicles might not be as newfangled as you think.