Load Legs Give Child Car Seats Improved Safety in a Crash
This emerging feature reduces infant head injury risk in CR's tests
When you shop through retailer links on our site, we may earn affiliate commissions. 100% of the fees we collect are used to support our nonprofit mission. Learn more. Car seats for children have improved dramatically since they were first designed in 1968, and Consumer Reports' testing shows that progress is continuing, with the proliferation of "load legs."
Originally from Europe, this clever feature gives the car seat extra support by extending a "leg" from a car seat's base to the vehicle's floor. It stands upright from the front edge of the seat, adds stabilization, and better integrates the child seat to the vehicle during a crash, reducing the transfer of crash energy to the child occupant. In the U.S., this design modification is most commonly seen on rear-facing infant car seats.
Eleven of 36 seats in our recently updated infant seat ratings use a load leg design, and many of them performed quite well in our tests. Eight of these car seats are rated Best for crash protection, our highest rating, because they provide the potential for an additional margin of safety in a crash. The remaining three models score Better for crash protection.
But shoppers should remember to consider the full spectrum of seat performance, including fit and ease of use, when choosing one to buy.
A More Representative Crash Test
The objective of Consumer Reports' crash tests for car seats is to reflect current vehicle design and real-world crashes. To pass the current federal safety standard, car seats with load legs are tested without the load leg. However, we want to ensure that each seat is given its maximum benefit by implementing the use of the load leg in CR's tests. Because this type of seat has become more commonplace, CR updated its crash-test sled—the fixture that simulates a frontal crash—to include a carpeted surface to better represent a vehicle floor. Previously, the load leg was extended to a steel plate on the sled floor.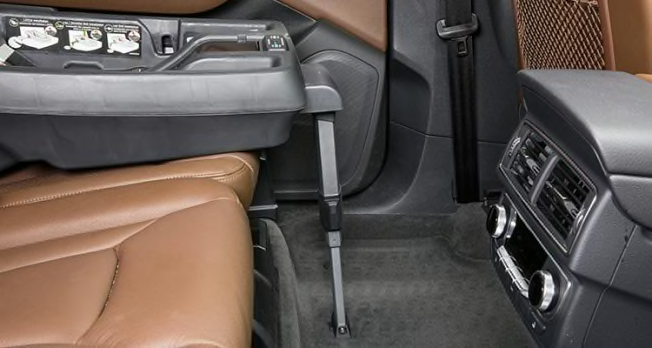 Which Car Seats Have Load Legs?
The following seats are currently available on the market and in our ratings. The models are listed with the current retail price.
They are a welcome safety innovation. Our tests, using infant-sized dummies, showed the average head-injury risk was about 46 percent less than the average head injury risk of car seat models with no load leg.

A load leg isn't enough on its own to ensure the highest margin of safety. Three of the 11 load-leg infant seats scored Better for crash protection—on a par with some other seats without that feature. We saw the greatest benefit of reduced head-injury risk when the car seat was installed with both the load leg and lower anchors across all models.

All 11 child seats with load legs were rated Very Good or Excellent in our ease-of-use testing. Although the load leg takes an additional step during installation, setup is fairly quick and easy in most vehicle seating positions. One caution is that center seating positions that have a large driveline "hump" in the floor may prevent the leg from being fully extended. For example, Audi states in its vehicle owner's manual that seats with load legs are to be used only in the rear outboard or front passenger seating positions.

It is important to note that all our results for these seats are based on assessments and crash protection performed using the load leg, but these seats meet minimum government standards without using the leg.

The LATCH fit-to-vehicle assessment for 10 of the 11 seats was better than the belt fit-to-vehicle because these seats include features that typically aid LATCH installation.

These seats also tend to be more expensive than seats that include fewer features. Less expensive seats are still safe when used and installed correctly, but these seats offer an additional margin of safety and the potential for easier installation. One exception is the Evenflo LiteMax DLX, which is priced at a reasonable $170.

Regardless of the load leg's benefits, CR still recommends moving to a rear-facing convertible seat no later than a child's first birthday to further reduce the potential for head injury. With more than half of the infant seats tested, the test dummy moved outside the protection of the car seat and its head made contact with the simulated front seatback—even with a load leg.

In order for load legs to be widely used, the floors of some cars might need to be reinforced to support them. Fiat Chrysler Automobiles cautions against using load legs in its vehicles because the floor is not designed to support the load, which can be greatly magnified during a crash. Be sure to check your vehicle owner's manual for load-leg compatibility.
We are pleased to see load legs becoming more prevalent in the U.S. because of their clear crash-protection benefit. This is a feature worth considering when shopping for an infant car seat.
Below are the ratings for the 11 infant car seats, available to CR members.

See our complete infant car seat ratings. Learn how we test car seats.