Is Smartphone Insurance Worth Buying?
Coverage costs and plan parameters vary widely. Here, CR's guide to making a smart decision.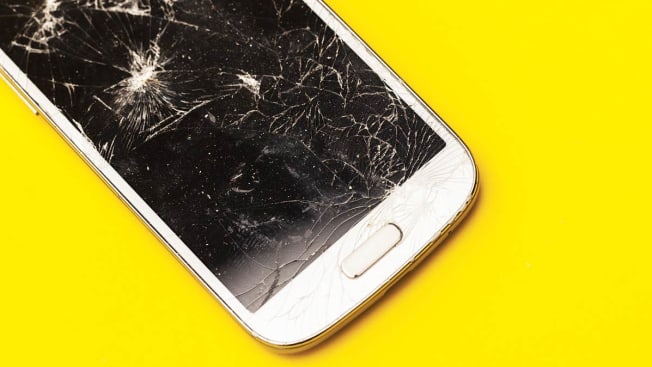 It can happen in an instant. You're walking down the street and decide to make a call. A passing pedestrian bumps your arm and your smartphone slips from your hand. You watch helplessly as it tumbles, as if in slow motion, toward the hard concrete. You brace for the crash and pray you get lucky. Not this time, as your touch screen becomes a spiderweb of cracks.
You try to recall whether you bought insurance or an extended care plan.
If you're not covered in some way, the cost to fix a cracked screen, the most common repair, is $277, on average, for a Samsung S8+, according to AGiRepair, a company that provides wireless device repair parts to businesses. If your power button goes kaput, it could cost over $90. And if your phone can't be fixed or it's lost or stolen, you have to buy a new one, and that could set you back $840 to $1,149 for a top-of-the-line Galaxy S9+ or iPhone X.
With numbers like that, insuring your smartphone for repair or replacement might seem like a good idea, especially when premiums can be as low as $7 to $36 per month. But while that sounds great, it's not that simple. For each claim you file, you'll pay a deductible that could run anywhere from $29 to $225. Most insurance companies limit the number of claims you can file to two or three a year. And your insurer might send you a refurbished phone rather than a new model if a replacement phone is what you need.
What It Costs to Fix Common Smartphone Problems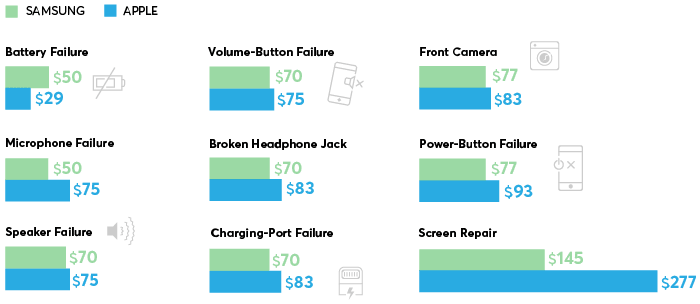 Source: Repair estimates are based on average repair costs, when applicable, provided by AGiRepair, a company that provides mobile device repair parts.
What It Costs to Fix Common Smartphone Problems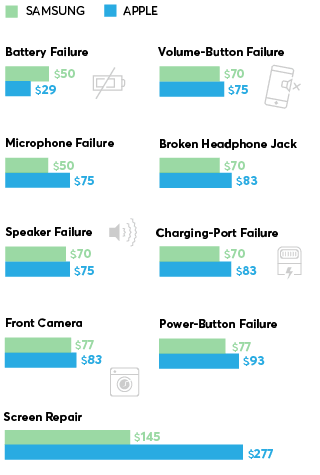 Source: Repair estimates are based on average repair costs, when applicable, provided by AGiRepair, a company that provides mobile device repair parts.
Manufacturer Smartphone Insurance Plans
Apple and Samsung, the two largest phone manufacturers, sell their own coverage.
AppleCare+
Every iPhone comes with a standard one-year warranty from Apple and 90 days of tech support. Adding AppleCare+, which you must purchase within 60 days of buying your smartphone, extends the warranty for hardware and covers accidental damage for up to two years for the iPhone 8 Plus, iPhone 7 Plus, and iPhone 6s Plus for $149; it costs $199 for an iPhone X. For the fee, Apple covers up to two incidents of damage, such as a cracked screen, and adds another year of protection for mechanical failures. The plans don't cover loss or theft. You'll have to pay a $29 deductible to fix screen damage and $99 for other types of damage, plus tax. Repairs can be done at an Apple store, at an authorized dealer, or by mail.
Samsung Premium Care
This covers the latest Samsung smartphones, including the Galaxy S8, Galaxy S8+, Galaxy Note8, Galaxy S9, and Galaxy S9+, for $12 per month. You can sign up at the time of purchase for the S9 family of phones and anytime for the other phones. You can cancel anytime. Samsung Premium Care extends the phone's original one-year warranty for as long as you pay for the policy and covers accidental damage including drops, liquid spills, and cracked screens. You'll pay a $99 deductible for a repair. You can get up to three replacements each year for each smartphone you insure. Premium Care doesn't protect your smartphone if it's lost or stolen.
Cell-Phone Carrier Smartphone Insurance Plans
Most cell-phone carriers also offer pure insurance products that cover loss and theft. The plans are generally in effect as long as you keep paying the monthly fee. AT&T, Sprint, and Verizon sell coverage provided by insurance company Asurion; T-Mobile's plan is run by Assurant. You can find more details below.
AT&T Offers Three Smartphone Insurance Plans
The top tier, the Multi-Device Protection Pack, costs $35 and covers three devices. The Mobile Protection Pack costs $12 per month per phone. Both cover device malfunctions, loss, theft, and damage, as well as tech support. If you don't care about tech support, a $9 plan offers the same protection.
Sprint Offers Various Smartphone Insurance Plans Based on Your Device
More expensive phones, not surprisingly, cost more to insure and incur higher deductibles. For example, a Samsung Galaxy S4 Mini and an LG Viper are in the group that costs the least, $9 per month. Coverage for the Apple iPhone 8 and Samsung phones costs $13 per month. It costs $17 to cover an iPhone X. The plan covers device malfunctions, damage, loss, and theft.
T-Mobile Provides Three Levels of Smartphone Insurance Coverage
The least expensive plan costs $7 to $10 per month, depending on your device, and includes protection against malfunctions, damage, loss, and theft. T-Mobile also offers an enhanced protection package for $9 to $12 per month that includes the Lookout Mobile Security Premium. A plan for $12 to $15 per month adds tech support. If you're already enrolled in T-Mobile's Jump program ($9 to $12 per month), which lets you upgrade your phone once you've paid off 50 percent of its cost, a premium level of insurance is included if your phone is lost or stolen.
Verizon Also Has Three Smartphone Insurance Plans
Its Wireless Phone Protection Plan covers a device in the event it is damaged, lost or stolen for $6.75 per month for smartphones ($3 for basic devices); you can receive up to three replacement phones per year. Total Mobile Protection, Verizon's most comprehensive coverage, adds tech support for $13 per month for smartphones ($10 for basic devices). For account level coverage for up to 10 lines, there is Total Mobile Protection Multi-Device, which provides all of the benefits of Total Mobile Protection for $39 per month (for 3 lines). Additional Coverage is available for $9.00 per line for each additional line up to 7 lines, and the account shares nine claims per year.
Some insurers provide cell-phone coverage directly to consumers. One of the largest, SquareTrade, offers a one-year plan for $89, a two-year plan for $129, or $159 for three. All claims are subject to a $99 deductible (except for select mobile screen repairs in select markets that have an in-home repair option with a $25 deductible). The company covers only damage, not loss or theft. In the event that your phone is damaged beyond repair, SquareTrade will pay you the value of the phone or provide a replacement.
What Coverage Will You Need?
This is a difficult question to answer because it really depends on you and your family. About half of CR survey respondents said no one in their household had a damaged, lost, or stolen phone in the previous two years. If you think you're likely to be in that group, you might think it safe to skip a plan. But if you have a smartphone mishap, you'll pay out of pocket. "If you have enough in an emergency fund to comfortably carry a $500 or $1,000 deductible on your homeowners insurance, then you can likely also afford to pay for a damaged or replacement phone," says Robert Hunter, director of insurance for the nonprofit Consumer Federation of America and a former commissioner of insurance for Texas.
If you have children 12 or younger, a plan that covers damage, loss, and theft might save you some headaches. In our survey, 81 percent of people with a smartphone and young children at home said at least one phone had been lost in the previous two years. More than a quarter of that group said they'd had more than five phones lost, stolen, or damaged in the previous two years.
To get an idea about how much, if anything, you'd save with insurance in your own situation, consider these potential scenarios. Say you have T-Mobile's Premium Device Protection with Apple Care+ for your iPhone 8. If, over two years, you need only one screen repair, the coverage could cost you about $170 more than you would pay to have the phone repaired. However, if you need a screen repair, then lose your phone, then break the screen again in the first two years, the plan could save you up to $415, depending on when the accidents occur.
If you need those same three repairs on your Galaxy S8+ and you have AT&T's Mobile Protection Pack, you could save as much as $670 in two years over what you would spend without coverage. But if you need just a screen repair, the plan could cost you about $60 more than having no insurance at all. And of course, if you don't have any problems with your phone, you're out the total cost of the coverage. In that case, a hard case for your phone would have been your best insurance.
What You Get With Various Coverage Options
We chose the least expensive insurance coverage for a single 64GB iPhone 8 and a Samsung S8+, excluding free-upgrade plans, extended warranties, and multiple-device plans.
Choose Your Plan
Verizon
AT&T
Sprint
T-Mobile
Verizon
Plans At A Glance
AppleCare+
Samsung


Premium Care

AT&T


Mobile Insurance

Sprint
Total Equipment
Protection Plus
T-Mobile


Device Protection

Verizon


Wireless Phone Protection

Square
Trade
Cost of Coverage
$129


[1]

$12


per month

$108


for one year

$120


for one year

$120


for one year

$81


for one year

$89


for one year

Replacement Phone Deductible
$99
$99


($0 for mechanical failures)

$112-$225 [2]
$225


for iPhone 8


$275


for Galaxy S8+

$175
$149
for iPhone 8
$199


for Galaxy S8+

$99
Screen Repair Deductible
$29
$99

For Samsung S8+,

$49. [3] Screen repair coverage for iPhone 8
is not available.
$29
for iPhone 8
$140

for Galaxy S8+

$175
$29
$99


($25 in select markets)

Other Repair Deductible
$99
$99


($0 for mechanical failures)

NA

[4]

$99


for iPhone 8


$140
for Galaxy S8+
$175
NA
$99
Maximum Number of Claims Annually
2
for accidental damage
(unlimited for other failures)
3
2
3

[5]

2
3
4
Maximum Value per Claim
None

Replacement value of phone

$1,500
$2,000
$1,500
$2,000


None
Loss or Theft Covered
No
No
Yes
Yes
Yes
Yes
No
Enrollment Period

Within 60 days of purchase

Anytime

Within 30 days of purchase or during open enrollment periods

Within 30 days of purchase

Within 14 days of purchase

Within 30 days of purchase
or during open enrollment periods

Anytime

Tech Support Included?
Yes
Yes
No
Yes
No
No
No
Note: [1] A one-time charge that, combined with Apple's limited warranty, provides two years of coverage. [2] $225 for customers who file a claim within the first six months of enrollment with no prior claim; $168 for customers who file a claim between months six and 11 of enrollment with no prior claim; $112 for customers who file a claim after 12 months of enrollment with no prior claim. [3] Apple iPhone 8 screen repair available in coming months. [4] There is no other repair for connected devices except for cracked screen repair. Customers whose eligible phones have damage beyond a cracked screen will receive a replacement phone and be charged a replacement deductible. [5] Consumers with AppleCare+ can make three claims, two in 24 months for accidental damage, and unlimited warranty claims at no charge. Those with a Samsung S8+ can make three claims within 12 months for all perils.
Are There Alternatives to Smartphone Insurance?
Yes, you have several.
1. Buying your phone with a credit card that extends warranties is an option. Some American Express, Mastercard, and Visa cards offer free extended warranties for products purchased with their cards. (Discover recently eliminated this perk.) These often add up to an extra year to the warranty that came with your phone. You'll probably have to provide proof of purchase, and there are some exclusions. Your card may also cover damage or theft for 90 days after purchase. Check your card's terms and conditions.
Also, if you pay your phone bill with a credit card, your credit card company may offer some protection. Chase Ink Business Preferred, for example, covers damage and theft. There are limitations, including a $100 deductible per claim and a maximum of three claims per 12-month period, plus a maximum benefit of $600 per claim and $1,800 total in any 12-month period. Wells Fargo includes cell-phone protection if you use its credit card to pay your monthly cell-phone bill. If a cell phone is stolen or damaged and you've exhausted any other cell-phone insurance plan that you hold (i.e., homeowners, renters, automobile), you can request the original purchase price of your phone up to a maximum benefit of $600 per claim (subject to a $25 deductible). These cards don't cover lost phones, and there's a maximum of two claims (up to $1,200) per 12-month period.
2. Check your homeowners policy. You may be able to cover your phone or pay a bit more to do so, which might run you about $25 for an additional $1,000 in coverage. Ask your insurer whether your plan can cover cell phones. If so, ask whether any deductible applies and how it will affect your policy if you need to make a claim (or two or more), plus what kind of damage or loss is covered. It may only include perils currently covered in your plan, such as damage from fire or theft.
3. Pay yourself the monthly insurance cost. Add the cost of a plan each year into an emergency fund. (See above: What You Get With Various Coverage Options.) Then you can use that small cushion if you need to replace or repair your phone.
4. Use local repair shops. Many familiar retailers, such as Best Buy (select stores) and Office Depot, repair smartphones, as do national repair chains like uBreakiFix. Refer to the chart of average common repair costs to get an idea of what you might pay, then compare prices from shops near you. Make sure anyone you use offers a warranty on the work in writing.
5. Fix the phone yourself. If you're handy, you may be able to take care of some repairs. iFixit has free step-by-step repair manuals for many Android and Apple phones, plus lists of all the tools you need. Also see this do-it-yourself repair using iPhone screen replacement kits, which includes a video.
Editor's Note: This article has been updated to reflect new pricing provided by Asurion, Verizon's insurance provider, and to give additional information about the company's smartphone insurance plans. Verizon provided us with the original information.

This article also appeared in the June 2018 issue of Consumer Reports magazine.
On the 'Consumer 101' TV show, Consumer Reports' expert Octavio Blanco offers tips on deciding when insurance is needed and how to get the most bang for the buck when it comes to coverage.