When you shop through retailer links on our site, we may earn affiliate commissions. 100% of the fees we collect are used to support our nonprofit mission.
Learn more.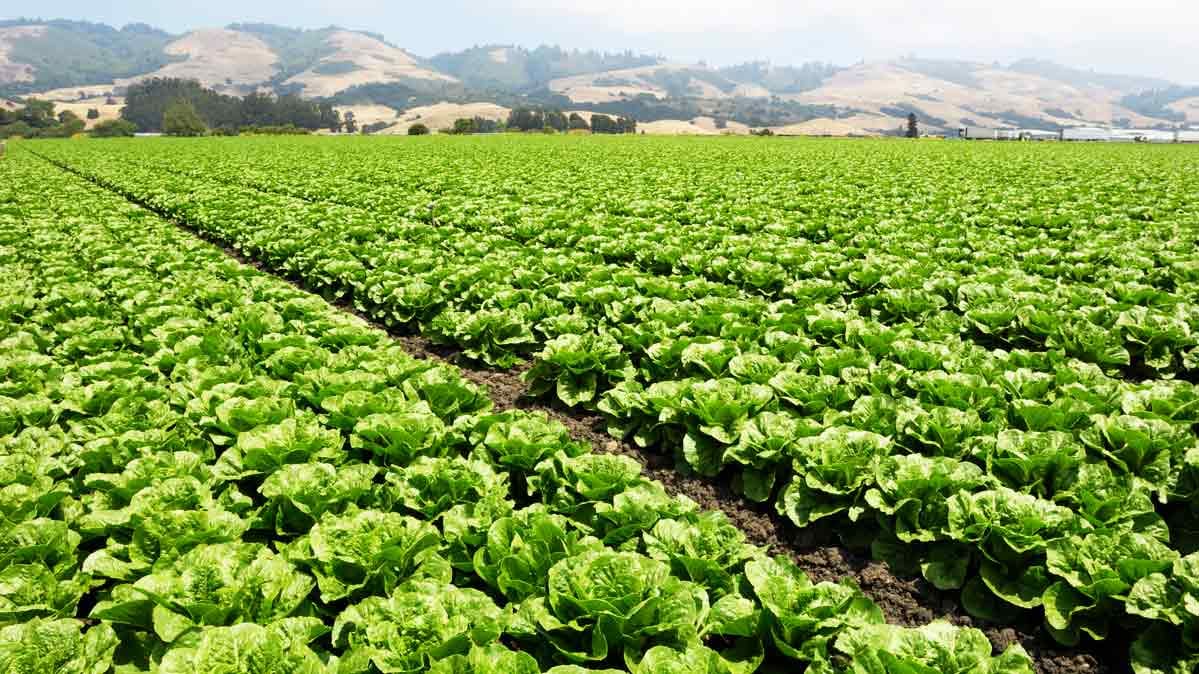 Final update: On Feb. 13, 2019, the FDA announced the results of its months-long investigation into this E. coli outbreak. E. coli-tainted water used to irrigate the crops was confirmed to be the source of contamination at one California farm, Adams Bros. Family Farms. The agency said, "one farm cannot explain the entire outbreak," but it was not able to track down other contamination sources.
"It's good that the FDA has clearly laid out what it does and does not know about this outbreak," says Jean Halloran, director of food policy initiatives at Consumer Reports. "But the agency should also be taking steps to keep E. coli out of lettuce in the future, including issuing its long-delayed water quality rules."
Update: On Jan. 9, the Centers for Disease Control and Prevention declared this E. coli outbreak officially over. In total, 91 people were sickened in the United States and Canada, including 35 hospitalizations. The Food and Drug Administration will continue to investigate what caused the outbreak.
Consumer Reports' experts urge federal agencies to investigate to determine all California farms involved in the outbreak, figure out how the lettuce became contaminated, and mandate changes so this problem doesn't recur.
The leafy-greens industry rolled out its new "origin" labeling program last week, an effort designed to help consumers avoid romaine lettuce contaminated with E. coli bacteria.
Produce bags bearing the special labels began showing up on grocery store shelves, so CR sent shoppers to see how effectively that information was being communicated.
What they found convinced CR food safety experts that as a warning system for consumers to protect themselves in real time, the program has flaws, and stronger measures will be needed to keep consumers safe.
The idea behind the program is this: If consumers can see a label telling them where and when the lettuce was grown, they'll avoid buying contaminated greens if an outbreak has been reported in that area.
But for the program to be effective, it relies on the shopper standing in the produce aisle to know first that there has been an outbreak, then remember which part of country is involved, and also realize that they can check the label for the information.
"If a consumer can confidently assess that the romaine they are buying is not from any of the affected regions in California, there is no reason not to purchase it," says James E. Rogers, Ph.D., Consumer Reports' director of food safety and research. "But in order to make that conclusion, they're expected to go shopping, armed with specific knowledge of which lettuce they need to avoid. It's asking a lot."
This new labeling program was developed by the Food and Drug Administration in conjunction with the produce industry as a response to the E. coli outbreak linked to romaine that the agency announced in late November—the third outbreak involving romaine or leafy greens in a year.
The program is voluntary and not guaranteed to continue after the danger from this current outbreak is deemed to be over by the FDA, so it is narrow in focus and may have a limited life and usefulness.
"This program has many holes. It is voluntary, there is no transparency as to how it is being implemented, and there is really no oversight by a governing body," says Rogers.
Many lettuce companies have agreed to add the labels, according to Mary Coppola, spokesperson for the produce industry group United Fresh Produce Association. Still, there's no requirement for a company to do so.
"The way the origin information is being presented on packages and in produce aisles is confusing," says Jean Halloran, director of food policy initiatives at Consumer Reports. "And this plan does nothing to address the reasons why there have been three outbreaks, two of them deadly, over the past year. Regulators should take more direct action to prevent people from getting sick."
The most important steps, she says, are: 1) Ensuring that the water used to irrigate lettuce crops isn't tainted—the likely cause of an E. coli/romaine outbreak this past April—and 2) Improving traceability, so investigators can quickly identify and address the source of a food poisoning outbreak.
Holes in the FDA's Plan
Halloran says that it is unrealistic to expect that the consumer will be on top of every outbreak, especially given that a recent CR nationally representative survey of 1,000 American adults found that only about half of Americans are even aware that fresh produce has been known to carry bacteria that causes food poisoning.
As the picture below shows, a package of romaine will list the area where it was grown and the date of the harvest. "Labels aren't going to help if you don't know where the bad lettuce originated," says Bill Marler, an attorney who specializes in food poisoning cases.
This romaine lettuce was not grown in one of three central California counties implicated in the current E. coli outbreak. According to the FDA, it is safe to consume.
Date indicating when the romaine was harvested.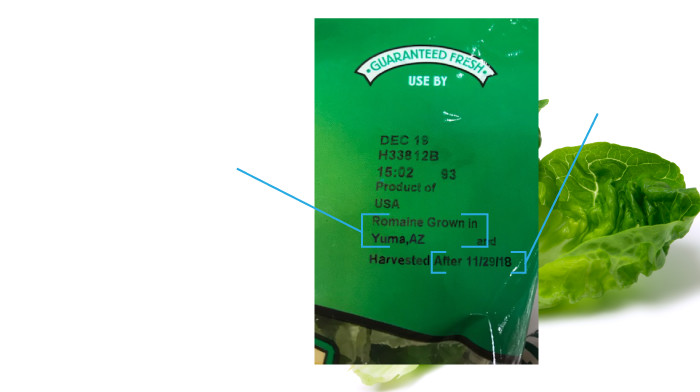 This romaine lettuce was not grown in one of three central California counties implicated in the current E. coli outbreak. According to the FDA, it is safe to consume.
Date indicating when the romaine was harvested.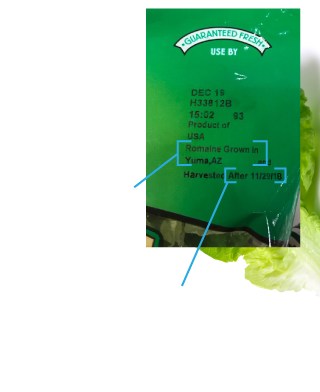 In addition, for unpackaged romaine lettuce, the shipping cartons it comes in might include the origin labeling, but "getting that information to consumers isn't that simple," says Halloran. "The retailer needs to know that the information is relevant and that consumers should get the details." And then, she says, clear, prominent signs in stores must be posted.
CR shoppers found that for non-packaged romaine, detailed information was lacking. For example, this sign posted at Whole Foods near romaine lettuce lets consumers know the lettuce wasn't grown in the affected California regions, but it doesn't put that information in the context of a food poisoning outbreak, or give more details on what the problem is.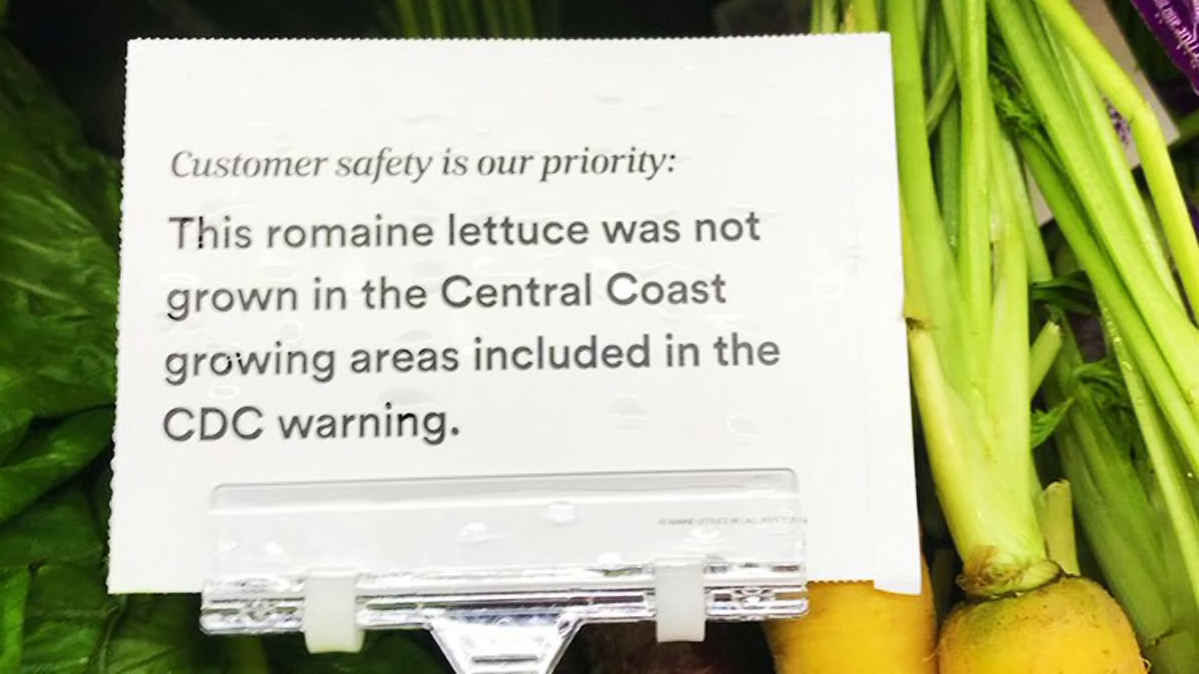 "While we support efforts to get romaine lettuce back in the marketplace, the voluntary labeling agreement negotiated by a limited number of romaine grower-shipper-processors does pose some challenges and uncertainty as to how information is clearly communicated to consumers at the retail level," says Greg Ferrera, executive vice president of the National Grocers Association, the industry group for independent supermarkets.
Many retailers have voluntarily posted signage, according to FDA spokesperson Peter Cassell, but he acknowledges it might be inconsistent. He said the agency did not issue explicit guidance to retailers about what type of information they should provide consumers.
If there are no signs posted in the produce aisle, Cassell encourages consumers to ask the retailer where their romaine comes from. When asked if that requires the consumer to possess a lot of insider knowledge, Cassell replied, "We post guidance on our website and social media accounts ... Consumers should always pay attention to our warnings."
A Temporary Fix
Also concerning: The new labeling program is—at present—temporary. Once the FDA declares the current outbreak over, even lettuce producers who are putting origin labels on their products could revert back to not providing this information. However, says Cassell, "we expect producers to keep these labels on their packaging."
But should some of them choose to remove origin labeling, in the event of another outbreak, consumers might be left without enough information to protect themselves, Halloran says.
Also, this labeling program is for romaine lettuce only. It doesn't cover other leafy greens, even though spinach and other types of lettuce have been the culprit in past E. coli outbreaks.
According to Cassell, there's no reason to think romaine is particularly susceptible to contamination, but the labeling program currently is limited to romaine because that's the product involved in this recent outbreak. "The program could be expanded in the future," Cassell said.
The Current Outbreak
This is the third E. coli outbreak linked to romaine lettuce or leafy greens since late 2017. The first outbreak investigation ended in January 2018, and the government never identified where the tainted greens were grown. Although Canadian officials linked the outbreak to romaine lettuce, and the U.S. outbreak was a genetic match to the one in Canada, the data U.S. public health officials held only allowed them to identify some form of leafy greens as the source. The second outbreak began in April and ended in June and was traced to romaine lettuce grown in the Yuma, Ariz., region.
The FDA announced the current outbreak of illnesses caused by E. coli on Nov. 20. The agency advised consumers to avoid all romaine lettuce, and asked retailers to voluntarily remove romaine lettuce from produce aisles.
On Nov. 26, the FDA narrowed its advice to avoid romaine grown in six counties in central California. Then on Dec. 13, they narrowed that list to three—San Luis Obispo, Santa Cruz, and Ventura counties. Romaine lettuce that was harvested in Monterey, San Benito, and Santa Barbara counties should also be avoided, but only if it was harvested before Nov. 23. "It's a lot to remember," says Halloran.
As of now, the tainted romaine has sickened 87 people across the U.S. and Canada. Nineteen of the victims have been hospitalized and two have developed hemolytic uremic syndrome, a type of kidney failure caused by toxin-producing strains of E. coli, such as O157:H7 (the strain implicated in the current outbreak). The illnesses occurred between October 5 and November 16.
The current investigation is still active. One farm has been identified as a source—Adam Bros. Farms in Santa Barbara County—but investigators believe other growers are also likely involved. The FDA's Cassell says more cases may still be announced.
Additionally, some of the victims in the current outbreak were sickened after consuming romaine from restaurants. Cassell advises diners to ask restaurants where their romaine comes from—another excessive burden on consumers, according to CR's Rogers. "It's just not a reasonable expectation for either the server or the consumer," he says.
What Consumers Should Do
It's possible that lettuce grown in the California regions implicated in the outbreak is still available in grocery stores, despite the advisory to throw out all romaine just before Thanksgiving. That's why the FDA's advisory to avoid romaine from those areas is still in effect, says Coppola, the representative from the United Fresh Produce Association.
So despite the limitations of the labeling program, consumers should still check the label. If it shows the lettuce was grown elsewhere—including the Imperial Valley of California; Yuma, Ariz.; Florida; or Mexico—CR's experts have seen nothing to indicate it's unsafe to consume. Similarly, if packaging indicates that the romaine was grown hydroponically (grown in water, not soil) or in a greenhouse, it should also be safe to eat.
For situations where the source of the romaine is unclear, you should not eat it, says Rogers. This includes romaine served at restaurants if you cannot be certain that it was grown outside the implicated counties in central California.
The Better Solution
Perhaps the biggest concern with the labeling program is that it doesn't address the root problem: Keeping lettuce from becoming contaminated in the first place.
According to Marler, regulators' emphasis should be on finding a solution to the environmental issues that cause these outbreaks. "Don't get me wrong—I think greater transparency is never a bad thing," he says. "But labeling feels like a small first step, and it doesn't address what's making people sick."
E. coli is found in animal waste and can contaminate lettuce when growing fields are located near livestock farms. Water from an irrigation canal that flows by a large cattle operation in Yuma, Ariz., was found to carry the same E. coli strain that made people sick in the spring outbreak. Dangerous strains of E. coli have been found in irrigation water in the current outbreak as well. Produce growers have increased their buffer zones between livestock operations and produce fields. But that is not enough, according to Halloran.
Halloran believes current safety protocols for testing irrigation water are inadequate. The FDA has proposed stricter standards for irrigation water, as part of the Food Safety Modernization Act (FSMA), but those standards have not yet been implemented. And CR's experts believe that even FSMA's proposed rules—testing untreated surface water just five times a year for pathogens—may not be enough. After a foodborne pathogen is detected, Halloran suggests testing water weekly, if not daily.
Additionally, Marler encourages greater traceability for leafy greens, so the source can be pinpointed more rapidly—and accurately. The current investigation in California is weeks long, but health officials say they're looking into at least 10 different distributors, 12 different growers, and 11 different farms as potential sources of the contaminated lettuce. Despite tracing the E. coli to one farm, the FDA's information indicates that the outbreak cannot be explained by a single farm, grower, harvester, or distributor.
"We clearly need to figure out a way to improve traceback in a food poisoning outbreak," says Halloran. "It's the best way to determine why these outbreaks keep happening again and again."