When you shop through retailer links on our site, we may earn affiliate commissions. 100% of the fees we collect are used to support our nonprofit mission.
Learn more.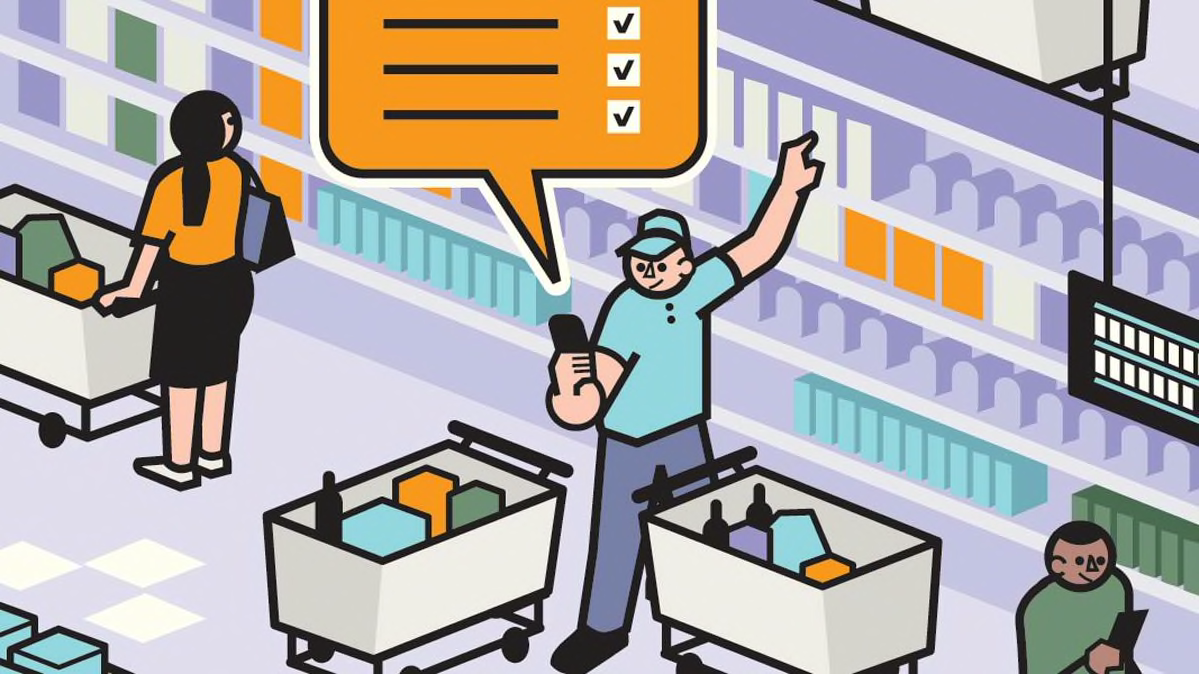 We wanted to know—given the growth of online and app ordering—whether grocery delivery services selected unblemished potatoes, jewel-like cherries, and dairy with far-off sell-by dates. Would groceries arrive promptly, and properly packed?
So we conducted a limited evaluation of online grocery services, including AmazonFresh, Amazon Prime Now, FreshDirect, Instacart, Peapod, Shipt, and Walmart. (Walmart deliveries were handled by DoorDash, the service that the retailer selected).
In mid-April, a CR staffer ordered groceries to be delivered to homes in New York, New Jersey, and California. All 14 orders were to include skinless and boneless chicken breasts, ground beef, packaged bread, milk, a carton of eggs, and deli-sliced American cheese. That's in addition to fruit, salad, canned and jarred food items, and a hefty jug of chlorine bleach.
None of the deliveries arrived more than 10 minutes outside the stated delivery time window.
Upon delivery, we checked the temperature of the perishables, inspected the condition of the groceries, checked sell-by dates, and noted how the items were packed.
Here's what we found.
Perishables Seemed to Be Within Safe Temperature Ranges
The chicken and beef arrived with internal temperatures between 35.8° and 56.2° F. Surface temperatures for the cheese, eggs and milk carton ranged from 40° to 59.4° F. The Department of Agriculture says perishable food should be refrigerated at 42° F within 2 hours of shopping (1 hour when the air temperature is above 90° F).
Tip: "With deliveries, you don't know how long food might have been above 40 degrees," says Sana Mujahid, manager of food safety research at CR, "so make sure someone is available to receive perishables, and refrigerate them as soon as possible."
(Read more from Consumer Reports on food safety tips.)
The Food Was Fresh, for the Most Part
Most of the strawberries, green grapes, bananas, mixed greens, and eggs we received appeared to be fresh and in good condition. But some bananas, strawberries, and grapes arrived squished or with minor brown spots, and a few strawberry containers leaked or looked underfilled. A box of grapes from Peapod arrived with several blooms of white, puffy mold. Peapod didn't respond to our requests for comment.
A carton of eggs from Walmart, delivered April 23, had a best-by date of March 22. (Raw eggs generally can sit in the refrigerator for three to five weeks.) Walmart didn't respond to our requests for comment.
Tip: Order from a grocer with a high rating for its fresh produce. Seek redress if you're not satisfied; all the services offer a refund, a replacement, or a credit voucher.
Packaging Quality Varied
FreshDirect padded its groceries the most, wrapping bananas in foam and swaddling a jar of pasta sauce in paper straw. It sent groceries in sturdy, woven plastic bags with handles.
In analyzing our limited data, we found that the type of delivery box or bag used didn't correlate with grocery temperatures. But some grocers didn't bother to put raw meat and chicken in their own plastic bags to prevent leakage and cross-contamination.
Tip: If there's space for special instructions in your order—or if you can communicate with your shopper through text or a chat—specify which items you want packaged separately.
Discounts and Promotions Reduced Delivery Pricing
We saved money by taking advantage of promotions and meeting minimum orders.
Tip: Avail yourself of free trial memberships and seasonal discounts. An annual membership to Instacart Express, FreshDirect DeliveryPass, and Shipt will save you money over monthly memberships or nonmember rates. You may be able to avoid delivery fees by ordering at least the minimum, typically $35.
Use the service's app to search for promotions and apply them to your delivery. If the service and the grocery store aren't the same—say, an Instacart delivery of Kroger groceries—you'll need to enter your Kroger membership info into the Instacart app to apply the maximum discounts.
Be flexible about delivery times. Some services give a discount or charge a premium depending on the day or length of the delivery window chosen. We found that if we were willing to wait 5½ hours instead of choosing Peapod's typical 2-hour window, we could save $4.
Delivered Items Can Cost More
Instacart, an independent delivery service, says that the retailers it deals with may charge more for delivered items than what they charge in a store. Walmart, on the other hand, says that the prices of its delivered groceries—and of groceries through its curbside pick-up service—are the same as in-store prices.
Costco members can get fresh food delivered through Instacart without having to pay the $99 Instacart Express annual fee, assuming the order is at least $35. But in a shopping experiment conducted late last year, we found Costco member pricing on delivered grocery items—including fresh salmon, blueberries, avocados, eggs, milk, and its famous rotisserie chicken—was 31 percent higher, on average, than what it charged members in its warehouse.
Amazon Prime Now Beat AmazonFresh
When we ordered, AmazonFresh was the only service that appeared to have every item in the exact size we wanted. But inexplicably, in the actual delivery the AmazonFresh shopper substituted the mixed salad greens we'd ordered with cooked organic beets—without contacting us beforehand.
We had no such problem with lower-cost Amazon Prime Now; it's included in Amazon Prime's annual membership, which ranges from $59 for students to $119 for most others. (There's no extra fee for deliveries of $35 or more.) It's available in dozens of cities nationwide and delivers groceries from Whole Foods Market, which is owned by Amazon. Depending on where you live, you may also be able to get deliveries from other local stores and restaurants.
AmazonFresh, which is available only in 15 major cities, costs $14.99 per month above the annual Amazon Prime membership. There are no additional delivery fees for individual AmazonFresh orders over $35. It delivers groceries only from Amazon fulfillment centers, though in our experiment an AmazonFresh delivery included organic spring mix salad in a container marked "Whole Foods." AmazonFresh was the lowest-rated service in our CR ratings of grocery delivery services, and received low marks for pricing.
Tip: For delivered groceries from Whole Foods Market, use Amazon Prime Now, which was among the top-rated in our survey.
Online Grocery Delivery Service Ratings
Editor's Note: This article also appeared in the August 2019 issue of Consumer Reports magazine.