When you shop through retailer links on our site, we may earn affiliate commissions. 100% of the fees we collect are used to support our nonprofit mission.
Learn more.
You expect a buttery smooth ride in ultra-luxury sedans, but our testing shows that some mainstream models not only stand out among their peers but also rival some prestigious nameplates.
For example, the Chevrolet Impala scored well enough in CR's ride evaluations to rank right behind some of the more expensive ultra-luxury models available.
We evaluated ride comfort in a series of tests at our track in Colchester, Conn., and assembled our list of some of America's best-selling cars that expertly cradle and coddle you on the road.
You might want to consider it our best car rides for the buck.
Our judgments are based on a 30-mile loop at predetermined speeds on a course that includes a variety of roads with bumps, ruts, and undulations, and a typical highway section.
Our engineers noted whether the suspension absorbed and isolated appropriately. Our testers determined whether the ride was stiff, choppy, tender, or floaty, and how well the car coped with pavement flaws. They're attuned to adverse ride motions such as side-to-side rocking and fore-and-aft pitching. Cumulative team experience from commuting in the test cars is also factored in.
The cars are presented in descending order, starting with the sedan that got the highest score for ride comfort.
Chevrolet Impala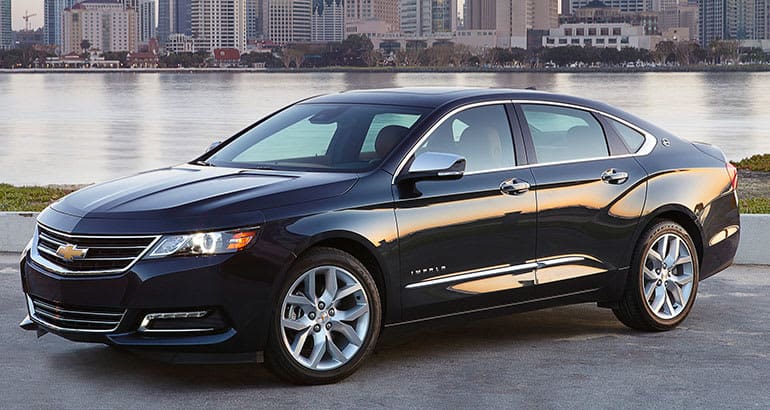 The Impala is roomy, comfortable, quiet, and enjoyable to drive. It rides like a luxury sedan, feeling cushy and controlled. Engine choices include a punchy 3.6-liter V6 and an adequate 2.5-liter four-cylinder, both paired with a six-speed automatic transmission. In our tests, the V6 returned 22 mpg overall and had good acceleration. Braking is capable, and handling is secure and responsive. The full-featured cabin stays very quiet and features a sumptuous backseat. Controls are intuitive and easy to use, but rear visibility is restricted. Advanced electronic safety features are readily available. Recent updates include the addition of Apple CarPlay capability and wireless cell-phone charging.
Read the complete Chevrolet Impala road test.
Ford Fusion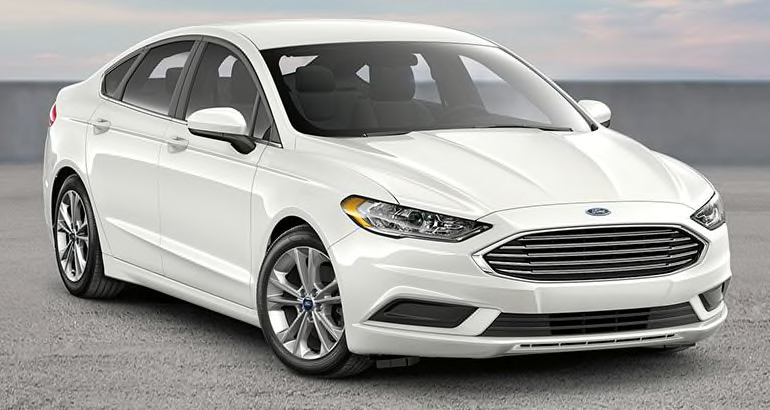 The Fusion is a delight to drive, with a supple ride and nimble handling reminiscent of a European sports sedan. All trim levels and powertrains feel solid and upscale, with a well-finished and quiet cabin. We found the optional leather seats to be more supportive than the cloth ones, and the rear seat is somewhat snug. The 1.5- and 2.0-liter turbo four-cylinder engines are powerful enough, but neither has competitive fuel economy. A new high-end version, the Sport, is equipped with all-wheel drive and a 325-hp, 2.7-liter V6. It is quick, comfortable, and quiet, but it costs more than $40,000. The Hybrid and Energi plug-in hybrid were updated with more efficient electric motors. A rotary shift dial and Ford's improved Sync 3 infotainment system highlight the updates to the interior.
Read the complete Ford Fusion road test.
Subaru Legacy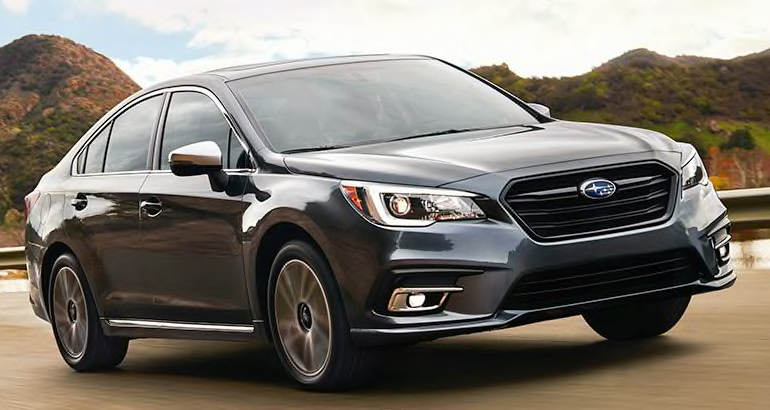 The Legacy is one of the roomier, quieter, and more refined midsized sedans, attributes that have helped it become one of our top-scoring models in the class. Its ride is more comfortable than some luxury cars', and handling is sound and secure. The 2.5-liter four-cylinder engine is no rocket, but it gets the job done and returns 26 mpg overall. A stronger, quieter, and thirstier 3.6-liter six-cylinder transforms the car, giving it strong performance. The unobtrusive CVT performs much like a conventional automatic. The infotainment system includes an easy-to-use touch screen with internet radio and Bluetooth. Advanced safety gear such as blind-spot monitoring and automatic emergency braking is optional. For 2018 Subaru has made the car less jumpy when starting up from a stop, and Android Auto and Apple CarPlay compatibility are standard.
Read the complete Subaru Legacy road test.
Dodge Charger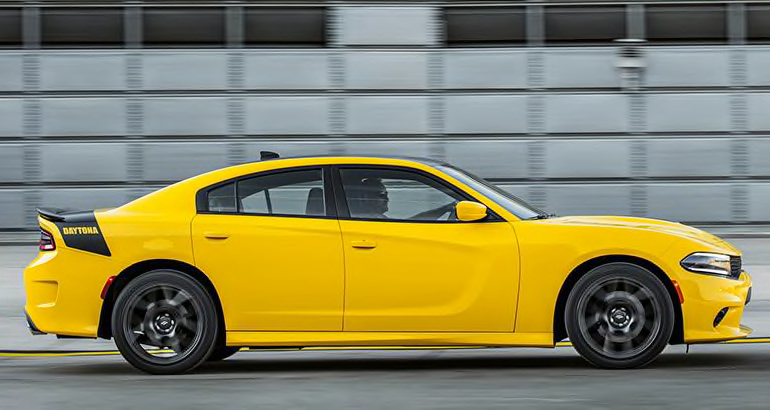 Like its cousin, the Chrysler 300, the Charger is a big, comfortable cruiser with an array of sophisticated technology on tap. It delivers a comfortable ride, and the quiet cabin is well-equipped, making the Charger a bargain luxury sedan. The 3.6-liter V6 engine and eight-speed automatic transmission work well, and the 370-hp, 5.7-liter Hemi V8 packs more punch at the expense of fuel economy. The power-mad can have a 485-hp, 6.4-liter or the Hellcat's 707-hp supercharged V8. All-wheel drive is optional on mainstream versions. Automatic emergency braking and lane-keeping assist are available. The well-designed UConnect touch-screen infotainment system is optional.
Read the complete Dodge Charger road test.
Toyota Camry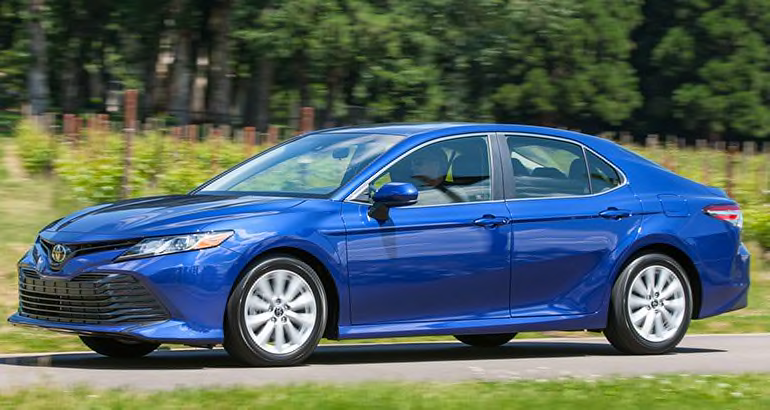 The latest Camry is now slightly more nimble yet retains its comfortable and quiet demeanor. The lower stance makes access a bit more difficult, and the rear seat has lost some roominess. It offers familiar engines: a 2.5-liter four-cylinder that provides ample motivation and gets an impressive 32 mpg, and a 3.5-liter V6. Both are paired to a new eight-speed automatic transmission. A super-frugal hybrid is also available. Interior upgrades nudge the car upscale, particularly the XLE version. The Entune infotainment system is even more capable but lacks Apple CarPlay or Android Auto compatibility. Standard safety equipment includes forward-collision warning with automatic braking and pedestrian detection, lane-departure warning with lane-keeping assist, and adaptive cruise control. Blind-spot monitoring and rear cross-traffic alert are optional.
Read the complete Toyota Camry road test.
Chevrolet Cruze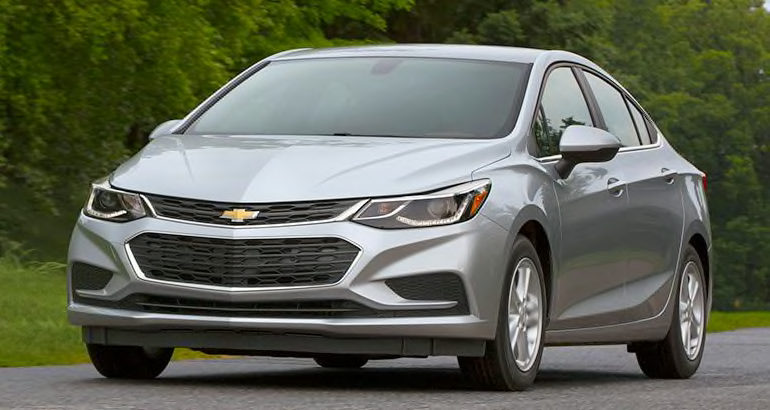 The Cruze possesses big-car qualities such as a comfortable ride and a quiet interior. The standard engine is an unobtrusive 1.4-liter four-cylinder turbo mated to a six-speed automatic transmission. A smooth start-stop feature reduces fuel use during idling; we got 30 mpg overall in our tests. The diesel model returned an impressive 41 mpg overall and an outstanding 60 mpg on the highway. A new infotainment system featuring Android Auto and Apple CarPlay mirrors some smartphone icons on the screen. The rear seat is relatively roomy for the class, but the front seats are short on lower-back support. A variety of advanced active safety features are available, but only on the top-trim Premier version.
Read the complete Chevrolet Cruze road test.
Subaru Impreza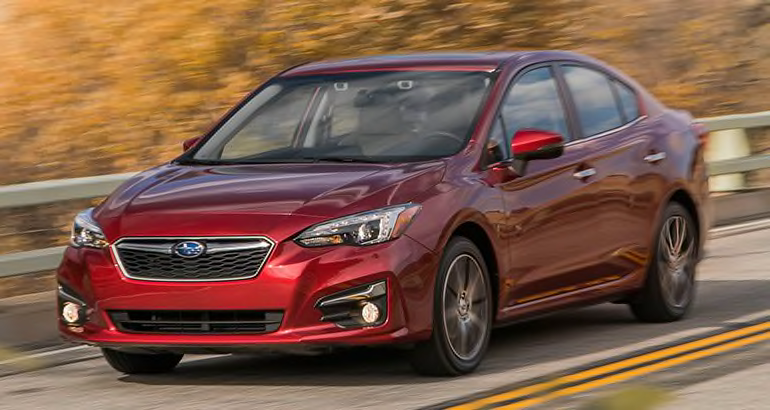 The Impreza is a roomy compact that's available in both sedan and five-door hatchback body styles. It has a very comfortable ride and agile and secure handling, and the cabin is fairly quiet for the category. The 2.0-liter four-cylinder engine is mated to a continuously variable transmission that mimics a conventional automatic. We got 30 mpg overall with our sedan, commendable given its standard all-wheel drive. The infotainment screen is easy to use, and the rear seat is roomy for a compact car. We recommend paying for Subaru's comprehensive EyeSight suite of advanced safety gear, which includes forward-collision warning and automatic emergency braking.
Read the complete Subaru Impreza road test.
Honda Accord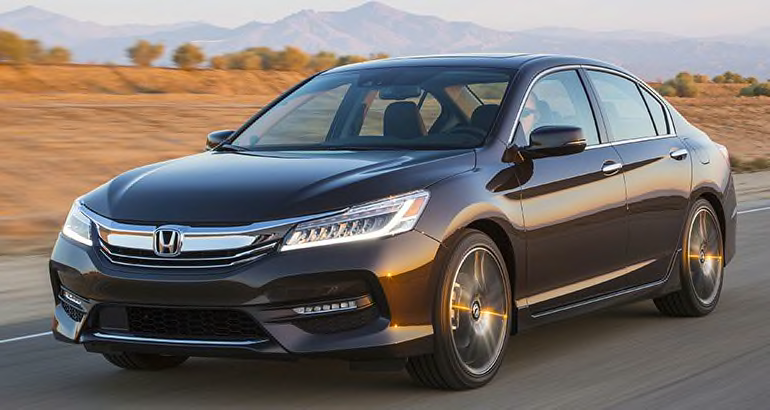 The redesigned Accord joins other midsized sedans that have relinquished their V6 engines. Two turbocharged, four-cylinder engines are available. The base version is a 1.5-liter that's shared with the Honda CR-V SUV and Civic compact car. The new 192-hp engine is mated to a continuously variable transmission. The uplevel turbocharged 2.0-liter brings 252 hp and a slick 10-speed automatic transmission, but the gearbox uses an unintuitive push-button gear selector. A hybrid version is also available. The new infotainment system is a big improvement, and includes knobs for tuning and volume adjustment. Standard safety equipment includes automatic emergency braking system, lane-departure warning, adaptive cruise control, and lane-keep assist.
Learn more about the Honda Accord.
Chrysler 300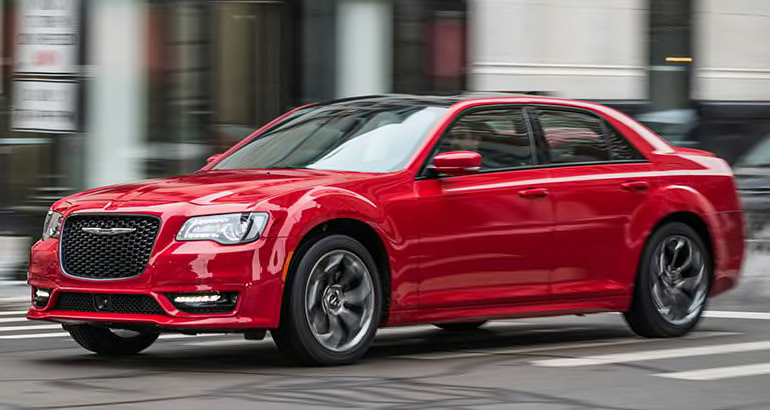 Chrysler's roomy and luxurious 300 is one of the best large sedans on the market. Inside, you'll find plenty of space for five adults, along with comfortable seats and attractive trim. The 5.7-liter V8 is punchy but thirsty. We prefer the 3.6-liter V6, which got a good 22 mpg overall in our tests. Both engines use a smooth eight-speed automatic. All-wheel drive is optional. A stately ride, responsive handling, and a quiet cabin make the 300 feel like a true luxury car at thousands less than luxury brands charge. The UConnect infotainment system is one of the best in the industry. The last freshening added a rotating gearshift knob, a big driver-info screen in the gauge cluster, and a host of modern safety gear.
Read the complete Chrysler 300 road test.
Toyota Corolla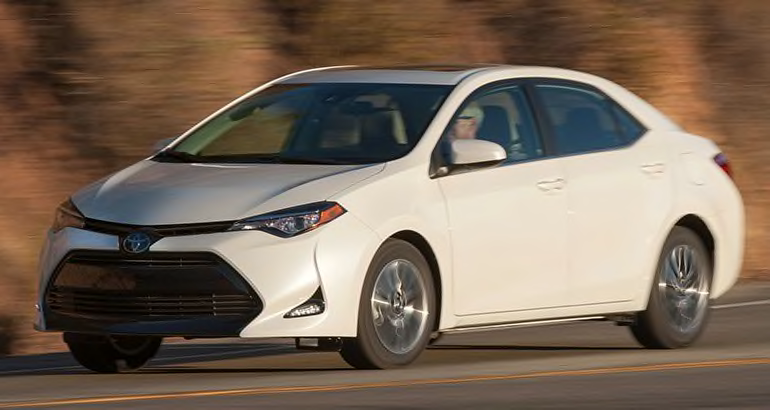 The Corolla delivers a comfortable ride and has a quiet, spacious interior for a compact sedan. Handling is lackluster but very secure. A sportier S version has a tauter suspension with marginally better handling. The continuously variable transmission is fine when loafing around but can blare a loud engine noise under higher revs. Fuel economy is excellent at 32 mpg overall and returns 43 mpg on the highway. Inside, padded and stitched surfaces contrast with a number of drab, hard-plastic bits. Upscale features include standard Bluetooth connectivity, automatic climate control, and a touch-screen radio with simple controls. The rear seat is one of the roomiest in the category. Forward-collision warning with automatic emergency braking is now standard.
Read the complete Toyota Corolla road test.