When you shop through retailer links on our site, we may earn affiliate commissions. 100% of the fees we collect are used to support our nonprofit mission.
Learn more.
When you shop through retailer links on our site, we may earn affiliate commissions. 100% of the fees we collect are used to support our nonprofit mission. Learn more.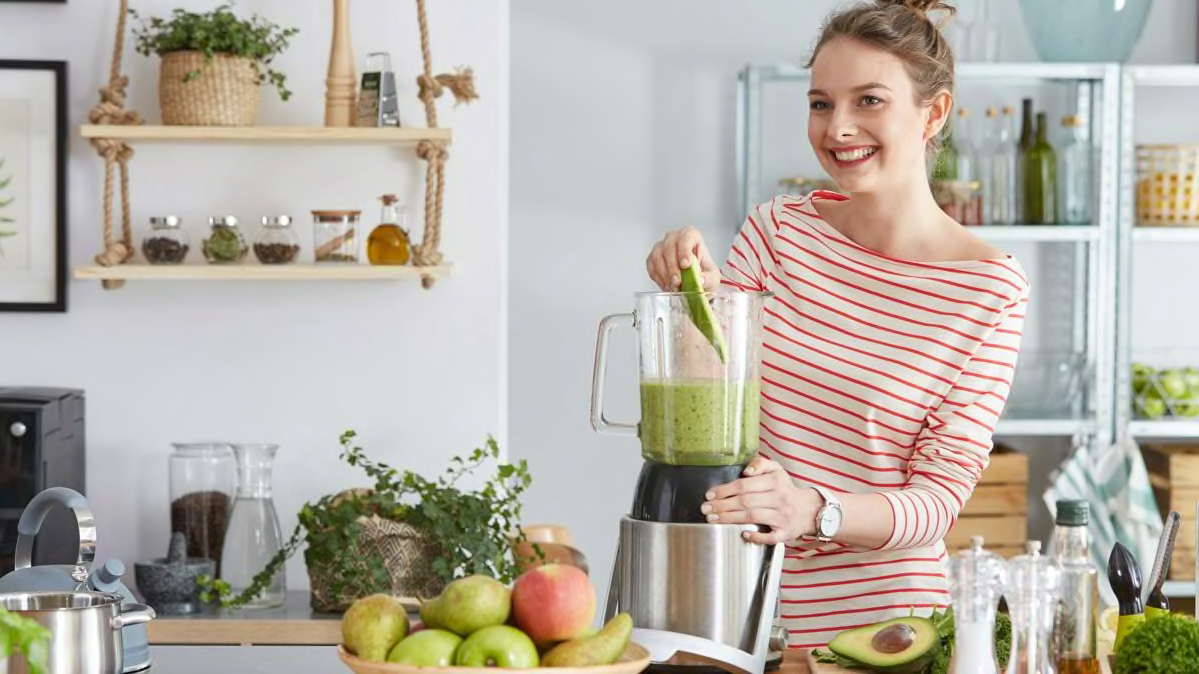 Hoping to save on any purchases during the month of June? If you're in the market for any of these eight products, it should be easy to find what you want at a discount.
Some of the products on sale earlier in the month were Memorial Day deals. Father's Day, which was this past Sunday, also spurred sales on tech, tools, and other stereotypical "dad" items, such as smartwatches, string trimmers, and cordless drills.
Soon you'll start to see early July Fourth sales on some of the products listed here as well as big-ticket items like mattresses and large appliances.
Consumer Reports tracks prices of every product we test all year to help you know when you can expect to find the biggest discounts. We expect to see major price drops on eight types of items in June. You may find deals on other products as well, but the categories in this article tend to have the biggest discounts this month.
If you plan to shop in stores, consult our coronavirus guide for tips on wearing a mask and other safety precautions.
Want to know what's on deep discount during the rest of the year? See our calendar of deals.
Blenders
In the market for a new blender? CR has found that many tend to cost less in May and June, which means you might be able to get a better blender without paying full price. Blenders can cost anywhere from $30 to well over $500, and how much you should spend will depend on how often you plan to use it and what you want to do with it.
Paying more generally means better results and more versatility; lower-end models might not be well-suited for tough jobs, such as crushing ice. But there are exceptions, including high-priced models that cracked under the pressure of our tough tests and bargain blenders that exceeded expectations.
Before you start looking at what's currently on sale, get a better idea of what you can expect to spend for what you want. Start your search for your ideal blender with CR's buying guide and recommended models.
Ninja Foodi Cold & Hot Blender
The deal: $130 at Best Buy
CR's test results: Ninja Foodi Cold & Hot HB152 Blender
If you want to make icy drinks and are looking for a blender that won't break the bank, this could be a good option, especially because it's $40 less than usual right now. It did a decent job with puréeing as well, but it's not one of the best for that particular function.
Smartwatches
June is often a good time to pick up a smartwatch, even after Father's Day, when tech gadgets tend to be more heavily promoted and discounted. Look for sales that are likely to crop up at popular online retailers such as Amazon, Best Buy, and Target, and you can finally take the plunge on some high-tech products without overspending.
You'll want to make sure the smartwatch you choose is going to fit your lifestyle. First and foremost, it should be compatible with your smartphone. But do you want one that has its own network connectivity? How about a heart-rate monitor? Or the ability to pay for purchases? You should also take into account things like size, battery life, and replacement bands.
Read CR's buying guide to learn more, then check out our ratings to find the best smartwatch for you.
Apple Watch Series 5 (44 mm)
The deal: $329 at Amazon
CR's test results: Apple Watch Series 5 (40 mm, aluminum case)
This is the latest model Apple Watch. It has the same look and features as the Series 4 watch but adds some features, including an always-on display, international emergency calling, and a compass app. It also gives you access to many of the apps available on your iPhone, serving up not only email and text messages but also the latest news headlines, sports scores, and restaurant reviews.
Sunscreen
Sunscreen is absolutely essential when it comes to protecting your skin all year, but it's especially important in the summer months, when the days are longer and clothing is lighter. The good news is that you may be able to stock up for less in June.
When choosing the best sunscreen, it's important to consider more than just the sun protection factor (SPF), which measures how well a product will protect you from sunburn and ultraviolet B rays that can increase the risk of skin cancer. You also want to guard against UVA rays, which tan and age skin as well as contribute to skin cancer.
Consumer Reports' rigorous testing has found several options that effectively do well against both UVA and UVB rays, have an SPF of at least 30, and are water-resistant for 40 to 80 minutes. Take a look at which sunscreens we recommend before you start shopping.
Coppertone SPF 70 Sunscreen
The deal: $10 at CVS
CR's test results: Coppertone Ultra Guard Lotion SPF 70 sunscreen
This is one of the top-performing sunscreens CR has tested, and the 8-ounce bottle is on sale at CVS. Considering it usually sells for $13 to $17, this is an especially good deal. Our tests found that it closely delivered on its the SPF 70 claim on its label and did well to block UVA and UVB rays. Just note that it contains the compound retinyl palmitate, which pregnant women may want to avoid.
CVS Health SPF 70 Sunscreen
The deal: $13 at CVS (for two 8-ounce bottles)
CR's test results: CVS Health Ultra Protection Sun Lotion SPF 70 sunscreen
Typically costing just under $9 for one bottle, this highly rated sunscreen from CVS is currently available with a buy one, get one half off sale, saving you about $5. CR's testers noted that while it provides good protection from UVA rays and is safe to use, it didn't quite measure up to its 70 SPF promise. It also contains retinyl palmitate and shouldn't be used by pregnant women.
Strollers
There are a lot of price reductions on strollers in June, so whether you're shopping for a baby shower gift or you want to upgrade your own kid's ride, it's a good time to start looking around. Strollers can cost $100 to more than $1,000. Styling, lightweight materials, and added features can increase the price, but our tests have found that you don't have to spend a fortune to get a good, safe model.
Buying a stroller requires some research first to ensure that you're choosing a safe one that's worth the price. The best place to start is CR's buying guide, which can help you determine which features are important to help you make a smart decision. Then take a look at the strollers we recommend to find the one that best suits your needs.
Graco Stroller
The deal: $216 at Amazon and Walmart
CR's test results: Graco Uno2Duo single stroller
The Uno2Duo may be a good choice if you have a toddler and a baby, because it has standing room on the back for a small child. CR's tests found that it's easy to fold with one hand but is bulky and on the heavy side. This stroller originally cost $270 but often sells for around $240.
Peg Perego Stroller
The deal: $312 to $321 at Amazon
CR's test results: Peg Perego Booklet stroller
Originally retailing for $350, this stroller did well in our tests and is on sale at Amazon in fuchsia and tulip colors. It's a little bulky, but the solid build makes it easy to handle and push.
Cordless Drills
June is particularly noteworthy in terms of sales and price reductions for cordless drills, according to CR's data.
A good drill is useful to have, even if you don't consider yourself particularly handy. It makes quick work of putting together furniture, hanging decorations, fixing things around the home, and taking on bigger projects.
There are plenty of options, giving you a lot to consider when shopping for the best drill for your needs. The first factor to look at is voltage. Most casual users can get away with a 12-volt model, but if you're a heavy-duty DIYer, you may prefer something with 18 or 20 volts.
CR's buying guide can help you learn more about the different cordless drills and their pros and cons so that you can find the best model for your needs and budget.
DeWalt 20V Cordless Drill
The deal: $217 at Amazon and Home Depot
CR's test results: DeWalt DCD792D2 cordless drill
This heavy-duty drill typically costs $240 or more, but two retailers are offering a roughly 10 percent discount right now. In addition to two speed options and a ½-inch chuck, it also has Bluetooth connectivity for tracking who has the drill, which may be useful if using it in a professional setting or if you lend your tools to friends.
Kobalt 24V Cordless Drill
The deal: $79 at Lowe's
CR's test results: Kobalt KDD 1424A-03 Cordless Drill
This Lowe's-exclusive drill originally cost $160, but it's half-off right now. CR's tests showed it to be fast and powerful enough for any job. But it's on the heavier side, which has an impact on handling. The battery has a decent run time and recharges in less than 90 minutes.
Ridgid 12V Cordless Drill
The deal: $84 at Home Depot
CR's test results: Ridgid R82005K cordless drill
This drill typically costs more than $100, making Home Depot's current price a relative bargain. CR's tests showed that the lightweight drill provides decent handling, speed, and power, but the battery run time is lower than average. It may be most suitable for those who don't have a regular need for a cordless drill.
String Trimmers
If you missed the chance to snag a discount on a string trimmer in early spring, when they typically fall in price, don't worry. June is another great month to find a good one at a discount. Because we're already well into the season of lawn care, retailers may be looking to move more of this inventory as lawn care sales slow down, resulting in savings for consumers.
The ideal string trimmer will be able to trim, edge, and cut tall grass with ease, and you can find many top-rated gas, electric, and battery-powered models that handle these tasks. Gas-powered trimmers can handle bigger jobs; electric models tend to be better for smaller properties, and they're quieter. Corded trimmers are the most affordable of the bunch but may require an extension cord. Battery-powered models tend to give you about 30 minutes on a single charge, which should be good if you have a small property. Otherwise, you may need additional batteries.
Not sure what's right for you? Read CR's string trimmer buying guide and browse our product ratings to get a better idea of what's available.
Homelite Gas String Trimmer
The deal: $99 at Home Depot
CR's test results: Homelite UT33650A string trimmer
If you're looking for a lightweight string trimmer, this Homelite model is just shy of 11 pounds, and it's under $100 right now at Home Depot. It usually goes for $115 or more, so you're saving more than 10 percent. The Homelite trimmer uses a blend of oil and gas, and it's great for tall grass and stubborn weeds.
Milwaukee Electric String Trimmer
The deal: $328 at Amazon
CR's test results: Milwaukee 2725-21HD string trimmer
This string trimmer typically costs $430 to $450, making the more than $100 discount extra enticing. It performed impressively in all CR's tests. It's more powerful than other tested models, can cut through weeds and tall grass easily, and is quieter than most.
Troy-Bilt Electric String Trimmer
The deal: $138 at Walmart, $143 at Amazon
CR's test results: Troy-Bilt TB35 EC string trimmer
This string trimmer is easy to handle and works great on tall grass and weeds. It used to cost around $160, but it's a model from last year so you can get it for less right now, making this a fantastic way to save on upgrading your lawn care tools.
Pressure Washers
With all the extra time people are spending at home right now, it may be the perfect time to deep-clean the outside of your house as well as the inside. Invest in a good pressure washer now while they're on sale and you can make your mildewy deck and oil-stained driveway look like new with minimal effort.
If you have a larger property with more surface area to clean, a gas-powered pressure washer may be ideal. But if you're cleaning a small deck and patio furniture, you probably only need an electric model, which is typically lighter, quieter, and easier to maintain than a gas-powered version.
This isn't necessarily something everyone needs to own, so if you have limited storage space or don't think you'll use it often enough for it to be worth the upkeep, you may be better off looking into rental options or even taking on the task of cleaning things with soap, water, and elbow grease.
Take some time to read our buying guide and learn more about the recommended pressure washers to determine whether this is a smart purchase for you.
Sun Joe Electric Pressure Washer
The deal: $154 at Amazon
CR's test results: Sun Joe SPX3000 Pressure Washer
As with all electric models, this Sun Joe isn't as powerful as a gas-fueled pressure washer, so jobs might take a little longer. But it's lightweight and easy to transport, and has two separate cleaning agent tanks. It originally sold for $230 but is now more commonly available for $165 to $170, and this extra little discount is a bonus.
Steam Irons
Even if you don't have a ton of clothes that need pressing after they come out of the dryer, it's good to have an iron at the ready. Our data has shown that steam irons tend to drop in price this month, so if you need a new iron, this is the perfect time to start looking.
Steam irons can cost anywhere from $15 to $150. While cheaper models we've tested in the past haven't performed all that well, you can find decent options for closer to $50 that can compete with more expensive models.
We don't currently test steam irons, but we have a thorough buying guide you can read to learn more about your options and what to look for when you shop.