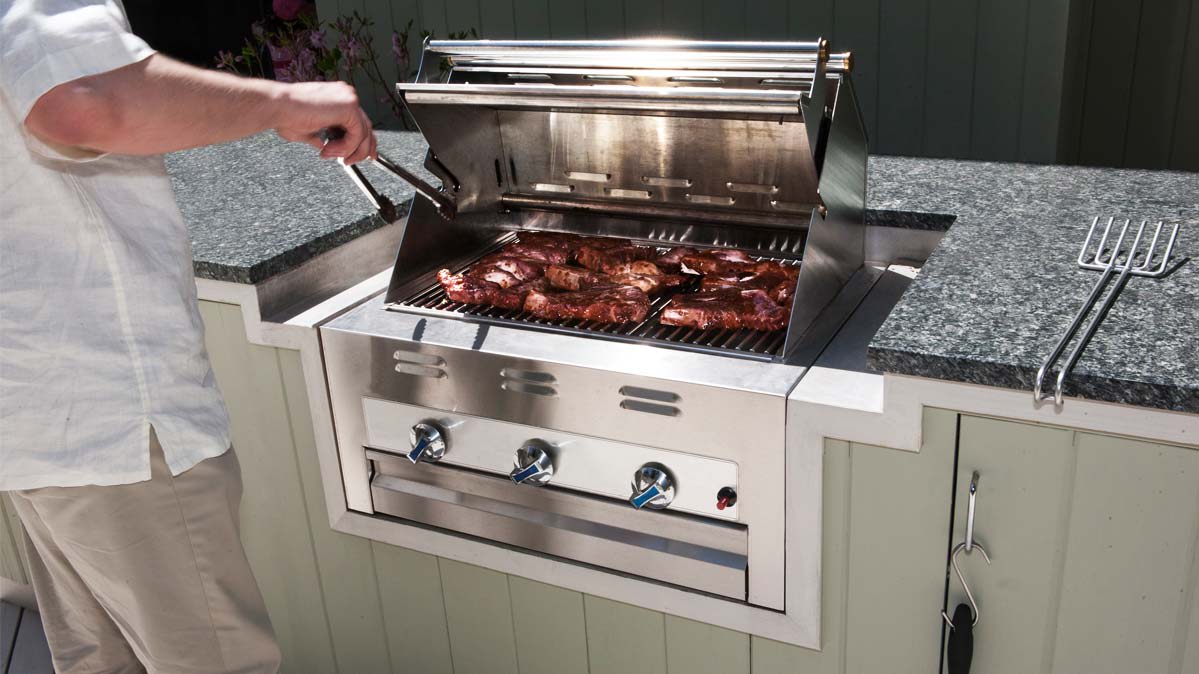 May is the prelude to summer and, for many, the start of the outdoor grilling season. It's also a great time to find deals on outdoor cookers and a whole spectrum of products as Memorial Day sales tend to feature discounts of 50 percent or more.
Consumer Reports' market analysts track prices year-round. Check out the products on deep discount in May, according to our calendar of deals.
Gas Grills
If you're looking forward to grilling but your cooker has seen better days, this may be a good time to find a new one.
MORE ON FEATURED PRODUCTS
We test each grill and have found that performance isn't always tied to price. Check our gas grill ratings to find out how they performed and how different models stack up against each other.
Shopping Tips
Check the construction. The more stable, the better. Stainless steel carts with seamless construction and welded joints are usually sturdier than painted steel carts assembled with nuts and bolts. Wheels or casters at all four corners make a grill easier to maneuver, and wheels with a full axle are better than those bolted to the frame.
Safety Concerns
Avoid grills with sharp metal corners and edges. And test the handle; your knuckles or fingers shouldn't be too close to the hot lid.
About Burners
Burners are the grill's most replaced part. Those with a warranty of 10 years should last longer than basic steel burners.
Mattresses
Sleeplessness is a serious problem in the U.S., with 68 percent—or an estimated 164 million people—struggling with it at least once a week, according to a Consumer Reports survey of 4,023 individuals.
A new mattress could help solve the problem, and in May you can find one on deep discount.
You could be overwhelmed by the variety of choices and prices, ranging from too-low-to-believe to astronomical. You can find out more about each mattress by reviewing our ratings. But there's good news: Our years of testing have shown that whichever type you choose—foam, innerspring, or adjustable air—you only need to spend around $1,000 for a comfortable, supportive mattress.
Keep in mind that you don't necessarily need to buy a new box spring as well, though the sales staff may try to talk you into it.
If you plan to comparison shop, it could be a futile effort. That's because each retailer has exclusive deals with mattress makers. Save yourself the aggravation and visit stores armed with Consumer Reports' ratings in hand.
Shopping Tips
If possible, lie on any mattress that you're considering. Make sure the store offers a full refund or credit toward another mattress. Return periods, often called "comfort guarantees," range from a couple of weeks to 120 days. Once you've settled on a model, try to haggle. Many businesses, such as warehouse clubs, have fixed prices and won't budge. But for retailers that do negotiate—particularly specialty chains—huge markups allow them to lower prices by 50 percent or more during their frequent sales.
Insect Repellents
Grilling season also means it's mosquito season, and nothing can ruin a barbecue like getting attacked by swarms of the blood suckers.
Insect repellents tend to go on sale in May, and we've done all the testing and rating you need to choose the right product and keep the miniature parasites away. Choosing the right repellent matters. Our top products provided several hours of protection and some of our lowest-scoring ones failed almost immediately.
In our most recent survey of insect-repellent users, about half said they don't read the labels before buying them. That's a mistake, because the active ingredients and concentration matter as far as effectiveness and safety. Products with any one of these three active ingredients—deet, oil of lemon eucalyptus, and picaridin—generally worked well in our tests. And all are safe, even for pregnant women, when used appropriately.
Shopping Tips
Be wary of "natural" repellents. Several makers of these products (which typically contain essential plant oils like cedar, citronella, lemongrass, and rosemary) claim that they can help ward off mosquitoes. But our tests show that was true only for the product we tested with oil of lemon eucalyptus.
Don't use combination sunscreen-insect repellent products. Sunscreen should be reapplied every 2 hours, which could overexpose you to the chemicals in repellents.
Roofing, Siding, and Decking Materials
If you need another reason to get started on your home-improvement projects besides improving weather, great deals on materials this month may be just the motivation.
New siding can give your home an immediate makeover and help make it easier to sell later. Replacing or adding a deck can provide a relaxing getaway in your own backyard. And although you can put off some home repairs indefinitely, a leaky roof isn't one of them. These projects are a big undertaking and often require hiring labor, but saving money on the materials can help stretch your budget.
Shopping Tips
• Roofing: Suppliers sell roofing by the square, or 100-square-foot area. To estimate how much you'll need, multiply the overall length and width of each roof section in feet to determine its area, and add 10 percent to allow for waste. Keep an extra bundle of shingles for minor repairs, like after a heavy storm. Check our roofing buying guide for more tips.
• Siding: We recommend having a professional install siding. An installer will calculate how much your home needs, but you can make a rough estimate without climbing a ladder—and avoid overpaying someone you hire. Use our ratings to help you determine which material—vinyl, plastic, fiber cement, or wood—best suits your taste and budget.
• Decking: When pricing the materials, be sure to figure in the cost of railings, stairs, and structure support as well as the planks underfoot. If you're hiring a pro, note that the cost of labor—either to build a new deck or to replace worn planking on an existing structure—can easily exceed the cost of the materials. Our decking buying guide can help you make the best choices for your budget.
Exterior Paint and Wood Stains
Sprucing up your home is more affordable this month if you take advantage of deep discounts on external paints and wood stains. Buying a can of paint should be easy, but walk into any home center or paint store and you'll see just how confusing it can be to make a choice, especially if you're looking for a good deal. We test dozens of interior and exterior paints in a variety of finishes to help you find the best one for the job and your budget. For more painting tips, see our interior and exterior paint buying guide and ratings.
Wood stains provide a layer of protection that can keep your deck looking great for years. Many will also protect fences and siding. The most durable options in our ratings are often the most expensive, but their longer life should save you money over the long haul.
Shopping Tips
• Exterior paint: When selecting a color, it's smart to take a cue from other houses in the neighborhood as well as from nature. For example, ochre and forest green play well in wooded regions; earth tones are more suited to desert landscapes. Once you've narrowed your choices, buy small cans for testing. Observe how different levels of light affect the color throughout the day.
• Wood stains: The best opaque treatments tend to last the longest, but you may prefer a semitransparent or clear finish for aesthetic reasons. Today's wood stains have to meet environmental standards for lower volatile organic compounds, which are linked to pollution, smog, and respiratory problems and can cause headaches and dizziness. Some may even be carcinogenic. Top stains from our tests meet these standards.
Action Cams
If you want a camcorder that's more compact than a full-sized model, you should consider an action cam, like one of GoPro's Hero line of camcorders. These models are very small and lightweight, and they often have rugged bodies. Action cams are designed for people who engage in outdoor sports and activities such as biking, surfing, and snowboarding and want the ability to capture hands-free video.
Shopping Tips
Consider the type, size, weight, controls, features, and audio quality. How accurately does the built-in microphone record? Is the sound file free from noise or hiss?
Check our action cam ratings.
Freezers
With all that grilling in your future you may need some extra space to store your meats and veggies. A new freezer may do the trick, and you may find one on deep discount this month.
The two most popular styles are stand-up and chest freezers. Stand-up freezers take up less floor space than the chest variety, but they tend to be less efficient and won't maintain frozen food as long in a power outage.
Chest freezers can be a little more difficult to organize than their stand-up brethren. They have a lid that's lifted; a stand-up freezer's doors open like a cabinet. Plus, a stand-up freezer's shelving layout minimizes the need to bend and reach down to grab items.
Shopping Tips
If you plan to keep the freezer in a living area, consider how noisy it is. Most manufacturers say their freezers can operate in a room where the temperature can reach up 110 degrees F, but check product specifications if you plan to put the freezer in an area that's not air-conditioned or heated, such as a garage.
Don't expect your new freezer to be quite as energy efficient as its yellow EnergyGuide label implies. On average, our latest tested models used 17 percent more energy.
Check our freezer buying guide and ratings
Blenders
You know what else is good to have at a barbecue? An ice-cold blended margarita. But a blender burning out its motor mid-margarita can really put a damper on a party. They're ideal for making icy drinks, whipping up smoothies, crushing ice, and puréeing vegetables and fruit, but choosing a reliable blender can be tricky.
Shopping Tips
Blender speeds. Most have a number of speeds from 1 to 17, but three speed options usually do the trick. More than a dozen and it starts to become difficult to distinguish one speed from another.
The height of the blender. The height of a full-sized blender varies from 14 to 22 inches. Take note of this spec if the blender needs to fit under your cabinets. Planning to store it? Some blenders weigh just 4 pounds, but the heaviest weigh in at 22 pounds.
Prices: They can vary wildly. You can spend as little as $27 on a new blender—or well over $600.
To help you chose wisely, Consumer Reports has rated the top brands.
Wireless Speakers
And while you're out there grilling or fixing up your home, why not bring some music with you? We have tested and rated the best for you to choose from—and there are lots of products available.
If you don't have a power source near your grilling station, you'll want to consider speakers that have a long-lasting rechargeable battery. Another thing to take into account is whether you want a speaker that runs on WiFi, Bluetooth, or both. Each choice brings its own considerations. For example, speakers that run on WiFi can broadcast over numerous wirelessly linked speakers but often need AC power, so you'll need an outlet nearby. Bluetooth speakers generally don't need AC power, but they can stream audio from your device to only one speaker at a time, and range is limited, usually to around 33 feet.
Shopping Tips
• Inputs and outputs. Most wireless speakers have auxiliary audio inputs that can be used to connect gear. Make sure they work for you.
• Connectors and docks. Depending on the model, you may also get an iPod dock or the ability to connect an iPhone, an iPod, or another device via USB.
• Hands-free speakerphone functionality. Available only on certain Bluetooth models, this feature lets you take phone calls on your speaker.
For more tips and ratings, check our wireless speaker buying guide and ratings.
Consumer Reports is an independent, non-profit organization dedicated to helping consumers. We make it easy to buy the right product from a variety of retailers. Clicking a retailer link will take you to that retailer's website to shop. When you shop through retailer links on our site, we may earn an affiliate commission – 100% of the fees we collect are used to support our mission.
Learn more.
Our service is unbiased: retailers can't influence placement. All prices are subject to change.