When you shop through retailer links on our site, we may earn affiliate commissions. 100% of the fees we collect are used to support our nonprofit mission.
Learn more.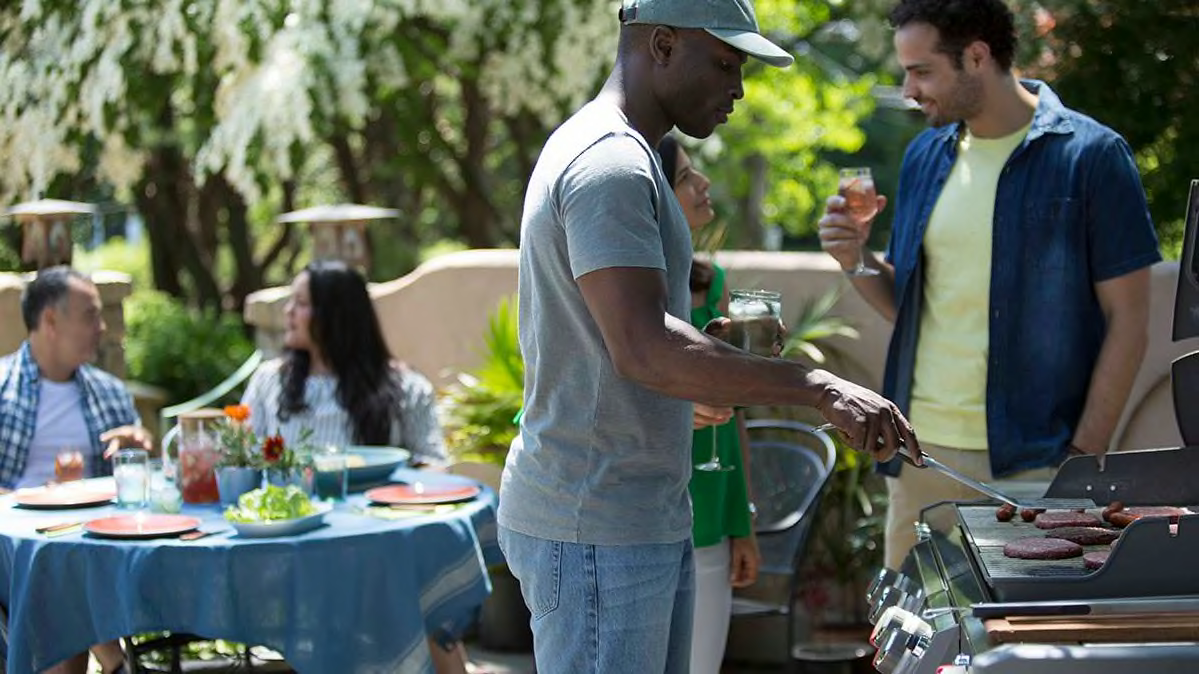 As the weather heats up in May, so does the appeal of outdoor entertaining.
If your grill or deck needs an upgrade before company comes over, now is a great time to make the investment. Both grills and decking materials sell for their lowest prices of the year in May.
Read on to find out what other items tend to go on sale this month. Consumer Reports' market analysts track prices year-round. To see other products on deep discount in May or throughout the year, click through to our calendar of deals.
Gas Grills
You can spend anywhere from $100 to $3,000 for a gas grill, but the more expensive versions aren't always the best. The number of burners on a grill is less important than the usable cooking surface, or the number of burgers you can fit on the grill at once.
MORE ON FEATURED PRODUCTS
Shopping Tips
Look for a burner warranty. Burners are the most replaced part on a grill, typically lasting between two and 10 years. Those that come with a warranty should last longer, although it won't take more than 10 minutes when you do replace them.
Think stability. A stable grill is less likely to tip over. Jostle the grill from several different points to get a sense of how sturdy it is. Stainless steel grills with seamless construction and welded joints tend to be sturdier than carts held together with nuts and bolts.
Mattresses
Entertaining is fun, but it can also be exhausting. Make sure you get quality sleep after your guests leave with a new mattress.
Though in the past finding a good one has meant a trip to the mattress store or department store, now there are more options than ever before, including online retailers and warehouse clubs.
Shopping Tips
Ask for a lower price. While warehouse clubs may not be able to cut you a deal, many mattress retailers mark up their wares significantly and are able to cut prices to close a sale. Even if you're buying a mattress online, you may still be able to score a deal.
Learn the return policy. Often called "comfort guarantees," the return window on mattresses can range from a few weeks to six months. Make sure to ask whether there's a restocking fee for returns, which can run up to 15 percent of the cost of the mattress, or whether the retailer charges for return pickups.
Blenders
No summer barbecue is complete without frozen drinks to cool down guests.
The right blender for you will depend on whether you're planning to use the appliance mostly for quick smoothies and shakes for yourself or to put it to use in other ways, too, such as making nut butters or hot soups.
Shopping Tips
Look at your space. If you're purchasing a full-sized blender, a model that's less than 17 inches tall should fit into a kitchen cabinet for storage when it's not in use (although you should measure to make sure). You'll also have to find room for any attachments and accessories, such as mixing containers or different blades, that come with the blender.
Check out the warranty. A lengthy warranty period is a sign that the manufacturer expects the product to last for years. Budget blenders may carry only a one-year warranty, and more expensive versions could be covered for up to eight.
Decking
If you already have your summer entertaining food prep covered, you'll also want to make sure that your outdoor space is inviting and comfortable.
Building or updating a deck can boost the value of your home and provide you with more living space to enjoy.
Shopping Tips
Consider your materials. Wood decking remains the most popular choice for home owners, but it tends to change color, crack, and stain if not properly maintained. Composite decking is increasingly popular, but it offers less resistance to slips, stains, and mildew.
Price out everything. In addition to the deck itself, factor in the cost of railings, stairs, and other supports. Keep in mind that you may pay more in labor costs to professional installers than you do for the materials.
Freezers
Whether you're stocking up on meat and veggies for your next barbecue or meal-planning lunches for the next week, the freezer attached to your refrigerator can get full fast. A stand-alone freezer may be your storage solution.
Shopping Tips
Decide whether you want a chest or stand-up model. Chest freezers tend to offer more usable space, but they can be tougher to organize. Uprights, on the other hand, take up less floor space, but they also cost more than chest freezers.
Location matters. Most freezers will work in rooms that heat up to 110 degrees, but if you are putting one in a space that gets hot, such as a garage, check the manufacturers' specifications. And if you're keeping the freezer in a living area, take into account how much noise the unit makes.